4 min read
The Home Office will provide temporary visa extensions for Ukrainians in the UK who are here to work, study or visit, as well as offer support to switch to different visa routes.
The intervention by the UK government comes as families have told PoliticsHome they are packing their belongings to flee the country and head "to the west" after waking up to terrifying blasts and the "howl of jets" as Russia invaded this morning.
Home Secretary Priti Patel has said that Ukrainian nationals on an existing points-based system route can extend their leave in the UK, and Ukrainian nationals on an existing visitor visa can switch into a points-based system immigration route without having to leave the UK.
Ukrainian nationals on an existing seasonal worker visa will have their leave in the UK extended to 31 December 2022 as well as those in temporary HGV and pork butcher jobs. They will also be allowed to apply to the skilled worker route.
"We stand shoulder to shoulder with Ukraine amid this unprovoked and antidemocratic act of Russian aggression," the Home Secretary said.
"I have immediately ordered changes to our visa policy to provide certainty to our Ukrainian friends and colleagues living, working and studying in the UK."
People in Ukraine with no current tie to the UK will not be given any new visa routes, as it is expected that they could settle in a neighbouring safe country such as Poland.
Ukranians still in the country told PoliticsHome of their horror as blasts shook floors and windows in the early hours of the morning outside Kyiv, and they frantically tried to contact relatives.
"Jets are still flying overheard [now]," Ernest, 19, said from his family's flat 15km outside of the capital in Kyiv Oblast this afternoon. He declined to give his last name for fear over his safety.
"We can hear the military jets flying right above us but we can't see them because of the cloud."
He described being woken around 5am this morning, shortly after Russia began their advance to a "full scale" invasion.
"I woke up and within ten seconds I hear a jet howl and see a very, very large flash. Our windows were shaking. We're close to a military airfield here," Ernest continued.
"We were packing our things and it was very chaotic, and trying to get the electricity back on as there was an outage, but within thirty minutes there were a series of explosions coming from the direction of that airfield.
"Then after an hour and a half there was a major explosion, really big. We felt the ground shaking."
Despite the build-up of tension with Russia, Ernest, who works in consultancy, said he never expected Russia to attack Kyiv and his family were sure "nothing would happen" even when they went to sleep last night.
"There are so many times we've had our luggage cases packed and nothing has happened," he said.
He decided to escape from the city centre last night because his own apartment is near military headquarters and he was concerned it could become a target at a later date. He went to his family's home just outside the city's limits to spend the evening with his mum, to try and reassure her he was safe.
Just a few hours after they went to bed the explosions began.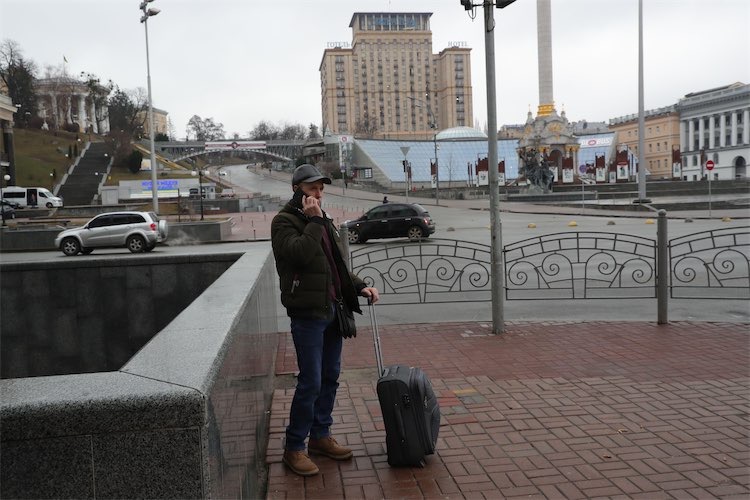 Ernest's brother and his wife joined them after the blasts went off at around 7am.
"There were huge traffic jams on the highways. Their journey is usually 45 minutes but it took 2.5 hours," he said.
With the electricity cutting out temporarily, he and his mother sat in candlelight while they heard the blasts and saw a vivid flash in the sky.
The family is now considering how they can get out of the country to westwards, but Ernest said it feels extremely unsafe to travel in a car. The roads are already inundated with traffic as Ukrainians try and travel towards Lviv and western cities, or further west again into bordering nations of Poland and Slovakia.
"I only planned to come and stay with my mum for one night, so that it would feel calm. I told my girlfriend I'd be back tomorrow morning. And now we're having to look at plans to go westwards," he said.
"We are split on whether we should scramble and leave now. My mother doesn't want to leave our home unattended, and three out of four of us believe that we should not go anywhere until the night because it's really unsafe. When we get in the car and we're on the highway there's no shelter. At least in the flat we have shelter," he said.
The biggest fear now is the internet and mobile signal goes down, which would make travelling and keeping in touch with relatives very challenging.
"That would be a complete disaster," he warned.
PoliticsHome Newsletters
PoliticsHome provides the most comprehensive coverage of UK politics anywhere on the web, offering high quality original reporting and analysis: Subscribe