How To Use Knowledge Commerce To Grow Your Audience
So you want to create an online course? We're here to help. As a leading online course creation platform, we know a thing or two about building your own course from scratch and scaling your business.
Becoming a course creator brings a huge range of benefits—from acting as a lucrative lead magnet to establishing you as an expert in your field. Here are the top benefits of creating your own online courses and case studies of real-life Edupreneurs.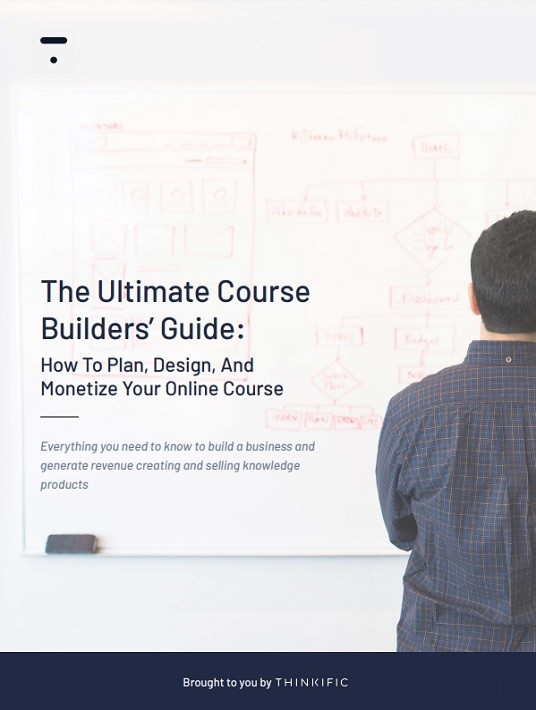 eBook Release
The Ultimate Course Builders' Guide: How To Plan, Design, And Monetize Your Online Course
Uncover tips to build a business and generate revenue creating and selling knowledge products.
Introducing Knowledge Commerce
Entrepreneurs who capitalize on their expertise can spread the word about niches in their business and get paid to do it. This is known as knowledge commerce—charging customers to get access to your specialist knowledge in your chosen niche, with the right online course topic and top-quality content, you can rapidly grow your audience and your influence.
Though you might question what you can bring to the table, it's important to remember that the skills and accomplishments you take for granted might be the one thing someone else wishes they had. Don't sell yourself and your experience short.
5 Benefits Of Creating Courses
Here are some of the benefits of creating courses and turning your smarts into a sellable product that lets you share your knowledge with the world.
1. Create A New Product
With online course creation, you can monetize your expertise. Chances are, you probably already have the content ready and waiting—now you just need to put it all together into a course that you can sell!
You don't need a special education to be an online course creator, you just need to have expertise in a certain topic or niche. What's more, both you and your students can be based anywhere in the world. Thanks to the automated delivery format, online courses are the ideal passive income—you can make money while you do your day job and even while you sleep.
2. Add Value To An Existing Product
If you already have products or services in your niche, an online course can help to add value to your existing catalog. Imagine that you are selling biscuit icing kits—an online course teaching people how to turn people from biscuit beginners into icing pros can add significant value to your product. If you can encourage customers to sign up for course membership, you can also get repeat sales from them in the future rather than just a one-time purchase.
3. Brand You As An Expert
You have the knowledge and the know-how in your niche—but who else knows that besides you? An online course is the perfect way to show off your expertise and establish yourself as an authority in your industry. As a course creator, you are marketing yourself as an expert in your field; this can work wonders for your business and your brand.
If you're already an educator, online course creation can dramatically increase the number of people you can reach with your services. Rather than just doing in-person courses, you can educate thousands of people around the world at the same time. The possibilities are endless.
4. Use As A Lead Magnet
Online courses also make effective lead magnets for your business. Lead magnets refer to free items or services that are given for free in order to gather contact details. Nowadays people are reluctant to hand over their email addresses without something in return. An online course makes a brilliant incentive.
Whatever your industry or niche, you can utilize online courses as a way to capture the contact details of potential customers and learn more about what they're interested in. This opens the door for you to sell to them in the future and build up a base of loyal customers.
5. Boost Employee Performance
Online courses are also really handy for training and educating employees. Rather than delivering training in-person or on a case-by-case basis, you can automate your employee onboarding and training programs to dramatically reduce the amount of input you need to have.
eLearning is especially useful for training that requires regular updates and refreshers. With an online course platform like Thinkific, you can monitor your employees' progress and get automatic notifications when they've completed the necessary training.
Real-Life Edupreneurs
While it might sound too good to be true, Edupreneurship is a real job. Here are a couple of course creators who have successfully grown their online course empire and now earn six figures or more.
Case Study: Elizabeth Rider
If you're looking for inspiration to start creating your first online course, look no further than Elizabeth Rider. The nutritionist and health coach has turned her expertise on healthy eating into a series of online courses that now have thousands of followers.
Elizabeth Rider started out with a blog where she shared nutrition advice and recipes. As her website traffic started to increase, Elizabeth began looking for ways to monetize her content. After experimenting with paid advertising on her blog, she began offering one-to-one coaching to her readers. While this was a good way to utilize her knowledge, Elizabeth realized that she could reach far more people by creating an online course.
Using Thinkific, Elizabeth created a series of video lessons using screen recordings of presentations with her voiceover added on top. She used her blog and social media to promote her online course content, as well as leverage joint ventures with other businesses.
Fast forward to today and Elizabeth has built a seven-figure business from her online courses and other content. She has also developed a direct sales business that has helped to establish her as a leading authority in her field all thanks to her courses.
Case Study: Entrepreneurs on Fire
John Lee Dumas already had a thriving business before he started his online course. The entrepreneur and podcaster founded Entrepreneurs on Fire to help budding entrepreneurs start and grow their own businesses.
When the community was first set up, John and his partner Kate Erickson focused on inspiring other entrepreneurs and trouble-shooting their business problems. But the pair quickly realized that the easiest and most effective way to help their audience was to build an online course. By harnessing their wealth of knowledge on the topic, they were able to create a valuable resource for their existing community and reach a whole new audience.
The online course catapulted Entrepreneurs on Fire forward, generating over $50,000 in revenue in under two months. By becoming Edupreneurs, they established a new and extremely lucrative parallel income stream that complimented and enhanced their original offering.
Transform Your Business With Knowledge Commerce And Course Building
Knowledge commerce is an excellent way to harness the expertise you already have and use it to help others. Course creation is all about packaging up your existing knowledge into an entertaining and easy-to-absorb format that others can watch, read and listen to. All you have to do is start.
Download the eBook The Ultimate Course Builders' Guide: How To Plan, Design, And Monetize Your Online Course to learn insiders tips for creating, launching, and marketing your eLearning course. Also, join the webinar to bring your vision to life.