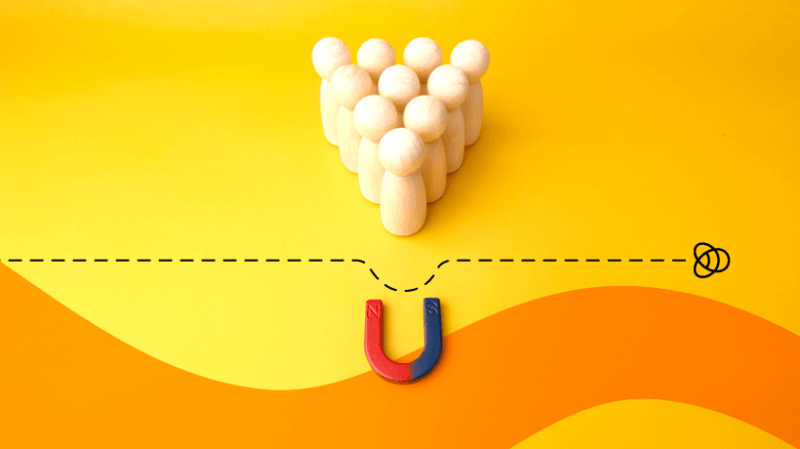 What Are Some Inspiring Strategies For Generating New Leads?
The lead generation process is a never-ending chase to fuel your CRM with new contacts. Yet, learning how to generate new leads remains a mystery to those who haven't tried inbound and outbound marketing strategically. By attracting prospects to your business and increasing their interest in your USPs through search intent and lead nurturing, you'll eventually get what you want.
The end goal of every wise eLearning marketer has two paths. On the one hand, you must find how to generate new leads, and on the other, you need to uncover the most effective strategies to convert leads into customers.
There are several ways to generate fresh leads; for example, you can do it by posting job applications, blog posts, coupons, live or virtual events, and online content. It's not just about creating content, though. If you want to increase lead generation, you have to work on finding unique ways to attract people to your business.
Above all, you should provide prospects with enough goodies to get them genuinely interested. And then, as they gradually warm up to your brand, they'll be more open to starting the conversation and doing business with you.
Do You Want To Generate Leads For Your Business?
Learn how you can effectively get the contact information of potential buyers with SEO and content marketing.
How To Get More Leads For Your Business: 6 Lead Generation Strategies
Generating more leads means that you'll need several business lead generation strategies in place. Thus, inbound and outbound marketing initiatives can help you convert hot leads into paying customers.
Finding new business leads means that you have to initiate marketing strategies by thinking of experiences that will make it easy for customers to engage with your eLearning brand. Every lead generation strategy you decide to run must always result in the exchange of a prospect's contact info. Or at least booking a call or having an in-person meeting.
If you're planning to increase your revenue and grow your business, you have to build a strategic marketing plan to create leads.
Before you start creating your lead gen strategy, take a look at the following 6 ways to generate leads for your business.
1. Highlight Your Expertise And Lead The SERPs
Don't you love reading content from companies that like to go the extra mile? By becoming a product expert in your respective field, you'll get people to trust you for specific solutions. So, my tip is to start publishing content around a specific niche. This will help you transform into a trusted advisor for potential customers. Prospects love looking for knowledge around the web, and most of them do their research before ever talking to a sales representative.
Another way to bridge this knowledge gap and become a trusted source of information is to host webinars and communicate with a more engaged audience. In fact, webinars are a proven technique that will get you qualified leads. Also, another strategy is to plan on speaking at trade shows or live conferences if you have the time and resources.
Can you now grasp the power of niche expertise and content marketing? Customers land on your landing pages and listen to what you have to say rather than just jumping on a call with a salesperson. And that's the magic of content that focuses on search intent and answers user queries. Then, new marketing leads can become potential customers if you act in a timely manner. Of course, you need to nurture your new leads wisely.
The customer might hold the purchasing power, but as a marketing professional, you can empower customers with your valuable information. Giving them a helping hand with your content is what will lead them to make the best decision. And, with a bit of luck, that decision is your product or service.
You'll love reading how eLearning marketers influence the purchase decision process.
2. Be A Trusted Source Of Information
When you engage with potential customers directly, you have more chances to generate sales and new business opportunities. Of course, there are so many ways you can reach out to prospects. If, for instance, you've created a lead generation eBook, you can promote it through social media and email marketing solutions (e.g. newsletters) to increase the downloads. Or your salespeople could hint to prospects to download the asset by phone or even in person.
Let's say that your business sells a high-value product or a service. Maybe, for example, you have an LMS that offers a monthly subscription. You might as well create a whole marketing campaign focusing on promoting an LMS free trial through your content. So, the first step could be to create an eBook that solves a specific pain point to get new leads. Then, you can send out emails to whoever downloaded your eBook and ask them to start a free trial. After they enter your free trial, you can then nurture leads into buying a monthly LMS subscription. For more on this, make sure to read my article on lead conversion and eBooks.
After establishing how a potential customer can benefit from your business, you can lead them to get the asset for free. All they have to do is give their contact details to get valuable tips in exchange.
Here are 5 amazing lead generation eBook ideas to get you started!
3. Ask For Referrals And Customer Feedback
If there's one thing that can inspire new ideas and make your product or service better, it's feedback. Do yourself a favor and don't drop your customers after the sale. Having happy customers is what will bring you more leads, but it will also help you understand what they need from your business.
By having a continued relationship with your customers, not only will they buy again, but they'll make sure to let other people know that you're trustworthy. And most importantly, they'll remember that you care. Of course, it's no surprise that selling to existing customers is far cheaper than getting new leads.
So, by utilizing follow-up calls or feedback surveys, you can have a strategic way to nurture customer relations. Plus, it's a great opportunity to ask for referrals. Hence, qualifying your leads is equally important. Also, when you know your customers, you know how you can upsell to them. In addition, you can make relevant efforts to improve your business based on their feedback.
Another good idea would be to focus on winning business awards!
Don't you think you could generate new leads by being featured in an eLearning top list?
When a company engages with customers across different channels, success and engagement are sure to come. Thus, having a proactive customer care program is essential for any business. Best of all, having a comprehensive omnichannel customer engagement strategy will help you build brand loyalty. Plus, it will boost customer satisfaction and bring you even more new customers.
Now that we're at it, here's how to start getting more reviews.
4. Lead Nurturing Past Referrals
Lead generation is an excellent strategy, but unfortunately, not every lead will convert immediately. Yet, even if they are not ready to convert at a specific point in time, it doesn't mean you should ignore those leads.
The most critical aspect of dealing with prospects is focusing on lead nurturing. That's the most vital step in the whole lead generation process. You see, many prospects can be undecided about making a purchase—at least now.
For those of you who want more in-depth info on this, go ahead and read all about lead time in marketing and how it affects purchase decisions.
The key to success is to keep sending them helpful information based on their interests. But never ever give up hope. The time for conversation might come after several months or even a couple of years.
My best advice is to automate your lead nurturing process. You can save plenty of time and resources by setting up reminders and scheduling when to check in with leads that have not converted yet.
One note here: always keep at the top of your mind when they are ready to make a decision. Continue to qualify them, and you'll get to the end goal.
Need more tips on this? Make sure to download the Complete Lead Nurturing Guide For eLearning Companies.
5. Get Into Social Media And Online Networking
Interacting and engaging with prospects should be a top priority if you want to get new leads for your business.
Thankfully, social platforms have a dominant role in our everyday life. Hence, LinkedIn is one of my favorite professional networking sites. Professionals in different industries use it as a way to stay in contact with people they meet. But, reaching out to professionals on LinkedIn is as crucial as cultivating your personal connections. So, when contacting new prospects, make sure to avoid sending generic invites.
Instead, you can offer something of value to them when requesting to connect. For example, you can send a personalized message to remind them who you are and if you've already met them in person. Then, you can leverage the opportunity to share one of your gated assets that fit their interests. For example, share one of your lead generation eBooks or a webinar that is coming up and is relevant to their industry. They might get intrigued to see what it is about.
Don't underestimate the traffic you can produce from LinkedIn. In fact, LinkedIn produces the highest visitor-to-lead conversion rate across social media platforms.
As you keep connecting with potential customers through social media, you can nurture those connections by sharing relevant content. Make sure to expand your presence on different platforms, groups, niche websites, and forums. Also, use social media to read what your prospective clients read. Then you can tweet or post about it and become a trusted source for customers as they research their purchases.
The main goal is always to put you and your company in the spotlight as a trusted expert in your field. By including a call-to-action button on social media or blog pieces, you can quickly generate interest and drive leads to your website.
6. Keep Trying And Make Alliances
Look, in the last decade, showcasing your expertise has become essential for businesses in any niche. And that's the case for eLearning brands as well. Thankfully, things are much easier, and there's no better way to show off your expertise than publishing online content.
Hence, building up your web presence is your path to reaching potential clients looking for your extensive knowledge of products or industries. But to get more views, you must leverage targeted content optimization when offering valuable content to potential customers.
You don't need to be an SEO expert, but getting some advice or improving your SEO content writing skills wouldn't hurt. That's key when you want search engines like Google to give you credit and increase your site's rankings.
Don't forget to benefit from other eLearning websites and influencers. Maybe you can guest-blog on their website or ask them to post an article on your website. Not only will this show that you're respected among other community members but will also help your link building strategies.
Here's How To Create A Strategic Marketing Plan
Discover how you can build awareness, boost website traffic, and generate targeted leads for your eLearning brand.
Summing Up
If you don't feel like a search optimization guru, don't worry. With our content marketing expertise, you can quickly generate new leads through the internet. All you have to do is follow a carefully tailored content strategy based on search intent and continually publish helpful and relevant content.
You can create articles for your own website, but you can also opt for guest blogging. Creating funnels via eBooks and webinars is also essential. And remember, your main goal should be to assist your potential customers in their research process. The best way to capture and generate new leads fast is to use form entries with calls to action (CTAs) throughout your website.
By developing customized, relevant, interactive, and engaging content for each step of the research process, eLearning providers, products, and SaaS companies can guide potential customers to the right solution before they are ready to engage with sales staff.
Pay attention to the customer journey and start creating a significant opportunity for continuous online lead generation.