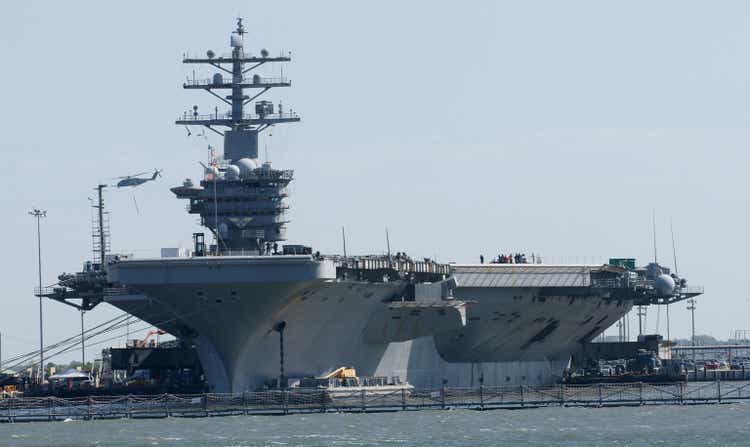 Introduction
Most of my readers know that I'm overweight on aerospace & defense stocks. One of my core holdings is Huntington Ingalls (HII), which I love despite its poor performance in recent years.
With that said, writing this article is based on two reasons. First of all, the poor performance has resulted in me buying more shares (reinvesting dividends and then some). Second, the company reported earnings, which gives us a much-needed look into its business. The bad news is that the company is suffering from inflation and supply chain issues. the good news is that there's plenty of free cash flow on the horizon, which means buybacks and dividend hikes.
But wait, there's a third reason (tied to the first one): the valuation has come down.
So, let's dive into it!
Another Bear Market
A bear market is when the stock market drops 20% from its all-time high. This applies to stocks as well. Single stocks can be in a bear market. Yet, either way, I think it's a meaningless fact as it does not tell us anything about the outlook for the market – or a single stock. What it does, however, is help us assess the current situation. In the case of Huntington Ingalls, the stock is 35% below its 2020 all-time high and 20% below its May 2021 highs. A bear market within a bear market doesn't technically exist, but it would describe why some investors are annoyed with the stock.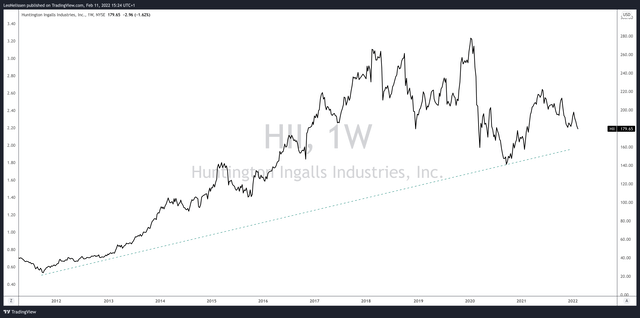 I'm currently down roughly 6% on my initial Huntington investment, which makes it the worst performer in my long-term dividend growth portfolio.
So, yes, I do understand that some investors are annoyed. And I even get that some have sold. Yet, I'm not annoyed but glad that the stock has come down a bit as it gives us one thing that's crucial in long-term dividend growth investing: a better yield.
While dividend yields, in general, have fallen off a cliff, the dividend yield of Huntington Ingalls has been in a long-term uptrend. The S&P 500 yield is down because investors have rushed to buy high-quality yield since the pandemic, which was followed by massive QE on a global scale. Dividend growth was unable to maintain the S&P 500's 2%ish yield it enjoyed prior to the pandemic.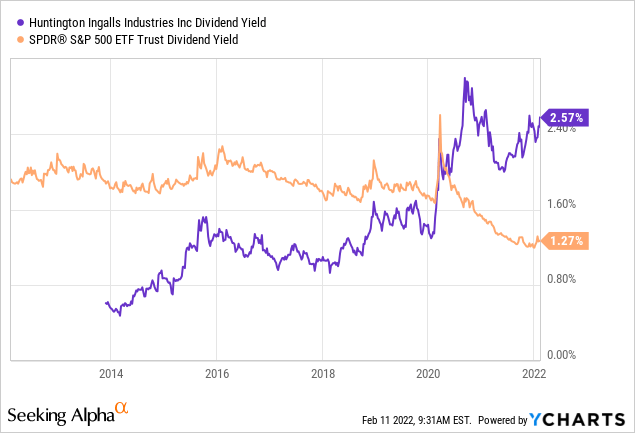 Huntington Ingalls is different. It started off with a low yield and worked its way up to a 2.6% yield as dividend growth outpaced capital gains.
The graph below shows what dividend growth looked like in recent years. Note that it does not show the number of hikes, but the average dividend growth per year. In 2020, total dividends received were 17.2% higher compared to 2019. On November 3, 2021 (not included in the chart), the company hiked by 3.5%, which did upset some investors.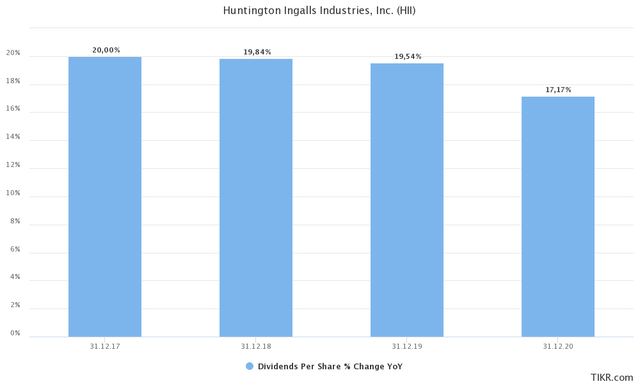 But don't worry, there's more where that came from.
Don't Give Up On HII
On February 10, HII reported its 4Q21 earnings, which came in at $2.84 per share. It was $0.13 below estimates. Revenue came in at $2.68 billion. Down 2.9% compared to the prior-year quarter. Analysts expected $20 million less in revenue, which means analysts overestimated margins instead of revenue generation. I expected the opposite due to supply chain issues.
According to the company, "revenues declined YoY due primarily to lower volumes at Newport News Shipbuilding and Ingalls Shipbuilding. Shipbuilding results in the prior-year period were positively impacted by significant material volume. That decrease was partially offset by revenues attributable to the acquisition of Alion in Q3 2021."
With that said, I do not care that much about quarterly sales growth (unless I look at the bigger picture). Why? Because Huntington is America's leading Navy shipbuilder with its peer General Dynamics (GD). As I will show you in this article, the company works on a number of major projects that cause sales and related financial numbers like free cash flow to be volatile. It's very different from a company that sells consumer goods – no give a simple example.
Long-term, the company aims for 3% shipbuilding growth, which would imply moderate, above-inflation growth.
Anyway, 4Q21 was a good quarter. The company's backlog ended the year at $48.5 billion, which is a new all-time high. It's up $2.5 billion compared to 2020.
The company generated $499 million in free cash flow in 2021. It used this cash to repurchase shares worth $101 million and to distribute $186 million in dividends. Bear in mind that free cash flow is basically net income adjusted for non-cash items and capital expenses. It's cash the company can spend on the aforementioned buybacks, dividends, and to reduce debt.
This, too, is highly volatile as I showed in a prior article (see graph below).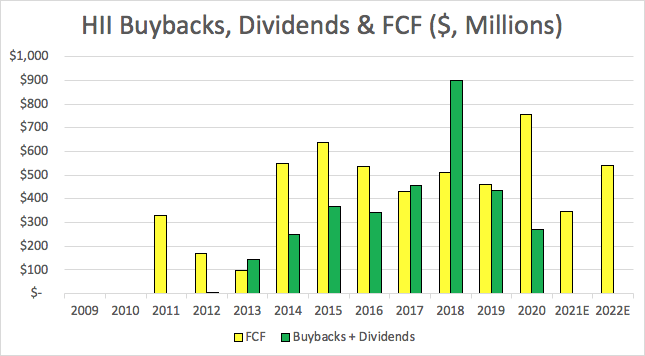 In 2022, the company expects to do $8.2 billion to $8.5 billion in shipbuilding revenue. Technical solutions revenue is expected to be $2.6 billion. This will lift total revenue from $9.52 billion to at least $10.8 billion using the lower end of the shipbuilding guidance.
Free cash flow will be between $300 and $350 million according to the company. That's lower than I expected and it implies a 4.9% free cash flow yield based on a $7.17 billion market cap.
4.9% is a good free cash flow in this environment because it implies that there is a lot of room to hike dividends. After all, the dividend yield is 2.6%.
But that's not why I am excited – after all, it's lower than I expected as I just mentioned. What matters is the company's longer-term outlook. In 2023, it expects to generate between $750-$800 million in free cash flow. Followed by a surge of up to $100 million in 2024. This is based on payroll tax repayments and a load of working capital that will be freed up as well as a margin expansion in technical solutions.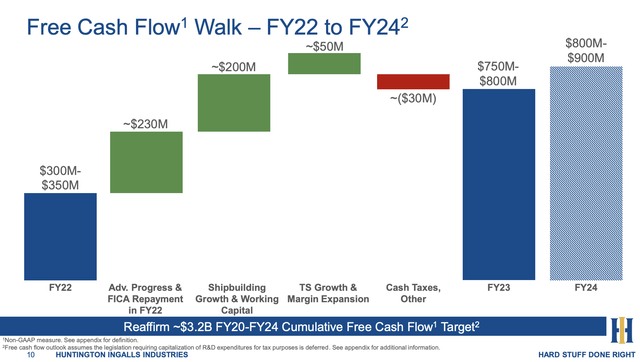 This would finally unlock the company's free cash flow potential and result in a free cash flow yield of up to 11%. That's based on next year's numbers!
And, what matters too is that the company does not expect that the working capital effects will be reversed after 2024. However, free cash flow will be volatile because the company will work on its backlog. So, some years will be better, some will be worse. Nonetheless, as long as free cash flow remains at elevated levels, the company and its shareholders will be fine.
Valuation
Readers have noticed that I stopped using price/earnings a long time ago. I care mainly about enterprise value vs. EBITDA because it incorporates financial debt and pension liabilities. I also like to use the free cash flow yield for dividend (growth) opportunities because it shows whether investors are overpaying for free cash flow or not. And that's what it's all about.
2022 implied FCF yield of 4.9% is low. If that were the case in the years ahead I would bail. But as we discussed, that's not the case. HII will ramp up free cash flow to double-digits. The last time this happened the stock bottomed in 2015 followed by a multi-year uptrend until 2019 when the stock lost momentum.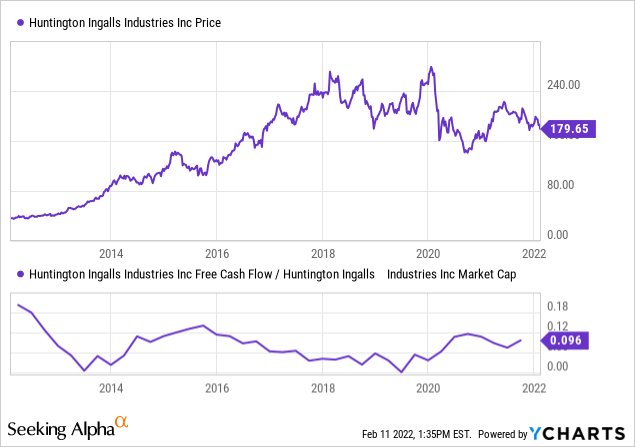 To figure out the company's enterprise value, we add its $7.17 billion market cap to net debt. The company ended 2021 with $3.3 billion in long-term debt, $1.36 billion in workers' compensation and pension liabilities, as well as $630 million in cash. This gives us net liabilities of $4.0 billion. Meaning, the enterprise value comes in at $11.2 billion. That's 9.8x 2023 expected EBITDA. Adding to that, net liabilities are 3.5x EBITDA. That's fine as it includes pensions.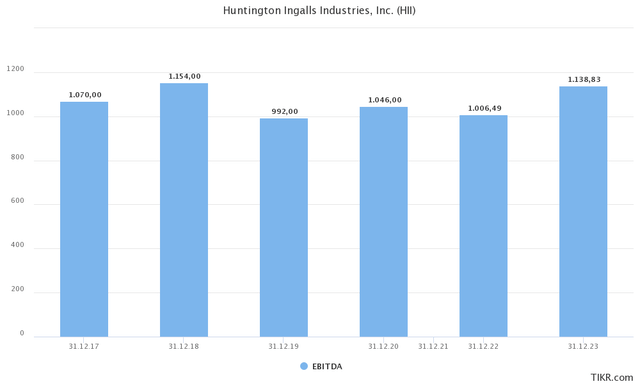 Please bear in mind that EV/EBITDA charts often (almost never) include pension liabilities. However, I decided to do it because pensions are major liabilities. Even based on that, the company is fair valued given the historic valuation range.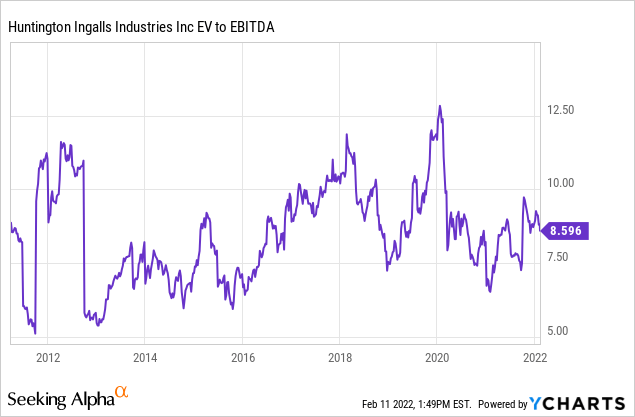 Takeaway
Huntington Ingalls has become a bit annoying. The stock has ignored recent stock market strength (before the tech sell-off) and reported a very weak dividend hike last year.
But that's where the bad news ends. The company's 2.6% yield is attractive. It will ramp up free cash flow next year and use free cash flow to return to above-average dividend growth and buybacks if history is any indication.
I reinvested dividends and will continue to buy as the valuation has become attractive. I don't know when the uptrend will start, but what I do know is that HII will continue its long-term uptrend fairly soon. There's too much value. And as we get closer to 2023, investors will find out that HII is flying under the radar.
(Dis)agree? Let me know in the comments!