March 12, 2022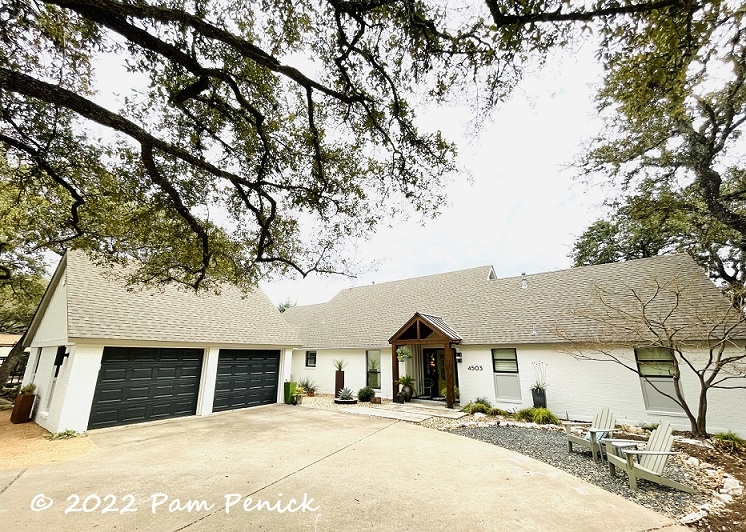 Let me join the throngs of bloggers writing about painting dated brick houses white or off-white. After years of mulling it over, we took the leap of painting our brick a few weeks ago, and I'm loving the fresh, clean, more modern look.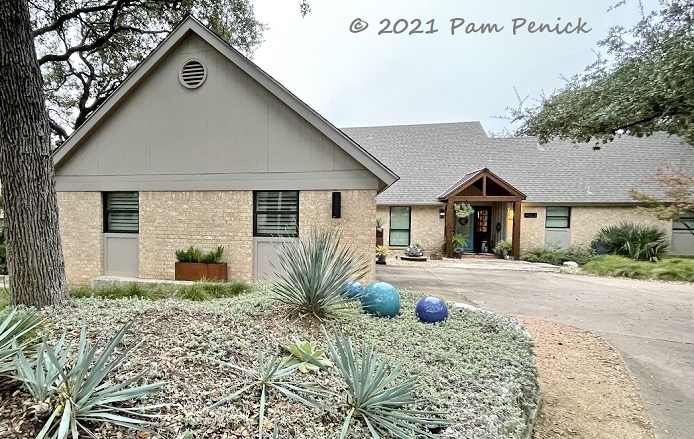 Since moving into our ranch home 13 years ago, I felt decidedly meh about its 1970s curb appeal, or the lack thereof. The peachy-tan brick was dated but all right. But the heavy-browed look of the big front gable with faux-wood-grain paneling and the steep roof over a shallow porch (see original pics below) bothered me. It all looked like a too-big hat squashing its owner into the ground.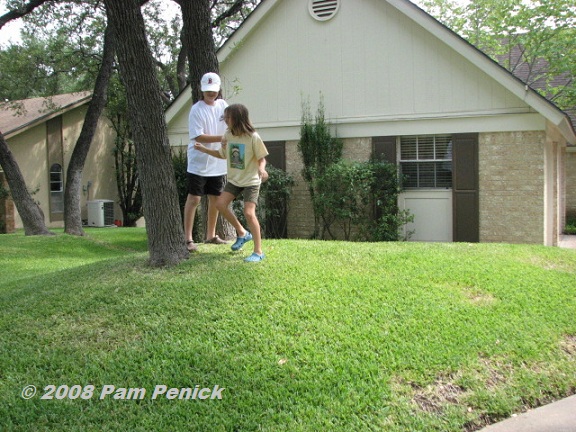 You can see what I mean in this photo taken on the day we toured the house as prospective buyers. Dated colors, superfluous shutters, cracked trim on the gable and below the windows, overgrown shrubs, a patchy lawn on a weird berm that sloped steeply to the driveway and the front of the house — I didn't love these things and chipped away at them over the next 13 years.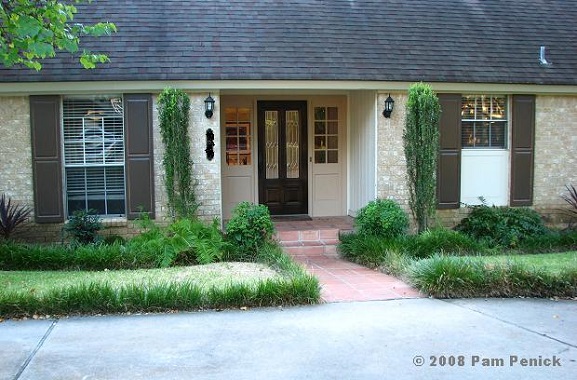 Here's the front porch as it looked on the day we moved in, with the steep roof seeming to press down on it. Don't get me wrong. It's a nice and very livable house, and we've loved living here. But as an older ranch home, it needed a cosmetic refresh. We eventually added a porch gable for better rain protection, to lift that heavy-browed look of the roof, and to create a focal point entry. We also replaced paper-thin mullioned windows, removed the shutters, replaced the porch lights, and redid the front walk and landscaping. Later we replaced the aging roof with new medium-gray asphalt shingles.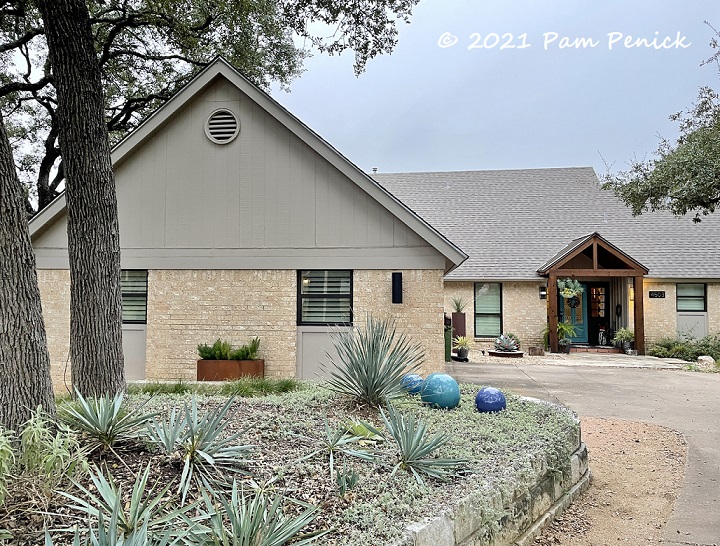 But still, that tired and overscaled front gable and peach brick remained. And we were getting close to needing to repair some rotting trim and repaint the siding. I'd been reading about Romabio masonry paint on Young House Love and other home blogs and started doing some research into it. Meanwhile, I used Brick & Batten to get a virtual exterior redesign for the front of our house, mainly to help me figure out the gable issue and paint colors. They did that and also inspired me to add a new light fixture, porch rug, and house numbers.
While a number of homes in our northwest Austin neighborhood are being painted dark-gray for a modernized look, I worried that might fade under the Texas sun and look too dark under the dense shade of our live oaks. I preferred a lighter neutral look, but what? Brick & Batten helped me visualize it. And by the way, I did not receive any sort of discount or promotion from either Brick & Batten or Romabio to talk about their products. I'm just sharing what I decided to use through my own research.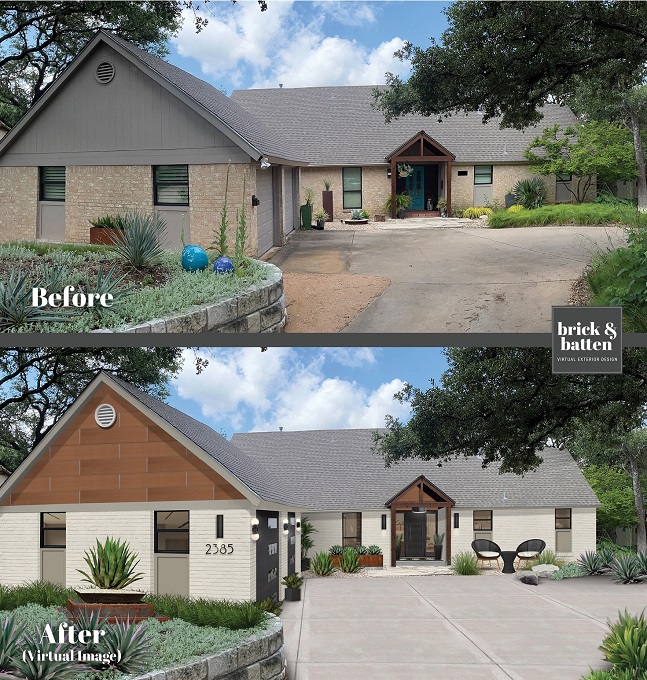 I sent a photo of my house to Brick & Batten, along with notes about what I was willing to change (gable siding, painting the brick, front door, front sitting area) and what I wasn't (roof, windows, porch gable). A few weeks later I received their redesign rendering. Pretty cool, right? It's one thing to buy paint samples to try to visualize, but seeing their fresh vision for my house — and then pricing out the materials and contractor labor myself — helped me decide what to change, what to paint, and what to live with.
My husband wasn't keen on the metallic-copper Chrometallics fiber-cement panels they suggested for the front gable and porch gable, but I loved them. Once I'd priced it, though, and then learned that my preferred contractor wasn't willing to work with that material, I decided to go with an easier and less expensive alternative: Hardie board and batten, which we already had on the porch gable. Also, while I liked the color-block look proposed by Brick & Batten, it was simpler to use the color they'd suggested for the brick and take it all the way up the gable, thereby erasing the "weight" of that heavy gray gable.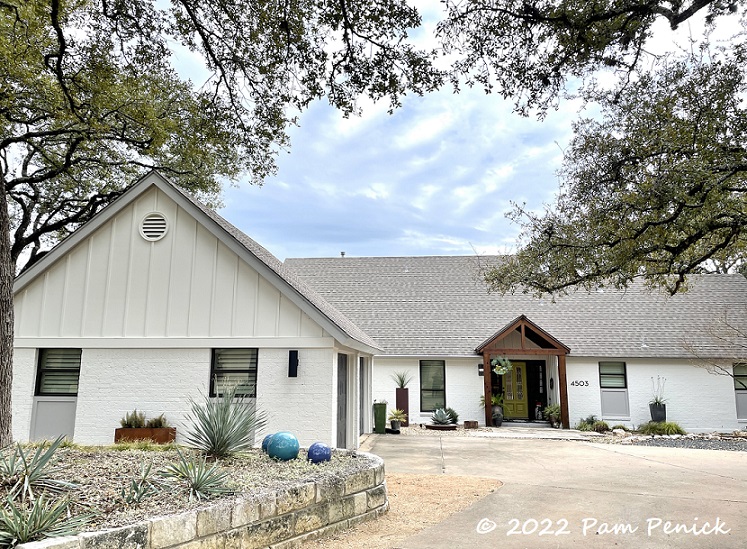 So that's what I did. After the front gable siding was replaced with Hardie board and batten, it was ready for painting. I hired a local painter recommended by Romabio, Doug at Austin Natural Painting. His hard-working crew fixed the rotten trim, power-washed, and painted the brick and concrete skirting with Romabio Masonry Flat. I chose Benjamin Moore paint for the non-brick siding and trim.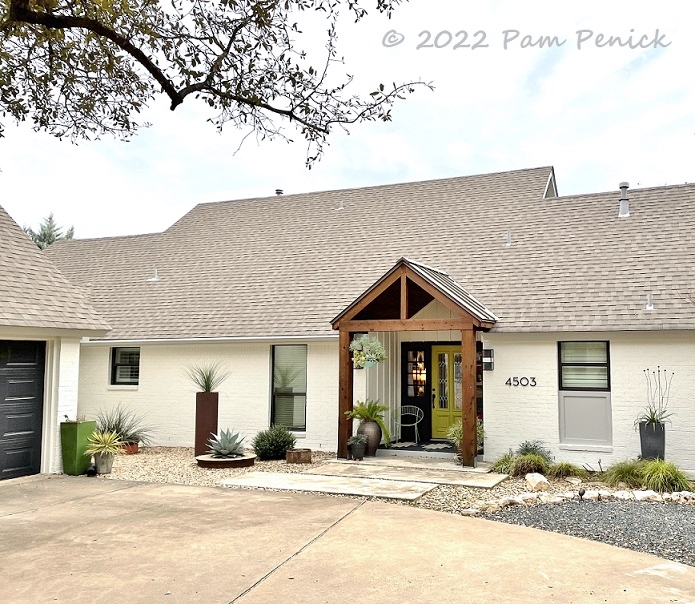 Not everybody agrees with painting brick, and I was a skeptic myself for many years. But I couldn't be happier with how fresh and new the house feels now that the busyness of the brick has been replaced by a neutral color. Plants stand out against it, and their shadows pop. The dark door surround and garage doors add modern high-contrast in areas that are easy to repaint myself if the sun does fade them. Many people who paint brick white opt for high contrast on all their trim, but I went with Brick & Batten's suggestion of a light gray for the eaves and under the windows.
To hold down costs, I decided not to replace the serviceable and sturdy original front door and sidelights. And although I'd enjoyed a turquoise door for many years, I decided to try a new color: a muddy chartreuse. I also painted the burnt-orange, chipped Saltillo tile on the front porch with nonslip porch paint. An indoor-outdoor porch rug recommended by Brick & Batten adds Southwest style and black-and-white contrast.
For those wanting specifics, here you go:
Body color: Olympic Mountains by Benjamin Moore, Regal Select, flat finish; for the brick, Romabio Masonry Flat tinted to match
Eave trim, gutters, and Hardie trim under windows: Cape May Cobblestone by Benjamin Moore, Aura, satin finish
Garage doors and front-door sidelights: Graphite by Benjamin Moore, Aura, satin finish
Front door: Wasabi by Benjamin Moore, Aura, semi-gloss finish
Front porch: Cape May Cobblestone by Benjamin Moore, Floor & Patio, low sheen finish with sand added for no-slip
Modern House Numbers in black, Palm Springs typeface, 6″ height
Progress Lighting cylinder light, black, 6″ x 18″, with lens cover for wet location use (on front of garage wall)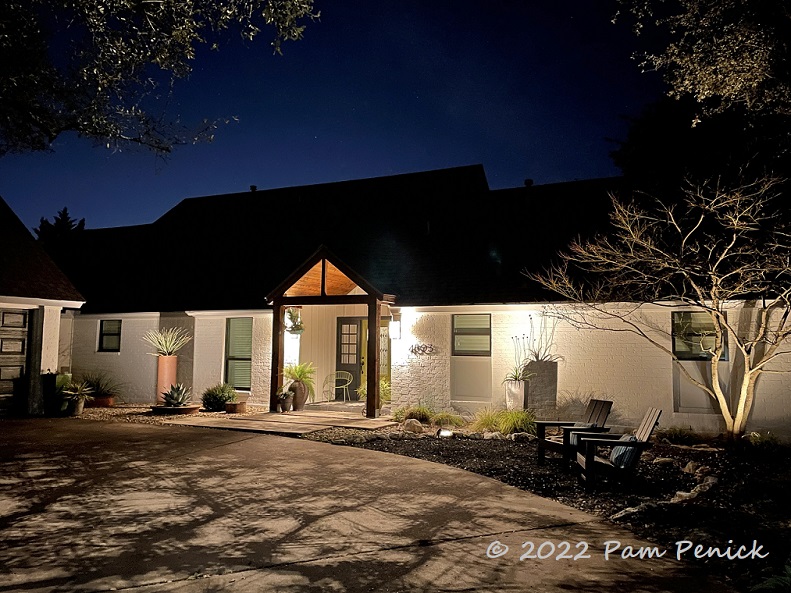 A night view. The landscape lighting looks great with the new soft white. Also, before the house painting, I removed the berm of sedge to the right of the front door to put in a little gravel patio. Two black Polywood Adirondacks recently replaced old painted-wood Adirondacks I'd put there, which I discovered at first sitting were rotting and falling apart.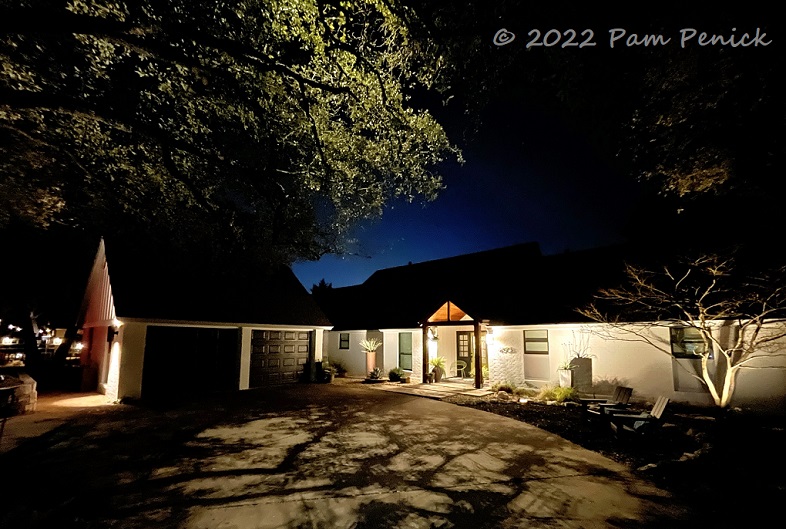 Tree shadows from downlights in the canopy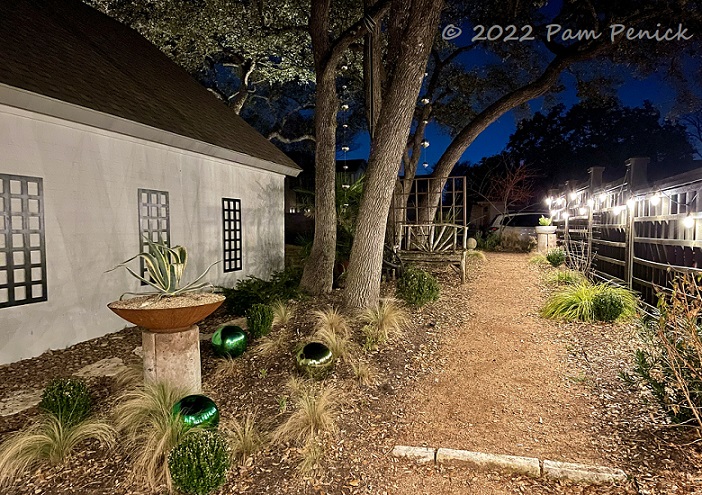 Here's a quick look up the path in the side garden, where string lights along the lattice fence come on automatically for a few hours every night. Regular readers will remember the lattice panels I'd painted, backed with plexiglass mirrors, and hung along the blank garage wall to echo the lattice fence. When we took everything off the house for painting, I discovered that those were rotting and falling apart too. I replaced them with metal lattice panels that I found on Etsy by CoastalMetalArt. They will eventually acquire a rusty patina like the steel dish planter on the pedestal. I used spacers to hang them an inch off the wall to prevent rust stains. These will last forever, or at least as long as I'm around.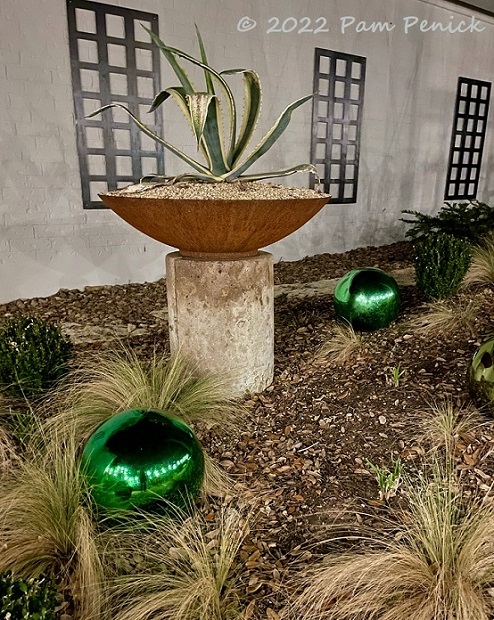 The 'Opal' variegated American agave took a bit of a freeze hit this winter, but it'll recover. I'm still working toward my vision of balls scattered around it — glass gazing balls and small boxwood balls, with meadowy feathergrass, society garlic, and coreopsis weaving among them.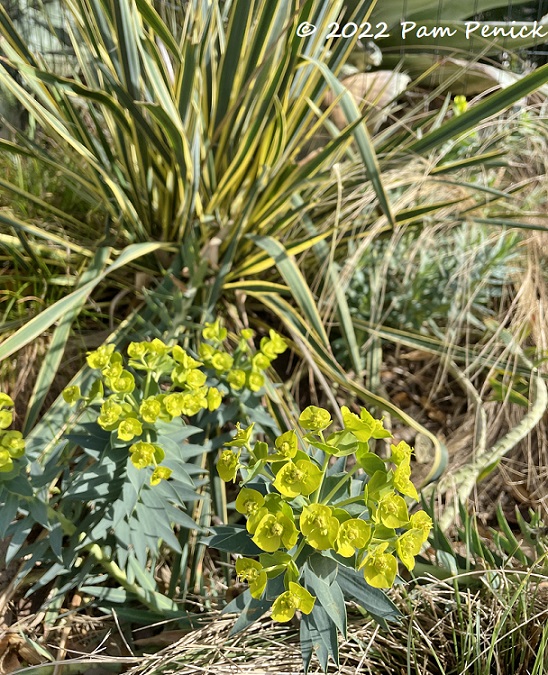 Out front, even though we had another hard freeze last night (in mid-March!) and another light freeze expected tonight, gopher plant (Euphorbia rigida) is flowering against equally sunny 'Bright Edge' yucca. Spring is on the verge.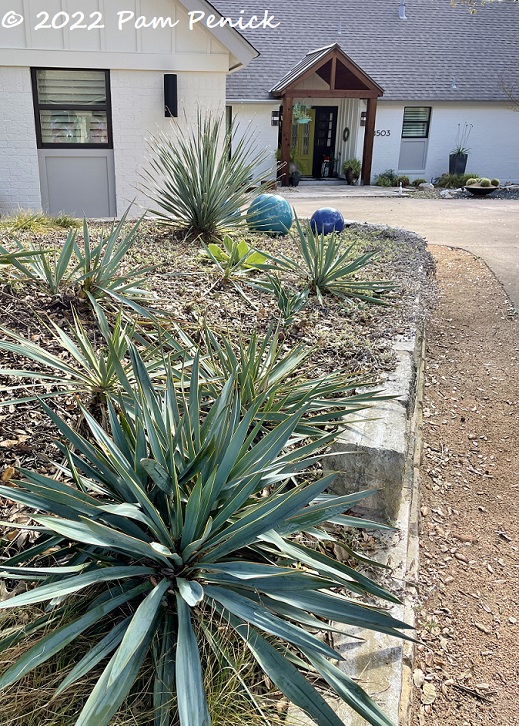 Along the driveway, blue-green paleleaf yuccas (Y. pallida) and Wheeler's sotol (Dasylirion wheeleri) look pretty against the fresh white paint. Up by the porch you can see a new dish planter packed with golden barrel cacti my neighbor passed along to me. I'll share more about that soon, along with new plantings going in along the foundation.
Thanks for following along on this lengthy brick-painting post! So, have YOU been contemplating painting dated brick? Or maybe you've already done it. Go on, share YOUR brick-painting adventure in the comments. Everyone's doing it — ha!
I welcome your comments. Please scroll to the end of this post to leave one. If you're reading in an email, click here to visit Digging and find the comment box at the end of each post. And hey, did someone forward this email to you, and you want to subscribe? Click here to get Digging delivered directly to your inbox!
_______________________
Digging Deeper
Need design help with your yard? Hire me as your personal garden coach! Maybe you need replacement plant ideas after the big freeze. Or maybe your landscaping has grown tired, and you want fresh curb appeal. Or perhaps you're ready to get rid of some lawn and create a pollinator garden, bird habitat, or hangout space for you and your friends. I'm here to help! Contact me to let me know what's going on, and let's figure it out together. My range is Austin and suburbs within a 25-min. drive of NW Austin, but I'm flexible and can travel farther with a surcharge, so let me know where you are. Weekday morning appts. only.
Attend the John Fairey Garden's annual Budding Out Plant Sale & Festival on Saturday, March 19 in Hempstead. Rare and distinctive plants from the garden's nursery and other vendors will be available, plus art, ceramics, jewelry, food, music, and entertainment for the whole family. Open 10 am to 4 pm. Members get first dibsat the plant sale with 9 am entry (memberships available at the gate). Check the webpage for a continually updated vendor list.
Join the mailing list for Garden Spark! Hungry to learn about garden design from the experts? I'm hosting a series of talks by inspiring garden designers, landscape architects, and authors a few times a year in Austin. Check out the 2021-22 schedule. These are limited-attendance events that sell out quickly, so join the Garden Spark email list to be notified in advance. Simply click this link and ask to be added.
All material © 2022 by Pam Penick for Digging. Unauthorized reproduction prohibited.