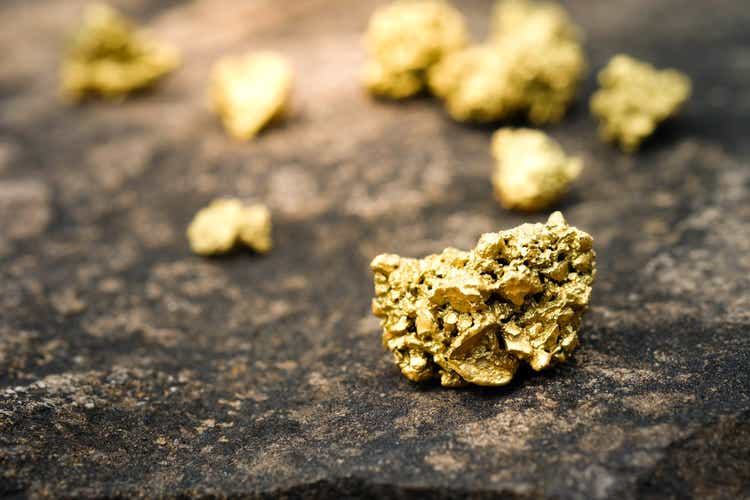 Introduction
Canada-based IAMGOLD Corporation (NYSE:IAG) reported its fourth quarter and full-year 2022 production results on January 17, 2023.
Note: I have followed IAG quarterly since 2014. This new article is a quarterly update of my article published on December 9, 2022.
IAMGOLD is a mid-tier gold mining company operating in three regions: North America, South America, and West Africa. The company also partially owns the Côté Gold construction project in Canada.
Maryse Bélanger, Chair and Interim President and Chief Executive Officer of IAMGOLD, said in the press release:
IAMGOLD finished the year with a strong quarter, with production surpassing the top end of our updated guidance estimates… Essakane continued its strong performance producing a record 432,000 ounces for the year, though supply constraints within the country continue to present operational challenges
1 – Fourth Quarter and Full-year Gold Production
Commentary
The gold production was solid, with 185K Au ounces in 4Q22.

IAMGOLD's flagship mine is Scattered in West Africa, representing 53% of the company's total output in 4Q22.

1.1 – 2022 Gold Production
IAMGOLD posted a consolidated production of 713K Au Oz in 2022, which was above the guidance of 605K to 705K Au Oz.

1.2 – Quarterly Gold and Silver Production
Production went up sequentially, with an attributable production of 185K Au Oz in 4Q22. The company sold 183K Au ounces. All three mines performed well, as shown below:

1.3 – Gold and Silver Prices History
I have estimated the AISC for 4Q22. The company said in the press release:
Cash costs and all-in sustaining costs ("AISC") are expected to be near the bottom end of the updated guidance range of $1,100 to $1,130 per ounce sold and $1,600 to $1,650 per ounce sold, respectively.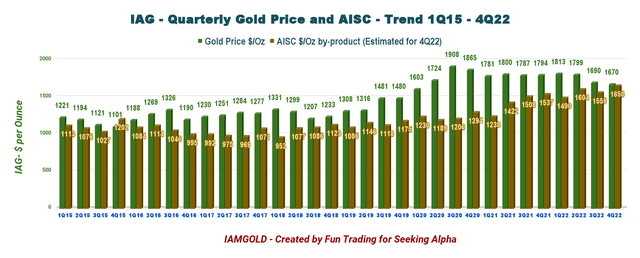 AISC has been an issue for the company for quite a long time, and it is expected to drop in early 2024 after the completion of the Côté Gold mine.
1.4 – Mines commentary (press release)
Annual attributable gold production for Essakane was 432K ounces (480K ounces on a 100% basis), exceeding the upper end of the updated guidance range of 410K to 430K ounces. The mine benefitted from higher grades in the year.
In the fourth quarter, attributable production was 98K ounces based on a mill throughput of 2.8 million tonnes at a head grade of 1.35 grams per tonne gold ("g/t Au") and gold recoveries of 89%.
Mining activities were lower in the quarter due to supply chain constraints related to the security environment in the country while ensuring necessary stripping activities were achieved to secure access to ore planned for mining in 2023.
Annual gold production for Westwood was 67K ounces, within the updated guidance range of 65K to 75K ounces.
In the fourth quarter, the operations produced 18K ounces. Ore production and underground development continued to ramp up, with 1,297 meters of lateral development achieved, an increase of 346 meters compared to the previous quarter.
Mill feed totaled 300K tonnes at a combined average head grade from the underground and open pit of 1.94 g/t Au and average gold recoveries of 93%, benefitting from ongoing mill maintenance strategies for improved availability.
Annual attributable gold production for Rosebel was 214K ounces (253K ounces on a 100% basis), above the upper end of the updated guidance range of 175K to 200K ounces.
In the fourth quarter, attributable production was 69K ounces based on total mill feed of 2.1 million tonnes at an average head grade of 1.29 g/t Au and an average recovery of 96%.
Higher grades result from accessing higher grade zones at Rosebel and Saramacca as per the mine plan.
On October 18, 2022, the Company announced the sale of its 95% interest in Rosebel Gold Mines N.V. (including Rosebel and Saramacca) to Zijin Mining Group for a cash consideration of $360 million. The closing of this transaction is on track to close in the first quarter of 2023.
1.5 – Gold side project discussion (update)
The company currently estimates that its share of the remaining Côté project CapEx to completion as of October 1, 2022, is approximately $1,000 to $1,200 million. The project should be about 72% completed now.
Here are some numbers to grasp the Côté Gold project:
Life of mine is 18 years, with initial production expected in early 2024;

Average annual production of 495k ounces (320,500 ounces attributable) during the first six years following commercial production and 365k ounces (236,000 ounces attributable) over the LOM;

LOM average cash costs of $693 per ounce of gold ("/oz Au") sold, and all-in sustaining costs ("AISC") of $854/oz Au sold;

Côté Gold LOM plan is based on Mineral Reserves of 7.2 million ounces.
The big issue was the financing, and the stock suffered greatly in 2022.
However, with the sale of its 95% interest in Rosebel Gold Mines N.V. (inclusive of Rosebel and Saramacca) to Zijin Mining Group for cash consideration of $360 millionits Boto Gold project and surrounding exploration assets to Managem (CAS: MNG) for approximately $282 million; and the transaction with Sumitomo Metal mining on December 19, 2022, to provide up to $340 million in additional funding for the construction of the Côté Gold project, the financing is now under control.
Maryse Bélanger, Chair of the Board of IAMGOLD and Interim President and CEO, said in the press release:
The proceeds of the sales, coupled with the financing agreement with Sumitomo announced last night, meet the remaining funding requirements for completion of construction at the Côté Gold Project, which is approximately 70% complete and on track for production in early 2024.
2 – Stock performance: Cup & Handle pattern
IAMGOLD dropped precipitously in early May to reach a low in October 2022. Since then, IAG has started a strong recovery and is now up 13% on a one-year basis, outperforming the GDX. The Cote Gold financing missteps and imprecision have been highly acidic for the stock, but the company has managed to resolve potential financial issues.
IAG forms a bullish cup & handle pattern, which suggests that the stock could go further up mid-term.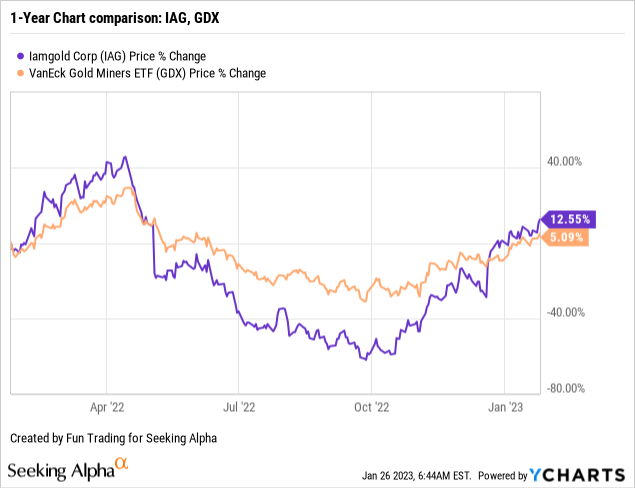 3 – Investment thesis
The investment thesis for IAG changed quite drastically in 2023. The stock corrected below $1 last year after the company indicated that the cost of building the Côté Gold project increased substantially. However, the Côté Gold project financing is now resolved, and this massive project is on track to produce gold starting in early 2024.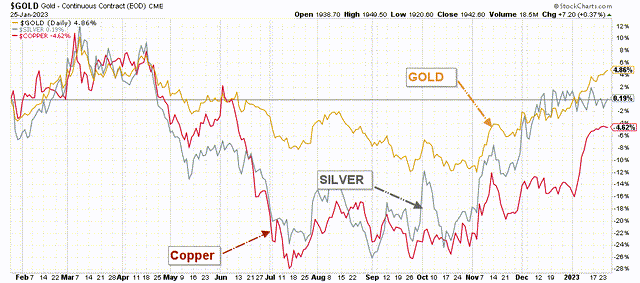 Hence, I recommend trading about 60% of your short-term LIFO and keeping a medium-core long-term position for a much higher target. Trading LIFO is the most adapted strategy that allows you to profit while waiting for a significant uptrend.
Technical Analysis (Short Term) And Commentary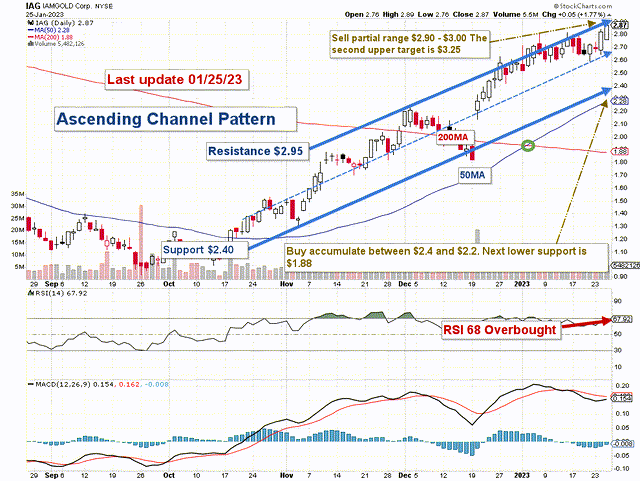 IAG forms an ascending channel pattern with resistance at $2.95 and support at $2.40. Ascending channel patterns are short-term bullish moving higher within an ascending channel, but these patterns often form within longer-term downtrends as continuation patterns. Another important indicator is the RSI(14), now overbought at 68.
The short-term trading strategy is to trade LIFO for about 60% of your position. I suggest selling between $2.90 and $3.00 with higher resistance at $3.25 and waiting for a retracement between $2.40 and $2.20 with possible lower support at $1.88. For frequent traders, I recommend using the mid-support at $2.67 to start accumulating.
IAG has followed the gold price and jumped quickly to nearly $3, while the gold price continues its ascent and closed today at $1,925 per ounce.
However, depending on the Fed's action next week, IAG could either break out and reach $3.50 or break down and retest $1.85.
The consensus is that the Fed will hike interest rates by 25 points two more times in 2023 before pausing. I believe the market has already factored in this possibility and should potentially retrace in February.
Thus, watch the gold price like a hawk.
Warning: The TA chart must be updated frequently to be relevant. It is what I am doing in my stock tracker. The chart above has a possible validity of about a week. Remember, the TA chart is a tool only to help you adopt the right strategy. It is not a way to foresee the future. No one and nothing can.
Author's note: If you find value in this article and would like to encourage such continued efforts, please click the "Like" button below to vote for support. Thanks.