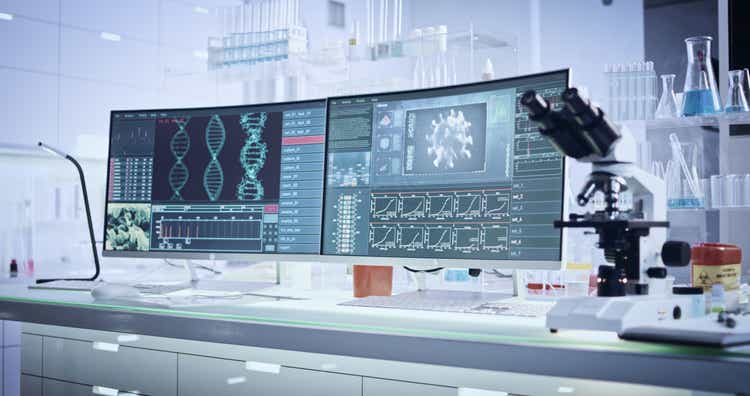 ImmunityBio, Inc. (IBRX) is a great speculative biotech stock to look into. The biggest reason right off the bat would be its extensive pipeline which is diversified into several areas. Treatments being developed in the pipeline are for cancer, HIV and Covid-19. Consider that there are about 26 ongoing trials at the moment and then 17 of them are in phase 2 or 3 clinical development. The amount of ongoing studies has greatly de-risks this biotech. Most importantly, its lead drug Anktiva is being explored in patients with BCG-unresponsive (Carcinoma in Situ) non-muscle invasive bladder cancer (NMIBC). It is expected that it will file a Biologics Licensing Application (BLA) in Q1 of 2022 for this drug in this specific indication. What's remarkable is that it not only exceeded historical complete response, but it also performed better than a few currently available therapies by a wide margin. Anktiva is great in that it complements or provides a secondary T-cell/NK-cell boost for BCG. The effect of the addition of Anktiva will be shown below. It has even shown recent impressive results in its phase 1 study in treating AML patients with its memory-like cytokine-enriched NK (m-ceNK) treatment when it is combined with Anktiva. Then, the Nant Cancer Vaccine (which utilizes the superagonist IL-15 Anktiva or N-803) showed promising results in a combination study when Immunity's off-the-shelf targeted natural killer cells (PD-L1-t-haNK) and aldoxorubicin were added with low doses of chemotherapy. Based on all these findings to date, I believe that ImmunityBio has a great future.
Anktiva Not Only Surpassed Historical Controls, But Achieved Higher Rates Compared To Marketed Drugs
The lead drug in ImmunityBio's pipeline is Anktiva, which is an IL-15 superagonist. What does it exactly do? It really invigorates innate immune responses such as NK cells and T-effector cells against cancer cells. However, what makes it even stronger is that it does so without activating regulatory T cells. Regulatory T cells are bad, in that they are found in the tumor microenvironment and can hamper any kind of NK or T-cell response. Bladder cancer is a common form of cancer which is found in the cells of the bladder. However, it is known as non-muscle invasive bladder cancer or NIMBC when it is only found in the inner layers of the bladder. The standard of care (SOC) treatment option for these patients has been Bacillus Calmette-Guerin (BCG) for 3 decades now. This is a huge unmet medical need, because even with this SOC BCG treatment, many go on to have a cystectomy. A cystectomy is surgery to remove the urinary bladder. For those that don't need this type of surgery, the ultimate outcome is death. In 2021 it was said that there would be about 17,200 deaths from bladder cancer. This is the issue with these patients with NMIBC.
BCG is the standard of care, but the problem is that about 40% of patients don't respond to it. BCG is built to generate an immune response and keep bladder cancer at bay. However, this is where Anktiva comes into play. A late-stage study showed that by adding Anktiva (N-803) with BCG, response rates were greatly improved. How is this possible? That's because Anktiva serves as a vital boost for innate immune memory. In other words, the drug improves proliferation (rapid increase in numbers) and enhancement of NK cells and T-cells for a long period of time. It acts as a secondary stimulus boost to the immunity that BCG provides. The mechanism of action of Anktiva was proven, not just by the hypothesis that it boosts BCG, but proven from the release of the results from the phase 2/3 study. This was an open-label study known as QUILT 3.032 in patients with BCG-unresponsive high-grade NMIBC. The FDA had already given ImmunityBio Breakthrough Therapy Designation and FDA Fast Track Designation based on prior data. The FDA was right to do this, because in the latest updated from the phase 2/3 QUILT 3.032 study it was shown that Anktiva with BCG achieved a complete response of 71% with median response at 24 months. It is one thing to see such a high response for these patients, but even better the safety profile was amazing. This is evidenced below based on both cohorts A and B, which showed:
0% treatment-related serious adverse events (SAEs)
0% immune-related adverse event (AE)
0% grade 4 and 5 adverse event (AE)
Just looking at this data alone, it is quite impressive. It gets even better when you compare the 71% response of Anktiva + BCG against historical controls and marketed therapies. Patients given Keytruda (pembrolizumab), which was approved by the FDA for BCG-unresponsive NMIBC CIS with or without papillary tumors, achieved a complete response (CR) of 41%. Another therapy known as valrubicin achieved a CR of 18% for these patients. As you can see, Anktiva + BCG not only passed current treatment options, but greatly exceeded them. Having said that, there is a catalyst opportunity that investors can expect any day now. It is said that ImmunityBio will file for FDA approval of Anktiva + BCG for the treatment of NMIBC CIS patients in Q1 of 2022.
Nant Cancer Vaccine Shows Synergy With Other Therapies In Previously Treated Pancreatic cancer patients
ImmunityBio has a diversified pipeline as I noted in the beginning, but this is where it is using another treatment known as Nant Cancer Vaccine. This Nant Cancer Vaccine utilizes its IL-15 receptor agonist Anktiva (N-803). The use of this cancer vaccine is being explored in an open-label study known as QUILT 88 for the treatment of patients with pancreatic cancer. However, it is doing so in a combination therapy and for patients who have already failed on 2 or more prior therapies. Pancreatic cancer is a quite devastating type of cancer. That's because it is typically not found until it has reached the metastatic stage. That's because no symptoms show up until the cancer has already spread to other organs in the body. The pancreas lies behind the lower part of the stomach. It is a very important organ in the human body. That's because it secretes enzymes that aid in digestion and hormones which help to regulate metabolism of sugars. Most important of all is that once someone is diagnosed with it, they have poor prognosis. In essence, the 5-year survival rate for a person who has pancreatic cancer is 9%. To date, you will see other types of cancers seeing an improvement in survival rates. Unfortunately, for pancreatic cancer the 5-year survival rate has remained low for many years. It is expected that the global pancreatic cancer treatment market will reach $4.2 billion by 2025. This a huge market for ImmunityBio and an unmet medical need as well.
Going back to the QUILT 88 open-label study, the goal was to recruit pancreatic cancer patients into first-line, second-line or third-line/greater cohorts. The primary endpoint was looking at overall survival (OS) for these patients. The thing is that the Nant Cancer Vaccine was added to the company's own off-the-shelf targeted natural killer cells (PD-L1 t-haNK) and (albumin-modulating agent) aldoxorubicin plus low-dose chemotherapy. It was shown that the Nant Cancer Vaccine combination therapy more than doubled median overall survival (mOS) versus historical OS in patients who had progressed after 2 prior lines of treatment with a median OS of 6.3 months. even for more advanced disease patients who had failed on 4 to 6 prior lines of therapy, the median OS was 5.8 months. This shows the potential for this combination in attempting to prolong the lives of these pancreatic cancer patients. Bases on the findings it has seen to date, ImmunityBio has went ahead and initiated the cohort for 3rd line or greater treatment. The goal is to meet with the FDA in 2022 to discuss a potential pathway towards another late-stage study.
Natural Killer Cell Enhancement For The Treatment Of Patients With Acute Myeloid Leukemia
ImmunityBio has further diversified its pipeline in adding in another type of therapy, which is known as memory-like cytokine-enriched natural killer (m-ceNK) cells for the treatment of cancer. One quick item to note is that this type of treatment is highly scalable. That's because it was able to generate 20 billion m-ceNK cells after a single extraction of white blood cells from a donor patient. The goal of this type of therapy is to use it to treat both liquid and solid tumors. Having said that, it has already established proof of concept in treating patients with acute myeloid leukemia (AML). This was achieved in a phase 2 sponsored study done by Washington University School of Medicine. The key thing about this study is that blood cells from HCT donors were stimulated with cytokines. Such cytokines the white blood cells were stimulated with were:
They were done to form memory-like NK cells and then re-infused back into the patients. The patients already received ImmunityBio's IL-15 superagonist Anktiva (N-803). The bottom-line is that the combination therapy led to an 87% complete response for patients after Day 28. Not only that, but it allowed the treatment to persist for two months after infusion. Most importantly, it is shown that memory NK cells can be used as a component of HCT for leukemia. This finding from the phase 2 sponsored study from Washington University School of Medicine, noted above, reinforces the need to further explore the use of m-ceNK cells in the ongoing phase 1 combination study. This study is going to use cryopreserved m-ceNK cells in combination with AnktivaO (N-803) for the treatment of patients with locally advanced or metastatic solid tumors.
Financials
According to the 10-K SEC Filing, ImmunityBio had cash and cash equivalents and marketable securities of $317.9 million as of December 31, 2021. The company has plenty of cash for now, but it estimates that it may only last for roughly 12 months from the date of the 10-K SEC Filing, which was filed on March 1, 2022. The reason why I say this is because it ultimately chose to pause its ATM offering in Q4 of 2021. Why would it do that? The reason it did so is because it received $300 million in promissory note financing from Nant Capital. That is, post-merger, it was able to acquire $300 million in new debt financing from NantCapital, LLC. This is new financing from ImmunityBio's founder, Executive Chairman and Global Scientific and Medical Officer Dr. Patrick Soon-Shiong. This investment was made on December 17, 2021. Before the pause of the ATM, it did choose to raise $164.5 million in cash from the issuance of about 13,295,817 shares from it. The thing is that it can choose to reenact it at some point later if it chooses to do so. If it does ultimately decide to reenact the ATM again, then it has about $330.8 million again available for future use.
Risks To Business
The first risk involves the BLA filing of Anktiva for BCG-unresponsive carcinoma in Situ non-muscle invasive bladder cancer (NMIBC). This regulatory filing with the FDA is expected to happen in Q1 of 2022 and there is no guarantee that the agency will accept it. The second risk involves with several of the other ongoing products in the pipeline. For instance, despite seeing positive results in the pancreatic cancer study with the Nant Cancer Vaccine and with memory-like cytokine-enriched natural killer (m-ceNK) cells in the AML study, there were only a small group of patients who were treated. In order to confirm these findings, both treatments will have to be tested again in much larger studies. The final risk might be based on the financials. As I stated above, it states in its financials that it has enough cash for at least the next 12 months, but eventually, it may choose to reenact the ATM again. If it does so, it has up to $330.8 million worth of shares at its disposal to sell to raise cash.
Conclusion
The final conclusion is that ImmunityBio is a great speculative biotech to look into. I think it is good that it has expanded its pipeline to use several types of different drugs. I discussed the use of Anktiva + BCG for BCG-unresponsive cancer in Situ non-muscle invasive bladder cancer (NMIBC), Nant Cancer Vaccine combination for pancreatic cancer and m-ceNK for AML as well. The thing is that Anktiva is being explored in several other types of cancer studies, for instance for the treatment of patients with: Lung cancer, breast cancer and brain cancer to name a few. Then, you have the use of the m-ceNK cells which are eventually going to be explored for use in both liquid and solid tumors. The company even has several shots on goal developing potential treatments for patients with HIV and Covid-19 as well. With the extensive pipeline ImmunityBio has, plus how close it is to file a BLA for Anktiva in bladder cancer, these are the reasons why I believe it is a good speculative biotech to look into.