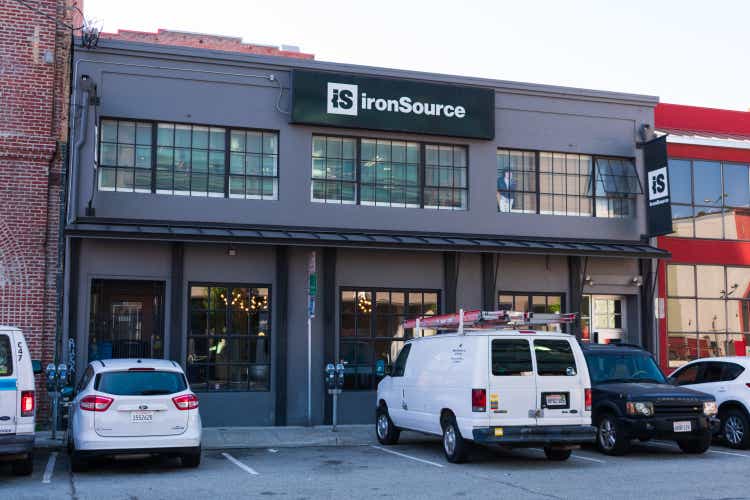 Investment Thesis
In my review of ironSource (NYSE:IS), I have found a company whose metrics all around from growth to net retention, profitability, guidance and valuation seem highly favorable, maybe almost flawless. The relatively recent IPO is a leader in the App Economy, which empowers creators to monetize their apps through advertising.
Although the stock has never been all that expensive, the stock has become more and more cheap in recent months due to the growth sell-off despite a convincing beat-and-raise in Q4 (which further lowered the forward multiples). In other words, the company's metrics and prospects seem in line with some of the best most expensive growth stocks out there, none of which is factored into the stock's current price/valuation at all.
As such, the stock seems reminiscent to Asana (ASAN), another stock that IPO'd (direct listed) at a favorable valuation and which last year I called my top stock for 2021. (Late last year, I suggested investors to take profit near the stock's all-time high.) Hence, ironSource is currently my highest conviction stock.
Overview
I have previously featured ironSource on my list of 5 tech growth stocks to buy during the sell-off and in my recent portfolio review. I remarked the company's stellar growth history and net retention rate that rivalled Snowflake (SNOW), a company with a P/S valuation literally 5-10x higher. Hence, the valuation seemed exceptionally compelling given these growth characteristics.
Stepping back for a bit, ironSource is a leader in the space called the "App Economy". Although it has been trying to expand to other segments, ironSource's business model is to provide a platform for app monetization. For example, ironSource highlighted App Analytics at a recent product launch:
Announced the launch of App Analytics centralizing even more critical app business functions within our platform, and expanding the number of roles ironSource can serve within an app-based business – from monetization and marketing managers, to game designers, product managers, and the executive team
ironSource also provided a customer example of Gameloft, one of the largest mobile game publishers, which has been able to increase ARPDAU (average revenue per daily active user) by 4x since its partnership. This shows ironSource can provide strong value to even its largest customers.
In the aforementioned top 5 list, I provided follow quote describing the business and its two main segments:
As a quick reminder, the ironSource platform is designed to serve the two core constituents of the App Economy, app developers and telecom operators. It's made up of two solution suites: Sonic, which empowers app developers who create the content of the app economy to turn that content into a business. And Aura, which enables telecom operators who provide the infrastructure that content runs on, to create a richer device experience to drive more value and differentiation with end consumers.
With regards to the Aura business, ironSource reported that it signed two partnerships with tier 1 telcos to integrate Aura on their devices.
Q4 Results
Bears have been warning for a slowdown, as has ironSource itself. Nevertheless, revenue of $158M was ahead of guidance and resulted in a strong 46% growth rate. While net retention also declined, it remained exceptional at 154%. ironSource further reported a 36% Q4 adjusted EBITDA margin and has 358 >$100k customers, which together are responsible for over 95% of revenue.
Following graph shows how ironSource's growth has quickly declined from its previous triple-digit rate: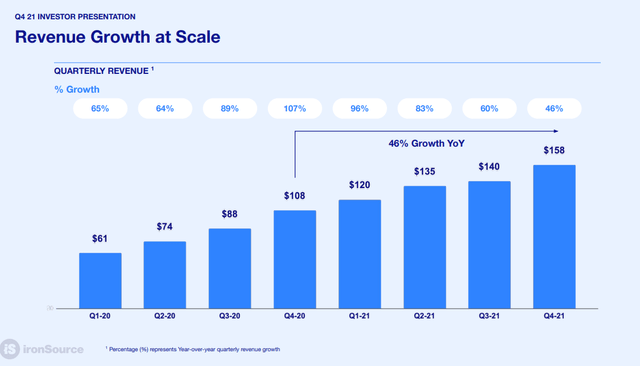 Obviously, needless to say, investors never like a slowdown in growth, hence the stock has been punished in recent months (although the general cause may be the broad market sell-off).
Guidance
That quick slowdown (as shown above) is indeed what previously made me a bit cautious, which had led me to wait for the Q4 results for more clarity on the trajectory of the company. But when looking at the guidance, one must conclude that ironSource is proving the bears wrong in just one quarter.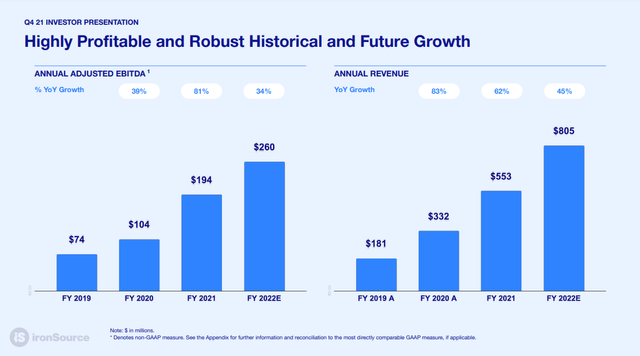 ironSource is initiating guidance for 2022 at $790-820M, which implies up to 48% growth at the high-end of the range. Of course, this may not be incredibly surprising to some given the aforementioned 154% net retention rate.
There are few stocks that can retain a net retention rate at that kind of 150%+ level for any prolonged period of time, so ironSource being one of them indicates that this is a strongly executing company that is operating in a fast-growing market.
For comparison, Unity (U), which is valued at twice or thrice the P/S (despite already being down ~50% from its ATH), recently initiated 2022 guidance at just 36% growth. Unity also has a lower net retention.
More near-term, although one would think that Q1 might be a more seasonally weaker quarter, guidance is initiated at (up to) $185M revenue for (up to) 55% growth, which implies a reacceleration in growth.
Valuation
In my top 5 growth list, I had remarked its favorable forward P/S of just 10x. However, due to the upside guidance, strong growth and market sell-off, the valuation is quickly shrinking even further. Using the high-end of the range at $820M, ironSource is now valued at less than 6x P/S. In terms of P/E, this translates to ~20x.
Just to provide an indication of how absurdly low this is, advertising stalwart The Trade Desk (TTD) is valued at 20x forward P/S (not P/E) despite having reported about ~25% growth in its latest quarter, which is about half of ironSource's growth rate. In addition, as mentioned, Unity is valued nearly 3x higher than ironSource despite a lower forward growth rate as well.
Of course, this may indicate that other companies may be grossly overvalued, but clearly ironSource's risk-reward is, therefore, all the more superior.
For a few more comparisons, I compare ironSource to some of the strongest-growing cloud companies. Although I will make no claim, ironSource should belong in the upper part of this list, the lower part of the list is more representative. Valuation based on 2022 forward P/S:
Octa (OKTA): 12x
Zscaler (ZS): ~25x
CrowdStrike (CRWD): 24x
Asana (ASAN): 13x
Cloudflare (NET): 42x
In terms of valuation and growth profile, two companies I have found that are closest to ironSource are Affirm (AFRM) and Upstart (UPST).
As a last indication of how cheap the stock is, although I haven't seen any official long-term management guidance, it isn't completely unthinkable that between 5 and 10 years from now, ironSource's revenue might become higher than its current market cap.
Investor Takeaway
There seem to be two extremes for IPOs. Some are highly covered and tend to be bid up to extreme valuations. Examples include Beyond Meat (BYND), JFrog (FROG) and Lemonade (LMND) – I own all three stocks, some at a more favorable average cost than others. Another example is Snowflake.
On the other hand, some companies tend to be largely ignored until perhaps quite some time after IPO, until the company has proven itself. Such examples include Palantir (PLTR), MongoDB (MDB), The Trade Desk and Asana.
Given everything discussed above with regards to growth, net retention, profitability, guidance and valuation, I would strongly suggest ironSource belongs in the latter category of companies, and therefore, seems poised for strong shareholder returns. Even without multiple expansion, ironSource's strong and likely durable growth should be a recipe for a successful investment.