The career numbers are off the charts. They are video-game-like, but they're real. Pete Maravich put up statistics like no other while playing college basketball at LSU.
Maravich played three years for the Tigers. His worst year scoring-wise was his first when he averaged 43.8 points per game. Nobody filled a stat sheet like "Pistol Pete," but is he the best college basketball player ever? We rank our top five NCAA men's basketball players of all time.
No. 5: Bill Russell, San Francisco
While Russell is known for his 11 championships with the Boston Celtics, he earned two straight NCAA titles at San Francisco. In his first season with the Dons, he averaged 19.9 points and 19.2 rebounds. The following two seasons, he averaged better than 20 points and 20 rebounds and helped the Dons win national championships.
While at San Francisco, Russell collected 55 straight victories. He was a vicious shot-blocker and led the way with a defense-first mindset. He was a consensus first-team All-American in 1955 and 1956 and was the UPI College Player of the Year in '56.
No. 4: Oscar Robertson, Cincinnati
Oscar Robertson put Cincinnati on the basketball map with his strong two-way play. A scoring machine, Robertson averaged 33.8 points in his three seasons with the Bearcats. A 6-foot-5 guard, he also dominated the boards. Robertson finished his career averaging 15.2 rebounds.
At Cincinnati, Robertson went 79-9 and helped guide the Bearcats to a pair of Final Four appearances. He had 10 triple-doubles and led the NCAA in scoring in each of his three years. Robertson was a three-time UPI College Player of the Year and a three-time Sporting News Player of the Year.
No. 3: Bill Walton, UCLA
Walton attended UCLA for four years, but freshmen were unable to play varsity at that time, so he technically has stats for three years with the Bruins. In those three seasons, Walton dominated, putting up 20.3 points and 15.7 rebounds against some of the best competition in the country.
Walton was a three-time National College Player of the Year winner, despite playing part of his senior year with a broken back. He played a major role in UCLA's 88-game win streak and led them to a pair of national championships (1972 and 1973).
In the 1973 national title game against Memphis State, Walton made 21 of 22 shots, finishing with 44 points and 13 rebounds.
No. 2: Pete Maravich, LSU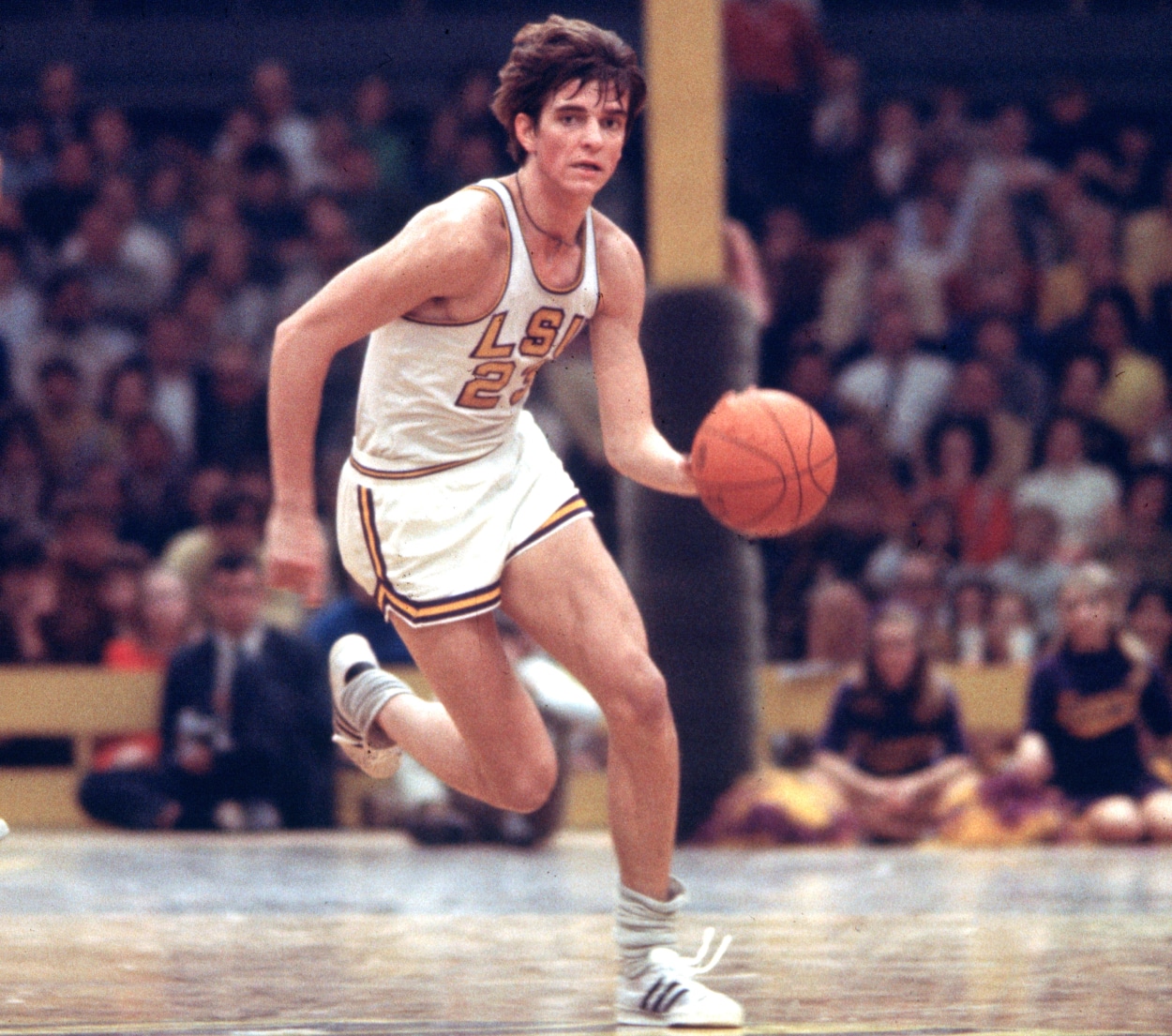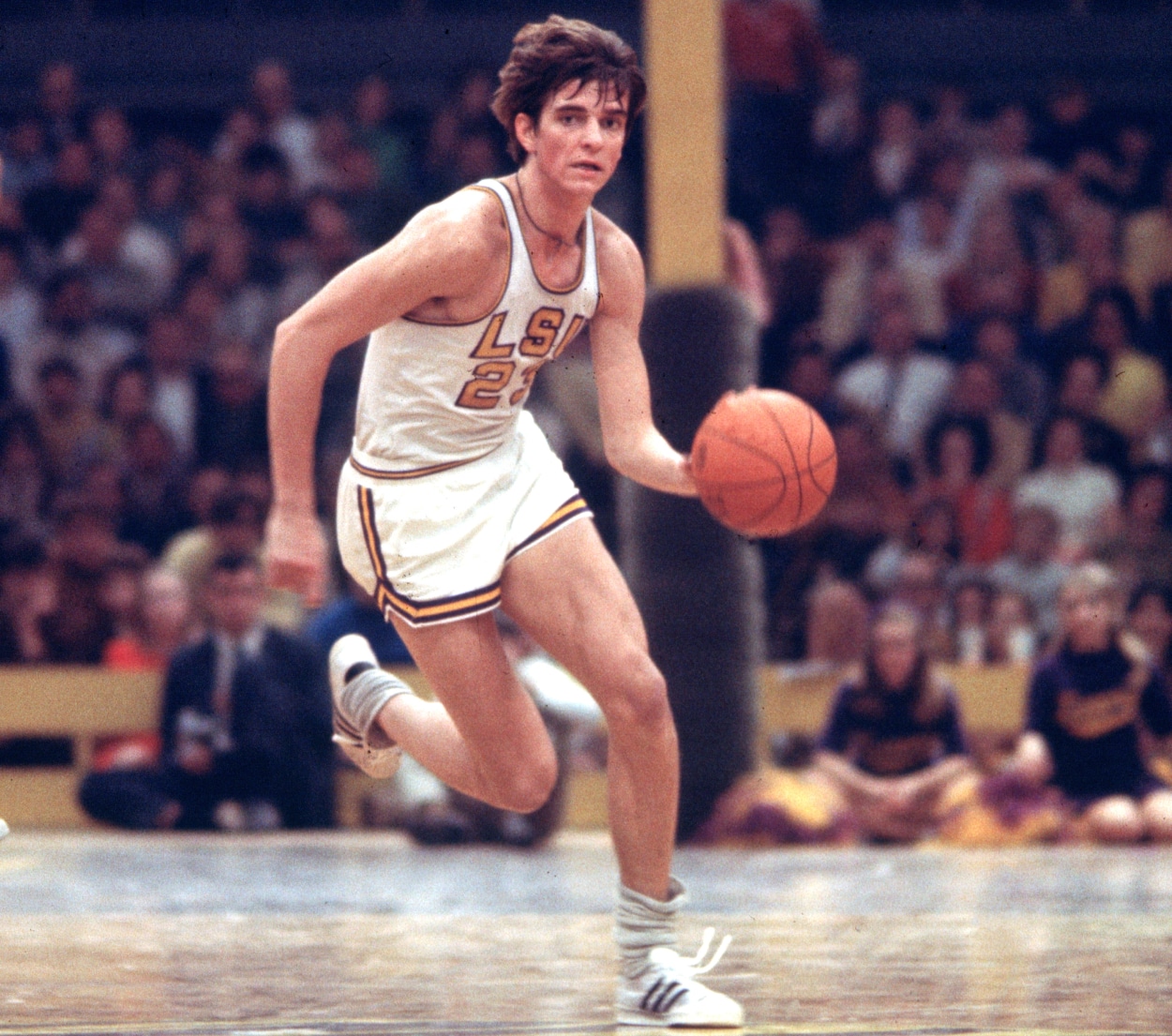 Like everyone on this list, Maravich played three varsity seasons of college ball, as freshmen weren't allowed to play varsity. Maravich, a 6-foot-5 sharp-shooting guard, opted to attend LSU to play for his father, who had just been named the school's coach. The program had three wins the year before "Pistol Pete" arrived on campus.
In three seasons, Maravich recorded 3,667 points, an NCAA record that still stands. The amazing part of Maravich's scoring total is he did it in three years and did it without the three-point line. There was also no shot clock back then.
Maravich was a three-time NCAA scoring champ, never averaging below 43.8 points in a season. He was a three-time consensus first-team All-American and named National College Player of the Year twice.
No. 1: Lew Alcindor, UCLA
Alcindor, now Kareem Abdul-Jabbar, didn't waste any time making a statement with the UCLA varsity. After playing on the freshman team, he broke the school's single-game scoring mark in his first varsity game, scoring 56 points. That year, he led the Bruins to an undefeated season and a national championship. He averaged 29.0 points and 15.5 rebounds in his first year with the varsity.
Alcindor won three straight national titles. During his three years at UCLA, he went 88-2. He finished his career averaging 26.4 points and 15.5 rebounds.
Alcindor was a three-time consensus first-team All-American and a three-time National College Player of the Year.
It's a solid group of candidates, but we have to give the edge to Alcindor as the best college basketball player ever.