It was a rematch 681 days in the making, a chance for Robert Whittaker to prove he had learned from his mistakes, that he was a different man.
The Australian may not have come out on top on Sunday, falling to UFC middleweight champion Israel Adesanya in a unanimous decision defeat (49-46, 49-45, 49-45).
But it was not the same fight that the two had in 2019, when Whittaker left himself open early and was finished by the second round.
Watch UFC 271: Adesanya vs Whittaker LIVE on Main Event available on Kayo & Foxtel, Sunday 13th February from 2pm AEDT. ORDER NOW >
"Stop booing me!" O'Neill blasts crowd | 01:01
Even after he found himself struggling at the end of the first, going to his corner in desperate need of confidence and self-belief, Whittaker was able to take Adesanya all the way this time.
Whittaker was far more patient than he was in the pair's first fight, seemingly learning from his past mistakes.
But the Aussie was dealt an early blow, with Adesanya dropping the Reaper and drawing first blood, with Michael Bisping saying the takedown would be a "scary thought" for Whittaker.
Whittaker was right to be more cautious so as to not leave himself vulnerable to Adesanya's brilliant counterwork but Daniel Cormier worried he was being too careful.
"Now he knows Izzy can hurt him so he's got to be cautious but he can't be so cautious that he's giving away rounds," Cormier said in commentary.
Whittaker looked defeated in his corner, telling his team leg kicks were hurting him as he was compelled to "believe" he could rebound against the Kiwi.
'HOLY S***': Aussie monster ends UFC's most dangerous man with 'outrageous' KO
BAM BAM CAN'T BE STOPPED | 01:24
The Australian appeared to have rediscovered some of that self-belief with a double-leg takedown, although Adesanya was quick to get back on his feet.
"Whittaker has to find a way to get him back down to the mat and control the position," Cormier said.
Whittaker was finding plenty of opportunities to get on top, landing a left hand and taking Adesanya down before jumping on his back and going for the choke.
The champion's defence was elite though and he was able to escape, leaving Cormier frustrated for the Australian.
"I don't understand," he said.
"Shoot again.. you've going to have to give those big efforts back-to-back because he's not stopping. The moment he gets to his feet he goes back to work, goes back to pressure."
It had Bisping declaring that Whittaker needed to get a knockout in the final round to be any hope.
"He needs something, he needs ultimately a stoppage if he is going to win this," Bisping said.
"Robert Whittaker has done a lot of good things but Adesanya has stayed good to who he is," Cormier added.
In the end, Whittaker could not find that decisive late blow, falling short and leaving the octagon "gutted" by the result.
"I'm happy that I fought my heart out, but yeah, I'm gutted, I thought I did enough," he said.
"I know I started off rocky, but I thought I won every round after that."
Watch Live UFC PRELIMS with ESPN on Kayo. Full Fight Night Events, PPV Prelims, Ultimate Fighter Series & More. New to Kayo? Start Your Free Trial >
Adesanya has dominated the division since making his UFC debut four years ago, winning all 10 fights, half of which have been either interim or undisputed championship wins.
The Nigerian-born 32-year-old has been victorious against Paulo Costa, Yoel Romero, Whittaker, Marvin Vettori (twice), Kelvin Gastelum, Anderson Silva and Derek Brunson to quickly assert himself as the king of the division.
Adesanya remains undefeated in his career as a middleweight with a perfect 22-0 record, and his only MMA loss came early last year when he fought Jan Blachowicz for the light heavyweight title and lost via unanimous decision.
TAI TUIVASA STUNS KO KING IN 'CRAZY' WIN
Daniel Cormier called it the "biggest hill to climb" in Australian Tai Tuivasa's career.
And now the 28-year-old cult hero has climbed that hill – all 120 kilograms of it – defeating hometown hero Derrick Lewis at UFC 271 in a stunning upset.
Lewis was on top in the early stages of the first round, moving extremely well for his size and sending Tuivasa to the floor with an inside-out trip before pounding at the Australian with a series of shots.
Tuivasa, to his credit and knowing he could be in dire trouble should he stay down in defence, forced his way back and immediately onto the attack.
Both men were swinging early and once more in the second it was Lewis who was threatening to do the most damage with it.
Then Tuivasa suddenly flipped the switch with a low kick and bruising elbow, rocking Lewis and bringing an end to the fight.
Speaking post-fight, Tuivasa paid tribute to Lewis but declared it was his time to take over the heavyweight division.
"That's the king of knockouts, much respect to Derrick," Tuivasa said.
"But like I said, I'm young and I'm not coming, I'm taking over now."
Tuivasa had enjoyed a tremendous resurgence since losing at UFC 243, winning his last four bouts.
But he had never fought someone like Lewis who has not only been involved in a couple of championship fights, but also holds the UFC all-time record for most knockout wins (13) which he achieved in his last fight against Chris Daukaus.
Lewis only just fought Ciryl Gane in August for the interim heavyweight belt so Tuivasa is certainly in uncharted waters.
UFC 271 CARD AND RESULTS
Main card (from 2pm AEDT)
Israel Adesanya (c) (184 lbs) def. Robert Whittaker (184 lbs) by unanimous decision (49-46, 49-45, 49-45) – middleweight title
Tai Tuivasa (265 lbs) def. Derrick Lewis (266 lbs) by TKO – heavyweight
Jared Cannonier def. Derek Brunson by TKO – middleweight
Renato Moicano def. Alexander Hernandez by submission – lightweight
Bobby Green def. Nasrat Haqparast by unanimous decision (30-27, 30-27, 30-27) – lightweight
Preliminary card (from midday AEDT)
Andrei Arlovski def. Jared Vanderaa by split decision (29-28, 29-28, 28-29) – heavyweight
Casey O'Neill def. Roxanne Modafferi by split decision (29-28, 29-28, 28-29) – women's flyweight
Kyler Phillips def. Marcelo Rojo by submission – lightweight
Carlos Ulberg def. Fabio Cherant by unanimous decision (30-27, 30-27, 30-27) – light heavyweight
Early preliminary card (from 10am AEDT)
Ronnie Lawrence def. Leomana Martinez by unanimous decision (29-27, 29-27, 29-28) – bantamweight
Maxim Grishin def. William Knight by unanimous decision (30-27, 30-27, 30-27) – heavyweight
Jacob Malkoun def. AJ Dobson by unanimous decision (29-28, 29-28, 29-28) – middleweight
Douglas Silva de Andrade def. Sergey Morozov by submission – bantamweight
Jeremiah Wells def. Mike Mathetha by submission – welterweight
FULL UFC 271 WRAP
AUSSIE O'NEILL FIRES UP AT BOOING CROWD
Undefeated Australian Casey O'Neill spoiled Roxanne Modafferi's final fight in the UFC and had a pointed message for the hostile Houston crowd.
It was a split-decision win for O'Neill, who broke her own record after finishing with 60, 64 and 50 significant strikes throughout the three rounds.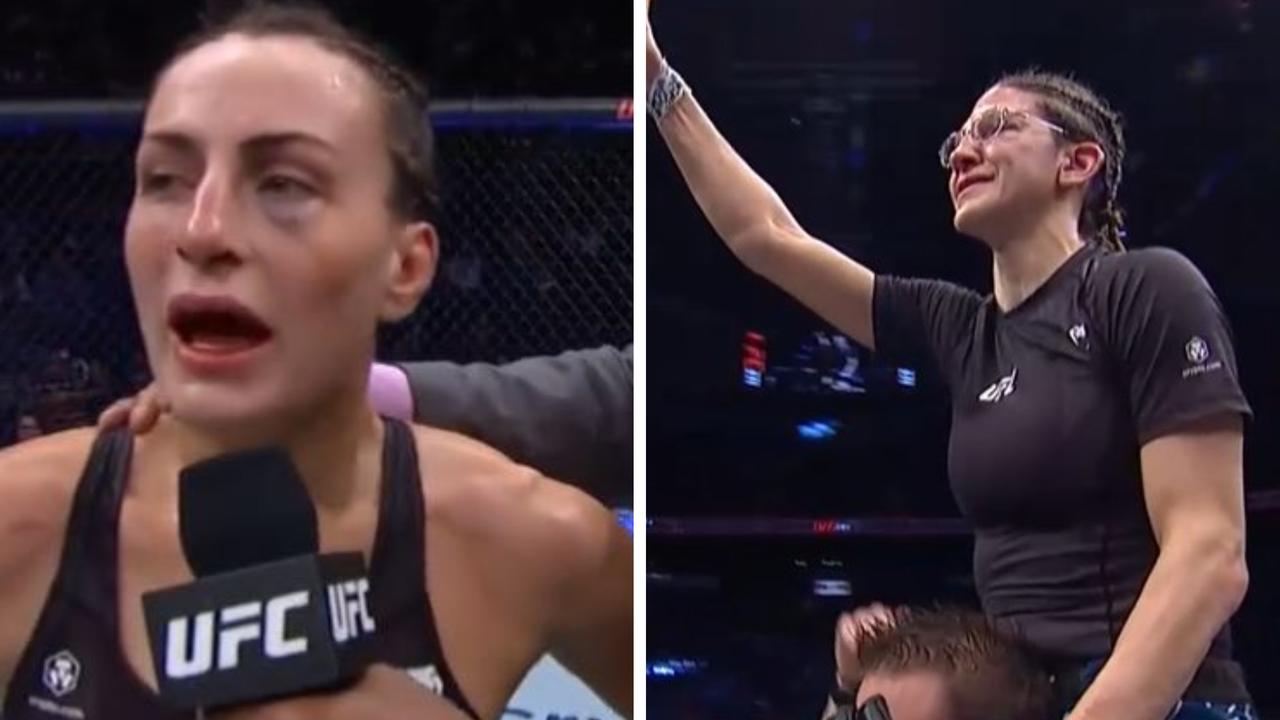 O'Neill knew and embraced her role heading into Sunday's fight against the retiring hero, telling reporters: "I don't care (about her retirement)… It doesn't change anything for me".
"My career goes on the same. This is just another step in my journey and what she does is on her. So I'm taking it nothing different than the rest of my fights," she added.
That attitude was key for O'Neill on Sunday, not getting swept into the emotion of what it meant for her opponent and instead simply putting all her focus into getting the win.
When she did just that the crowd was not subtle in letting her know how they felt.
Neither was O'Neill though who took aim at the booing crowd.
O'Neill's microphone was then seemingly cut off as she delivered expletive-laden parting words.
"If you want me to be the bad guy, then f*** you, I'll be the f***ing bad guy," she said, flipping the bird.
CANNONIER CALLS OUT DANA WHITE AFTER BRUTAL WIN
Jared Cannonier called out UFC boss Dana White after a statement victory over Derek Brunson on Sunday afternoon.
Cannonier had Brunson stumbling in the second round after a backfist, with the American backing it up with a hook and head kick.
Brunson desperately tried to recover and clinch to slow things down but instead Cannonier took him to the floor and followed it up with a series of hammer first and elbows.
Brunson's corner threw in the towel and a TKO victory was awarded to Cannonier, who had looked in serious trouble when he found himself in a rear-naked choke hold late in the first round.
The clock saved the American that time around and he quickly responded to take out the fight in brutal fashion, calling for White to give him a title shot with whoever wins the Adesanya vs Whittaker bout.
"Hey, Dana. Look at me. Dana, I want the shot next. It's me. Nobody else," he said.
White had said in the lead-up to this Sunday's fight that the winner of the Cannonier and Brunson fight was not guaranteed the next shot at the middleweight title.
'F*** EM': NINE-YEAR VETERAN'S DEFIANT STATEMENT
Bobby Green has put in a dominant showing to kick off the main card on Sunday, defeating rising star Nasrat Haqparast by unanimous decision (30-27, 30-27, 30-27).
Green had a defiant message post-fight, telling the Houston crowd: "To anybody out there who's ever been put down, to anybody that's ever been forgotten, do this for me: Put your middle fingers in the air and say F*** em."
There was early drama with both fighters warned by referee Mike Beltran for eye poking.
Green was able to keep Haqparast in check for the majority of the fight, even as the German started to creep closer with his strikes in the second round.
Haqparast was guilty of trying to target the head too much, which failed to equate to anything significant given Green's elite head movement.
The German landed a few solid body shots but continued to take some of his own and was later rocked by a counter right uppercut.
Haqparast stumbled briefly and was able to continue fighting but Green kept in control of the range and never looked in trouble.
MOICANO WINS OVER UFC WORLD WITH LEGENDARY INTERVIEW
Renato Moicano scored the biggest win of his career, submitting Alexander Hernandez via second-round submission (read naked choke).
But Moicano won over his UFC world with his actions post-fight, first embracing his opponent and lifting his hand in a touching show of respect.
Moicano then gave an interview for the ages, taking the opportunity to first pay tribute to his coaches before begging for a big payday after his win.
"I know you guys like big stuff, like big steaks. I like big checks. Moicano wants money," he said.
"I got taxes to pay, I got a life to live. I like money, I like big checks."
The Brazilian got the better of the striking early and as a result was able to take the fight to the ground where he put Hernandez in a rear-naked choke hold.
The American was quick to tap out, accepting his fate as Moicano won his second fight in a row since moving to lightweight, improving to a 3-1 record.
NRL WRESTLING COACH'S BIG STATEMENT
Later in the card, Australian Jacob Malkoun staged a comeback of his own (unanimous decision — 29-28, 29-28, 29-28), handing A.J. Dobson the first loss of his professional career.
Malkoun, who worked with 2021 NRL premiers the Penrith Panthers as a wrestling coach, dropped the first round against Dobson, who was making his UFC debut.
The American had the advantage early with his hand speed proving a challenge for Malkoun, who was eyeing a takedown in the opening round.
The Australian did get the takedown with a few seconds remaining but Dobson was the better of the two in the opening round, with strong counterwork.
Malkoun though started to find more success with his wrestling-heavy approach in the second, getting Dobson tot he ground and firing a series of strikes to take the upperhand.
He then scored another takedown to open the third and proved too strong in a unanimous decision win.
UFC VETERAN STUNS WITH INSANE COMEBACK
Douglas Silva de Andrade has stunned the UFC world, scoring an epic comeback victory in his bantamweight fight with Sergey Morozov.
Silva (28-4, 1 NC) looked in trouble early as Morozov (17-5) got well on top early, knocking the Brazilian to the ground and seemingly landing every shot he took.
An elbow then opened a nasty cut on Silva's head with everything going the way of the Kazakhstani fighter.
Even when the Brazilian attempted to get up he was immediately met by a forceful knee from Morozov, who finished the round with a takedown.
Silva seemed destined to be knocked out soon enough but he opened the second round the stronger of the two, rocking Morozov early and going after the finish.
The Kazakh was able to weather the storm for the time being but was dropped soon after as Silva pounded away before sealing the comeback with a rear naked choke.
Speaking after the win, Silva called out UFC boss Dana White, declaring: "I deserve the $100,000 Dana, I deserve the best performance and fight of the night".
While there will be plenty more doubts to contend with, UFC fans were certainly full of praise for Silva's tenacity in not just recovering from the first-round onslaught, but getting the win in such dominant fashion.
In fact, Silva had lost the first round unanimously and 10-8 on one card, making his fightback all the more impressive.
'EYESORE': ROJO'S CALF TAKES A BEATING
Kyler Phillips has outlasted Marcelo Rojo to take out a submission win, with the Argentinian's left calf taking an absolute beating in the process.
Phillips was coming into Sunday's fight off a disappointing majority decision defeat to Raulain Paiva.
The 26-year-old was not at his calculated best that time around but was far more polished on Sunday, with quick and precise combinations and two early takedowns.
Phillips went for the finish early in the third with a mounted triangle, later getting the armbar that forced Rojo into tapping.
Rojo's calf was destroyed in the process after a vicious kick from Phillips.
HYPE JOB SILENCED IN FIRST-ROUND LOSS
Earlier, Jeremiah Wells easily accounted for the Blood Diamond with a first-round submission win.
Wells did not have the best start though, running along the perimeter of the cage before slipping over.
It allowed Diamond, who had been heavily hyped up ahead of Sunday's fight, to gain the upperhand early by locking his opponent up after the slip-up.
The brief period of dominance was just that — brief — with Wells scoring a takedown, taking Diamond's back and finishing the fight with a rear naked choke hold.
LAWRENCE OVERCOMES SHAKY ENDING
Elsewhere, Ronnie Lawrence overcame a testing final round to defeat Mana Martinez via unanimous decision (29-27, 29-27, 29-28).
Lawrence dominated the majority of the fight's three rounds but ran into trouble late as he was dropped twice by Martinez.
To his credit, Lawrence was able to put that behind him to land a takedown and wrestle back momentum long enough to hold onto the win.
He had dropped Martinez three times in the fight and looked in a comfortable position until the latter stages, which left Lawrence feeling a tad empty post-bout.
"Right now, after what I just did, I'm pretty disappointed," Lawrence said when asked who he wanted to fight next.
"It's a good question, but I just want to go up from here."