Guram Kutateladze vs Mateusz Gamrot was the last fight on the preliminary card. The fight served as an excellent end to an exciting preliminary card with some extremely entertaining fights. Nurmagomedov, Grishin, and Park had set the bar extremely high with stellar performances in the build-up to the main card. 
Going into the fight, all the attention was on Guram Kutateladze as he is best friends with breakout star Khamzat Chimaev. Both men train at the world-renowned All-stars gym in Sweden. MMA fans and pundits alike were curious to see if Guram could "smesh" his opponents as his teammate can. Though he did earn the victory, 'The Georgian Viking' was extremely critical of his own performance. 
Read: WATCH: 51-second knockout by Khabib Nurmagomedov's cousin Said Nurmagomedov stuns everyone at UFC Fight Night
Guram Kutateladze says this is number one bullsh*t 
Following his win over Mateusz, Guram was asked by 'DC' to give his thoughts on the fight. A humble Kutateladze replied saying, "Brother 'DC', first off all I love you. Second of all this is not my fight. This is number one bullsh*t. I'm an honest man you know. Me and this guy work hard. But when results, it was not my fight. The guy did how many takedowns. I'm sorry to say that brother."
"This is number one bulls—. I'm an honest man… It wasn't my fight."

Humble and honest in victory, @guram_dze doesn't believe he beat Mateusz Gamrot at #UFCFightIsland6 pic.twitter.com/GsNUmbNPi7

— ESPN MMA (@espnmma) October 17, 2020
A disgruntled Kutateladze continued, " It wasn't my fight. I don't know how judges score it. Thank you so much of course. I'm not happy because this was not what I was waiting for…."
In the fight, Gamrot was able to land an impressive 69 total strikes with an accuracy of 46%. He was also able to secure five of his attempted 16 takedowns in the fight. While on the ground 'Gamer' landed 11 strikes. Over the course of the fight, he landed 53 significant strikes with an impressive 41% accuracy.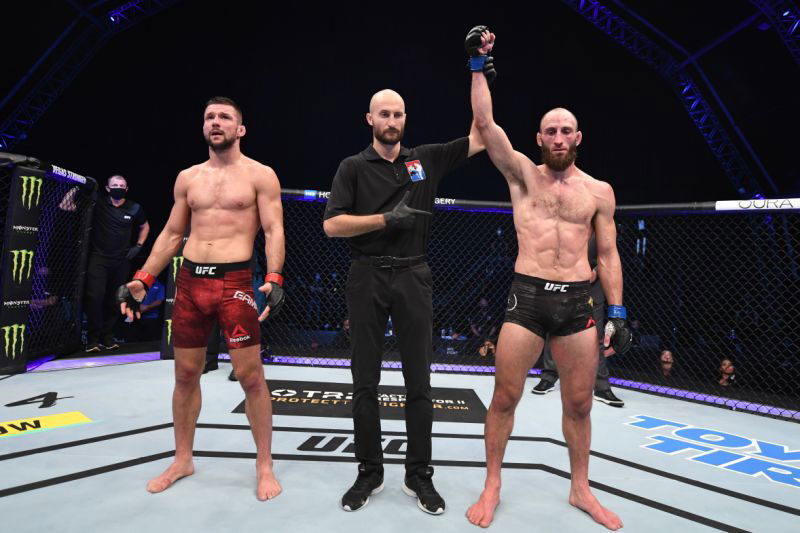 Both Kutateladze and Gamrot were making their debuts in the UFC. The 'Georgian Viking' was on an eight-fight win streak prior to his win against Gamrot. The Polish fighter on the other hand was undefeated in his previous 18 fights. The only blip in his record was a no-contest all the way back in 2017. The addition of both men has made the already stacked lightweight division even more exciting. What did you make of their thriller on Fight Island?
Continue the conversation on the app, join other MMA fans on MMA Fans App