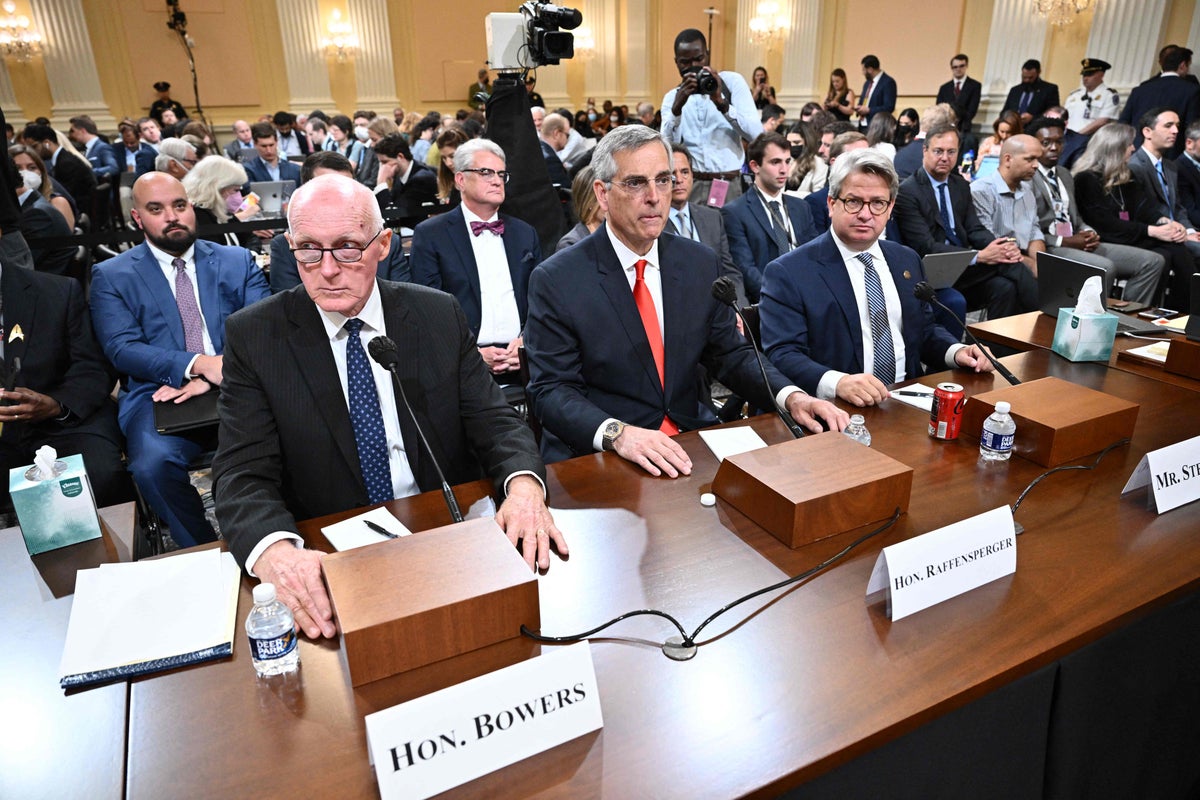 'I've lost my name, I've lost my reputation': Voting official givers testimony at Jan 6 hearings
Alabama Congressman Mo Brooks, who spoke at the 6 January rally outside the White House, has lost his state's GOP senate nomination to Katie Britt after Donald Trump withdrew his endorsement.
Celebrating Mr Brooks's defeat on Truth Social, Mr Trump boasted about the success of his endorsed candidates this cycle, while Mr Brooks remarked that "We are sending to Washington, DC the exact opposite of what we need in the United States Senate. But the voters have spoken. They might not have spoken wisely."
Meanwhile, it emerged that the previously unseen footage subpoenaed by the 6 January committee from a documentary filmmaker may contradict testimony given to the panel by Ivanka Trump in which the ex-president's daughter said she agreed with Bill Barr that the 2020 electio nwas not stolen.
"I think that, as the president has said, every single vote needs to be counted and needs to be heard, and he campaigned for the voiceless," Ms Trump reportedly told filmmaker Alex Holder according to the New York Times. "And I think a lot of Americans feel very, very disenfranchised right now, and really, question the sanctity of our elections, and that's not right, it's not acceptable."
1655907240
Watch: McCarthy defends president's right to question an election
House Minority Leader Kevin McCarthy was asked this morning about the implications of a president questioning the legitimate results of an election. As is often his way, he answered the question by pointing to other examples without noting the radically different circumstances in which they occurred:
Kevin McCarthy says 'the President always has a right to question an election'
Mr Trump, who is clearly growing more angry at the hearings as they progress, has laid into Mr McCarthy for pulling the GOP of the committee when Nancy Pelosi refused to seat two of his five nominees on it.
Andrew Naughtie22 June 2022 15:14
1655905510
Read Trump documentary maker's response to Jan 6 subpoena
The news broke yesterday that the 6 January committee has subpoenaed hours of raw footage from British filmmaker Alex Holder, who had access to Donald Trump and much of his inner circle as they fought to overturn Joe Biden's victory in late 2020 and early 2021.
Mr Holder is now co-operating with the committee's subpoena, which was sent last week. Here's what he had to say about it:
Andrew Naughtie22 June 2022 14:45
1655903710
When is the next Jan 6 hearing?
Harrowing though yesterday's hearing was, there is little rest for the 6 January committee.
The next session is tomorrow, and will feature key appointees from the Trump administration's legal team who are said to have fought back on efforts to exploit the executive branch's legal apparatus for the sake of keeping Mr Trump in power.
Andrew Naughtie22 June 2022 14:15
1655901900
GOP officials and election workers reveal dramatic cost of Team Trump intimidation
Donald Trump's lies about the 2020 election inspired his supporters to undertake campaigns of harassment and threats against state legislators and election officials, including a break-in at the home of a targeted official's family member, witnesses told the House January 6 select committee on Tuesday.
The panel's fourth hearing examined the pressure campaign Mr Trump and his allies mounted to convince legislators in Arizona, Pennsylvania, Georgia, Michigan and other swing states to implement a fringe legal theory under which they could replace electors for Mr Biden — who voters chose on election day — with pro-Trump electors, as well as the consequences of the false claims of fraud put forth by Mr Trump and his allies.
Andrew Feinberg and Eric Garcia report for The Independent from Capitol Hill.
Andrew Naughtie22 June 2022 13:45
1655900100
Five key takeaways from Tuesday's Jan 6 hearing
The January 6 committee's latest hearing focused on Georgia and Arizona, where state officials weathered an unprecedented campaign waged by the sitting president and his legal team to urge them to overturn the lawful results of the election.
Several witnesses at the hearing described how the Trump legal team spent weeks attempting to raise new issues of fraud and resist the lawful transfer of power by any means necessary in the days leading up to January 6, when thousands of the president's supporters would storm Capitol Hill.
And the campaign was not limited to Donald Trump and his closest advisers themselves: Members of Congress were involved in the expansive effort as well in what amounted to a unified effort by the Trump wing in Washington to thwart the will of the voters.
Here are five of the most important takeaways from the committee's evidence and witness testimony:
Andrew Naughtie22 June 2022 13:15
1655898300
'USB drive' Giuliani claimed was passed between election workers was really a ginger mint
Surveillance footage that Donald Trump and Rudy Giuliani repeatedly claimed showed a Georgia election worker committing voter fraud with a USB stick really showed her holding a ginger mint, according to testimony on Tuesday in the 6 January hearings.
Josh Marcus has the story.
Andrew Naughtie22 June 2022 12:45
1655896584
Trump criticises McCarthy's Jan 6 hearings strategy
Rumblings about the impact of the 6 January hearings on Donald Trump have been growing, and the ex-president's increasingly frequent and furious rantings about them on Truth Social indicate they are indeed getting under his skin.
Now, Punchbowl News reports that Mr Trump is blaming Kevin McCarthy for the hearings' impact, citing his decision to pull three of his five nominees from the committee after Nancy Pelosi refused to seat the other two:
Punchbowl also quotes Mr Trump hedging on whether or not he'll endorse Mr McCarthy for speaker.
Andrew Naughtie22 June 2022 12:16
1655894460
Nevada Senate race promises to be fight for nonpartisan voters
The attack ads already are airing and campaign fundraising emails are flooding into inboxes as one of the most competitive U.S. Senate races in the country gets rolling in Nevada, where candidates will be juggling persistent concerns about election integrity and inflation that is rising at its fastest pace in decades.
The race between incumbent Democrat Catherine Cortez Masto and former state Attorney General Adam Laxalt will hinge on the candidates' respective ties to both President Joe Biden and former President Donald Trump, political watchers say.
Andrew Naughtie22 June 2022 11:41
1655892486
Trump carps about Brooks defeat on Truth Social
As Mo Brooks laments Alabama Republicans' decision to send Katie Britt into this year's Senate election instead of him, Donald Trump – who originally endorsed Mr Brooks before dropping him as he sank in the polls – took to Truth Social to celebrate the supposed perfect record of endorsements (giving a figure that omits numerous misses lower down the ballot in various states).
"With the great ALABAMA win by Katie Britt tonight, I am please to announce that WE (MAGA!) are 12 WINS & ZERO LOSSES in US Senate Primary races this cycle", he said.
Andrew Naughtie22 June 2022 11:08
1655889300
Watch: Jan 6 committee chairman says 'the lie hasn't gone away'
'The lie hasn't gone away': Jan 6 committee chairman says Trump threat to elections is ongoing
Oliver O'Connell22 June 2022 10:15