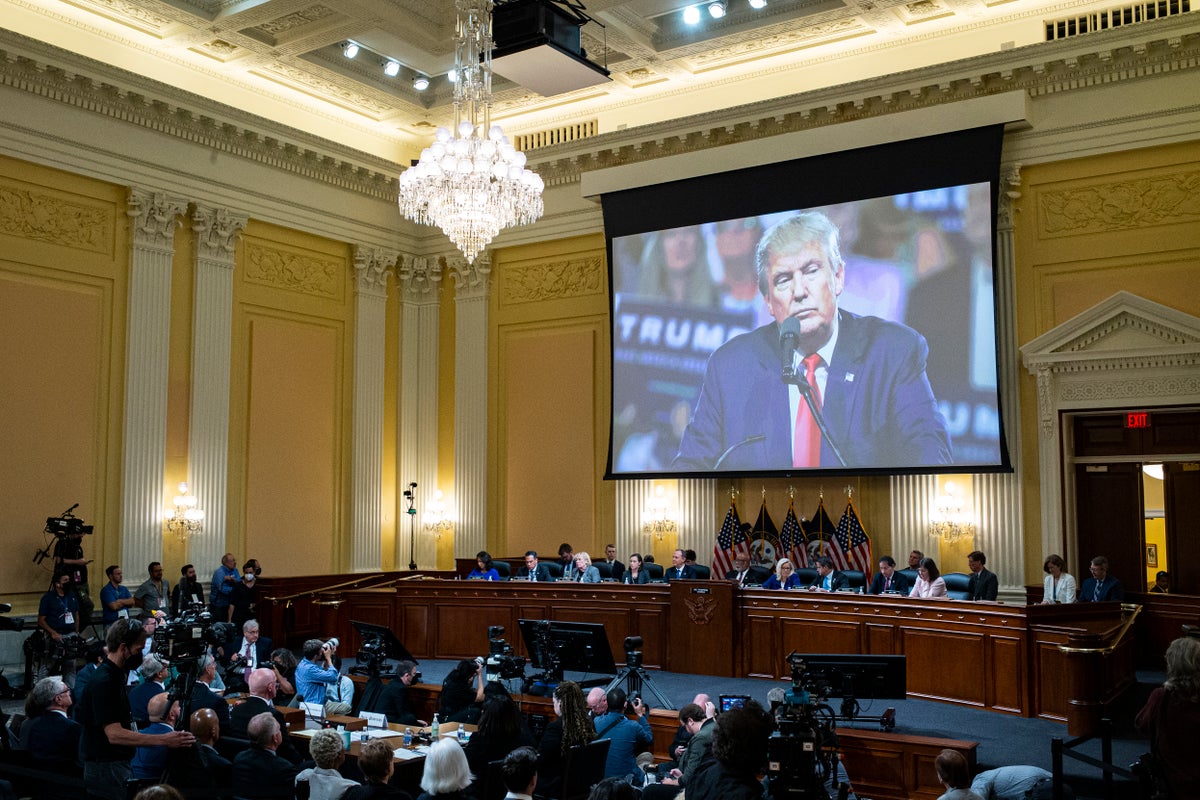 'I've lost my name, I've lost my reputation': Voting official givers testimony at Jan 6 hearings
Thursday's January 6 hearings took an in-depth look at how Donald Trump and his allies put extreme pressure on the Justice Department to help overturn the 2020 election.
Former acting deputy Attorney General Richard Donoghue told the committee that Mr Trump instructed him personally to say that the election was "corrupt," and that he would use that as the impetus for Congress to act and refuse to certify the results.
"Just say it was corrupt and leave the rest to me and the Republican congressmen," Donald Trump said, in words read aloud by Jan 6 committee member Adam Kinzinger.
As Republicans' plan to challenge the election progressed, congressmembers Matt Gaetz, Marjorie Taylor Greene and Mo Brooks all sought pardons from Donald Trump.
Even after being repeatedly brief by officials that his election claims were meritless, Mr Trump still praised supporters who rioted at the Capitol because of their views the presidential contest was stolen.
"They were angry from the standpoint of what happened in the election," Mr Trump told filmmaker Alex Holder. "Because they're smart, and they see and they saw what happened, and I believe that that was a big part of what happened on January 6."
1656057600
The January 6 hearings aren't the only threat to Donald Trump. Enter Ron DeSantis.
As Trump weighs whether to stage a third run for president in 2024, DeSantis is clearly making a play for the Republican nomination for president. He also got an unexpected gift when a federal grand jury indicted his 2018 opponent Andrew Gillum, meaning he can now boast that having already beat a corrupt Democrat, he is well-placed to vanquish whomever the party nominates to challenge him.
Read Eric Garcia's take on the 2024 presidential contest.
The cold war between DeSantis and Trump is heating up
As Trump weighs whether to stage a third run for president in 2024, his protégée DeSantis is clearly making a play for the Republican nomination for president — and a potentially explosive fallout seems like it could be on the horizon
Josh Marcus24 June 2022 09:00
1656053996
Trump angrily watches every Jan 6 hearing, almost screaming at TV as no one defends him, report says
A close advisor told The Washington Post that Mr Trump is at "the point of about to scream at the TV" as he watches the hearings.
Another source in Mr Trump's inner circle told the paper that the former president often complains that "there's no one to defend me" at the hearings.
But one person familiar with the situation rejected that notion to Insider, saying: "This is not true. He has barely watched any of the hearings at all."
Gustaf Kilander has more.
Josh Marcus24 June 2022 07:59
1656051356
What's next for the January 6 hearings?
Federal agents issued new subpoenas regarding the January 6 riot at the US Capitol and raided the homes of two people involved in the plot to overturn the 2020 presidential election, The Washington Post reported.
The FBI confirmed to The Post that it conducted authorised law enforcement activity at the home of Brad Carver, who allegedly signed a document to be a Trump elector, as well as Thomas Lane, who worked on Trump's effort to overturn the election in Arizona and New Mexico.
Other would-be participants in former president Donald Trump's scheme to send an alternate slate of electors to overturn the 2020 presidential election received subpoenas.
The subpoenas and activity at the homes comes a day after Arizona state Speaker of the House Russell "Rusty" Bowers, as well as Georgia Secretary of State Brad Raffensperger and his deputy Gabriel Sterling, described efforts by Mr Trump and his associates to overturn the election results.
Eric Garcia and Andrew Feinberg have more on the next steps for the high-profile committee.
Josh Marcus24 June 2022 07:15
1656048656
VIDEO: Sean Penn watches January 6 hearings in Capitol
Actor Sean Penn was in the gallery on Thursday to take in the January 6 hearings, sitting alongside DC police officers who were attacked during the riots at the Capitol.
Sean Penn sits with Capitol police officers at Jan 6 hearing
Josh Marcus24 June 2022 06:30
1656045956
Away from Jan 6 hearings, right wing news channels face a reckoning of their own over false election claims
Proponents of the lie that the 2020 election was stolen are currently facing a very public reckoning. Millions of Americans are tuning in to watch the January 6 House committee outline evidence of a concerted effort by Donald Trump and his allies to overturn the election.
But another reckoning, largely out of view until now, may yet take place for the people and institutions that promoted those lies. In the courts, right wing media companies that broadcast false claims about voting machines being rigged are being hit with billion-dollar lawsuits — and they are not going away.
At the centre of these lawsuits are two voting machine companies whose equipment was used in the 2020 election: Dominion and Smartmatic. They are in the process of suing Fox News, Fox News's parent company, and upstart pro-Trump news outlets Newsmax and One America News (OAN), for billions of dollars collectively.
The most high-profile of those cases targets the heart of the Murdoch dynasty. Dominion has claimed that Fox Corp, the parent company of Fox News, allowed false claims about the company to be broadcast on its news outlet, and that Chairman Rupert Murdoch and his son Chief Executive Lachlan Murdoch allowed that coverage to continue knowing those claims to be false.
Read Richard Hall's full report.
Josh Marcus24 June 2022 05:45
1656043256
WATCH: Matt Gaetz sought presidential pardon
During Thursday's January 6 hearings, committee members played testimony revealing which Republicans sought pardons from president Trump for their involvement in efforts to overturn the election.
Among them was Florida's Matt Gaetz.
Watch the evidence below.
Matt Gaetz among lawmakers who asked for pardons from Trump, Jan 6 hearing told
Josh Marcus24 June 2022 05:00
1656040556
Trump aides shocked by revelation of unseen documentary subpoenaed by Jan 6 committee: 'What the f*** is this?'
The January 6 hearings aren't the only piece of TV Trump is worried about.
Unprecedented, a forthcoming docuseries featuring interviews with Donald Trump and others, has rattled those in his inner circle.
Graziosi Graig has the details.
Josh Marcus24 June 2022 04:15
1656037856
Who is the documentarian shaking up the January 6 hearings?
That would be Alex Holder, who filmed the forthcoming series Unprecedented in the moments just before and after 6 January.
The film, which includes interviews with Donald Trump, his children, and election experts, has now been examined by committee members.
Andrew Buncombe had this look at the director behind it.
Josh Marcus24 June 2022 03:30
1656035156
Donald Trump was on precipice of new 'Saturday Night Massacre'
Thursday's special January 6 committee hearings revealed Donald Trump was moments away from a repeat of president Richard Nixon's infamous "Saturday Night Massacre," when a number of top Justice Department officials resigned rather than futher the coverup of the Watergate scandal.
Donald Trump narrowly avoided such a fate, officials testified on Thursday.
He and his allies spent months pushing to elevate to acting attorney general an obscure Justice Department named Jeffrey Clark, who was urging the DOJ to declare the 2020 elections suspect and encourage state officials to send illegitimate slates of pro-Trump electors.
Things came to a head when DOJ leadership met with Donald Trump in the White House. They warned they would resign en masse if Mr Clark was given more power, along with hundreds of colleagues.
"The leadership would be gone. Jeff Clark would be leading a graveyard," former Deputy Attorney General Richard Donoghue told the president, he testified.
Josh Marcus24 June 2022 02:45
1656032456
January 6 kicked off an era of political violence
Each day, it seems like American politics are getting more and more violent.
We've got multiple stories today of politicians and those tied to Washington facing death threats for their positions.
January 6, hopefully, was the peak of an increasingly violent era of US politics, but it doesn't seem to be the end of it.
Josh Marcus24 June 2022 02:00