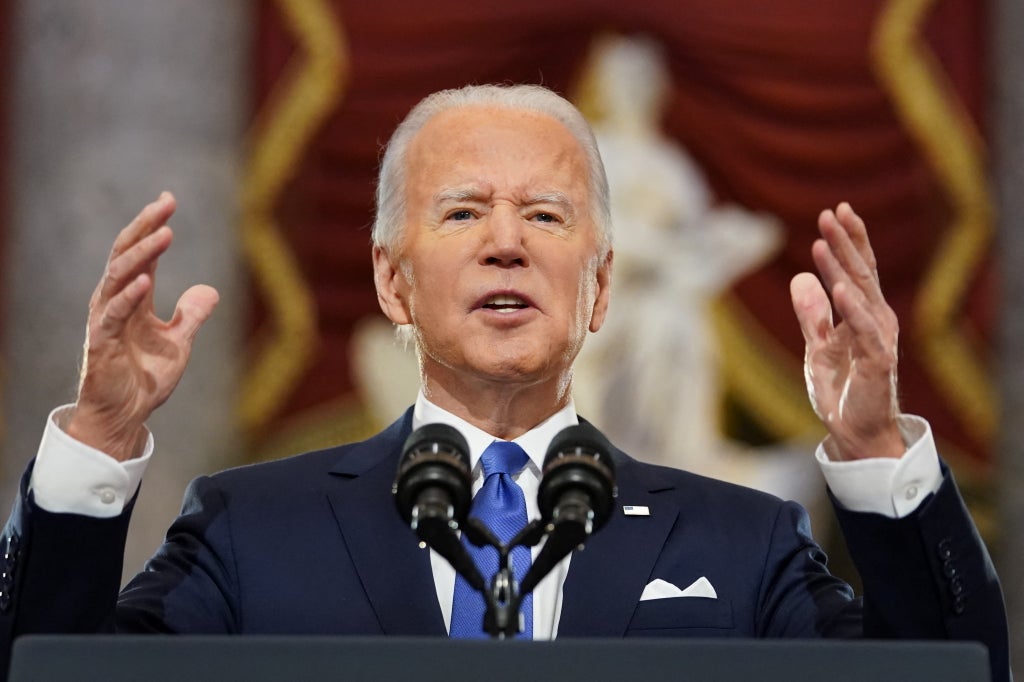 Five moments from the Capitol riot that I'll never forget
Joe Biden has given a his much-trailed speech marking the anniversary of the deadly riot at the US Capitol on 6 January 2021 – a searing address in which he condemned Donald Trump for watching TV during the insurrection as his supporters attacked Congress.
He also dismissed the idea that the insurrectionists were "patriots", declaring that "you cannot love your country only when you win. You cannot obey the law only when it is convenient. You cannot be patriotic when you embrace and enable lies.
"Those who stormed this Capitol, and those who instigated and incited, and those who called on them to do so held a dagger at the throat of America, at American democracy. They did not come here out of patriotism or principle. They came here in rage. Not in service of America, but rather, in service of one man."
His speech comes as some Democrats are said to be quietly exploring how they could potentially ban Mr Trump from holding office again, following the deadly riot last year in which five people lost their lives.
Mr Trump has responded by releasing three statements continuing to air his grievances and conspiracy theories about the 2020 election, while calling for the "MAGA nation" to "rise up" against the Biden administration over vaccine mandates.
Sign up to our free US Evening Headlines daily newsletter by clicking here
1641526480
Republicans missing in action as Democrats emotionally commemorate Capitol riot anniversary
Democrats emotionally recounted the violence of the Capitol riot, while Republicans were mostly AWOL, Eric Garcia reports.
Graeme Massie7 January 2022 03:34
1641524574
Most Americans fear another attack on democracy, poll says
ICYMI: Around 57 per cent of Americans, including half of Republicans and seven out of 10 Democrats, believe there will be a repeat of the pro-Trump insurrection that occurred a year ago today.
According to poll by Axios-Momentive, 63 per cent of respondents also said that the attack changed the way that Americans thought about democratic government in the US.
It comes amid polling showing that as many as 81 per cent of Republican voters believed the 2020 election was not won fairly by Mr Biden and the Democrats – and a deepening divide on several other issues, as Graeme Massie writes.
Graeme Massie7 January 2022 03:02
1641522880
Capitol rioters have raised millions from crowdfunding sites
Over 100 alleged participants of the Capitol riot are crowdfunding in an attempt to pay their soaring legal fees, with around $3 million being raised by the group so far.
As Daily Dot reports, they collectively hope to raise $13 million in total, with donations for each of the accused individuals fluctuating massively – as some haven't garnered any donations at all.
Tom Fenton has the story.
Graeme Massie7 January 2022 02:34
1641521860
'Jan 6 is not behind us': House lawmakers reflect on riot with Capitol Police officer's family in attendance
House Democrats gathered for more than two hours to reflect on the chaos and aftermath of the attack on the halls of Congress, sharing their emotional experience inside the US Capitol on 6 January, 2021 as a mob threatened to break into the chamber.
The parents of US Capitol Police officer Brian Sicknick – who died following two strokes the day after the assault – were also in attendance at the event at the Capitol on Thursday, as two dozen lawmakers recalled the shock of the assault and recommitted themselves against anti-democratic threats.
Graeme Massie7 January 2022 02:17
1641520960
Widow of Capitol Police officer who died by suicide slams lack of support
The widow of a Capitol Police officer who died by suicide after the 6 January insurrection has blasted Washington's bureaucracies for not doing more to honour her husband.
Officer ​​Howard "Howie" Liebengood was on duty on 6 January, 2021, when a mob of Donald Trump supporters stormed the US Capitol. According to his grieving wife, Dr Serena McClam Liebengood, Mr Liebengood continued to work round-the-clock shifts on 7, 8, and 9 January with little sleep in between.
Nathan Place has the story.
Graeme Massie7 January 2022 02:02
1641519923
Riot supporters in short supply at candlelight vigil for Jan 6 arrestees
If you didn't get the chance to attend the candlelight vigil for accused participants in the Capitol riot outside Washington DC's jail, and are looking for an accurate depiction of the event, simply recall what the Justice for J6 group's so-called "rally" outside of the Capitol last September looked like – sparsely attended.
The "Nationwide Justice for J6 Candlelight Vigil" was meant to honour the accused Capitol rioters holed up in jail cells, but supporters of former President Donald Trump found themselves once again vastly outnumbered by waiting press and members of law enforcement.
John Bowden has the details.
Graeme Massie7 January 2022 01:45
1641519280
Liz Cheney says Trump has 'gone to war with the rule of law'
The Representative from Wyoming took aim at the one-term president when she appeared on Fox News on the one year anniversary of the January 6 insurrection.
"He continues to suggest that the violence on January 6 was justified, he syas that November 3 was the insurrection and that January 6 was a protest," she told the right-wing news channel.
"What he is doing is continuing to undermine our electoral process. You know he has gone to war with the rule of law and I think that is really important for people to understand."
Graeme Massie7 January 2022 01:34
1641518140
Marjorie Taylor Greene and Matt Gaetz portray Capitol riot as distraction to overturning 2020 election
Two far-right members of the House of Representatives held a press conference on Capitol Hill on the anniversary of the 6 January insurrection, defending President Donald Trump's attempts to overturn the 2020 election and blaming rioters from distracting the GOP from achieving that goal.
As much of the media was focused on events being held within the Capitol building itself, Reps Marjorie Taylor Greene and Matt Gaetz, two of the most ardent supporters of 2020 election conspiracies on Capitol Hill, claimed that there were legitimate reasons to suspect fraud in the 2020 election while throwing the president's own supporters who stormed Congress under the bus.
Graeme Massie7 January 2022 01:15
1641517420
Former Kevin McCarthy staffer says he did not check up on him after riot
Former Kevin McCarthy staffer Ryan O'Toole was on the floor of the House during the insurrection, but says his boss did not check on his safety,
"For me after Jan 6, my conscience and my values were clear … after January 6, Kevin McCarthy went to Mar-a-Lago, and I think that says things pretty clearly for the American people," he told CNN.
Mr O'Toole now works for Representative Liz Cheney.
Graeme Massie7 January 2022 01:03
1641515620
Former GOP Senate candidate burns MAGA hat and challenges Trump to $1million charity debate
A former Republican Senate candidate has burned a MAGA hat and challenged Donald Trump to a debate, saying he will donate $1 million to charity if he agrees.
Daniel McCarthy, who unsuccessfully ran against former Arizona Senator Martha McSally in the GOP primary in 2020, posted a video on Twitter on Tuesday where he hit out at the former president calling him a "little b**ch".
Rachel Sharp has the story.
Graeme Massie7 January 2022 00:33