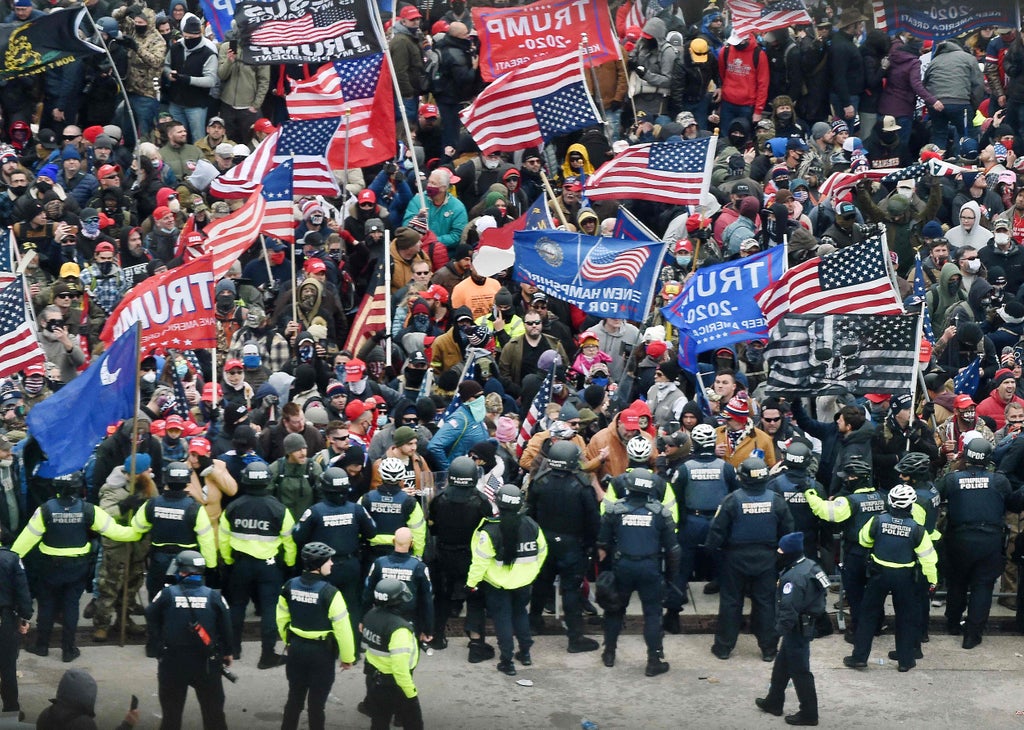 Liz Cheney says Trump ignored Ivanka's calls to stop Capitol riot
Documents obtained by a House panel investigating the assault on the US Capitol mounted by pro-Trump rioters nearly one year ago reveal how the former president's allies planned a campaign to intimidate election officials and spread voter fraud falsehoods.
That revelation came as a new poll found that as many as 91 per cent of Republican voters believed the 2020 election was not won by president Joe Biden "fair and square", in figures that suggest a widening divide among Americans.
Voters for Mr Biden meanwhile said by 75 per cent that false accusations of fraud could trigger "another attack like Jan 6", according to YouGov and Yahoo.
Another document obtained by the committee was reportedly drafted for the former president for his signature, calling for the seizure of "evidence" in service of the false claims of voter fraud that propelled the attack and his spurious bid to overturn election results.
In recent weeks, the committee has accelerated its probe into the attack, fuelled by conspiracy theories that the 2020 presidential election was rigged against Mr Trump, and a violent attempt to reject the votes of millions of Americans.
On Thursday, President Joe Biden and Vice President Kamala Harris will deliver remarks to mark one year since the attack, according to the White House. At the Capitol, lawmakers will hold a memorial service.
Meanwhile, the former president – who has waged a legal challenge to block the committee's access to records – will deliver remarks from Mar-a-Lago reviving his baseless narrative that the election was stolen from him.
Follow for live updates
1641304559
Trump backers say by 91 per cent that election not won 'fair'
As many as 91 per cent of Trump voters told pollsters that the 2020 election was not won by US president Joe Biden "fair and square", a new poll has found.
The poll by Yahoo News/YouGov poll also found that as many as 75 per cent of Trump voters (75 percent) falsely said the 2020 election was "rigged and stolen".
That was reportedly the highest figure yet, and suggests a widening divide among Americans over 2020's vote and the following Capitol riot.
Biden voters meanwhile said by 75 per cent that false accusations of fraud could trigger "another attack like Jan 6", pollsters said.
The concerns echo fears of analysts and commentators about the risk of future unrest in the US – should Mr Trump or a similar figure return to the White House.
Gino Spocchia4 January 2022 13:55
1641302457
The most memorable images of the Capitol riot
The Capitol riot will long be remembered for the destruction that occurred as hundreds of Trump supporters swarmed the seat of American democracy, and the five lives lost that day.
It will also be hard to forget the figures who appeared in now iconic images of the day that rocked the US, including the sight of Capitol Police Officer Eugene Goodman confronting rioters in a hallway of Congress.
Lawmakers were also famously pictured hiding from rioters or barricading themselves into the House chamber, with the "QAnon Shaman" and others on the other side.
Gino Spocchia4 January 2022 13:20
1641300934
How many accused Capitol rioters have been charged?
The US Justice Department has said at least 275 people have been charged with corruptly obstructing, influencing, or impeding an official proceeding on 6 January, and around 40 have been charged with conspiracy to obstruct a congressional proceeding.
Another 31 accused rioters have been sentenced to prison already, the department says, and another 165 have pleaded guilty to federal charges, with four facing up to 20 years in prison for felonies.
In total, around 640 have been charged with entering or remaining in a restricted federal building or grounds, with over 75 charged with entering a restricted area with a dangerous or deadly weapon, 45 with destruction of government property, and over 30 have been charged with theft of government property.
The FBI remains on the hunt for 350 people suspected of rioting on the Capitol.
Gino Spocchia4 January 2022 12:55
1641298834
Fewer than half of Republicans recall attack 'violence'
Fewer than half of all Republicans who responded to a new poll have said the 6 January attack on the US Capitol was not "very or extremely violent".
In fact, about four in 10 said the attack carried out by supporters of Donald Trump was very violent or extremely violent, and three in 10 Republicans said the attack was not violent at all.
The poll, carried out by The Associated Press-NORC Center for Public Affairs Research, found a sharp divide between Republicans and Democrats, with about nine in 10 of the latter describing 6 January as violent.
The trend follows similar polls that suggest Republicans are more likely to support violence against the government and are more likely to feel that 2020's election was stolen – as alleged by Mr Trump before the attack on the Capitol.
Gino Spocchia4 January 2022 12:20
1641297334
US could fall to a right-wing dictatorship by 2030
A political science professor has warned that the US could be under a right-wing dictatorship by the end of the decade.
Thomas Homer-Dixon, who is the founding director of the Cascade Institute at Royal Roads University, British Columbia, wrote in a recent editorial that "By 2025, American democracy could collapse, causing extreme domestic political instability".
Mr Homer-Dixon said that could feature "widespread civil violence. By 2030, if not sooner, the country could be governed by a right-wing dictatorship."
His warning comes after an American political science researcher and former US military generals all recently warned of increasing political instability in the wake of 6 January.
Gino Spocchia4 January 2022 11:55
1641296134
How many police officers were injured on 6 Jan?
Some 140 police officers – including about 80 Capitol Police officers and about 65 Metropolitan Police Department officers – were assaulted in the attack while on 6 January,
The police departments have revealed how injuries sustained ranged from bruises and cuts to concussions, rib fractures and burns – while one police officer even suffered a mild heart attack.
Among the more than 350 suspects still wanted by the FBI, more than 250 are suspected of assaulting law enforcement officers during the attack.
Capitol Police officer Brian Sicknick was killed during the riot "while physically engaging with protesters," and two other officers died in the days and weeks after the riot by suicide, police have said.
Gino Spocchia4 January 2022 11:35
1641294934
FBI still hunting for 350 Capitol riot suspects
The FBI is still hunting for 350 suspects almost one year on from the attack on the US Capitol that killed five people and injured dozens of others.
Thursday will mark exactly one year since Donald Trump supporters stormed the US Capitol to try to stop the certification of electoral college votes for president Joe Biden. The former president had told his supporters beforehand to "march" on the home of Congress.
Around 800 rioters entered the building, attacking law enforcement officers and sending lawmakers fleeing for their lives. More than 725 people have been arrested and a few sentenced.
Gino Spocchia4 January 2022 11:15
1641293794
A third of Americans say justice sometimes justified against government
As many as 34 per cent of respondents agreed with the sentiment that it was sometimes "justified for citizens to take violent action against the government".
Which was only a few percentage points higher than the share (29 per cent) who said they still believed that president Joe Biden's victory in the 2020 election was illegitimate.
Gino Spocchia4 January 2022 10:56
1641292525
Ivanka told Trump to 'stop the violence', Liz Cheney says
Congresswoman Liz Cheney said on Sunday that the House panel investigating 6 January had received eyewitness accounts about how the first family watched and reacted to the attack on Congress.
She told ABC News's George Stephanopoulos: "We are learning much more about what former president Trump was doing while the violent assault was underway,"
"The committee has firsthand testimony now that he was sitting in the dining room next to the Oval Office watching the attack on television as the assault on the Capitol occurred".
While Mr Trump did not use the briefing room next door to the Oval Office to deliver such a message, he did go on to tweet that his supporters were "special" on 6 January.
Ms Cheney added on Sunday that "We know his daughter — we have firsthand testimony that his daughter Ivanka went in at least twice to ask him to 'please stop this violence'", citing an eyewitness.
"He could have told them to stand down. He could have told them to go home — and he failed to do so. It's hard to imagine a more significant and more serious dereliction of duty than that."
Gino Spocchia4 January 2022 10:35
1641291301
From the QAnon Shaman to zip-tie guy: The most notable Capitol rioters and what happened to them
With the first anniversary of the January 6 insurrection at the Capitol looming, more than 700 people have been arrested for their alleged part in the most serious breach of the building since the War of 1812. Many are facing only minor charges, but others are in far more serious trouble – and among those already sentenced are some of the most familiar faces from the abundant footage of the day's events.
As the hard work of identifying, arresting and prosecuting those involved in the riot continues, here's what's happened so far to some of the day's most notorious figures.
Eleanor Sly4 January 2022 10:15