42-year-old Glover Teixeira has lost his light heavyweight UFC title after a submission in the dying seconds of a five-round, all-time epic.
"That is a hall of fame fight, eventually it will be inducted," Jon Anik said in commentary.
Teixeira and Jiri Prochazka delivered a battle for the ages, shared equally between bulldozing punching and elite-level grappling, before Prochazka finally sealed a rear naked choke with 28 seconds left in the fifth round. It was the first time he had ever gone beyond three rounds, and just his third ever UFC fight.
Watch Live UFC with ESPN on Kayo. Full Fight Night Events, PPV Prelims, Ultimate Fighter Series & More. New to Kayo? Try 14-Days Free Now >
Prochazka's record moves to 29-3-1 as he becomes the 15th undisputed light heavyweight champion in UFC organisation history and the first champion from the Czech Republic.
Earlier, there was a 'robbery' in the co-main event, and former champion Joanna Jedrzejczyk also announced her shock retirement after suffering a brutal loss to Weili Zhang.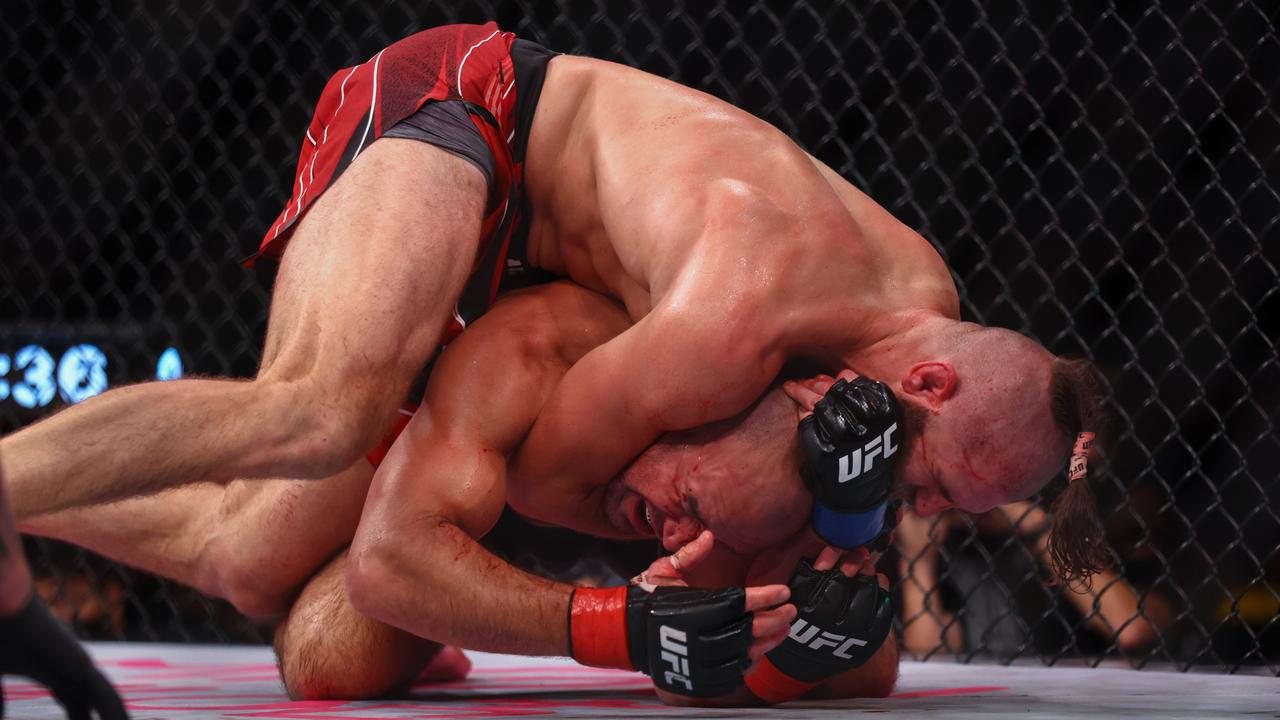 ALL TIME TITLE WAR
42-year-old Glover Teixeira and Jiri Prochazka's light heavyweight title fight delivered a war of epic proportions, and from the very first minute. Brazilian superstar Teixeira, the champion, twice took down his rival in the opening round, but couldn't capitalise on his position with much effective ground-and-pound. Prochazka burst back to his feet late in the round and soon claimed a mount and finished the action with a series of bombs.
Prochazka began the second round with a sensational blitz, rocking the champion with a staggering assault that could have easily stopped a lesser rival. But Teixeira took it all – flying knees, fists, elbows – and took down his tiring opponent with a left hook out of nowhere.
Teixeira turned his positional dominance into brutal and bloody attacks. By the end of the round, Prochazka had a massive cut above his left eye, though Teixeira himself was bleeding profusely from his nose.
In the third round, Teixeira continued to chase takedowns, having been outmatched when both men were on their feet. But it was Prochazka himself twice left his opponent on the canvas – only to let him regain his feet both times. Teixeira appeared in deep trouble, especially when he copped a left hook then a crippling right body shot that doubled him over. Prochazka finally accepted the opportunity to take his opponent to the floor, and smashed the champion with a vicious flurry. But Teixeira survived the incredible damage he had received, and managed to again escape submission and finish the round on top of his rival.
Texiera burst out of the blocks early in the fourth round and took down his rival quickly. Prochazka was squirming and barely avoided a submission, before exploding to his feet and raining down blows on his downed opponent.
But Teixeira managed to reverse their position in the grapple – only for Prochazka to do the same in the final seconds of the round.
The fighters not only touched gloves at the start of the fifth round, they embraced, appreciating the raucous cheers of the crowd.
Teixeira charged forwards and landed a deadly combination that had the challenger seemingly out on his feet, before commiting a massive error. The champion attempted to grapple and take down Prochazka, but the sweaty, slippery bodies saw Teixeira lose his grip and Prochazka somehow ended up on top.
Prochazka was deeply troubled, however, and once again let Teixeira back to his feet. Their incredible battle only ratcheted up to another level as Teixeira took down his rival – for Prochazka to reverse roles once more and regain top position.
And with just 28 seconds left, Teixeira tapped out on the rear naked choke.
Teixeira was ahead on the judges' scorecards entering the fifth round. He said: "He hit me with some body shots that took my gas away. I was gassed."
But he declared he would not retire despite the defeat, saying: "Did I look 42 out there? Then I'm going to keep going!"
"I fucked up my left hand, I think there's something wrong with it," Prochazka said.
"It's amazing, amazing, amazing," he added of his win.
"It was a true war, Glover is a true warrior. I like that," he finished.
MORE COVERAGE
UFC 275 Ultimate Guide: 42yo champ could get KO'd in 'two minutes' as frightening test looms
From Chris Hemsworth and Jackie Chan to UFC: The stuntman in rising Aussie star's corner
This rising Aussie star has kicked down the door. Now he plans to take over
ZHANG DELIVERS INSANE KNOCKOUT AS JEDRZEJCZYK RETIRES
The original match between Jedrzejczyk and Zhang was an all-out slugfest and the rematch soon followed a similar trend, as Zhang landed heavy shots on the Pole.
Jedrzejczyk survived the first round, but ultimately she couldn't survive a spinning backfist from Zhang that knocked her unconscious to the canvas.
Ultimately it would be Jedrzejczyk's last fight, taking off her gloves in a tradition of fighters announcing their retirement inside the octagon, before opening up on her decision in the post-fight interview with Daniel Cormier.
"I'm retired, guys," Jedrzejczyk said.
"I love you so much. Thank you for this opportunity. UFC, Dana, so sorry I let you down."
"I'm turning 35 this year. I want to be a mom; I want to be a businesswoman. I now want all of this to happen. I've been training two decades, more than half of my life. I love you guys."
SHEVCHENKO SURVIVES WILD SCARE
Flyweight women's champion Valentina Shevchenko has crushed all challengers to her title, but needed a controversial decision win to retain her throne in a gripping and gruelling war with Taila Santos.
Shevchenko struggled to handle the physicality and grappling of Santos, and was forced to repeatedly escape submission attempts. But she fought back well in the final two rounds to seal a split decision 48-47, 47-48, 49-46.
The fight hinged on a brutal clash of heads halfway through the third round. It opened up a brutal cut above the right eye of Santos, who was clearly hampered in the final two rounds.
She said: "Unfortunately I couldn't really see out of my right eye after it closed. I saw two Valentinas, I just tried to hit in the middle."
However, the 49-46 scoreline sparked controversy due to Santos' exceptional performance, with many fans and pundits including Daniel Cormier believing the challenger had won the first three rounds.
Shevchenko was booed when the result was announced, while Santos was strongly praised by the crowd when she was introduced for her post-fight interview.
"I'm still young. I can't complain about the decisions or anything. This is not the last time you'll see me fight for a belt… I'm here, I'm still young, I'm ready for the next one."
Aussie SHRUGS OFF huge KO win! | 01:15
AUSSIES TAKE OVER SINGAPORE
Plenty of Australian fans travelled to Singapore for UFC 275. And they've been rewarded by an epic trio of performances from three Aussie stars, with victories in superb fights.
On the final fight of the undercard, Josh Culibao won a stellar split decision by knocking down his opponent twice in a sensational show of boxing. Then, welterweight Jack Della Maddalena fought back from the brink to demolish an opponent in the opening bout of the main card. Finally, a third Australian in Jake Matthews made it three-straight wins with an explosive second round knockout of Andre Fialho that announced him as a serious threat to the welterweight division.
FULL STORY: THREE Aussies secure victory at UFC 275 in blockbuster performances
Debutant sleeps Garcia at UFC 275 | 00:44
DEBUTANT STARCHES AMERICAN STAR
In an explosive opening to a lightweight bout between Hayisaer Maheshate and American Steve Garcia, both fighters were willing to trade.
But it was a shot from Maheshate that ended the fight after just one minute and 14 seconds.
The Chinese star slipped a left hand from Garcia before unloading an overhand right. that caught the American flush on the chin as he moved in.
Garcia immediately fell to the floor as the referee waved off the contest.
UFC fans were in awe at what they had just seen from Maheshate in his UFC debut.
FIGHTER FOLDED IN FIRST ROUND
Silvana Gomez Juarez also enjoyed an early knockout after she cleaned up Liang Na with a beautiful left hook.
Fighting as one of the early prelim bouts, Gomez Juarez dropped her rival to her knee with a thunderous right hand.
Na somehow got back to her feet, but she was the easiest target in the world as Gomez Juarez found her chin with a clean left hook and knocked her opponent out cold as the referee waved off the fight.
Fighter gets FOLDED in first round! | 00:33
FULL CARD
Main Card (from 12pm AEST)
Glover Teixeira (c) def by Jiri Prochazka (light heavyweight championship)
Valentina Shevchenko (c) def Taila Santos via SD (women's flyweight championship)
Weili Zhang def Joanna Jedrzejczyk via KO (women's strawweight)
Jake Matthews (AUS) Andre Fialho def Andre Fialho via KO (welterweight)
Jack Della Maddalena (AUS) def Ramazan Emeev via KO (welterweight)
Prelims (from 10am AEST)
Joshua Culibao (AUS) def Choi Seung-Woo via SD (featherweight)
Hayisaer Maheshate def Steve Garcia via KO (lightweight)
Brendan Allen def Jacob Malkoun via UD (AUS) (middleweight)
Kang Kyung-Ho def Danaa Batgerel via UD (bantamweight)
Early Prelims (from 8:30am AEST)
Liang Na def by Silvana Gomez Juarez via KO (women's strawweight)
Ramona Pascual def by Joselyne Edwards via UD (women's featherweight)
Follow all the action from UFC 275 in our LIVE BLOG below! If you can't see the blog, click here