In every sport, some blue-blooded teams always seem to sit near the top of the standings. In the world of college football, the LSU Tigers certainly occupy that category. The program has four national championships under its belt, 16 conference titles, and plenty of alumni who have gone on to the NFL. Tampa Bay Buccaneers running back Leonard Fournette is one of those pros.
The former Tiger recently sat down with Sportscasting at the Collision conference in Toronto and shared his all-time LSU Mount Rushmore. While he couldn't quite nail down a fourth name, he still highlighted some of the top-tier talents who've come through Baton Rouge.
Leonard Fournette has three definite names on his LSU Mount Rushmore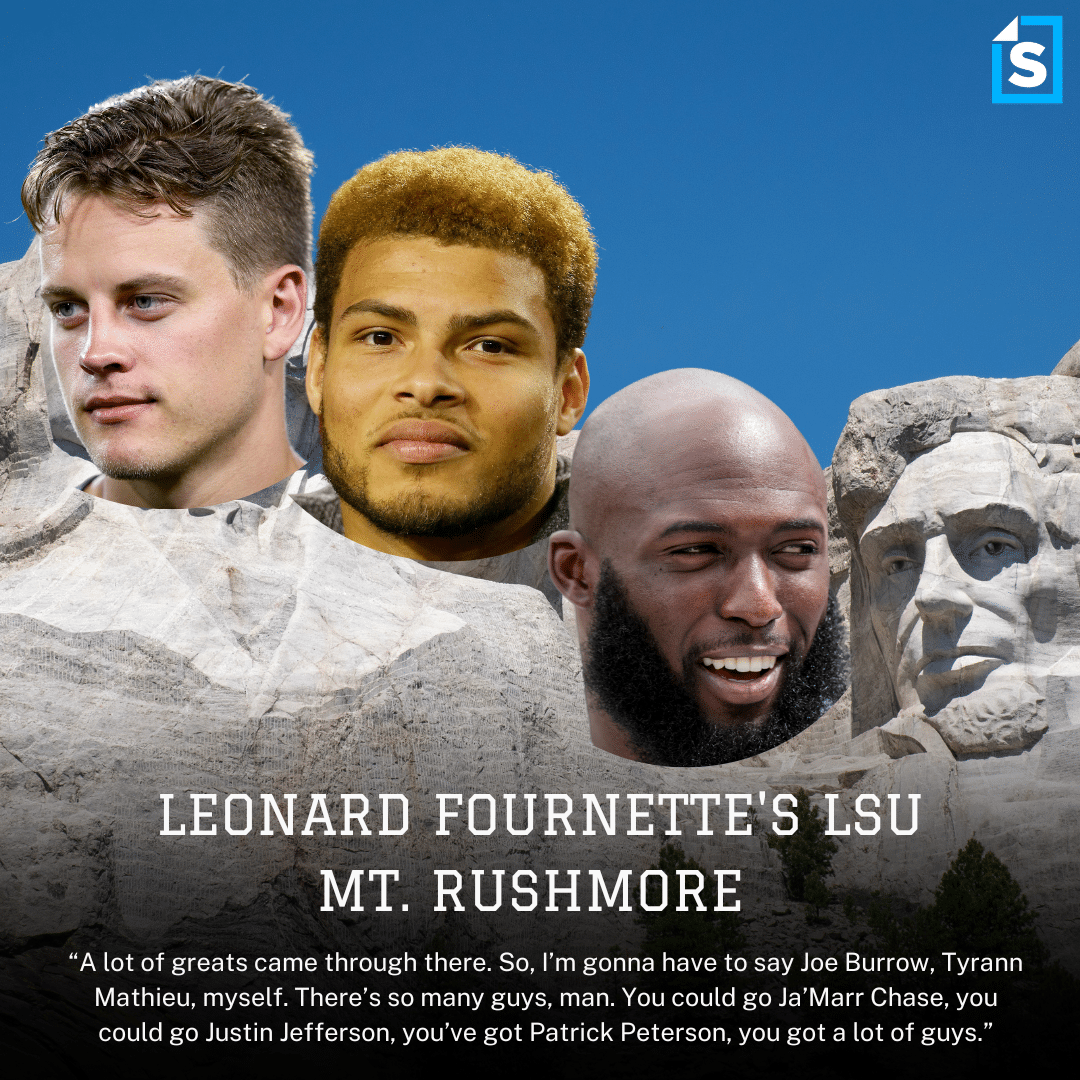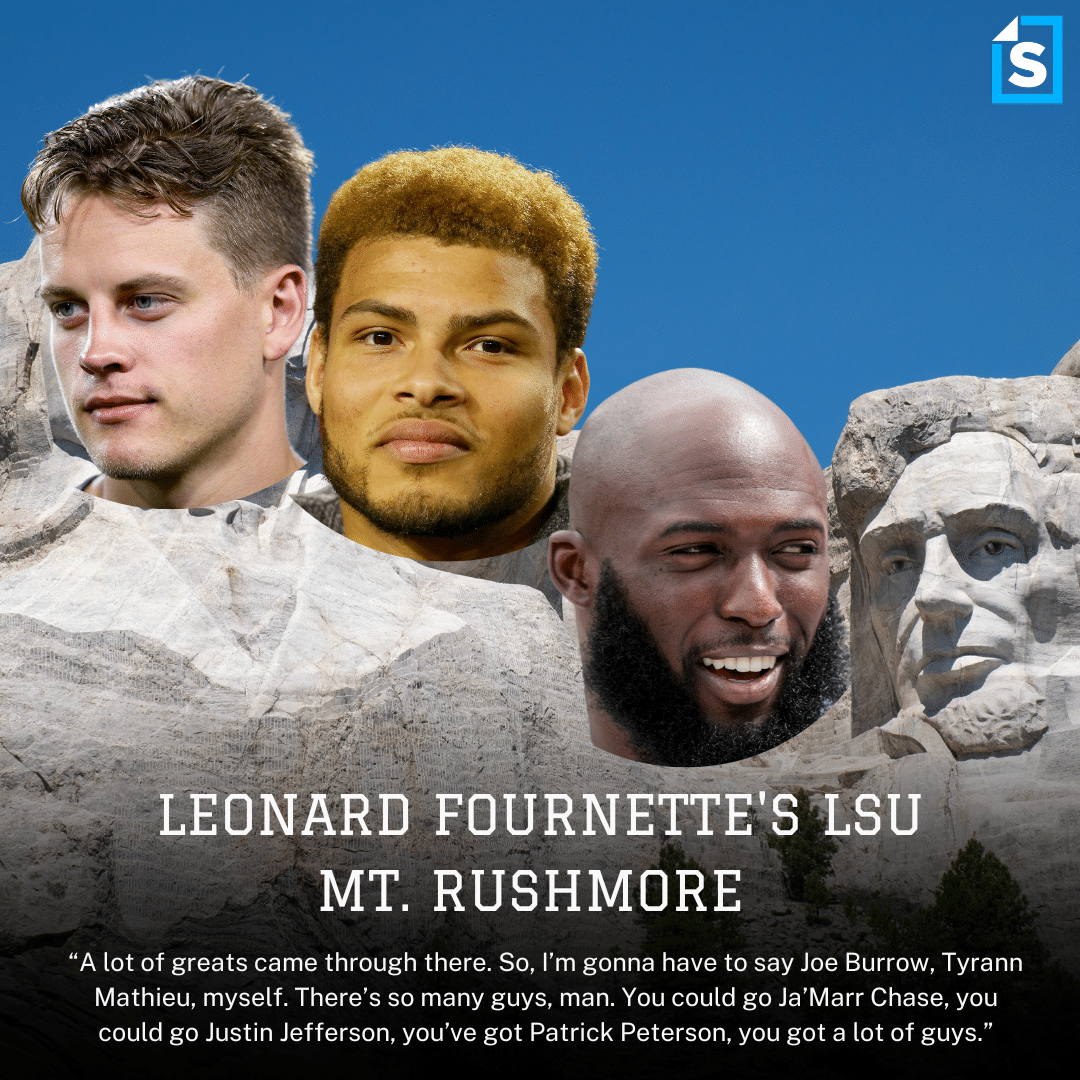 Unless you're Magic Johnson, Mount Rushmore consists of four iconic names. Leonard Fournette got three-quarters of the way there.
"A lot of greats came through there," the running back explained. "So, I'm gonna have to say Joe Burrow, Tyrann Mathieu, myself."
Upon first blush, those names do make sense. Burrow, of course, became a star in the bayou, earning the 2019 Heisman Trophy and winning the 2020 national championship. The Honey Badger looked like a legitimate defensive game-changer before being dismissed from the program, and Fournette himself piled up 3,830 yards and 40 touchdowns across three collegiate seasons.
After that, though, it became a bit tougher to nail down a final name.
"There's so many guys, man," Fournette continued. "You could go Ja'Marr Chase, you could go Justin Jefferson, you've got Patrick Peterson, you got a lot of guys."
Does Ja'Marr Chase, Justin Jefferson, or Patrick Peterson deserve the final spot?
As Fournette said, it's tough to pick a fourth person out of LSU's rich history. If we only consider his potential options, though, which one of them deserves the final spot?
Ja'Marr Chase did post strong numbers with the Tigers (107 catches for 2,093 yards and 23 touchdowns across two campaigns), but he could be viewed as something of a one-season wonder. It's also tough to divorce his numbers from Burrow's success; would the wideout have been as effective within a less prolific offense?
Jefferson played alongside Chase, so it's fairly easy to compare their numbers. While Jefferson spent three seasons in the swamp, he barely saw the field during his freshman campaign. In the following two seasons, he pulled in 164 receptions for 2,415 yards and 24 touchdowns. That would appear to give him the edge over Chase in an apples-to-apples comparison.
Lastly, Peterson enters the fray as the lone defensive player of the trio. While his stats don't compare too cleanly to two receivers, he did spend three decorated seasons at LSU. He recorded 104 solo tackles and seven interceptions across his NCAA career, in addition to making an impact on special teams.
Collectively, those numbers would suggest that out of the three options, Jefferson probably deserves the spot on Mount Rushmore. As Fournette experienced, though, picking four players out of LSU's rich history is easier said than done.
Stats courtesy of Sports-Reference
RELATED: Former NFL QB Brady Quinn Rips Apart LSU HC Brian Kelly For 'Classless' Notre Dame Exit