Jonny Bairstow has been named the inaugural – and also the 130th – winner of the Wisden Trophy, a new award for the outstanding individual performance by a man or a woman in a Test. The award is introduced in the latest edition of the venerable Almanack, to be published on Thursday.
With the previous iteration of the Wisden Trophy, which was awarded to the winner of the England v West Indies Test series between 1963 and 2020, having passed into obsolescence following its replacement last year by a new Richards‑Botham Trophy, some fresh silverware was commissioned in time for the Almanack's 160th edition.
With twin centuries against India at Edgbaston last July, which helped England to complete their highest successful run chase, Bairstow was awarded the prize, but Wisden has also retrospectively chosen winners for the years between 1877 and 1939, with post‑war recipients to be announced next year. Don Bradman is so far the only three-time winner, WG Grace is named once, and all but three of the 54 players honoured represented England or Australia.
For the third time in four years Ben Stokes is named the leading men's cricketer in the world, after captaining the England Test team through a wildly successful revolution and helping their white-ball side to secure the T20 World Cup. Australia's Beth Mooney wins the women's award for the second time, remarkably having started 2022 by breaking her jaw in two places.
The five cricketers of the year, an honour that can be won only once and reflects performances across the last English summer, are New Zealand's Tom Blundell and Daryl Mitchell, Harmanpreet Kaur, captain of the India women's side, and Matthew Potts and Ben Foakes – neither of whom can be sure of their places in England's first XI this summer.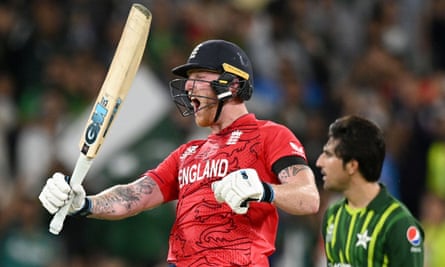 Meanwhile, in his editor's notes, Lawrence Booth describes the proliferation of T20 franchise competitions as "a bewildering act of self‑harm" that risks causing cricket's structures to "implode".
Booth writes: "Test cricket has become jetsam, tossed overboard to make room for simpler cargo. The national boards have handed the keys to the self-interested few, and lost control of players they nurtured. The Indian franchises have been allowed to take over the house, one T20 knees‑up at a time. Private money calls the shots.
"It has been a bewildering act of self-harm … Every nook and cranny is being plugged with schemes that leave entrepreneurs and the players better off, but diminish cricket's breadth and depth … The sport needs administrators with a broad perspective. England and Australia have a duty to ensure Test cricket doesn't shrink to the Ashes plus India. A plea for balance and moderation – including an unrapacious IPL, a better spread of bilateral commitments, and the sense that cricket's big'uns will look after the little'uns – no doubt sounds idealistic. Yet it may be the only way to avoid implosion."
Twelve months after they contained an excoriating analysis of the manifold failings of England's men's Test team – "Can there ever have been a bigger gap between what English cricket hoped to be, and what it was? … No tactic was too ill-conceived, no plan too half-baked" – much of the editor's notes to this new edition are dedicated to praising them.
"The contrast with what had come before fuelled the sense of wonder," Booth writes. "England's Test cricket had grown joyless, producing one win out of 17 and the resignation of Joe Root, an exemplary team man but with too much on his plate and not enough acumen. Ben Stokes and Brendon McCullum are cut from a more vibrant cloth, and have a clarity of vision. They even picked their best team."