Amanda Nunes seemed unstoppable before she met Julianna Pena in the octagon.
On the back of a 12-fight win streak with eight finishes, she had become the first woman to hold UFC titles in two different weight classes at the same time.
But then Pena shocked the world, submitting Nunes to capture the women's bantamweight championship at UFC 269.
It did not take too long for Nunes to reclaim her spot at the top of the division, claiming a unanimous decision win (50-44, 50-44, 50-43) to regain double-champ status once more.
Watch UFC 277: Pena vs Nunes 2 LIVE on Main Event available on Kayo & Foxtel, Sunday 31st July from 12pm AEST. ORDER NOW >
Whittaker gushes over Volk's insane win | 01:26
"Julianna Pena is one of the toughest human beings… to survive what she went through was crazy," recent UFC Hall of Fame inductee Daniel Cormier said in commentary.
"What a performance from the Lionness. She dominated. It is what we thought we would see in fight one. We just didn't know Julianna was going to be that tough."
Nunes made it clear this would be a very different fight early, landing the much better strikes in the first round, including a counter right that had Pena stumbling.
"That chopping right hand is killing Julianna," Cormier said.
"Now she's got Julianna afraid to enter."
Pena was able to land a few shots too but Nunes just could not miss, dropping the champion in the second round on THREE separate occasions, first with a right hand then a counter shot and finally a straight left.
Forget a single round, Nunes became the first woman to drop an opponent three times in a single fight in UFC history.
"Oh my goodness," Cormier added.
"She's [Pena] hurt bad."
But Pena had spoken pre-fight about the dogged mentality that had taken her all the way to the top of the division and that relentless spirit kept the champ in it far longer than most would.
"Now the question is does it get discouraging? If Nunes keeps hitting her like that but Pena keeps getting up," Joe Rogan asked at one point as the fight went into a third round.
Pena did not just get up though, she was still going for the win, urged by her corner at the end of the third round to fight with "controlled pressure" and "finish" Nunes.
And Pena came close to somehow doing just that, getting Nunes into a deep armbar and almost submitting her again but this time she was able to get out.
"What an absolute war," Jon Anik said in commentary.
"She had that armbar locked in. Julianna was going after her. It wasn't a fight where she just picked her pace and walked all over her. Amanda was just the better fighter."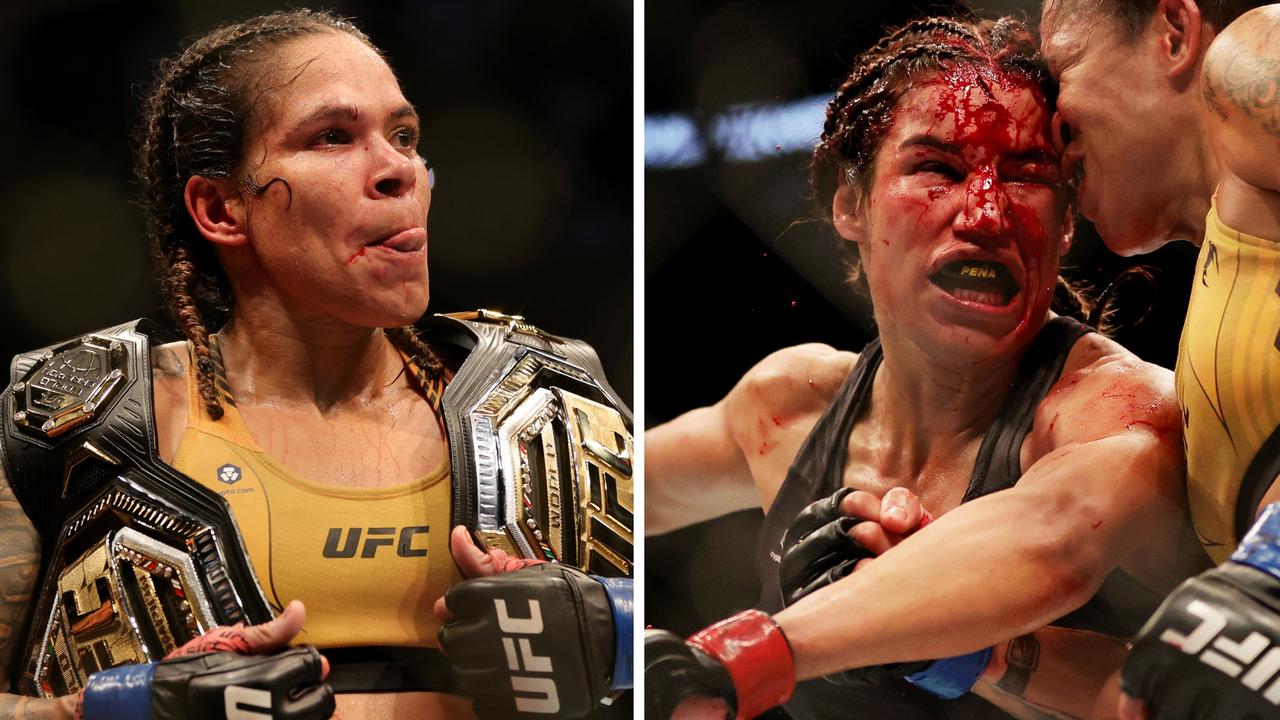 Pena was a bloodied mess heading into the fifth, having given everything he could but it just was not enough in the end as Nunes took the win.
"She's an animal," Cormier said of Pena.
Pena certainly did not lose any respect in the process, once again proving her dog mentality even as she fell short. Nunes just proved why she is the greatest of all time— if anyone really doubted that was the case anyway.
NOT TO BE FOR KIWI KARA-FRANCE AS MORENO MAKES STATEMENT
Kiwi Kai Kara-France hoped this was going to be different, that he was finally going to realise a long-held dream and capture a world title.
But it was not to be, with Brandon Moreno making a statement as he overcame some serious adversity in the third round to score a stoppage victory.
The victory sees Moreno secure the interim flyweight belt and now puts him in line to contest Deiveson Figueiredo for the fourth time, who was sitting cageside.
A low blow from Kara-France brought an early halt to the action although it quickly started up again, with Moreno landing a big right hook.
The Kiwi landed a right hook of his own in the closing minutes, one of if not the hardest punch of the round, although Moreno was finding success with his left hooks.
The second round continued what was already an incredibly competitive fight early, with Moreno lifting the pressure and pace, landing body kicks and punches to end the round.
"This was what happened in fight one, when Kara-France started quick, Moreno just said I'm too much of a dog for you," Daniel Cormier said in commentary.
Moreno though ran into trouble in the third round as an elbow from Kara-France cut the Mexican, whose eye started to open up.
Cormier said Moreno was starting to get "reckless" while Rogan added the Mexican was "losing his composure" after being cut open.
Kara-France started to gain the upperhand with a big one-two and strong leg kick but suddenly Moreno fired back with a hard leg kick, following it up with an uppercut.
Sensing his moment, Moreno then landed a thudding body kick that sent Kara-France to the canvas and he was quick to launch a ground-and-pound on Kara-France, who was done at that point.
"He's hurt bad," Cormier said in commentary.
"What a tremendous performance. He was taking punches but he made it dirty, made it ugly."
CONTROVERSY AS PAVLOVICH STOPS THE BLACK BEAST
Derrick Lewis was less than impressed as he protested after a controversial stoppage defeat in his fight against Sergei Pavlovich.
Both fighters were wildly swinging early before Pavlovich swarmed Lewis with a flurry of shots, dropping him at one point as referee Dan Miragliotta called the fight after 55 seconds.
Lewis immediately protested and he was not alone in feeling aggrieved by the decision.
"I like the ref but I would not debate that was an early stoppage," UFC boss Dana White said.
"It was definitely an early stoppage. When you jump right back up like that and you're ready to go… listen he was a little rocked but no more rocked than Julianna was and she fought five rounds.
"Miragliotta made a mistake and it happens. I don't think it diminishes Derrick Lewis at all. I would have liked to have seen that fight go on."
When asked whether he thought the stoppage was too early, Pavlovich said: "I did my job, I'm very happy with my performance".
ANKALAEV'S RISE CONTINUES AFTER BIG INJURY MYSTERY
Magomed Ankalaev has continued his rise up the UFC light heavyweight ranks and could be on the verge of earning a title shot after a second-round TKO of Anthony Smith.
Smith himself said earlier in the week he was hoping to silence his doubters and get a chance to go for the title after defeating Ankalaev, who he described as "very basic".
Ankalaev though was the one who pressed his title claims, with the win over Smith being his eighth-straight, tying Lyoto Machida for the second-longest winning streak in divisional history.
Smith, on the other hand, was on a three-fight win streak before he ran into Ankalaev and claimed after the defeat that he broke his leg.
"He just said his leg is broken," Rogan said in commentary.
"I think one of those leg kicks in the first round might have done him in."
UFC boss Dana White though told reporters in the post-event press conference that thre was no fracture.
Smith slipped over late in the first round and found himself on his back, with Ankalaev taking full advantage with a brutal series of kicks.
The American limped back to his corner after the round and it quickly became clear there was some issue for Smith, although it was not known just how serious it was at that point.
That was until a flurry of punches saw Smith stopped in the second round, at which point he told his corner he believed his leg was broken.
"Anthony Smith, with a broken leg which is what he is claiming, obviously he's in a serious situation and Ankalaev is all over him," Rogan added.
"He can't really explode up on one leg and get out of there either."
"He can't step up to turn if his leg is as compromised as he says it is," Cormier added.
"But Ankalaev, many have said it is an eventuality that he will fight for a championship. This may just be the fight that gets him that title shot."
Speaking to Rogan post-fight, Ankalaev said he did not know about Smith's claim that his leg was broken but added: "Who do you think broke it? He hit me."
SEMELSBERGER STUNS WITH 'NASTY' INJURY IN GUTSY DEFEAT
Matthew Semelsberger may not have had his hand raised on Sunday but he earned plenty of respect from the UFC world after an insane scrap with Alex Morono.
Morono caused plenty of damage earlier, landing right hands that saw Semelsberger's left eye quickly start to swell up as he went on to claim a unanimous decision win (29-28, 29-28, 30-27).
Semelsberger did have his moment late in the second as he landed a few brutal right elbows but at that point Rogan was calling for the fight to be stopped.
Such was the state of his left eye, with Anik describing the swelling as "nasty".
"They're going to have to take a look at that eye in the corner," Rogan said.
"That thing is bad. I don't think he's seeing the right hands coming at all. I think they could warrant a stoppage here. That's terrible."
Semelsberger was attended to by a doctor but given the all-clear and responded in shocking fashion, landing a jump knee that caught Morono off guard to open the third round.
Morono though was able to recover and ended the fight landing 88 significant strikes to Semelsberger's 51, causing most of the damage in the first two rounds.
DOBER CLOSER TO HISTORY AFTER BRUTAL TKO WIN
Rafael Alves pushed Drew Dober for three rounds but the American's power came through at just the right time, with a brutal body shot scoring a TKO win in the third round.
Dober (25-11 MMA, 12-6 UFC) moved into a tie for the second most knockout wins in UFC lightweight history at seven, only trailing Dustin Poirier with eight.
Dober had gone to the body early in the third, a strategy that would pay off soon after as a left hook to the ribs saw Alves crumble to the ground in pain.
"A left hook to the body. A huge win for Drew Dober with the body shot in round three," Anik said in commentary.
Dober finds 'floating rib', FOLDS Alves | 00:43
"That was beautiful," Rogan replied.
"That left hook sounded like a baseball bat on the side of beef. It was the perfect spot."
Speaking to Rogan post-fight, Dober paid credit to Alves for making it such an entertaining fight.
"I want those [wild] fights," he said.
"Hats off to Rafael Alves. The fights I say yes to are the fights that I know are going to be exciting. That is a man who is exciting everytime he is in here. It was a huge blessing to be a part of it."
UFC 277 FULL FIGHT CARD AND RESULTS
Main card
Amanda Nunes def. Julianna Pena (c) via unanimous decision (50-44, 50-44, 50-43) for the UFC bantamweight title
Brandon Moreno def. Kai Kara-France via third-round TKO for the interim UFC flyweight title
Sergei Pavlovich def. Derrick Lewis via first-round TKO — heavyweights
Alexandre Pantoja def. Alex Perez via first-round submission — flyweights
Magomed Ankalaev def. Anthony Smith by TKO (Round 2, 3:09) — light heavyweights
Prelims
Alex Morono def. Matthew Semelsberger via unanimous decision (29-28, 29-28, 30-27) — Welterweights
Drew Dober def. Rafael Alves via knockout (Round 3, 1:33) — lightweights
Hamdy Abdelwahab def. Don'Tale Mayes via split decision (29-28, 28-29, 29-28) — heavyweights
Drakkar Klose def. Rafa Garcia via unanimous decision (29-28, 29-28, 29-28) — lightweights
Early prelims
Michael Morales def. Adam Fugitt via TKO (Round 3, 1:09) — welterweights
Joselyne Edwards def. Ji Yeon Kim via split decision (28-29, 29-28, 30-27) — bantamweights
Orion Cosce def. Blood Diamond via unanimous decision (29-28, 29-28, 29-28) — welterweights
Nicolae Negumereanu def. Ihor Potieria via TKO (Round 2, 3:33) — light heavyweights