Round 9
Taylor is tapping into her deepest physical and psychological reserves. Still fighting off the back foot but scoring with counters and mostly limiting the firefights. But Serrano is tireless and keeps moving forward. She bloodies Taylor's nose badly with a right hand in the final seconds. A Serrano round surely, but some fight from Taylor!
Guardian's unofficial score: Taylor 9-10 Serrano (Taylor 85-86 Serrano)
Round 8
The seventh was a good comeback round for Taylor from the edge of the abyss and she's building on it nicely here. More of the in-and-out movement from her success in the early rounds and avoiding the protracted exchanges. But Serrano wisely goes back to the body where she's hurt Taylor so effectively tonight and it's enough to take the frame. What a fight!
Guardian's unofficial score: Taylor 9-10 Serrano (Taylor 76-76 Serrano)
Round 7
Serrano appears to be looking for one big punch to close the show in style. Who can blame her with this atmosphere which hasn't ebbed since the jump? But it's allowed Taylor to buy a bit of time. She's still a flat on her feet and the legs took rubbery but she did enough to take the round on my card.
Guardian's unofficial score: Taylor 10-9 Serrano (Taylor 67-66 Serrano)
Round 6
Taylor is big trouble. She seems content to try and trade with Serrano (bad idea) and none of her shots appear to be having much effect. She's not doing a good job of tying up and buying time. Easy round for Serrano.
Guardian's unofficial score: Taylor 9-10 Serrano (Taylor 57-57 Serrano)
Round 5
There's a sense this fight is getting ready to explode. And it does! Serrano has Taylor traipped in the corner early in the fifth and she's unloading. She's thrown about 25 shots at Taylor and and Taylor has blocked, parried or evaded most of them but some do get through her defense: a punishing right to the body, a right uppercut, a vicious left hook among them. Taylor escapes but Serrano is pursuing. Taylor is in serious trouble! She's badly hurt, bloodied and might not make it to the end of the round! She clinches, holds on, does anything to stop the onslaught and makes it to the bell. But Taylor is in serious trouble after five rounds.
Guardian's unofficial score: Taylor 9-10 Serrano (Taylor 48-47 Serrano)
Round 4
Taylor's speed is still making the difference Serrano is getting closer with her pressure her body work in the fourth is enough to nick the round.
Guardian's unofficial score: Taylor 9-10 Serrano (Taylor 39-37 Serrano)
Round 3
High-intensity combat between two top operators with a deafening crowd to match. Taylor's hand and foot speed has made the difference so far but the difference isn't much. Serrano has been scoring with a couple of straight rights, but Taylor is scoring herself and her educated footwork is giving her comfortable escape routes.
Guardian's unofficial score: Taylor 10-9 Serrano (Taylor 30-27 Serrano)
Round 2
A sumilar pattern to the first round with Serrano in hot pursuit and Taylor boxing off the back foot, looking to catch her opponent with counters and get out of harm's way. Taylor looks more comfortable in the second than in the first and Serrano is going to have to do a better job of cutting off the ring. Another very close round. Again for Taylor, just.
Guardian's unofficial score: Taylor 10-9 Serrano (Taylor 20-18 Serrano)
Round 1
There's the bell and the fighters meet at the center of the right. Serrano is moving forward and pressuring from the jump but Taylor is fighting well off the back foot, landing one right hand than another upstairs while moving backwards. Serrano lands a flush right hand. Taylor takes it well but that was landed with a thug. Incrdibly quick hand speed from both fighters. Taylor scoring and escaping from danger with the in-and-out movement that's her calling card. Close round.
Guardian's unofficial score: Taylor 10-9 Serrano (Taylor 10-9 Serrano)
The fighters are in the ring. The introductions have been made. The fighters have gotten their final instructions and the seconds are out. We'll pick it up with round-by-round coverage from here!
The atmosphere in the Garden is positively electric in the moments before the national anthems. Sweet Caroline is in the books and the Puerto Rican and Irish fans are going back and forth trying to best one another on the decibel scale. When Taylor is shown on the Jumbotron, the steady roar of the audience jilts to a high-pitched scream. Same for Serrano, only slightly more deafening. On the whole, it's a spine-tingling caliber of atmosphere that we've only seen the Garden for Felix Trinidad or Miguel Cotto fights in the past.
Three anthems: Republic of Ireland, Puerto Rico and the United States. They're happening right now. Ringwalks to come.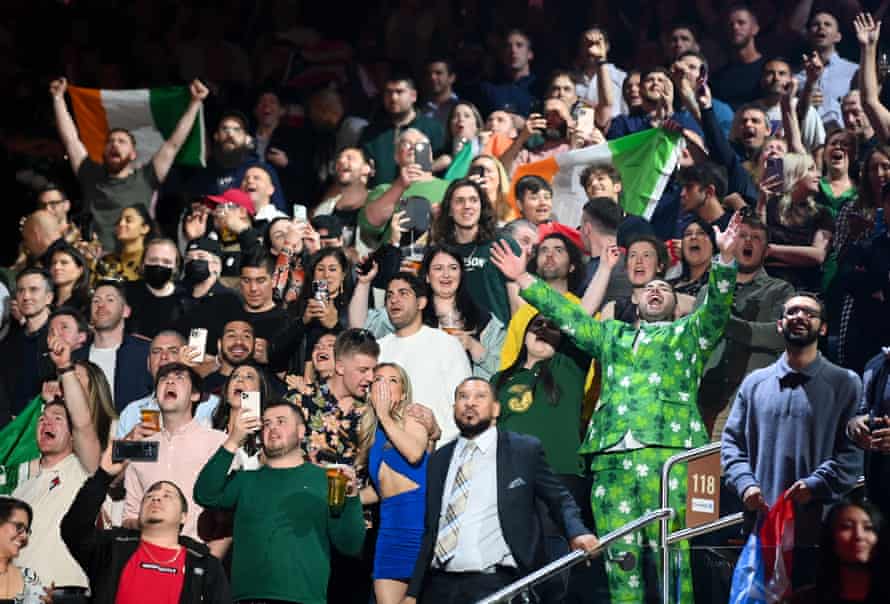 Liam Smith has just stopped Jessie Vargas in a gruesome battle of attrition before a nearly full Madison Square Garden. Vargas was fortunate to make it to the bell at the end of the ninth round as the Liverpudlian was pouring on the punishment, but referee Steve Willis correctly intervened with 2:19 remaining in the 10th.
The main event between Katie Taylor and Amanda Serrano is next. While we wait, here's our Donald McRae's interview with Taylor from earlier this week.
Smith and Vargas are into the seventh round of their 12-rounder ahead of tonight's main event. In the meantime, here's Tess Crain's look at Amanda Serrano, whose improbable partnership with YouTuber-turned-boxer-turned-promoter Jake Paul has given one of boxing's most decorated yet overlooked champions the promotional boost she's needed to reap the first seven-figure purse of her career.
Although the pairing may seem strange – hyper-focused Serrano doesn't date, drink, or own a cell phone, while the extremely online Paul puts the "social" and "media" in social media – they have proven a powerful complement. Serrano lends Paul credibility as an athlete and casts him in a new, benevolent light as a champion for women in sport. Meanwhile, he has helped elevate her profile beyond boxing circles and given her unprecedented leverage in securing fights such as this one.

Paul assessed Serrano's social media presence and gave her targeted ways to amplify her brand: what and when to post, how to engage online with fans, getting professional photographs taken. Her Instagram and Twitter following have swelled. "It's definitely a big help," Serrano said. "Now I got Jake Paul behind me and promoting me, shining that light and writing about me on social media and giving me that push." It has paid off. Along with the history and the glory, this will be the first seven-figure purse of Serrano's career.
Liverpool's Liam Smith and Jessie Vargas of the United States are in the ring for tonight's final preliminary bout. A near-sellout audience of around 18,000 spectators is expected for tonight's card and many of them are already in their seats.
Both Taylor and Serrano were shown entering the arena on the Jumbotron between rounds during the previous fight. The sight of Taylor prompted rollicking cheers from the stands, but there was an even bigger swell of noise for Serrano, who it seems will enjoy a marginal edge in crowd support.
The atmosphere in and around the building has been crackling all night. And here's something you don't normally see: at least three of the Irish pubs on Seventh Avenue were rammed with fight fans watching the DAZN telecast during my walk to the Garden tonight. Normally the television restrictions around fights make it all but impossible for the local bars to show the boxing when it's so close by, but the normal rules have been lifted for the night and it's only heightened the sense of occasion.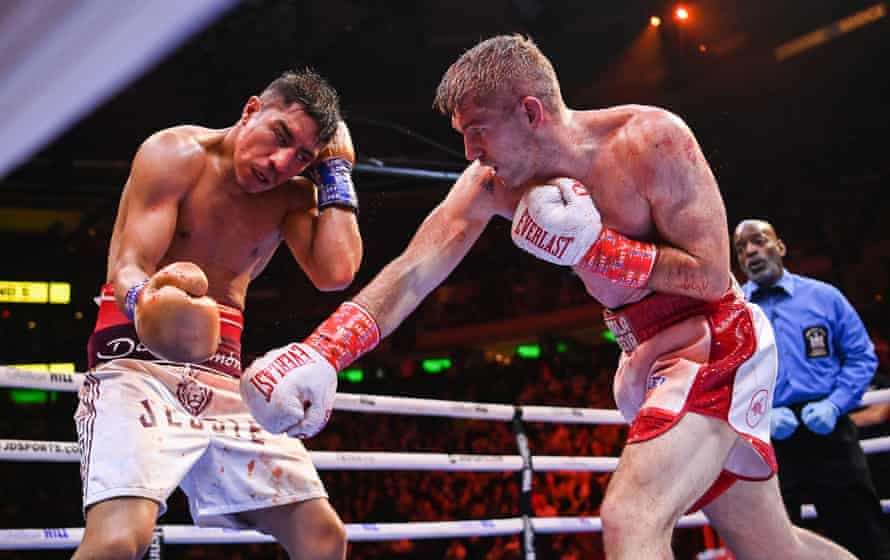 Hello and welcome to New York for tonight's blockbuster showdown between Katie Taylor and Amanda Serrano for the undisputed lightweight championship. We're ringside at Madison Square Garden for this hotly anticipated meeting between the world's two best female boxers regardless of weight: the first summit meeting between the consensus No 1 and No 2 on the men's or women's pound-for-pound list since the second fight between Manny Pacquiao and Juan Manuel Marquez in 2008.
Remarkably, tonight's main event marks the first time that two women have been the headline attraction in the storied Manhattan venue's 140-year history.
The second-to-last undercard fight between Baltimore's Franchon Crews-Dezurn and Sweden's Elin Cederroos has just concluded with Crews-Dezurn winning a wide unanimous decision to become the first undisputed super middleweight champion in women's boxing history. Next up is a 12-round junior middleweight fight between Jessie Vargas and Liam Smith followed by Taylor and Serrano, who should be making their ringwalks near the top of the hour. Plenty more to come between now and then!
Bryan will be here shortly. In the meantime here's Donald McRae's preview of tonight's main event.