May 21, 2022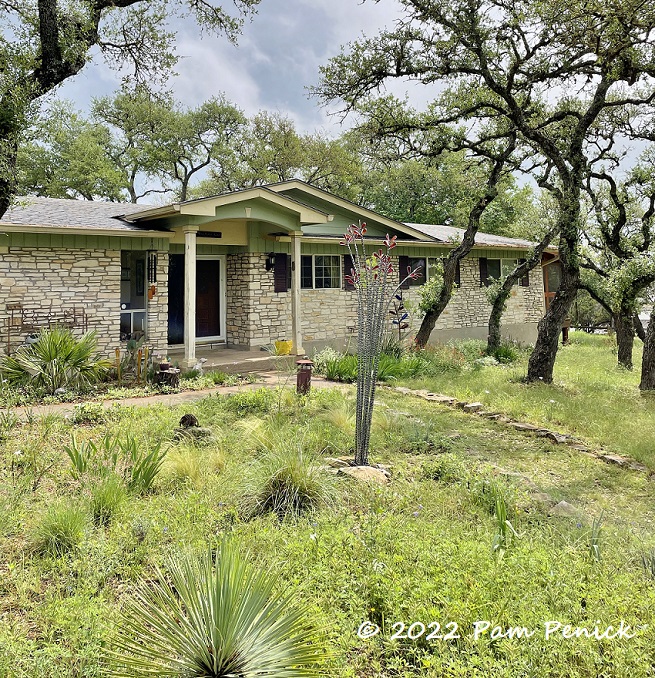 The southwest Austin home my friend Laura Wills and her husband, Eric, share isn't in the country, but it feels semi-rural thanks to a 2-acre yard and out-of-sight neighbors. The front yard alone is enormous, and most people would sod it with turf grass and spend hours each week watering and mowing.
Not Laura. She's been gardening here for 11 years, and in that time she's turned her front yard into a meadowy garden of native wildflowers, grasses, sotols, hesperaloes, and salvias, plus well-adapted, non-thirsty cottage favorites like bearded iris.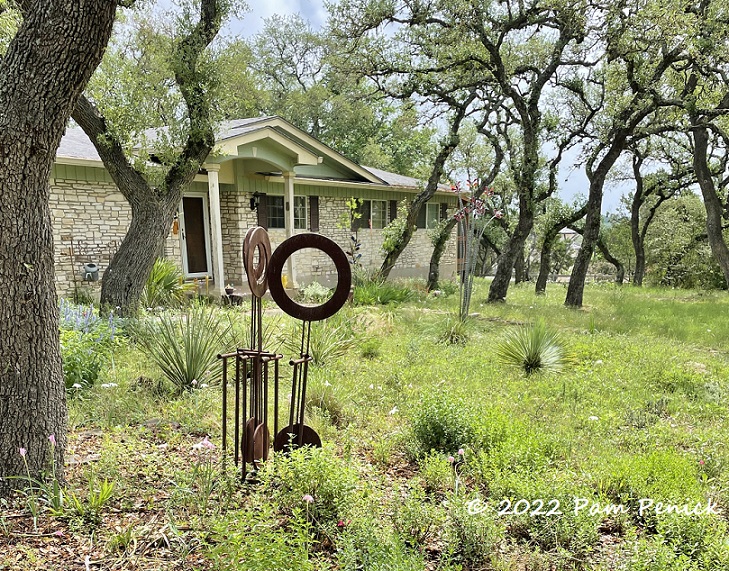 She also loves metal garden art and has quite a few interesting pieces in her front garden. The sinuous, dark trunks of live oaks add an artistic element to the garden too.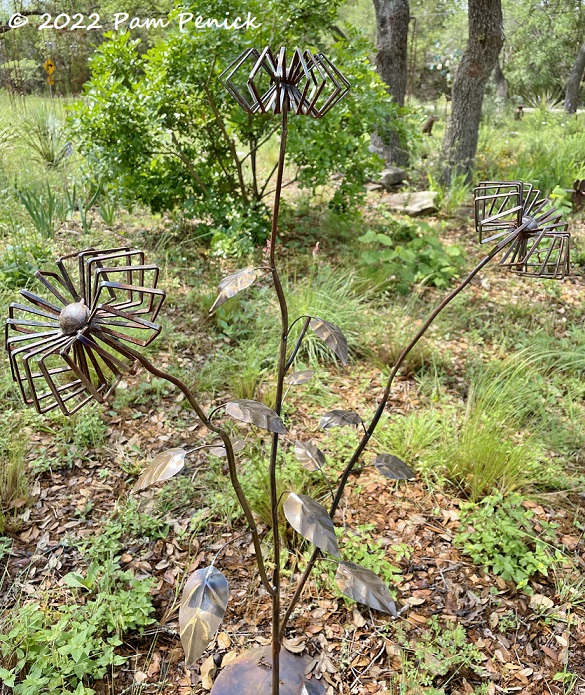 Eric recently embarked on a second career as a welder and metal artist (find him on Instagram @willsmetalworks), and he's been creating some cool pieces, like this crimped coneflower.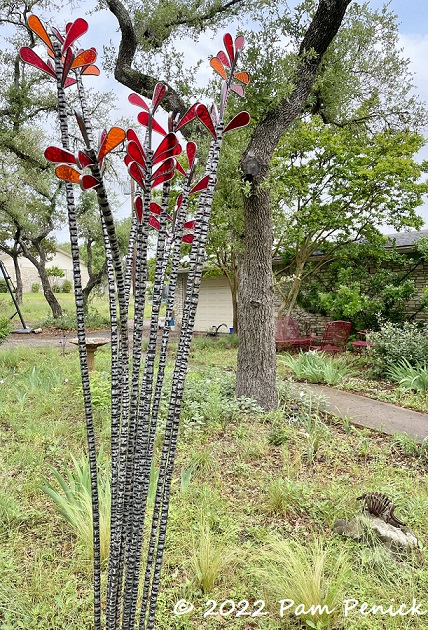 More recently he made this metal-and-glass ocotillo. I love the hammered texture of the stems.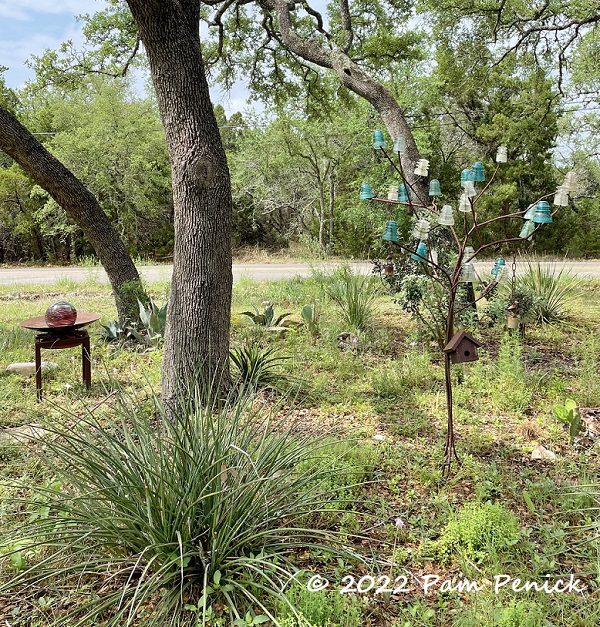 Other garden art (not made by Eric) includes a bottle tree with telephone insulators instead of bottles…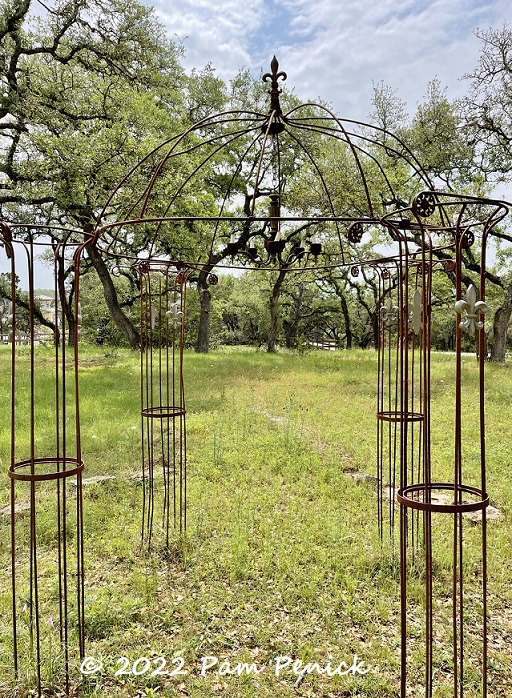 …and a graceful iron gazebo with a chandelier hanging in the center. This view shows how big the front yard is. Deer? Of course.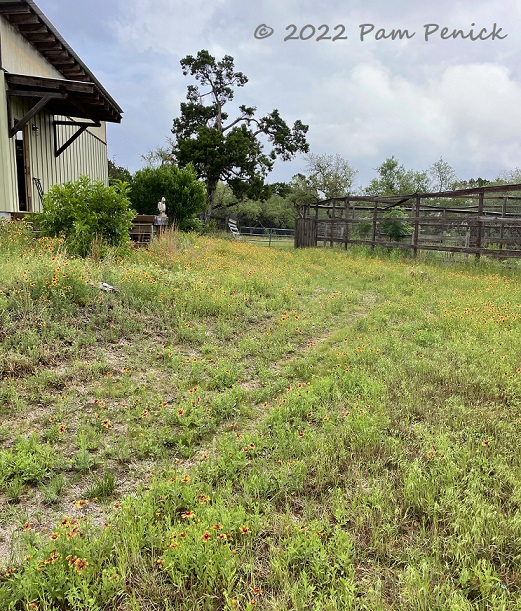 Around the side of the house, a meadow of blanketflower stretches toward Eric's welding barn.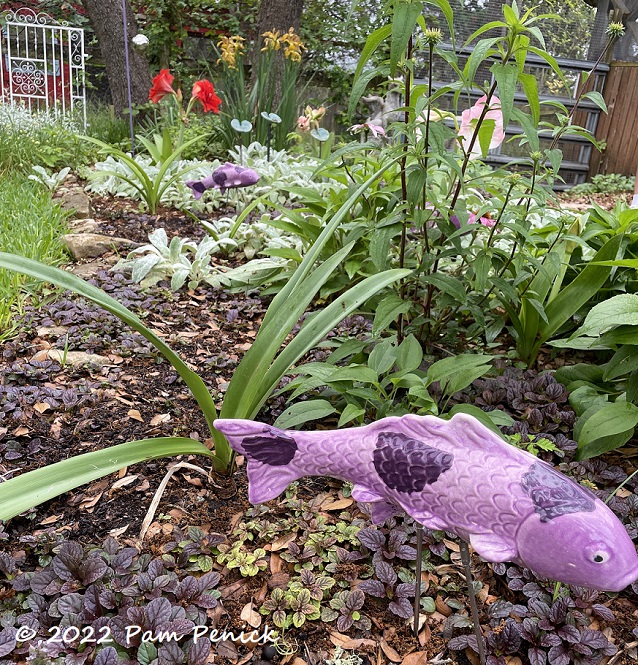 In the fenced backyard, where Laura doesn't have to be concerned about deer eating her plants, and where she's willing to water more regularly, she cuts loose with flowering bulbs, perennials, groundcovers, and roses. And of course more garden art, like purple koi swimming through a garden bed. Notice how the ajuga's purple leaves harmonize.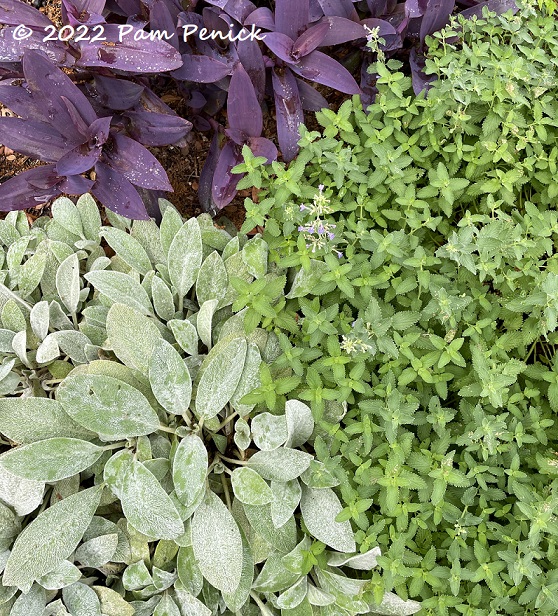 Lamb's ear, purple heart, and catmint — a trio of pretty groundcovers.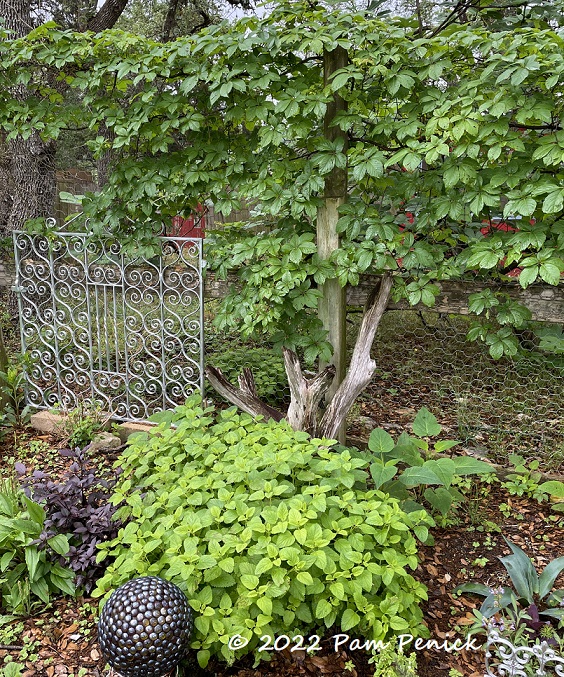 At first glance I thought this was an espaliered fruit tree. But it's actually Virginia creeper and a cedar stump in front of a fence post. Ha! It's pretty though.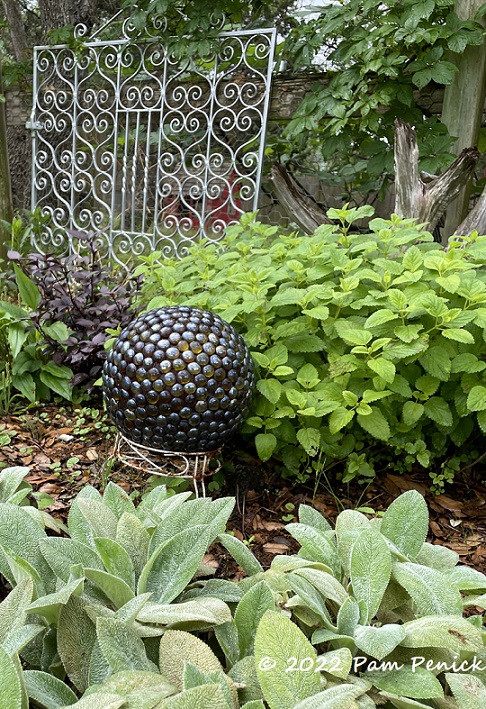 More garden art accents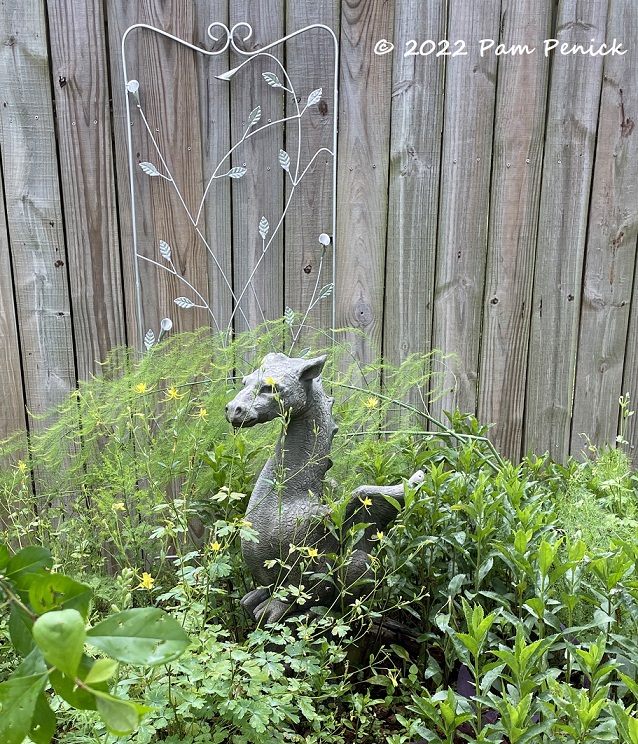 One of several gargoyles I spotted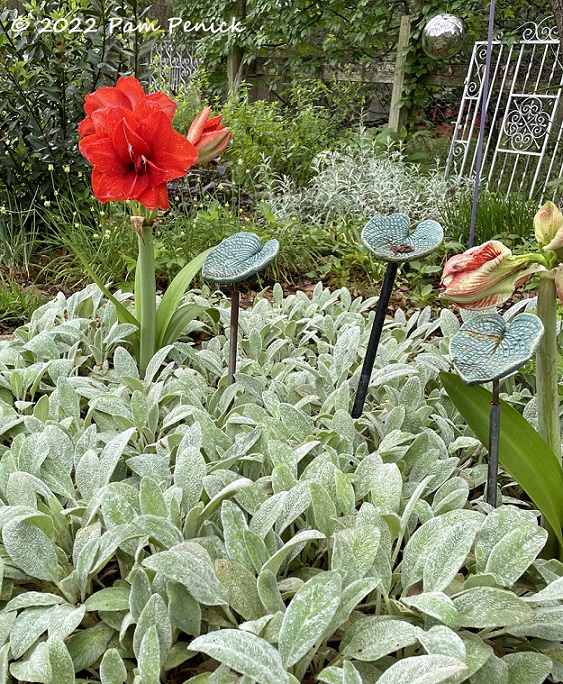 In early May, the amaryllis were in bloom.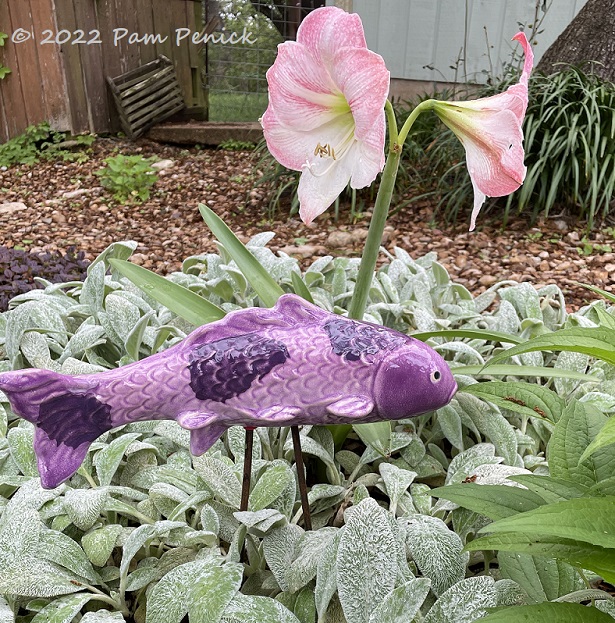 Here's a pretty pink-and-white amaryllis, along with one of the purple koi leaping over lamb's ear.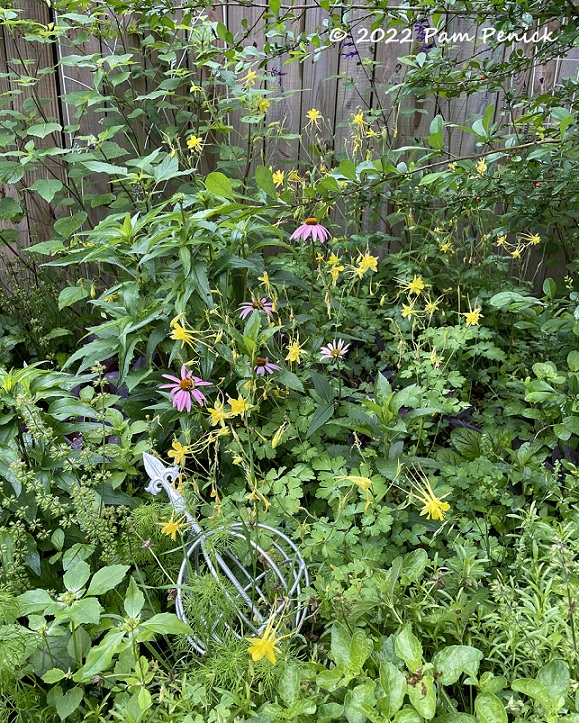 Purple coneflower, golden columbine, and an armillary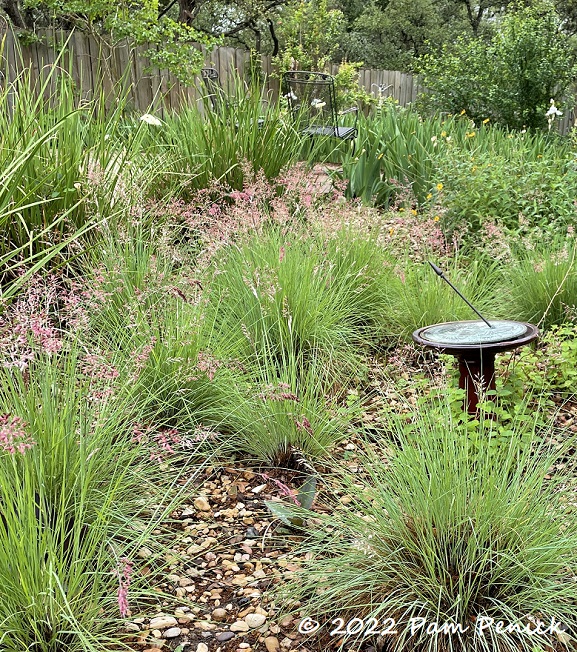 In a sunny gravel garden, ruby crystal grass makes a rosy haze when it blooms.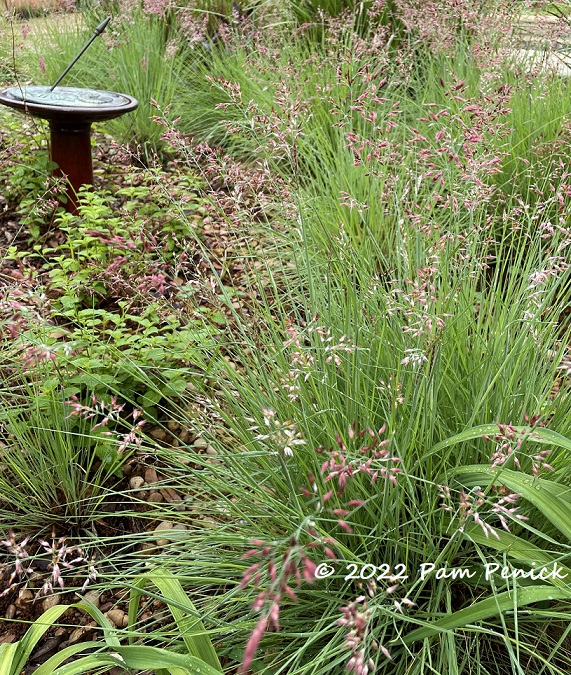 A closer view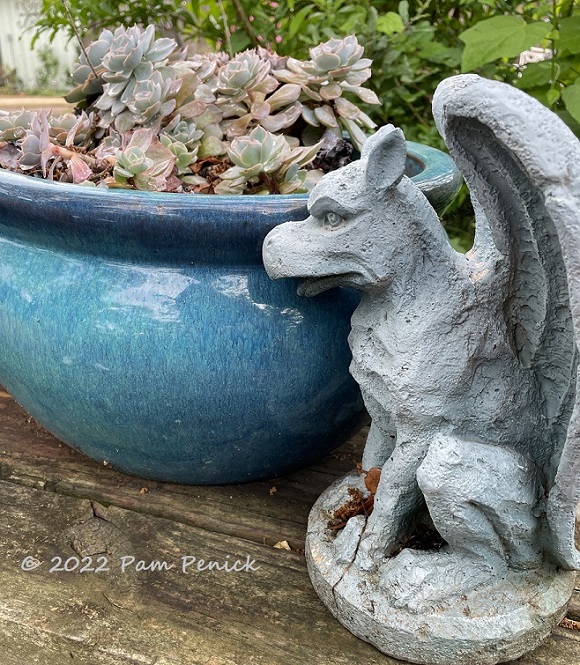 Another gargoyle with matching ghost plant in a blue pot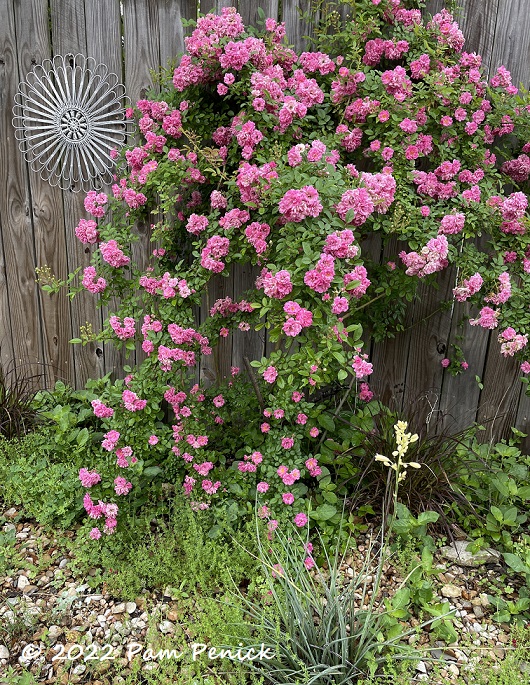 Laura used to grow a lot of roses around her swimming pool. But over time she realized that the roses bloom mainly in spring and fall, whereas swim season is in summer. So she pulled out most of the roses but kept this stunner, a 'Peggy Martin' climbing rose.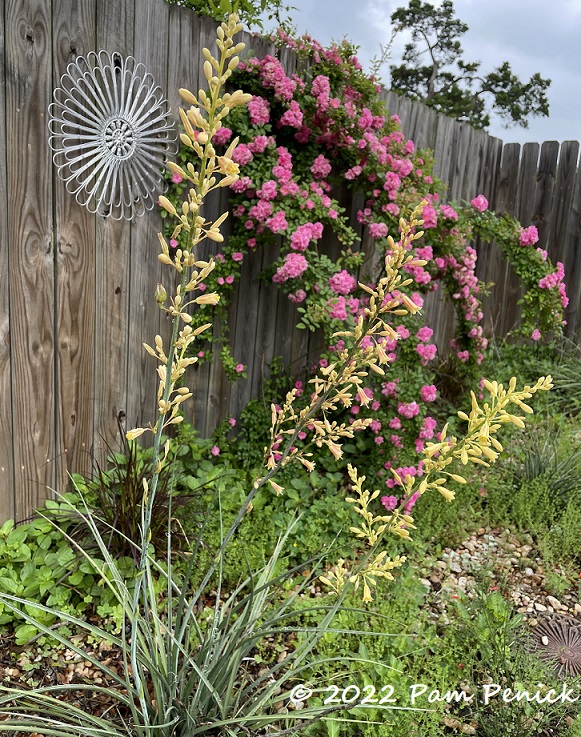 'Peggy Martin' happens to look terrific with yellow hesperaloe, which blooms all summer along with firecracker fern and other heat lovers.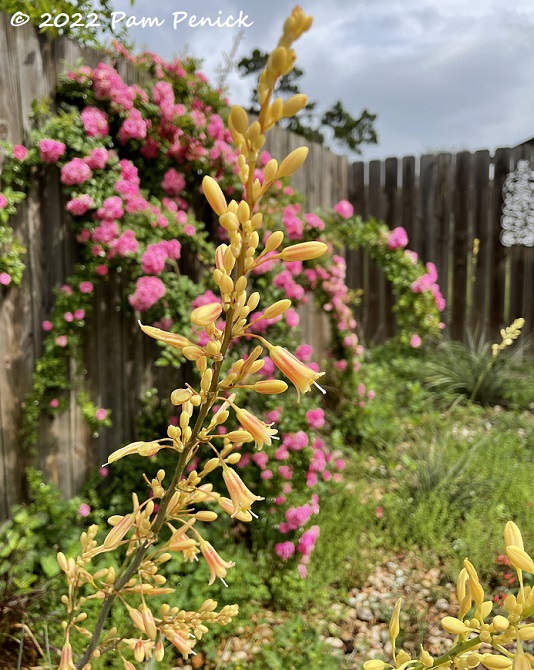 Actually, this yellow hesperaloe is a hybrid, I think. Check out those rosy streaks on the yellow flowers. Beautiful! And a perfect pairing with the pink rose.
I welcome your comments. Please scroll to the end of this post to leave one. If you're reading in an email, click here to visit Digging and find the comment box at the end of each post. And hey, did someone forward this email to you, and you want to subscribe? Click here to get Digging delivered directly to your inbox!
__________________________
Digging Deeper
Love ponds? Attend the ZENsational Austin Pond & Garden Tour on June 4-5, organized by the Austin Pond Society. Northside ponds are on tour June 4th; Southside and Bastrop ponds on June 5th. One ticket gets you into both days. Tickets are $20 until June 3rd at 10 pm or $25 if purchased on either day of the tour, at any pond location (online payments only; no cash transactions).
Join the mailing list for Garden Spark! Hungry to learn about garden design from the experts? I'm hosting a series of talks by inspiring designers, landscape architects, and authors a few times a year in Austin. These are limited-attendance events that sell out quickly, so join the Garden Spark email list to be notified in advance. Simply click this link and ask to be added. The 6th season kicks off in fall 2022.
All material © 2022 by Pam Penick for Digging. Unauthorized reproduction prohibited.
The post Low-water natives in front, party in the back appeared first on Digging.