October 25, 2021
Austin author Lucinda Hutson's garden blazes with color every day of the year. But come October, for Day of the Dead, she kicks it up a big notch. Yellow and orange marigolds glow from every pot, mingling with hibiscus, coral vine, and roses in sherbet hues, all set against the backdrop of a house and garage painted grape, turquoise, and goldenrod.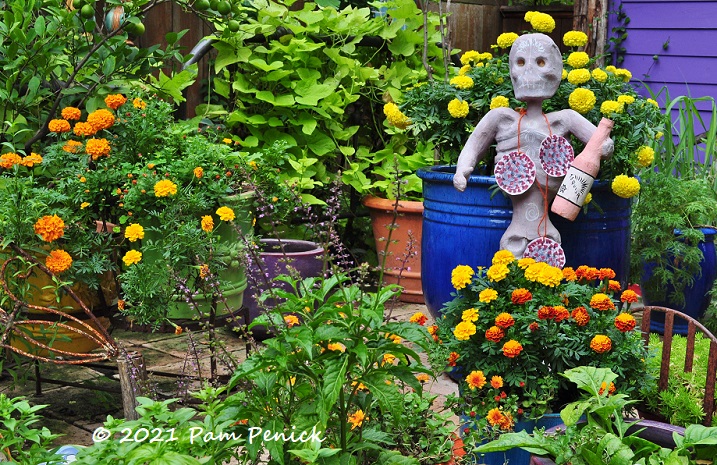 Fun-loving skeletons loll amid the flowers, this one clutching a tequila bottle (Lucinda's alter ego? She is the author of Viva Tequila! after all) and wearing a coronavirus necklace in recognition of the earthly trials we're living through.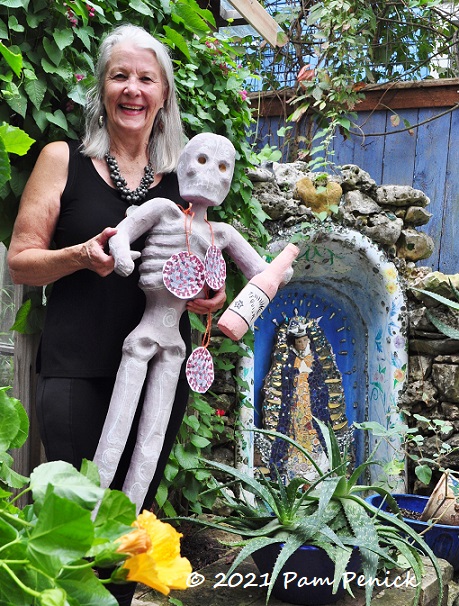 Lucinda's generous spirit and irreverent humor make any visit a joyful experience.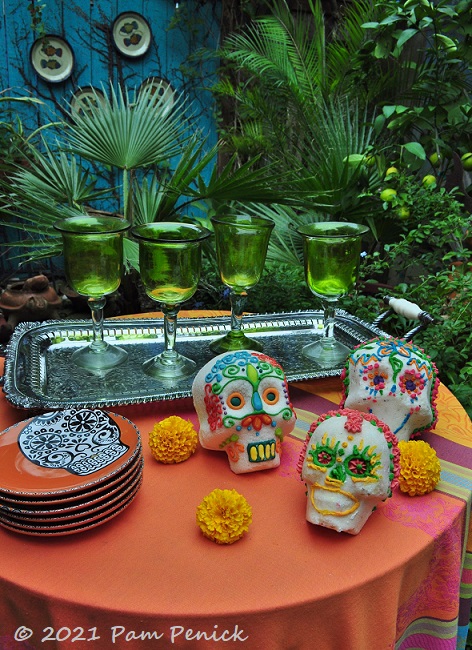 She has mad hostess skills too. This pretty table in the garden was set for a gathering of friends that evening, decorated with sugar skulls, skull plates, pom-pom-like marigolds, and green goblets on a silver tray.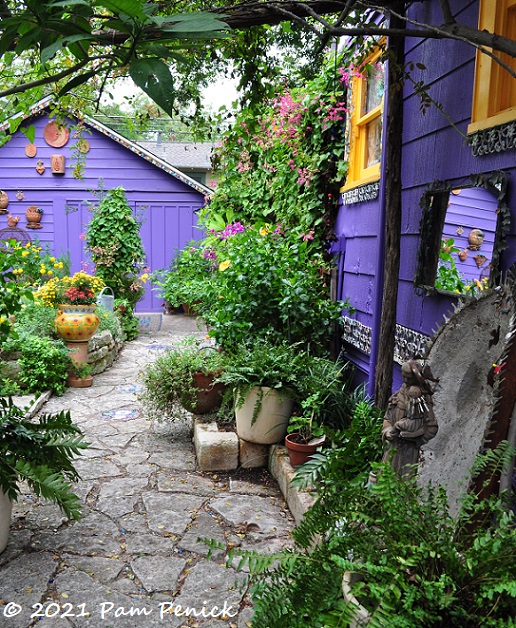 Let's take a tour, starting with the side garden, where a vine-smothered arbor divides the long, narrow space into two separate rooms.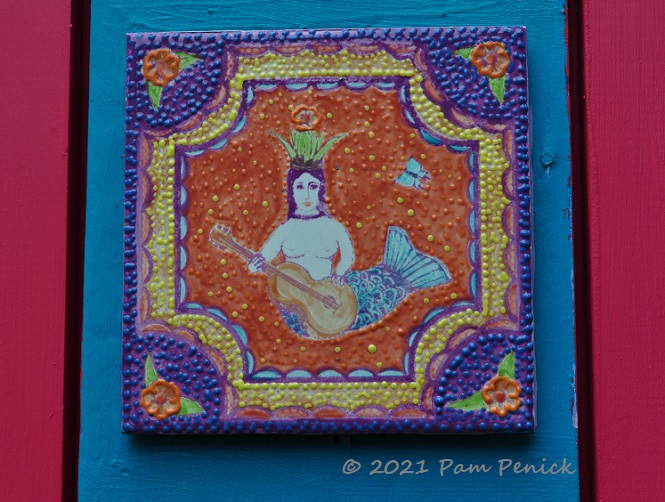 A mermaid tile plays up the mermaid-grotto theme of the first garden room.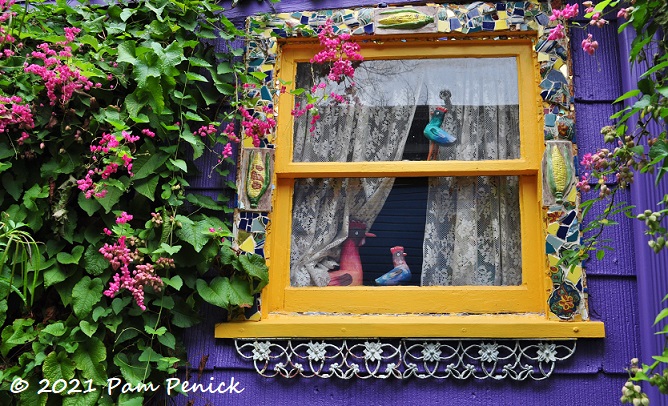 Nobody here but us chickens…in a corn-tiled kitchen window. Fall-blooming coral vine (Antigonon leptopus) swags around it.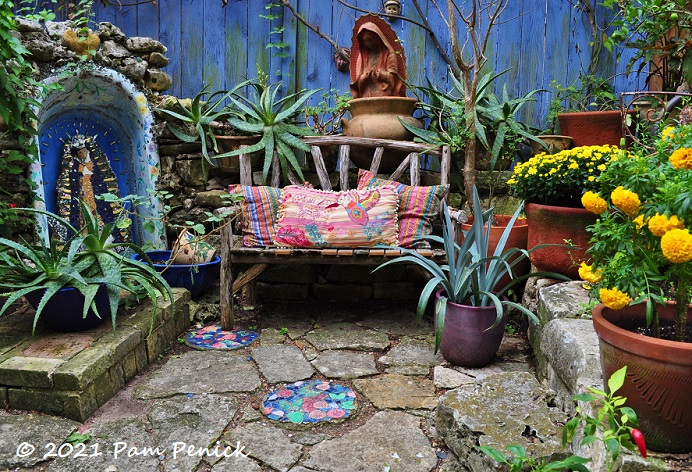 That window looks out on a small seating area bristling with aloes, softened with mango-hued bench pillows and yellow marigolds. Our Lady of La Tina, in a bathtub shrine, anchors the corner.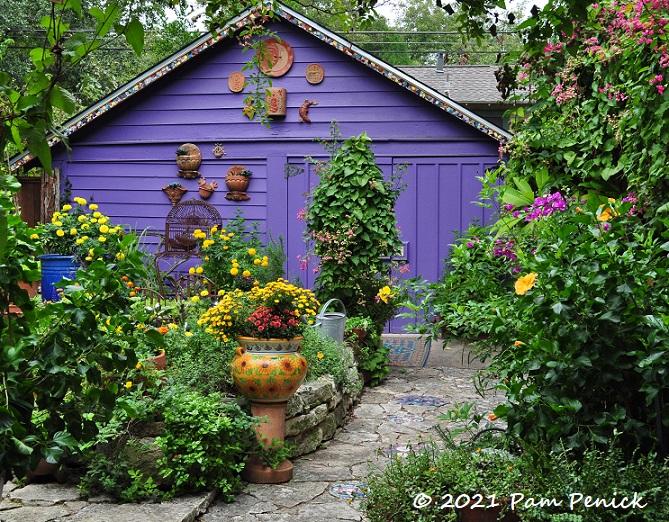 In the sunny space in front of the garage (this is the old driveway), a raised bed contains edibles and more potted marigolds in honor of the season.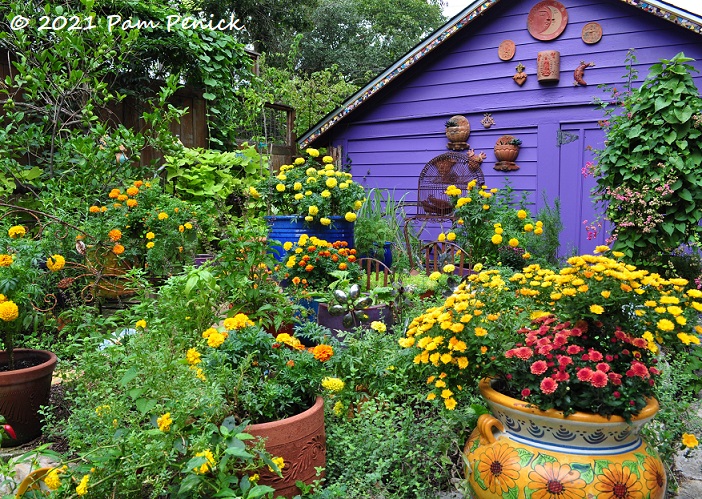 So festive!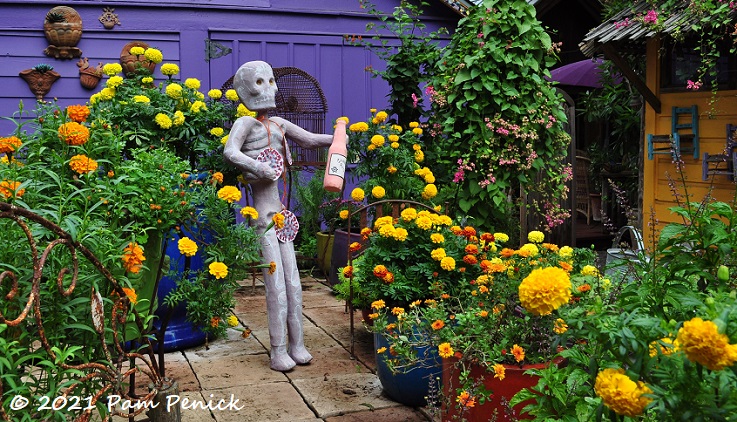 The tequila-toting, papier-mâché skeleton comes outside for parties.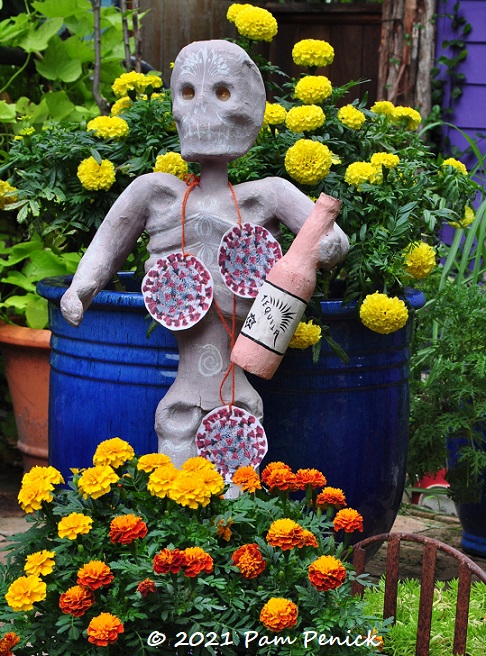 I expect she's the life of the party!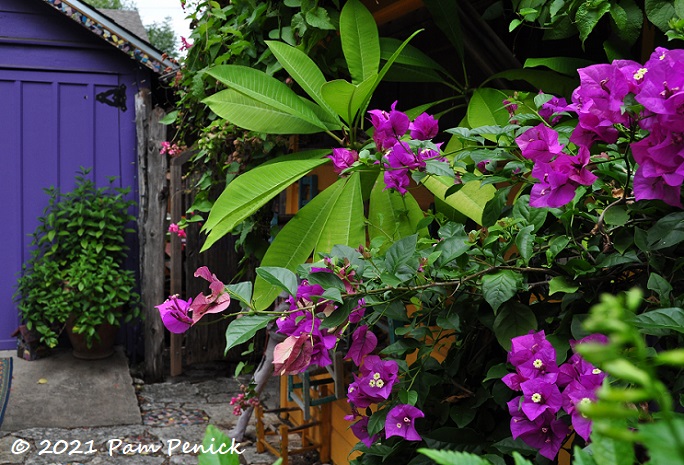 Hot-pink bougainvillea reaches out from a trellis on the house, reminding me of visits to Mexico.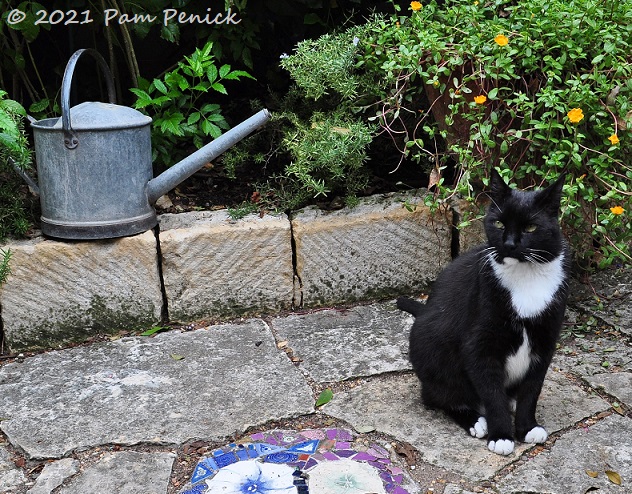 Sancho the cat trailed along with us, friendly as always but playing it cool.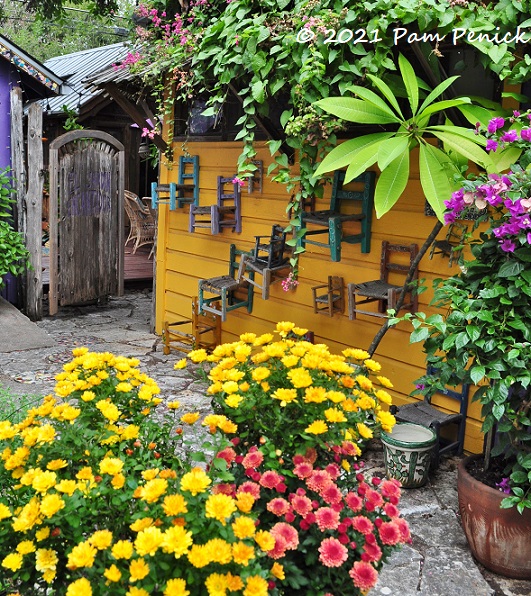 One wall of the house, painted goldenrod-yellow, holds a collection of children's chairs from Mexico. Lucinda has an extensive collection of folk art, textiles, and other handcrafted items from her travels through Mexico.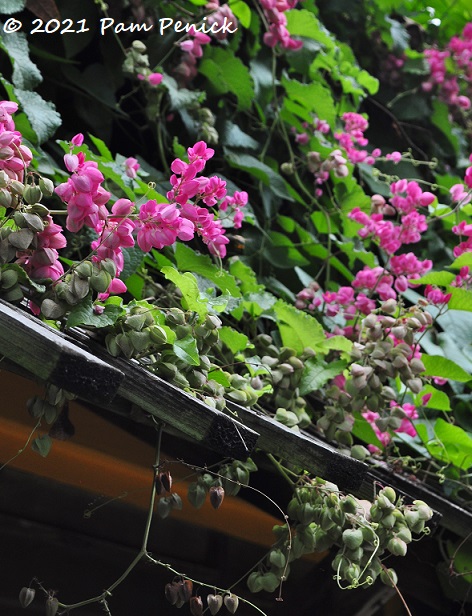 Coral vine also goes by the name queen's wreath. It's such a beautiful vine, delicate looking but tough as nails.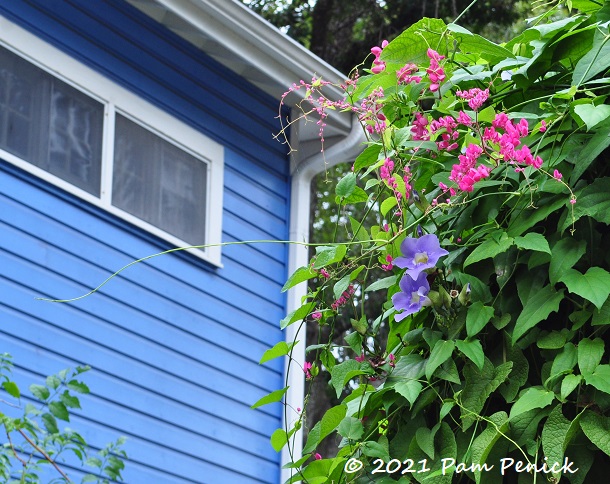 Coral vine shares vertical space with blue sky vine (Thunbergia grandiflora), a tropical vine with big, trumpet-shaped flowers that comes back from the roots every year.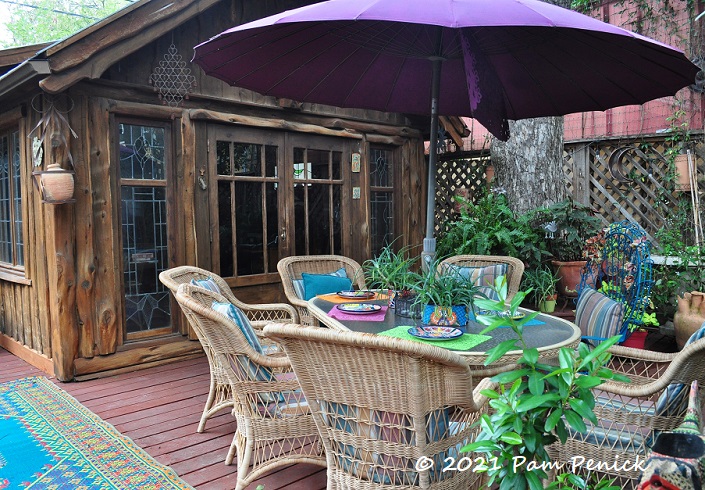 In the rear garden, a deck table shaded by a purple umbrella is set for guests. The beautifully crafted cedar structure behind it serves as Lucinda's office and writing space.
Colorful stools line a floral oilcloth-covered buffet table.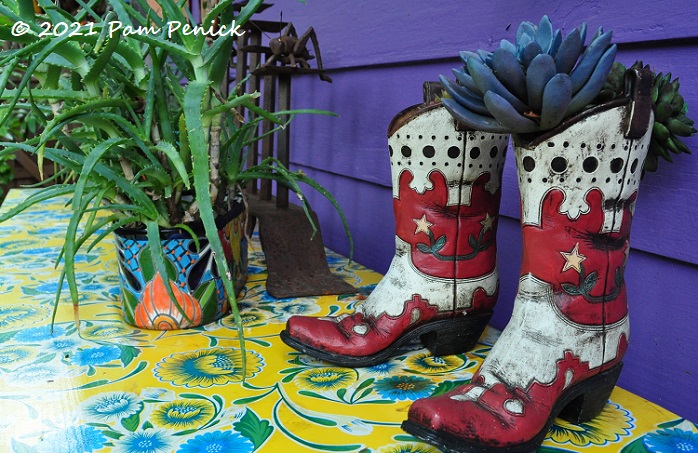 Old cowgirl boots get a second life as succulent planters. The boots are real even if the succulents are faux!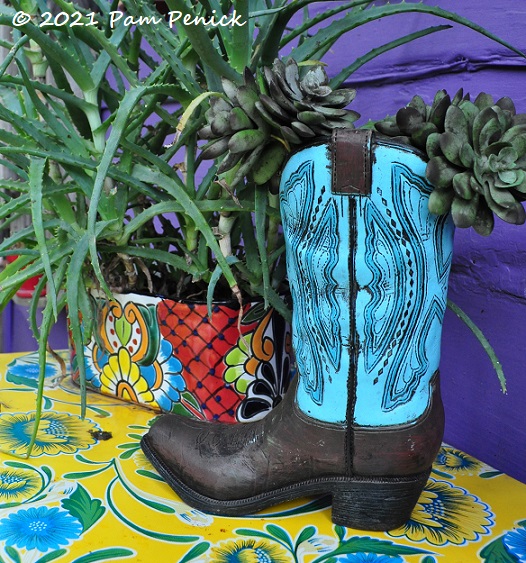 Even a single boot makes a kicky planter.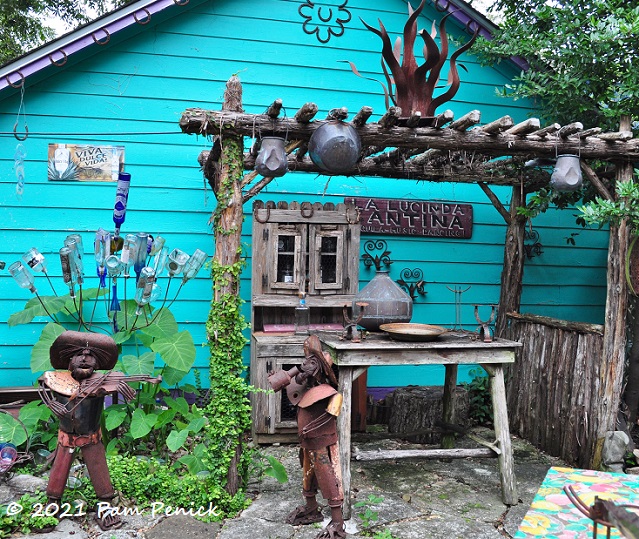 Behind the garage, a turquoise wall serves as a vivid backdrop for Lucinda's tequila cantina, a rustic cedar structure topped with a flame-leafed metal agave. A metal mariachi serenades a bottle-guzzling listener.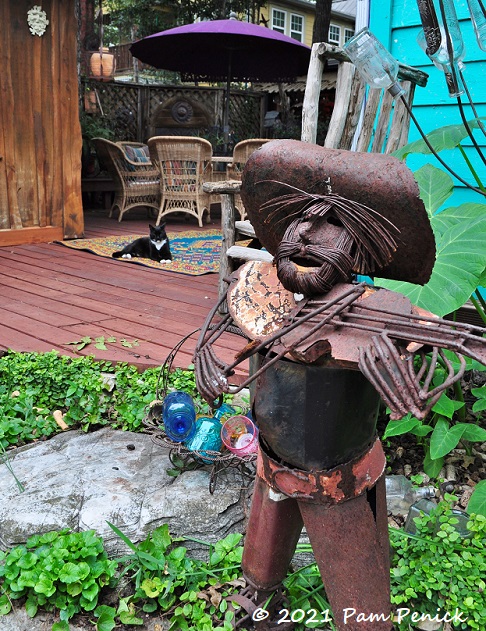 Sancho lounges in the background.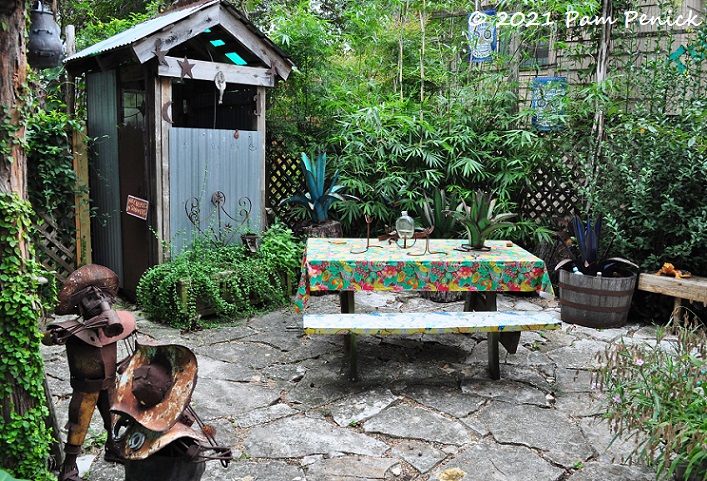 An outdoor shower and picnic table add more function to this back-of-the-garden space. The bamboo lining the fence, which screens a tall neighboring house, got hit hard by the February freeze but is coming back.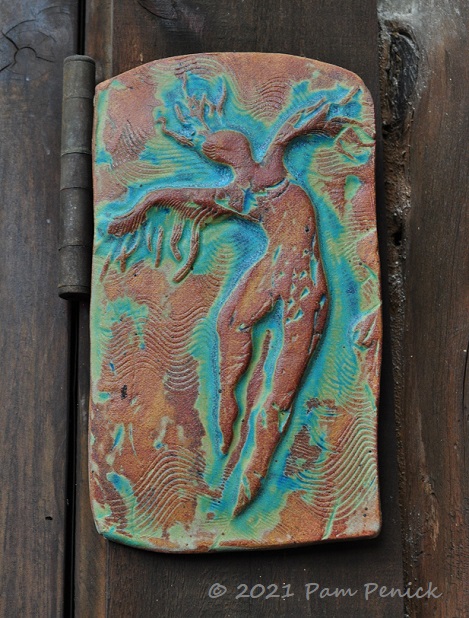 A dancing-figure plaque embodies the joyful spirit of the garden.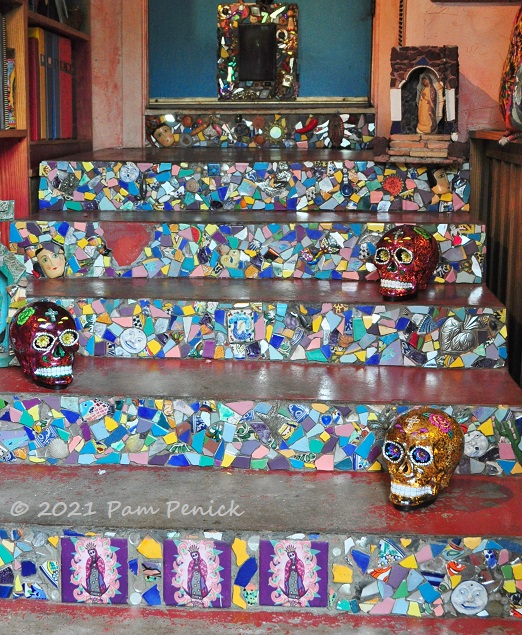 Lucinda's tiled back stairs host a trio of light-up, glittery skulls.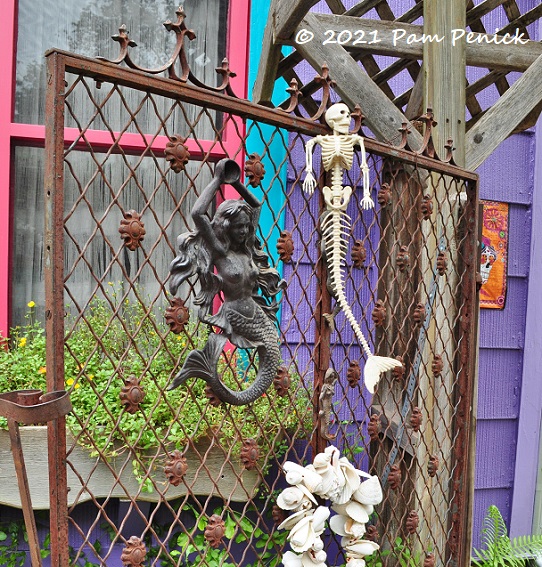 The gate into the mermaid garden now has — what else? — a mermaid skeleton hanging from it.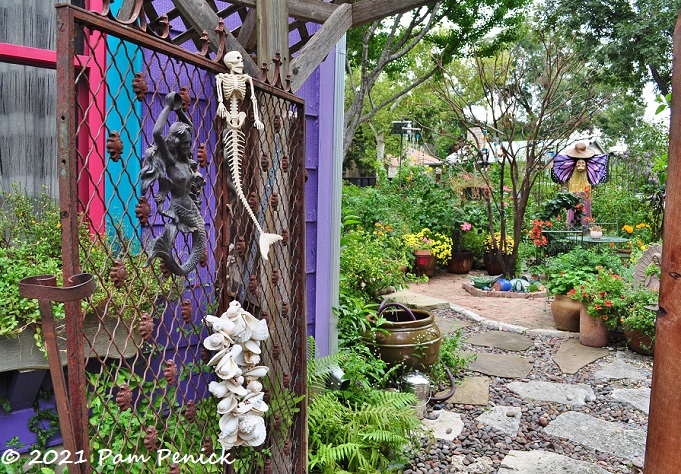 The view into the front garden…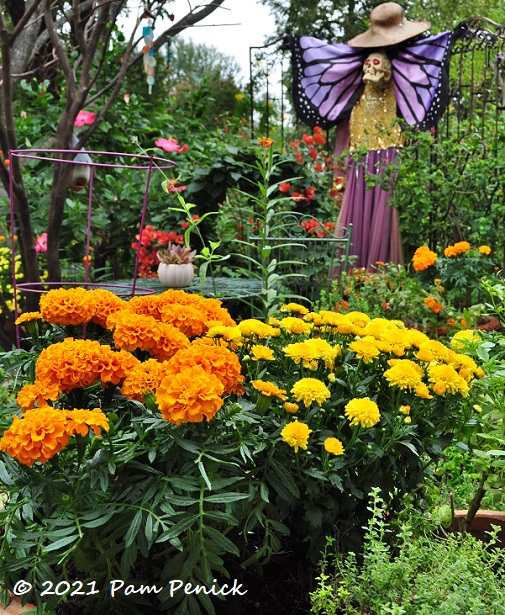 …where a mariposa skeleton with purple monarch wings presides over a small patio and potted marigolds.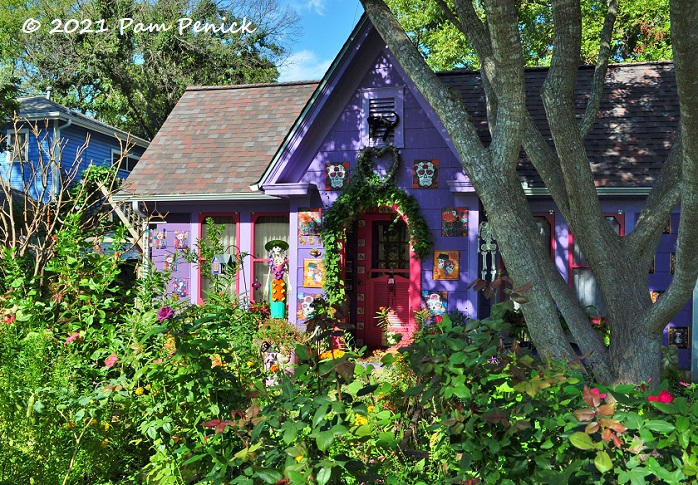 Lucinda's purple casita, all decked out for Day of the Dead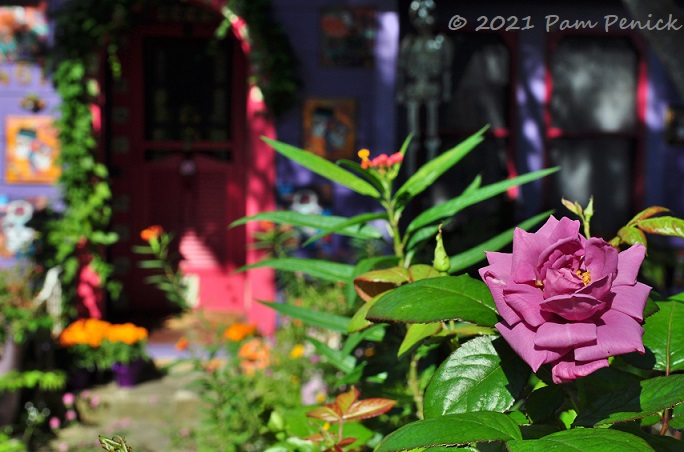 A mauve rose basks in the sunshine.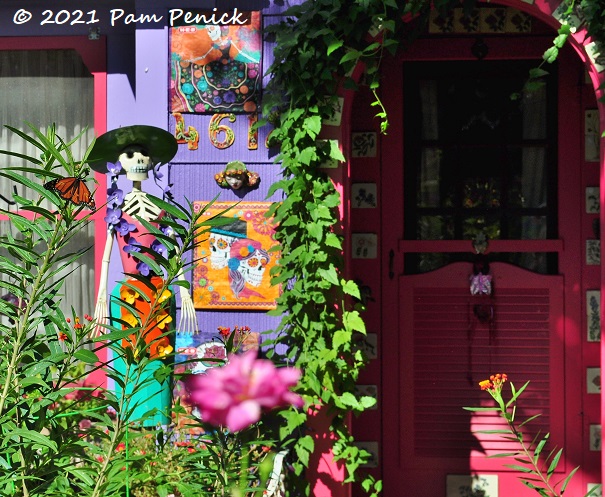 By the raspberry-colored front porch, a tall skeleton lady stands ready to welcome visitors.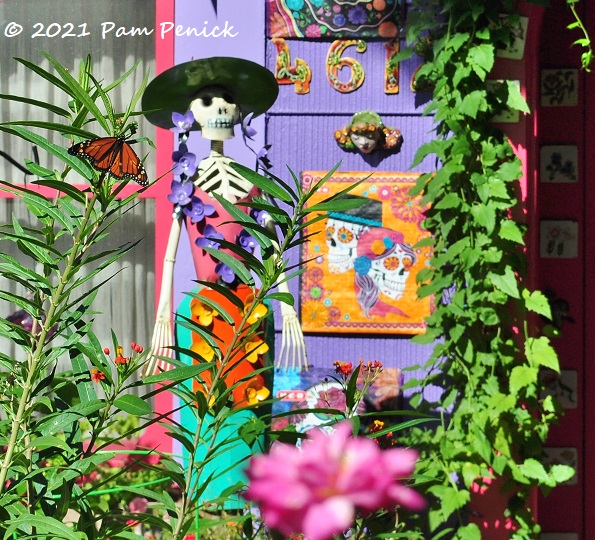 Monarchs were zipping among the flowers, but I managed to catch this one at rest for a few seconds.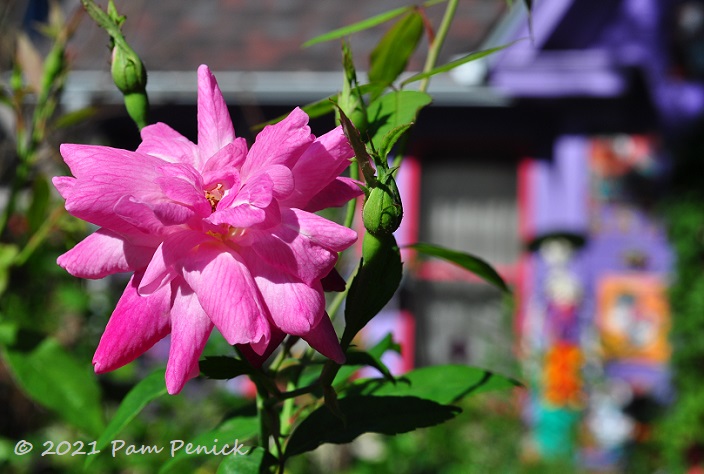 A lipstick-pink rose adds more happy color.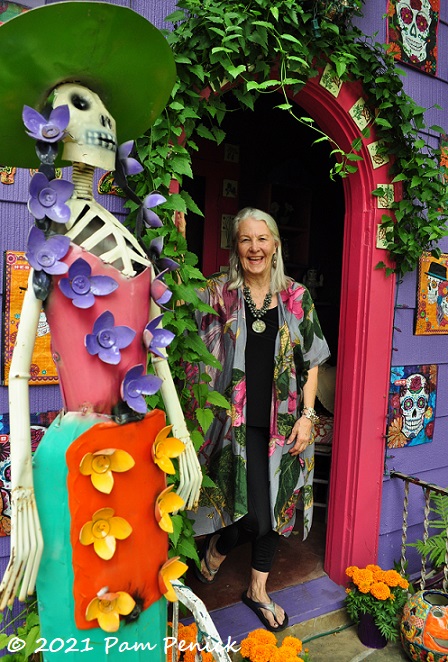 Lucinda invited me to see her indoor decorations for Day of the Dead, so let's step inside.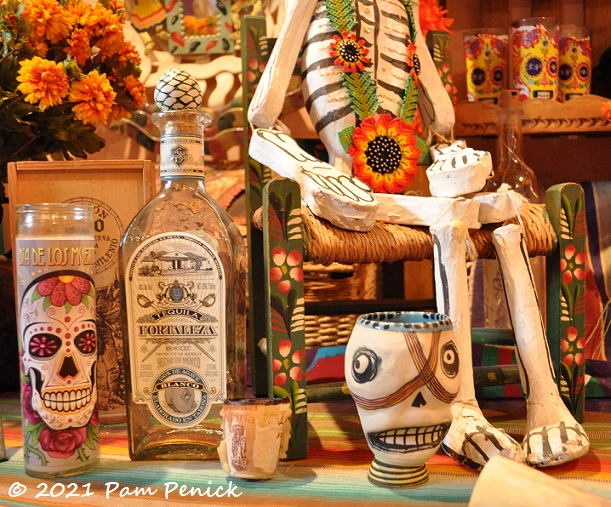 There's always so much to look at in Lucinda's carefully arranged Dia de los Muertos altars, like these skeleton cups and candles and tequila bottles.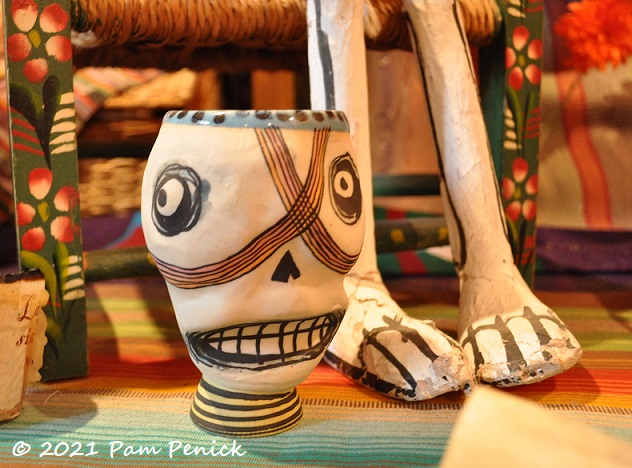 He's got some crazy eyes going on!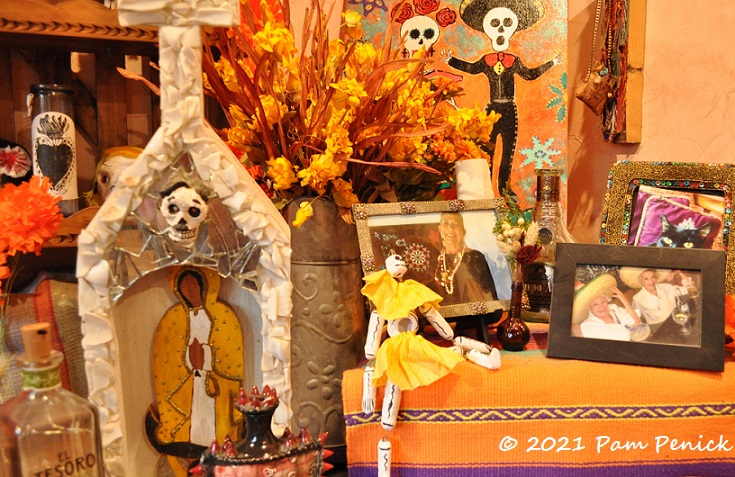 A favorite photo of Lucinda's mom and a friend in sombreros sits on an altar for departed loved ones.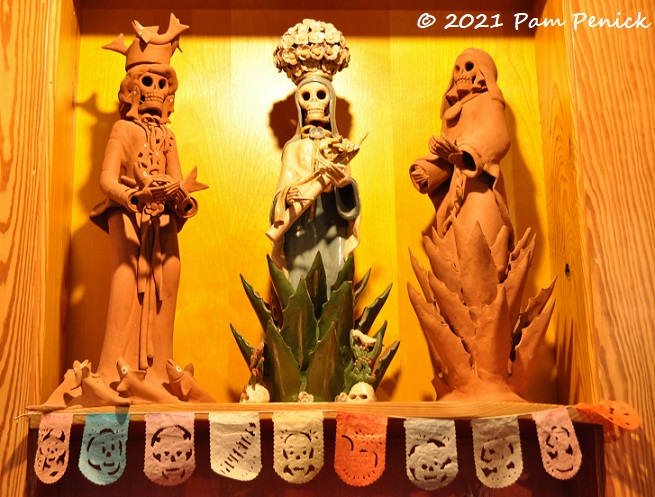 More skeletons and exquisite Mexican folk art everywhere you look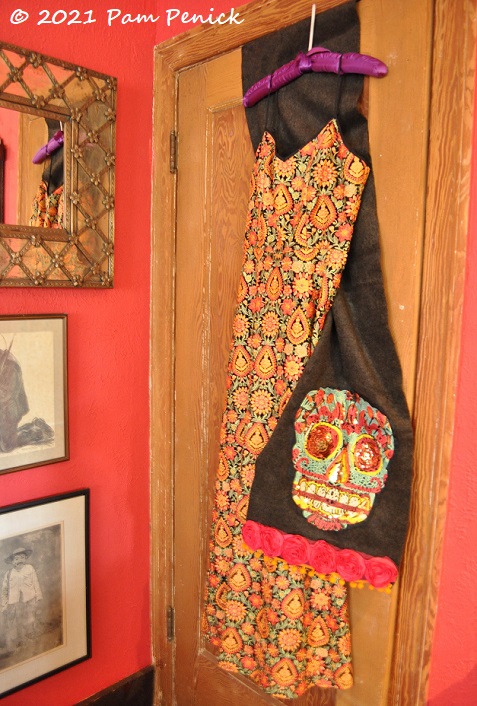 Lucinda found this embroidered dress at a resale shop — a perfect fit, she says. It's currently part of the decor until she has an event to wear it to.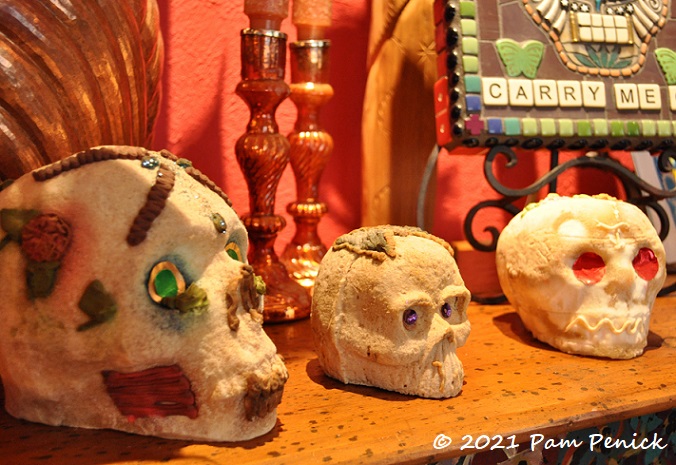 Antique sugar skulls — Lucinda has preserved these for twenty years!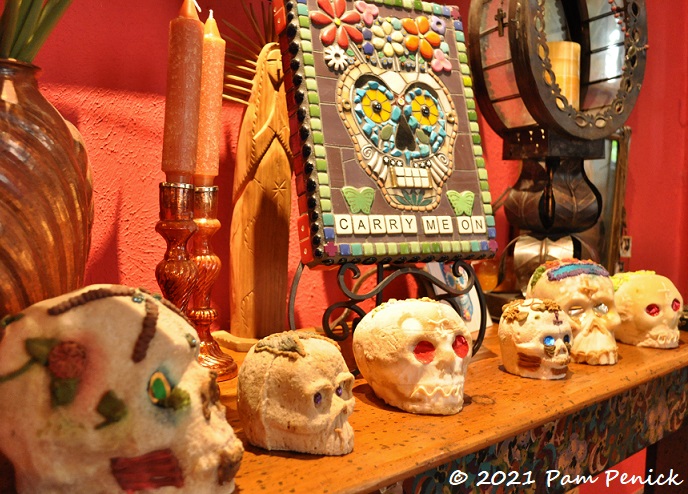 They have pride of place on her Carry Me On altar by the front door.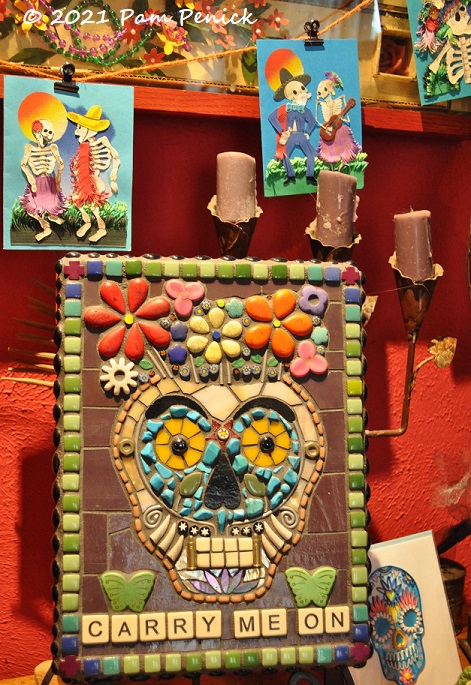 The tile mosaic is by local artist Aly Winningham.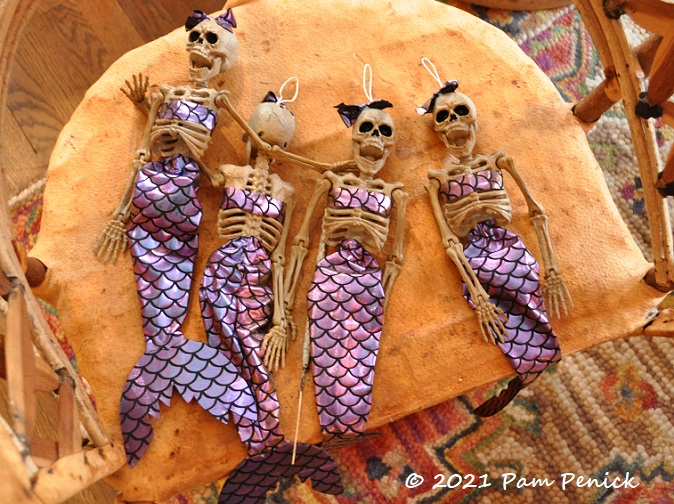 A guffawing gaggle of skeleton mermaids lounges on one of the living room chairs.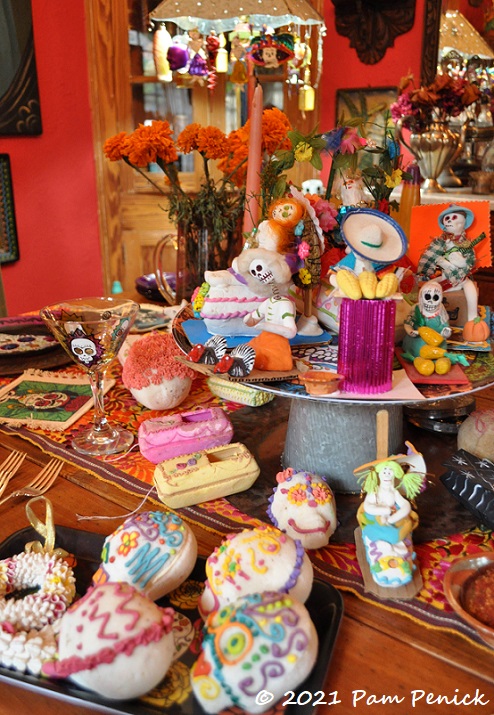 The dining table is transformed into a Day of the Dead showpiece, with sugar skulls and coffins, tiny skeleton figures enjoying the pursuits they loved in life, and ornaments dangling from a lampshade.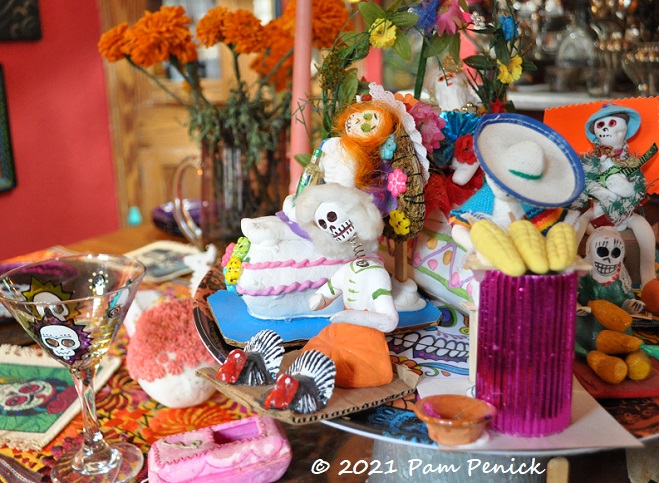 Looking closer you see the details, like a skeleton lady with turkeys, a skeleton vendor selling corn, and skull-decorated martini glasses.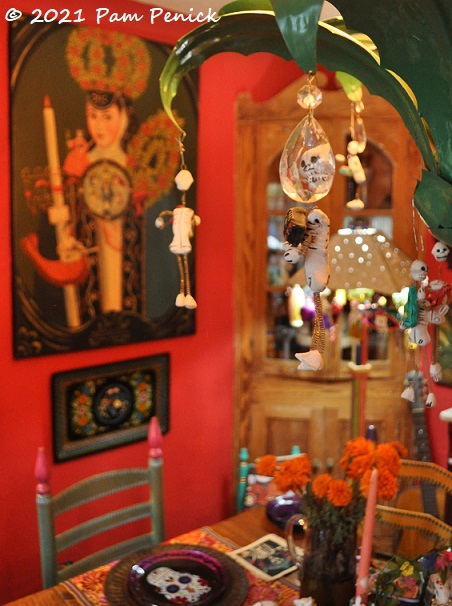 An agave chandelier sports skeleton baubles on the tips of its leaves.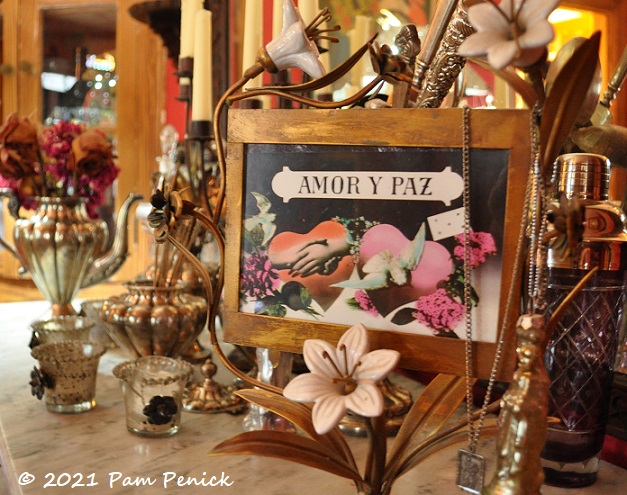 Love and peace, a framed picture reads.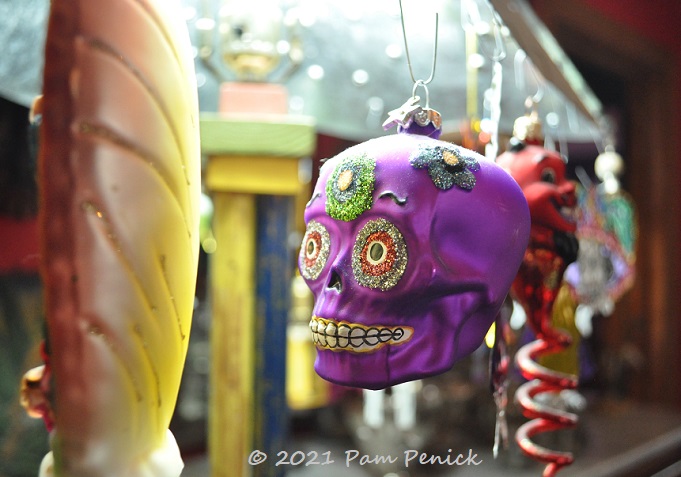 A grinning purple skull ornament hangs from a lampshade…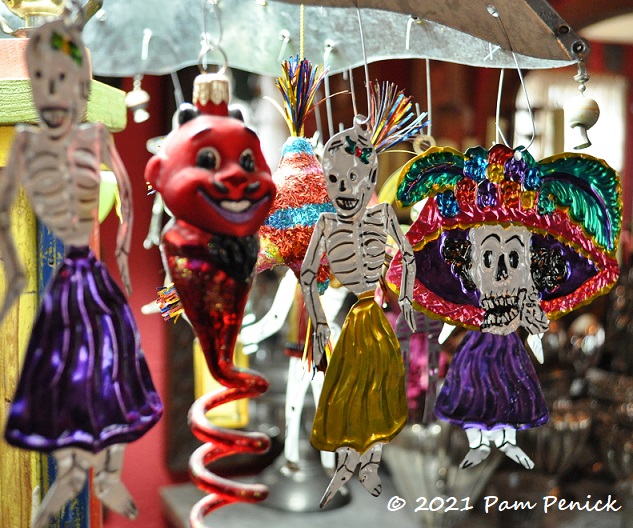 …as do skeleton ladies and a genial devil.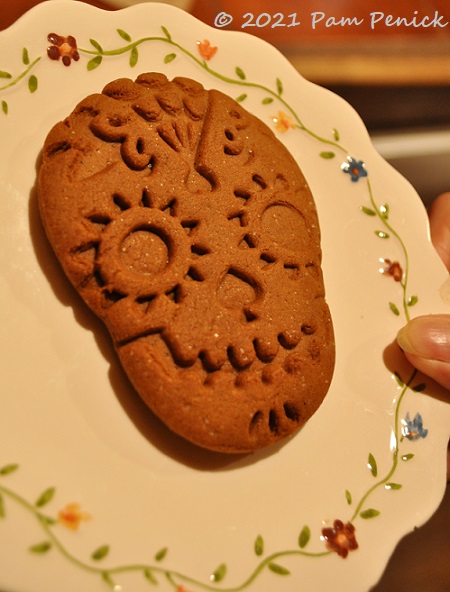 Lucinda offered me a gingerbread skull as an edible souvenir to take with me.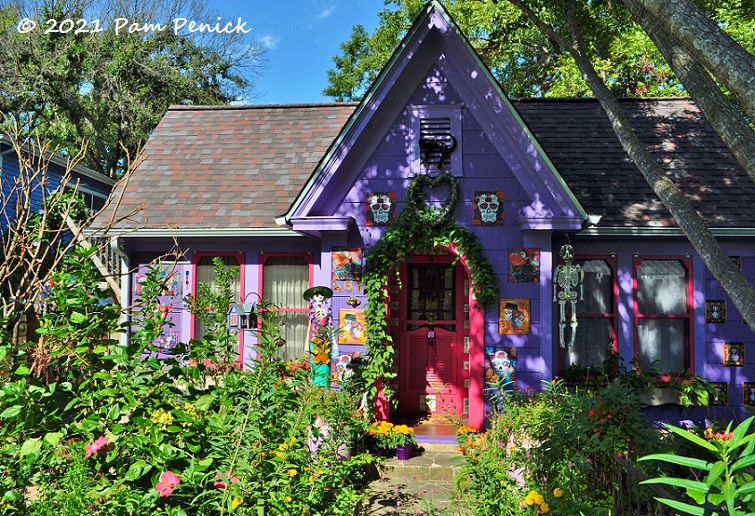 I treasure each visit to Lucinda's purple cottage in the Rosedale neighborhood, especially when her garden is bursting with color and the festive remembrance of departed family and friends.
I welcome your comments; please scroll to the end of this post to leave one. If you're reading this in a subscription email, click here to visit Digging and find the comment box at the end of each post.
_______________________
Digging Deeper: News and Upcoming Events
Need design help with your yard? Hire me as your personal garden coach! Maybe you need replacement plant ideas after the big freeze. Or maybe your landscaping has grown tired, and you want fresh curb appeal. Or perhaps you're ready to get rid of some lawn and create a pollinator garden, bird habitat, or hangout space for you and your friends. I'm here to help! Contact me to let me know what's going on, and let's figure it out together. My range is Austin and suburbs within a 25-min. drive of NW Austin, but I'm flexible and can travel farther with a surcharge, so let me know where you are. Weekday morning appts. only.
Join the mailing list for Garden Spark! Hungry to learn about garden design from the experts? I'm hosting a series of talks by inspiring garden designers, landscape architects, and authors a few times a year in Austin. Check out the 2021-22 schedule. These are limited-attendance events that sell out quickly, so join the Garden Spark email list to be notified in advance. Simply click this link and ask to be added.
All material © 2021 by Pam Penick for Digging. Unauthorized reproduction prohibited.