December 22, 2021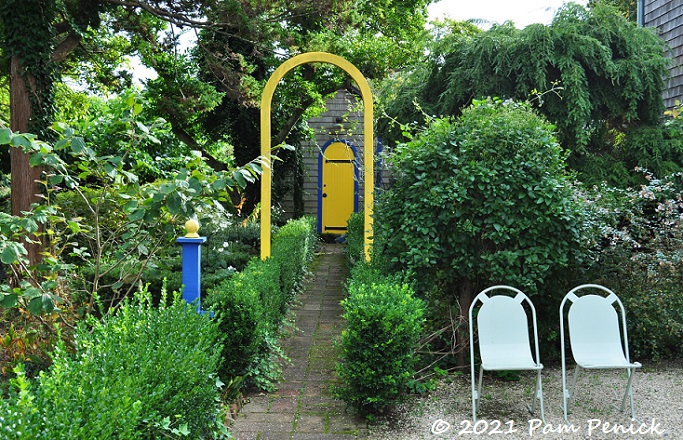 I'd driven out to the Hamptons — a Long Island, NY, detour on my October road trip from Maine to Virginia — mainly to see one garden: Madoo. The name itself is an endearment, taken from a Scottish dialect in which ma doo means my dove or my dear. And so it was for Madoo's creator, Robert Dash, a poet and painter who in 1967 started making a garden on two treeless acres in Sagaponack. His home in a renovated old barn would soon become a literary salon, visited by well-known writers from New York City.
During the 46 years Dash lived there, the garden evolved from a meadow with mown paths to hedged rooms and framed axis views that make the garden feel larger than it really is. His friendship with English garden designer Rosemary Verey proved influential (he even named his dog Barnsley after her famous home garden), but his own garden retained a quirky inventiveness and mashup of styles that seems particularly American. Splashes of bold color on garden arches, finial posts, doors, windows, and chairs became the garden's signature look.
Madoo opened to the public in 1993, when the Madoo Conservancy was established. Dash continued to live and garden there until his death in 2013 at age 82. Entry to the garden, which is located in a semi-rural neighborhood, is free but by reservation only. On the afternoon of October 9th, I enjoyed a leisurely two-hour visit in which I saw only 4 or 5 other visitors the whole time I was there.
Entry garden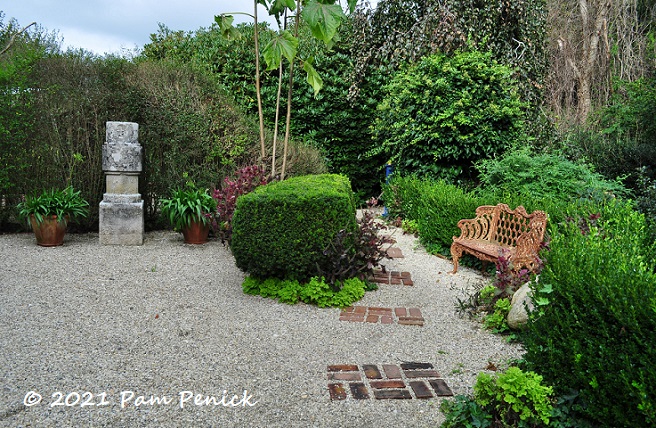 After greeting a docent near the street entrance, you find a gravel path, inset with basketweave brick squares, leading toward a narrow yellow arch and door (see top photo). A gravel patio, loosely hedged from the street, opens up by the house.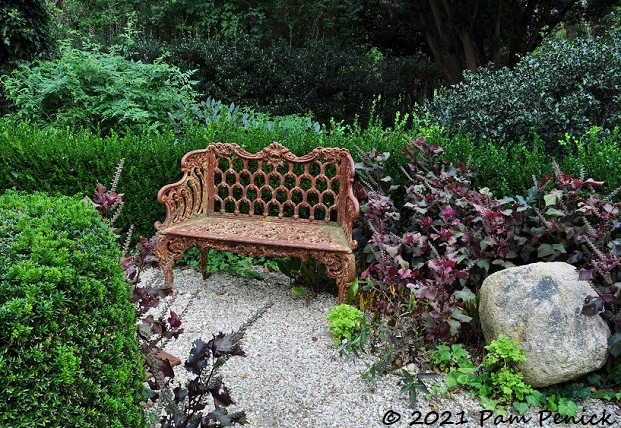 An ornate, rusty bench along the walk invites you to slow down.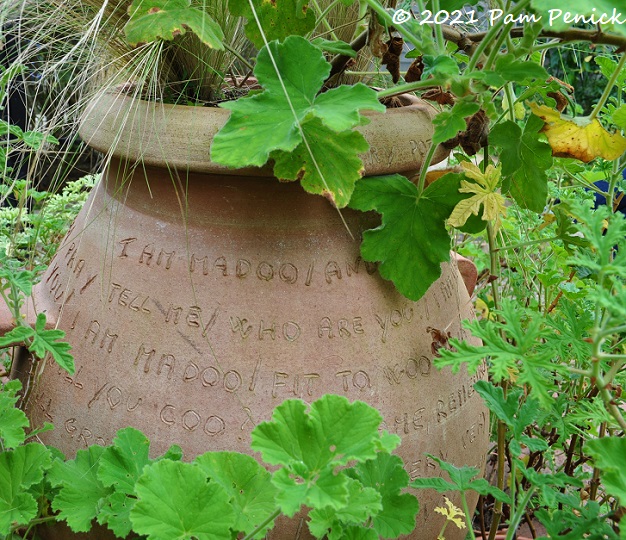 A terracotta pot with etched words caught my eye. It's one of Dash's poetry pots, which riff on the Gertrude Stein poem I Am Rose. "I am Madoo / and who are you?" the pot asks sassily.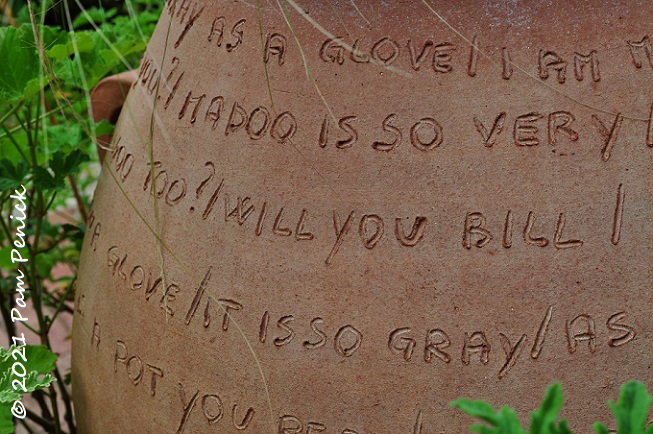 You can actually find the Robert Dash Poetry Pot for sale at online garden suppliers, if you want a little piece of Madoo for your own garden.
The yellow arch — which does not at all evoke the more pointed golden arches of McDonald's, thank you very much — draws the eye straight down a boxwood-lined path to an arched yellow door. Let's set off that way first.
Tropical Secret Garden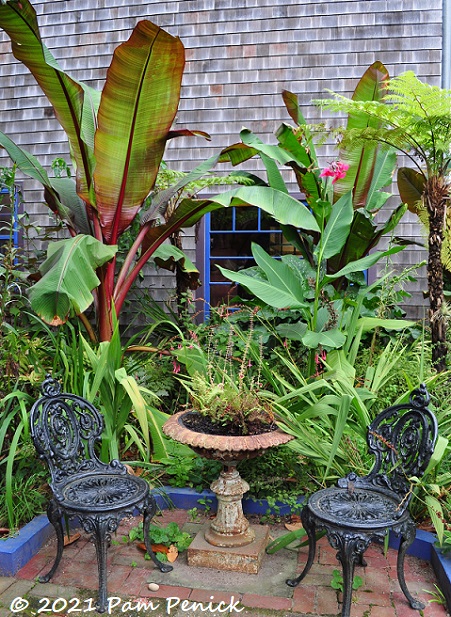 A surprise greeted me as I rounded a corner and entered the Secret Garden, enclosed by gray-shingled walls of the house: banana trees! This I didn't expect to see in October on Long Island.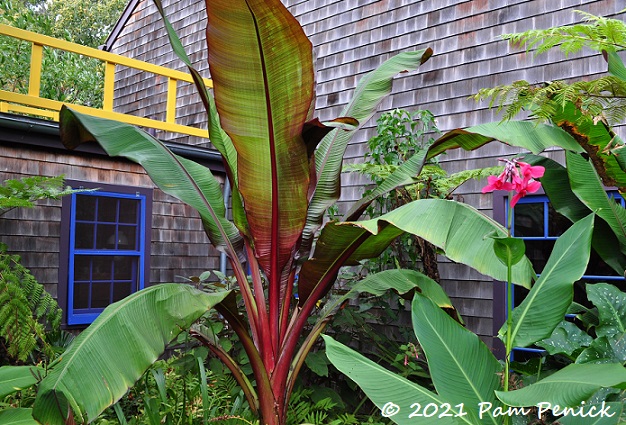 Blushing stems, leaves, and other flowers add rich color in concert with blue- and purple-framed windows and a yellow railing, which liven up the somber gray house.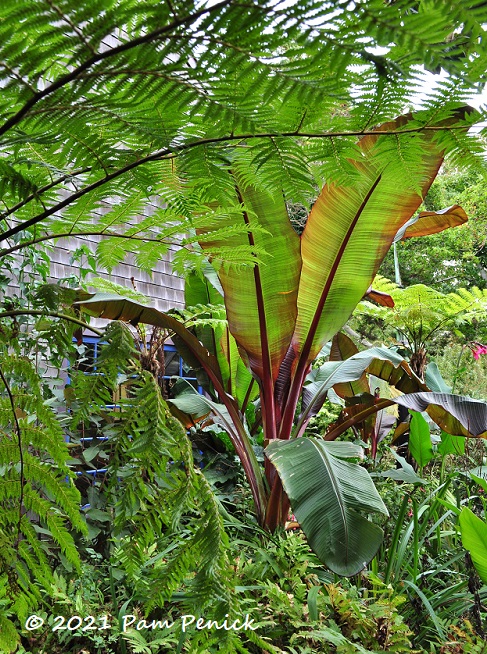 A jungle of bold foliage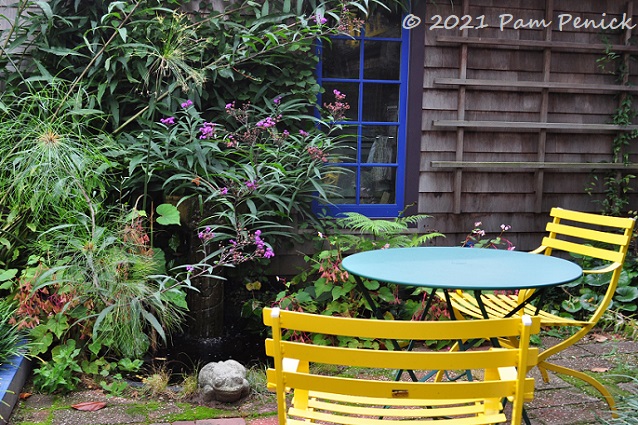 And colorful seating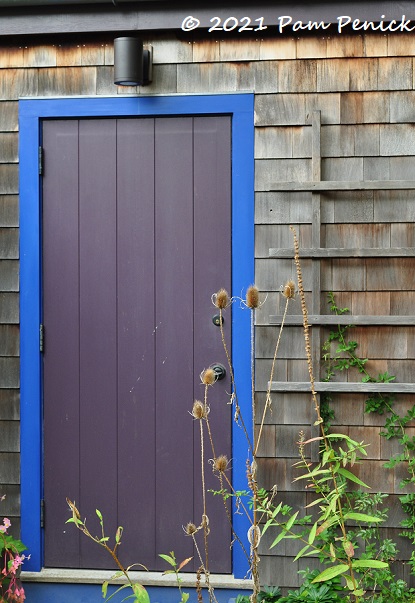 A dusky purple door trimmed in cobalt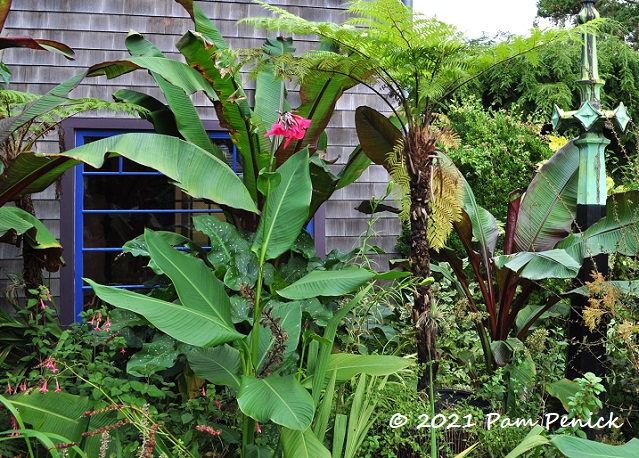 The windows reverse the color scheme. A verdigrised architectural spire rises alongside bold-leaved plants.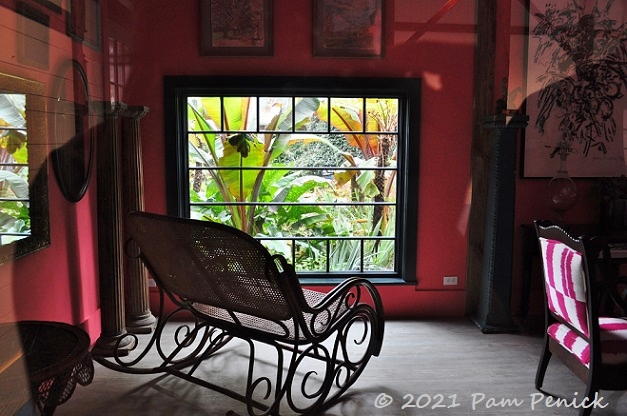 A visit to the restroom took me inside, where I snapped a photo of a red sitting room. Later I realized the window view is of bananas in the Secret Garden.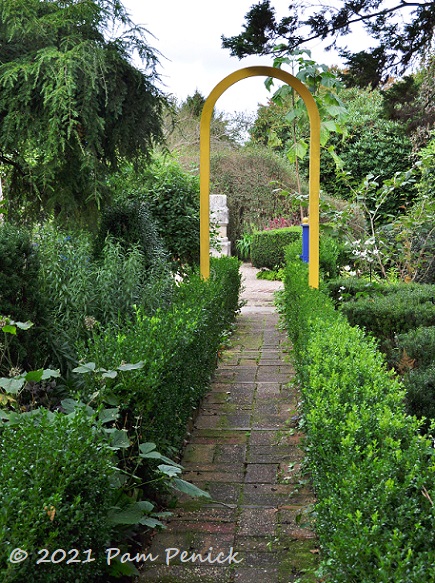 Heading back out the yellow-arch path
Potager and terrace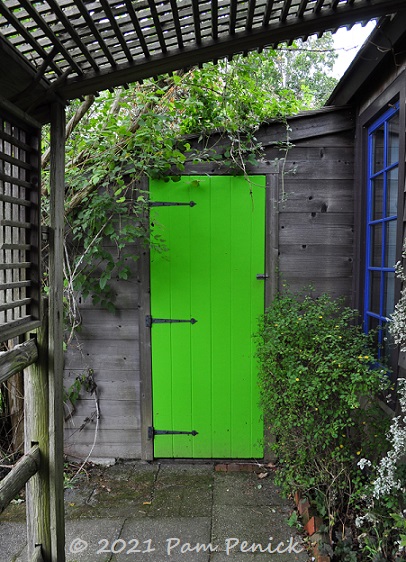 In back the path hugs the building, passing under a lattice trellis and past a vivid green shed door…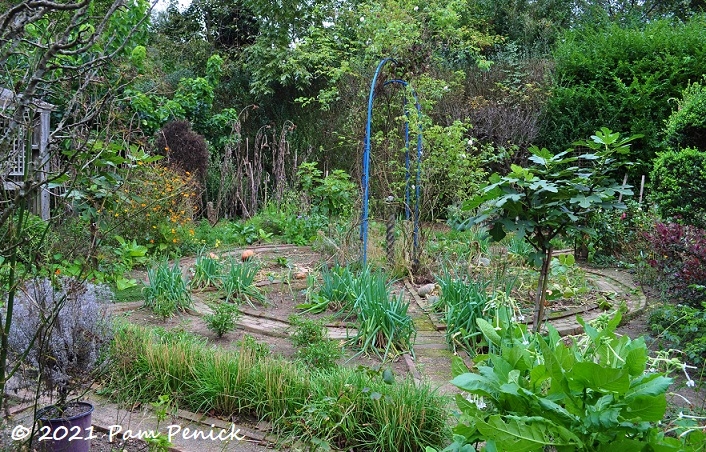 …to a potager "inspired by Rosemary Verey's potager at Barnsley House, which was based on the potager at Villandry in France," according to the garden's brochure. Dash obviously scaled his down to size.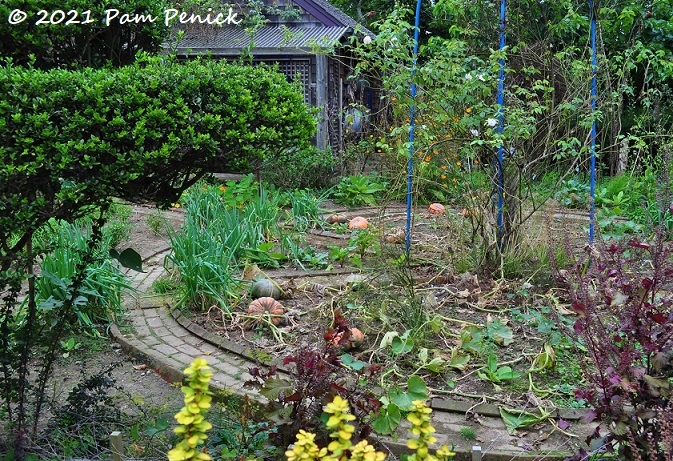 Pumpkins lay scattered across the pie-shaped beds, ready for harvest.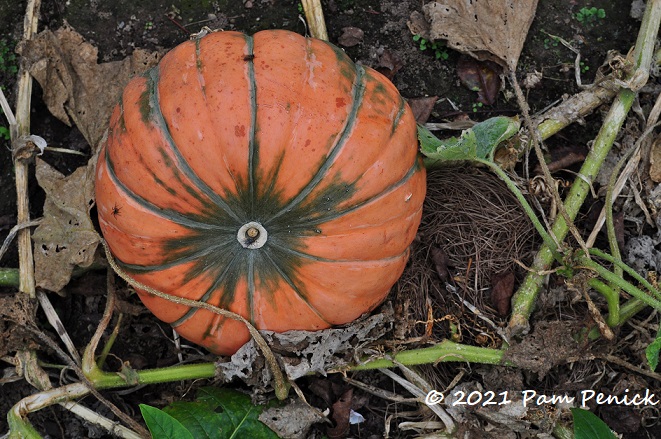 Pumpkin time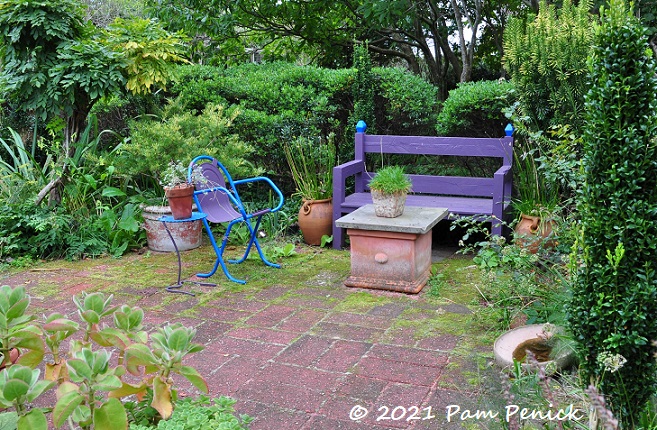 Purple-and-blue chairs offer seating nearby, enclosed by shrubby foliage.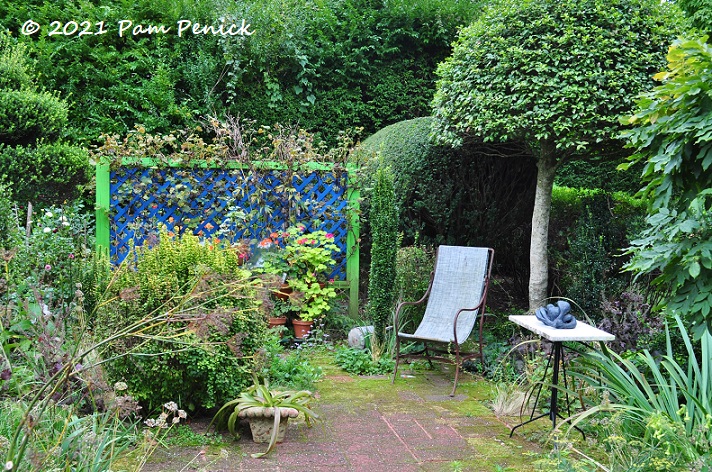 A blue-and-green trellis, clipped hedges, and an umbrella-shaped tree add height and interest near a solitary chair.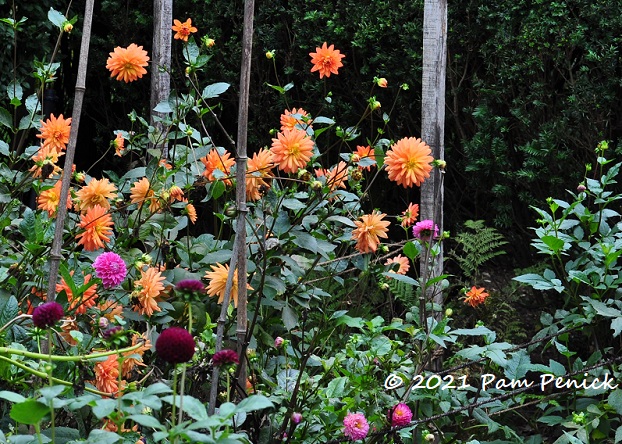 Orange, burgundy, and pink dahlias bloom in a cutting garden.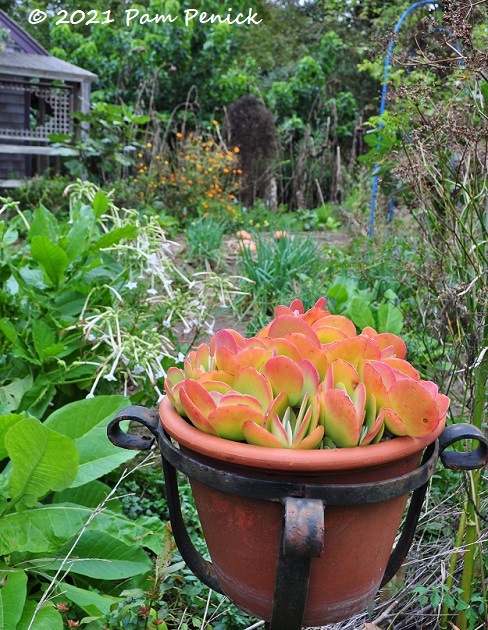 Orange-tipped kalanchoe in a raised pot offers more late-season color.
Ginkgo Grove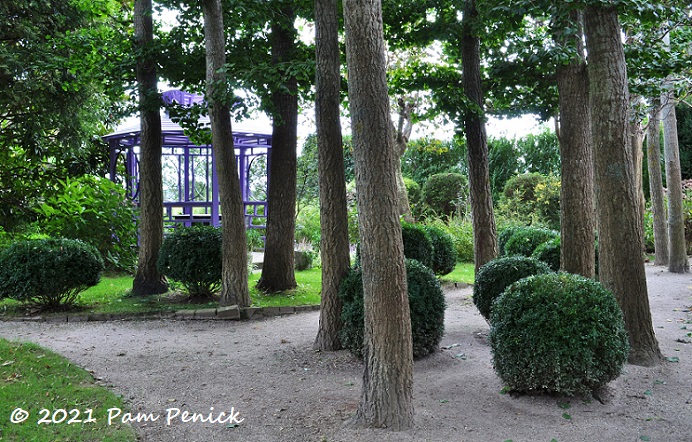 One of my favorite spaces at Madoo is the Ginkgo Grove. Gray trunks of fastigiate ginkgos rise straight and tall above scattered boxwood balls, some of which seem to have bounced into a green lawn while others have come to rest in the sandy path.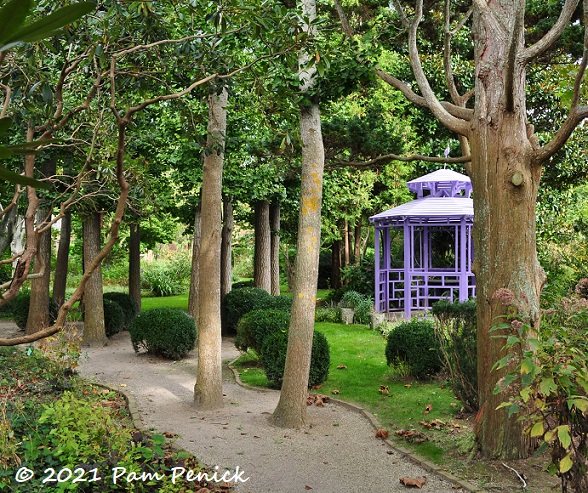 The seeming randomness of balls and trees, some in the path, some in the lawn, makes for a surprising and delightful scene.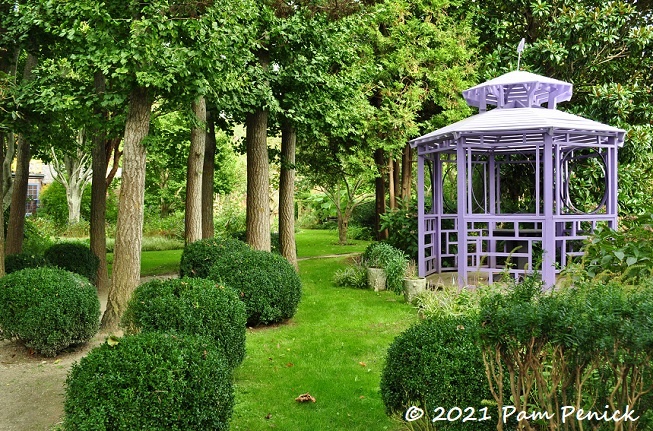 A lavender gazebo — no ho-hum white or natural wood here — makes me wonder why I haven't been more unorthodox with paint in my own garden.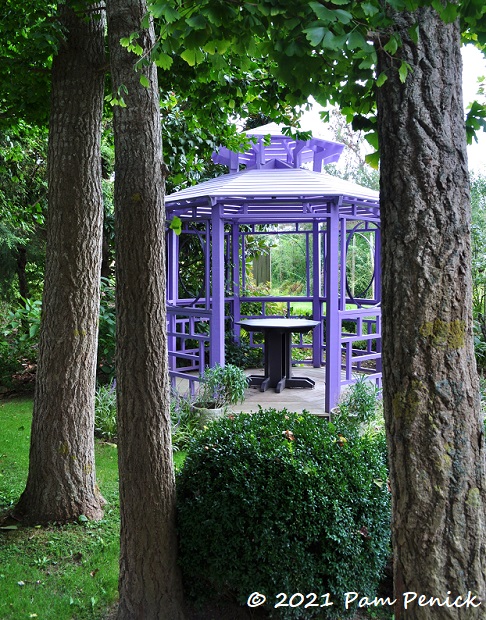 Framed views abound.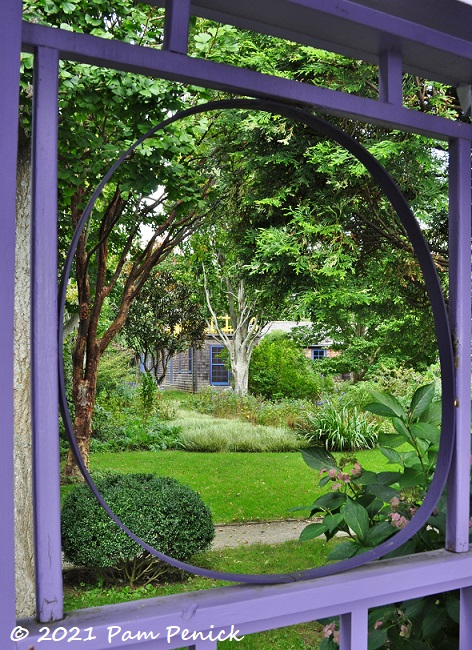 Lathe hoops in the gazebo's windows zoom in on certain views, like the house in the distance.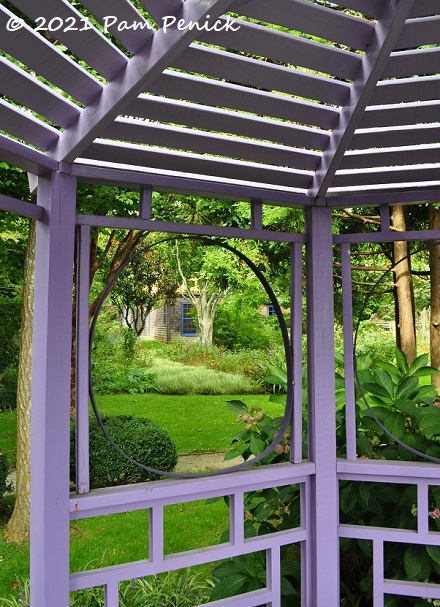 It would be fun to use colorfully painted lathe hoops in other ways too, don't you think? What can we come up with?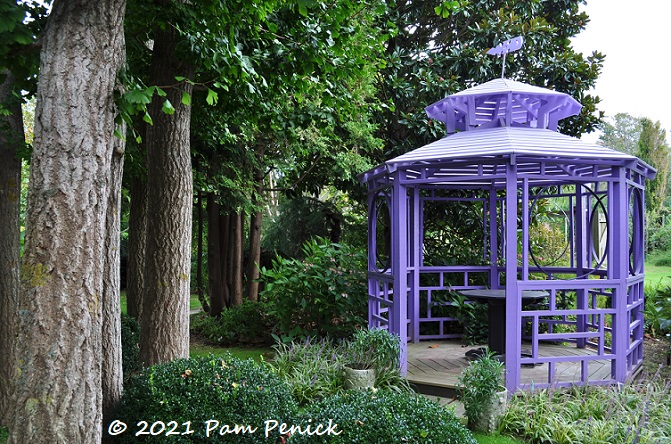 Surprisingly, there's nowhere to sit in the gazebo. It's purely ornamental, or perhaps used as a place to say, "I do."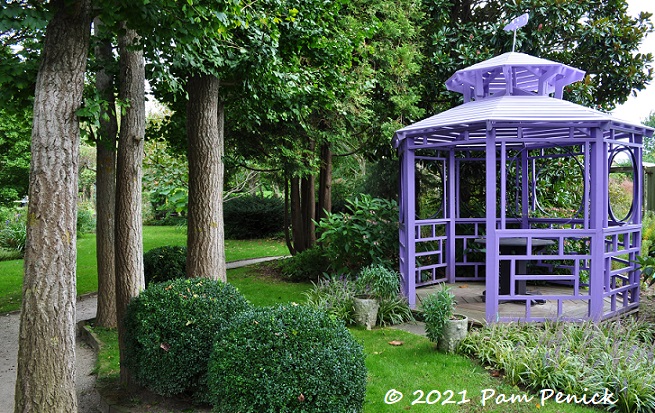 Just imagine visiting the grove in October or early November, when the ginkgos turn golden yellow and drop their leaves all at once. It must be magical.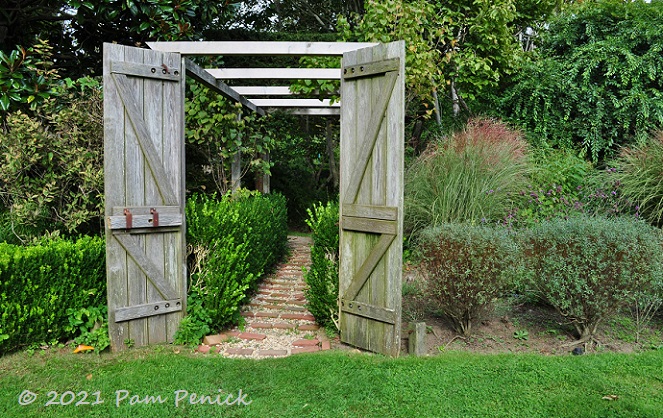 Nearby, a wooden pergola with barn gates flung open leads to a small lawn. On one end a long laburnum arbor, a tribute to Rosemary Verey's famous laburnum walk, runs along the property line. I didn't take a photo because it wasn't in season.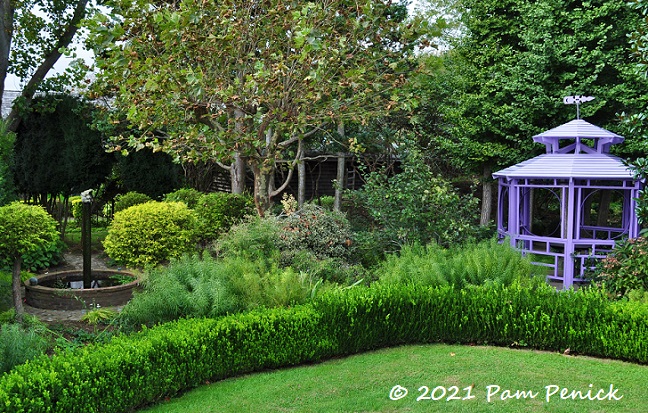 A stile in the lawn — why? no idea — offers an elevated view of the other end, where the purple gazebo overlooks a circular frog pond and golden shrubs.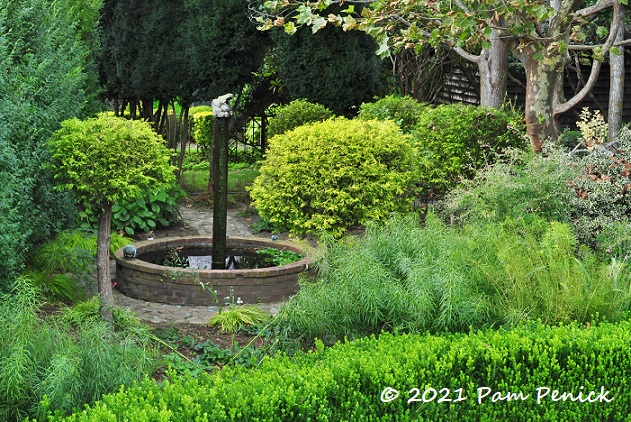 Raised round pond with a tall pillar fountain topped with…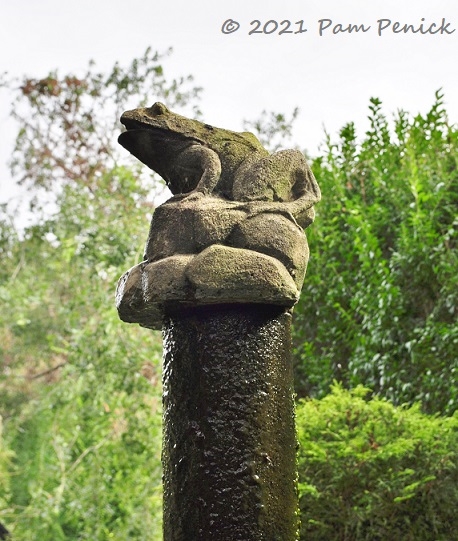 …a stone frog.
Naturalistic garden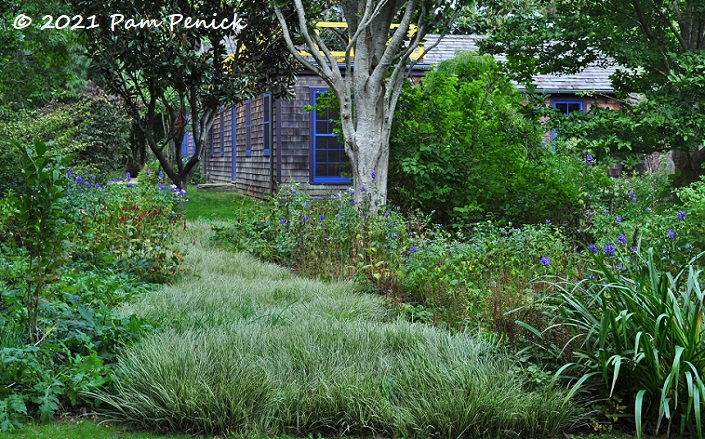 The loose plantings around the house aren't named on the garden map. They flow in broad peninsulas that obscure parts of the garden from view. I admired this swath of liriope or sedge or some such plant, which flows like a grassy river between flowering borders.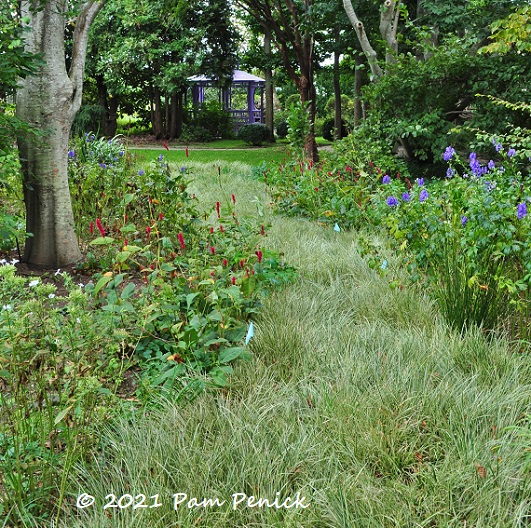 Here it is from the other side, looking toward the purple gazebo.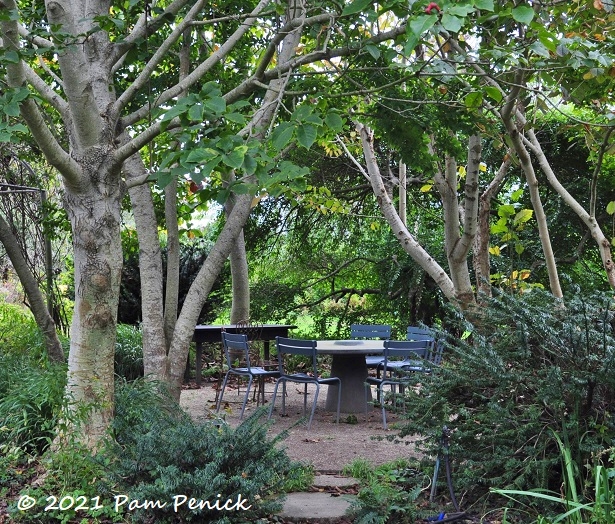 Tucked amid a grove of sinuous-trunked trees, a gravel patio with a round table and chairs seems almost like a fairy circle.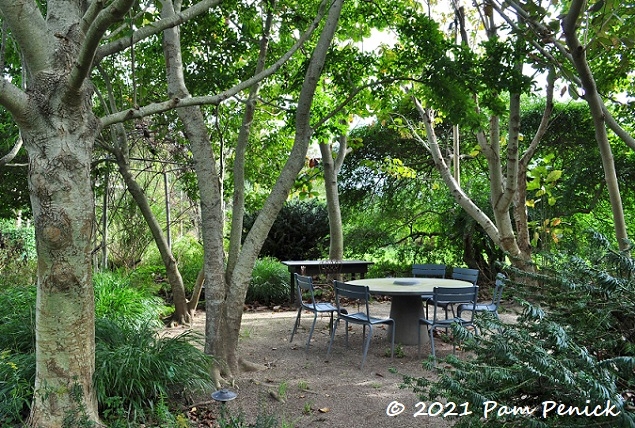 I love the green enclosure of such spaces and hope to make one in my own garden (or future garden) one day.
Up next: Part 2 of my tour of Madoo, including a country-formal garden with axis views and an Asian pond garden. For a look back at beach views, Montauk, and a Hamptons nursery, click here.
I welcome your comments; please scroll to the end of this post to leave one. If you're reading this in a subscription email, click here to visit Digging and find the comment box at the end of each post.
_______________________
Digging Deeper: News and Upcoming Events
Need design help with your yard? Hire me as your personal garden coach! Maybe you need replacement plant ideas after the big freeze. Or maybe your landscaping has grown tired, and you want fresh curb appeal. Or perhaps you're ready to get rid of some lawn and create a pollinator garden, bird habitat, or hangout space for you and your friends. I'm here to help! Contact me to let me know what's going on, and let's figure it out together. My range is Austin and suburbs within a 25-min. drive of NW Austin, but I'm flexible and can travel farther with a surcharge, so let me know where you are. Weekday morning appts. only.
Join the mailing list for Garden Spark! Hungry to learn about garden design from the experts? I'm hosting a series of talks by inspiring garden designers, landscape architects, and authors a few times a year in Austin. Check out the 2021-22 schedule. These are limited-attendance events that sell out quickly, so join the Garden Spark email list to be notified in advance. Simply click this link and ask to be added.
All material © 2021 by Pam Penick for Digging. Unauthorized reproduction prohibited.