Obstacles In Bespoke eLearning Development And How To Overcome Them
Bespoke eLearning aligns with your brand image, improves employee engagement, and boosts your ROI. It can even help you stretch resources and ease the burden on your L&D team. The vendor brings in their expertise so that your in-house developers can focus on other tasks. However, it's not all smooth sailing. You may encounter some choppy water along the way. The key is planning ahead and knowing what to expect before you hire an outsourcing partner. You must consider the cons in order to capitalize on the pros. Here are some of the most common custom eLearning development hazards and tips to circumvent them.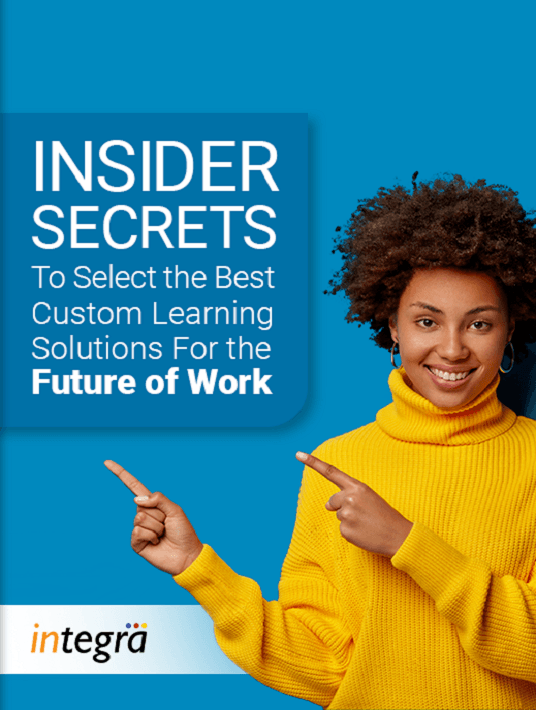 eBook Release
Insider Secrets To Select The Best Custom Learning Solutions For The Future of Work
This eBook walks you through every aspect of the evaluation process so that you can easily choose what is the appropriate solution for your organization.
1. Handing Over The Reigns
You have to give up total control of the project, which is a scary thought for those of us who need to take the wheel. However, you don't need to step out of the picture completely. In fact, you should choose a custom learning development company that values your input instead of ignoring your ideas and opinions. Discuss your involvement during the intro meeting to verify their stance on the subject. Do they want to meet with you once a week to talk about revisions or provide progress reports? Is your team able to offer feedback during the project? Can you give them a storyboard and style guidelines they must follow?
2. Going Over Budget
Custom content development fees can quickly add up if you aren't careful. For this reason, it's essential to get everything in writing and account for hidden costs. As an example, the bespoke eLearning provider charges extra for those weekly recap meetings. Or they need additional software to create your deliverables. You should also leave a little space in your budget for unexpected costs. That way, minor delays or project roadblocks won't put you over your price cap. Finally, create a realistic budget that includes ongoing fees and in-house tasks. You need to know how much you're working with and how much you can allocate to outsourcing versus in-house development.
3. Lack Of Content Cohesion
The outsourced content was obviously created by another company. It doesn't have the same tone or aesthetics as your other resources. Nor does it convey your brand values. Hiring a specialized content development company can help you avoid these issues. They know your niche and how to blend their assets with yours, which allows you to maintain the integrity of your online training strategy instead of offering learners a fragmented experience.
4. Delayed Launch
In this case, one thing after the other forces you to push back your launch date, even though your employees need online training to mitigate compliance risks and bridge gaps today. There are numerous ways to prevent this custom learning development hazard. Firstly, discuss the timeline with your outsourcing partner and leave room for unexpected issues. For example, they need time to learn the new software. Or a member of their team might be out sick for a week. Secondly, set milestones so that you're able to monitor progress and check in with their team coordinator. This is your chance to adjust your implementation schedule accordingly before you develop all those in-house marketing tools.
5. Communication Challenges
The lines of communication are breaking down. In some cases, there may have been problems from the beginning. Maybe the content provider has different communication guidelines, or they're used to monthly instead of weekly progress checks. This is why it's essential to set some ground rules regarding communication between both teams. How often will you meet to talk about revisions or offer your input? Who is your point of contact, and what are their business hours? What is the preferred method of communication? What happens if you don't approve of the latest version of the content?
6. Collaboration Conflicts
There's probably going to be some clashes when two companies come together, even if it's only temporary and they share common goals. This also applies to outsourcing. For instance, a member of their team has a unique personality, or they have a different definition of "collaboration." Maybe their idea of working together is to only include you in the final revision round. You can prevent this obstacle by clarifying expectations beforehand. Set up collaboration rules that everyone must follow. What happens if personality conflicts do become an issue? Especially if members of your team must work with the content provider to achieve the outcomes.
7. Resource Μisallocation
There are two hurdles to overcome regarding resource misallocation. The first is that you overlook resources you can repurpose, which increases custom development costs. The second is that the bespoke eLearning provider lacks vital skills, such as planning and time management abilities. They're unable to manage their team effectively or utilize their unique talents, which has a direct impact on your custom development ROI. Once again, it all boils down to organization and clear contracts. Inventory your assets, clarify expectations with the vendor, and itemize tasks/resources in the agreement. What do they need to deliver? How much are you allocating for each task? Which assets would you like them to reuse?
Conclusion
Your in-house admins, designers, and HR managers already have enough to deal with. The bespoke eLearning company must maintain open communication, stick to your budget, and welcome your creative input instead of brushing off your suggestions or creating unnecessary conflict.
Download the eBook Insider Secrets To Select The Best Custom Learning Solutions For The Future of Work for tips to find the ideal external partner for your program.
Integra Software Services
At Integra, we craft learning transformation solutions to improve learning efficacy across the learning continuum. For over 27 years, Integra's forte has been innovative source-to-delivery content workflows and future-focused learning solutions.