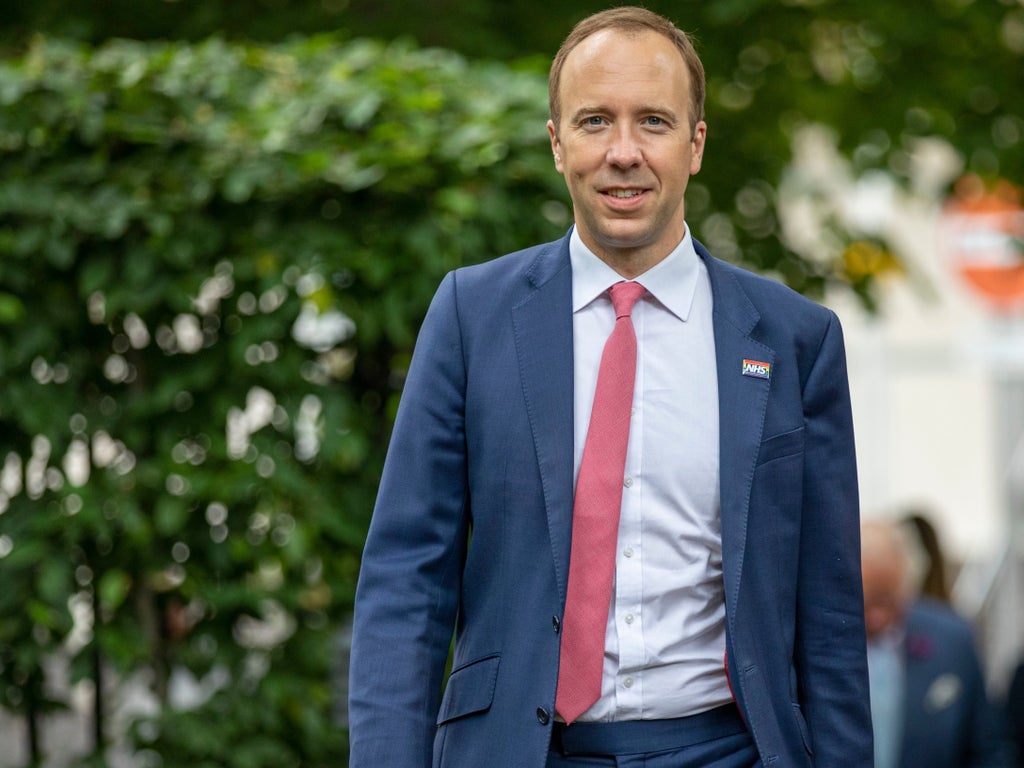 Matt Hancock accused of 'having affair with close aide' Gina Coladangelo
Boris Johnson has said he continues to have "full confidence" in Matt Hancock after the health secretary was accused of having an affair with one of his close aides and breaking Covid rules.
The PM's spokesperson said Mr Johnson had accepted his minister's apology and considered the matter "closed".
On Friday, Mr Hancock said he was "very sorry" for breaching social distancing guidelines but made clear he did not intend to resign over the matter.
"I have let people down and am very sorry. I remain focused on working to get the country out of this pandemic, and would be grateful for privacy for my family on this personal matter," the health secretary said.
The Sun claimed Mr Hancock was caught on camera kissing Gina Coladangelo, with the newspaper publishing security pictures reportedly taken on 6 May.
The publication later released a minute-long video of the clinch, as well as a photograph of the pair reportedly enjoying a meal at a west London restaurant on 23 May.
It was revealed in November that Ms Coladangelo had been given a role as a non-executive director at the Department of Health and Social Care (DHSC), despite there being no public record of the appointment.
1624660631
'Trust, confidence and credibility in health secretary now extinct'
A senior figure in the NHS has said "trust, confidence and credibility" in Matt Hancock "are now extinct", the BBC Newsnight's policy editor Lewis Goodall has reported.
Chiara Giordano25 June 2021 23:37
1624659777
Minute-long video footage of Hancock and aide is revealed
The Sun has now released a minute-long clip of CCTV footage showing Matt Hancock kissing his aide Gina Coladangelo in his Whitehall office on 6 May.
The video shows the health secretary appearing to check the coast is clear before closing his office door and standing with his back against it.
Ms Coladangelo then walks towards him and the pair begin kissing.
The newspaper tonight reported the colleagues were allegedly "all over each other" in the same office this week, while also releasing a photograph of the pair apparently enjoying a meal together at a restaurant on 23 May.
Chiara Giordano25 June 2021 23:22
1624657549
New image emerges of Hancock on dinner date with aide
Another photo has emerged tonight of Matt Hancock enjoying a dinner date with aide Gina Coladangelo weeks before their alleged affair was revealed.
The pair were spotted drinking glasses of wine together at a restaurant in west London on 23 May, The Sun reports.
The newspaper revealed the colleagues' affair today after publishing a CCTV image of them kissing inside the health secretary's Whitehall office.
Chiara Giordano25 June 2021 22:45
1624654903
Hancock could be in trouble if he has 'Barnard Castle moment'
A Cabinet source has told The Telegraph Matt Hancock could be in trouble if his kissing scandal turns into a "Barnard Castle moment".
The frontbencher told the newspaper things could "unravel pretty quickly", adding: "If there is a Barnard Castle moment he is going to be under quite a lot of pressure."
Chiara Giordano25 June 2021 22:01
1624650792
Metropolitan Police will not investigate Matt Hancock
The Metropolitan Police will not investigate Matt Hancock over any alleged breaches of Covid regulations.
A statement from the force said the Met was "aware of the distribution of images alleged to have been obtained within an official government premises".
It added: "No criminal investigation has been launched. At this time this remains a matter for the relevant government department."
On whether Mr Hancock could be investigated the force said: "Where the Met receives allegations of breaches of the Health Protection Regulations 2020, we will focus on those that are live, or where police action can enable a change to behaviour that is posing a current public health risk.
"As a matter of course the MPS is not investigating Covid related issues retrospectively."
Chiara Giordano25 June 2021 20:53
1624649581
Did Matt Hancock break the law? Experts point to grey area
The health secretary may have broken coronavirus laws that were imposed in his own name, experts have said.
Matt Hancock's meeting with aide Gina Coladangelo would have to have been 'reasonably necessary for work purposes' to be legal.
Our home affairs correspondent Lizzie Dearden explains more below:
Did Matt Hancock break the law?
Health secretary's meeting with Gina Coladangelo would have to be 'reasonably necessary for work purposes' to be legal
Chiara Giordano25 June 2021 20:33
1624647652
Opinion: Matt Hancock snogging in the office, when singletons like me have been dutifully celibate? Outrageous
Hancock being pictured snogging in the office (while telling the rest of us to stick to rules which strictly prohibit kissing your colleague behind your wife's back) has taken the heat off Johnson, albeit temporarily, writes Independent columnist Shaparak Khorsandi.
Read Shaparak's piece for Indy Voices below:
Chiara Giordano25 June 2021 20:00
1624645750
Sir Keir Starmer slams 'abuse' of Kim Leadbeater in Batley and Spen
Labour leader Sir Keir Starmer has described as "disgraceful" apparent abuse faced by his candidate in the Batley and Spen by-election.
Kim Leadbeater, sister of murdered MP Jo Cox, was confronted by a man who challenged her over the situation in Kashmir and her stance on LGBT+ education in schools amid what he said were concerns from Muslim parents.
But in a video circulated online, Ms Leadbeater was seen to ask the man not to shout at her, before turning away and being pursued and heckled by a group.
In the video, he raises his voice at Ms Leadbeater, who responds by repeatedly asking why he would shout at her in the street.
She said: "This is where I live, this is my community. Don't come here and shout at me in the street. The Muslim community of Batley and Spen deserve better than this."
Ms Leadbeater then leaves and is pursued by a group to a car.
Chiara Giordano25 June 2021 19:29
1624644344
'Not in national interest' for Hancock to resign, says former Conservative Party leader
Former Conservative Party leader William Hague said it was "not in the national interest" for Matt Hancock to resign.
Speaking to Times Radio he said: "As we all know, and recall, these things happen…in the political world, in all parties, and personally, I've never wanted to wade in really on anybody's personal matters.
"But the second thing, is it in the interest of the country to change their Health Secretary at the moment over something like this? Well, no, I would say not.
"Matt Hancock has had such a huge amount of criticism, as we know, from Dominic Cummings, and through the crisis, but he is now a very, very experienced Health Secretary, taking day to day decisions. Is it actually the best thing for the country to tell somebody else to start this job tomorrow morning? I don't think it is, actually. And I think that's what probably large numbers of people think."
Chiara Giordano25 June 2021 19:05
1624642442
What do you think should happen after social-distancing breach in that photo?
We at The Independent want you to tell us what you think should happen in light of the images allegedly showing Matt Hancock kissing a close aide.
Let us know if you think Mr Hancock should be fined, should resign or should be sacked.
If you also consider the matter closed after his apology and do not think any of the above should happen, please let us know too.
You can leave your comments at the bottom of the article below:
Chiara Giordano25 June 2021 18:34