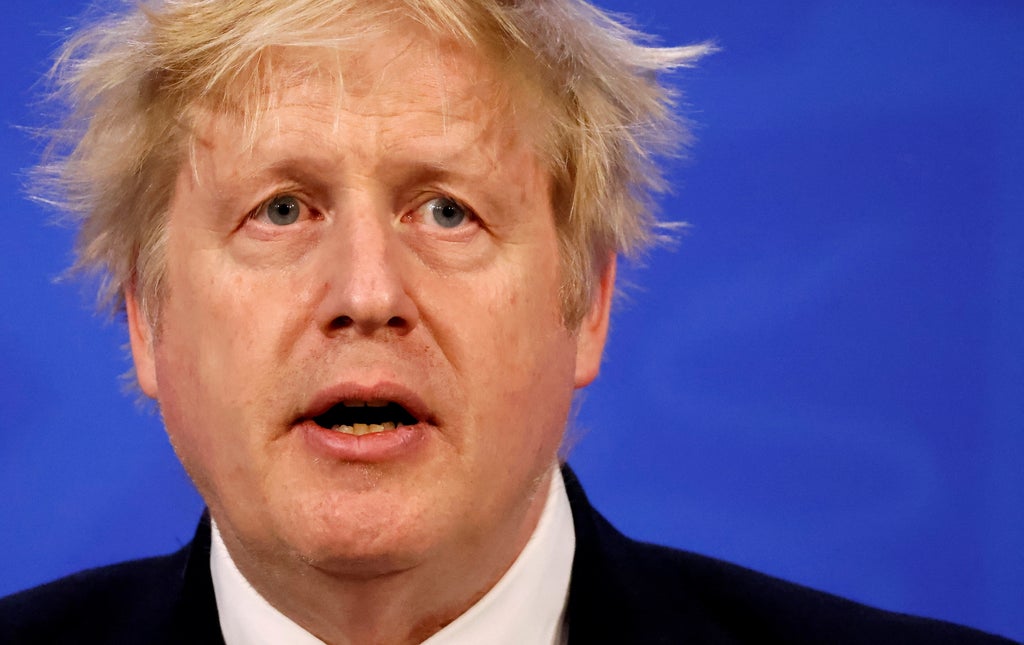 Boris Johnson's top scientific and medical advisers have warned that Covid can be expected to return in more virulent and dangerous forms, as the prime minister announced the end of the final coronavirus restrictions in England.
Just hours after Mr Johnson declared his "pride" at England leading the world in throwing off restrictions, professors Sir Chris Whitty and Sir Patrick Vallance told a Downing Street press conference that the Covid-19 pandemic was "not over" and urged people testing positive to continue to isolate.
The British Medical Association denounced the prime minister's plan for "living with Covid" as "premature", amid warnings from health charities that it exposes more than half a million people with conditions affecting their immune systems to increased risk.
And the PM was accused in the House of Commons of putting his own political survival ahead of public health, as lockdown-sceptic Conservative backbenchers applauded his announcement that the legal requirement to isolate – along with the £500 payment to support it – will be ditched from Thursday and universal free testing from 1 April.
There were warnings that testing will be "cut to the bone" after health secretary Sajid Javid failed in an eleventh-hour bid to extract £1.8bn from the Treasury to keep routine asymptomatic tests for health and care workers.
Last-minute wrangling between Javid and chancellor Rishi Sunak threw the PM's announcement into chaos, as a cabinet meeting to rubber stamp the plan was delayed and ministers arriving at No 10 were turned away and told to tune into a video conference call later.
Mr Sunak – with the PM's backing – successfully insisted that the future bills of testing and monitoring must be covered from the £9.6bn provided for Covid in last year's spending review, and that Mr Javid must not dip into funds set aside for the massive NHS backlog.
While asymptomatic patients will continue to receive tests in care homes, NHS and care sector staff will only be tested if they show symptoms or in the case of an outbreak of concern.
Labour blasted the plan as "half-baked", as it emerged that essential details – including precisely which vulnerable groups will continue to be entitled to free tests – were missing.
Downing Street could not put a price on the cost of tests, saying it was for market forces to determine. With estimates of around £15-£30 for a box of seven lateral flow kits, Mr Johnson said only that he hoped the cost would be "minimal".


UK news in pictures
Show all 50
And unions responded with fury to the withdrawal from 24 March of the right to sick pay from day one of an illness, while the CBI said most bosses continue to believe that the economic benefits of universal free testing "far outweigh" the £2bn monthly cost.
Speaking alongside chief medical officer Whitty and chief scientific adviser Vallance in Downing Street, Mr Johnson said he was proud that the UK had "emerged from the teeth of the pandemic before many others, retaining one of the most open economies and societies in Europe".
While accepting that the pandemic was not over, he said England was past the peak of the Omicron wave and now had "the chance to complete the transition back towards normality".
But Prof Whitty took a more cautious tone, warning: "This pandemic is not over and it's carrying on around the world and we're not out of it here yet."
Both he and Prof Vallance stressed the likelihood of new and more virulent strains of Covid, and urged people who test positive to continue to isolate, even after it ceases to be a legal requirement on Thursday.
Vallance said it was "absolutely essential" to continue monitoring infections and to maintain a testing capacity able to respond rapidly to signs of new variants of concern.
"You can celebrate when the sun is shining, but take an umbrella with you," he said.
Prof Whitty agreed: "We all expect that there will be new variants and … some of them will cause significant problems. They could be either more vaccine-escaping but as severe as Omicron … or they could be more intrinsically severe.
"We could certainly end up with something which is more likely to lead to hospitalisations than Omicron."
Prof Whitty revealed that the effectiveness of the UK's vaccine programme against Omicron meant that the variant had led to no excess deaths over the winter period, compared to non-Covid years.
Mr Johnson rejected any suggestion of a split between "gung-ho politicians and cautious scientists" over the need to maintain surveillance and testing capacity, insisting that he recognised the threat of future flare-ups of the disease.
He told the House of Commons that the removal of restrictions had been brought forward by a month to 24 February because "levels of immunity are so high and deaths are … below where you would normally expect for this time of year".
But he said surveillance programmes, including the Office for National Statistics inflection survey, will continue and stockpiles of lateral flow tests will be maintained in case of upsurges.
In a scathing responses, BMA chair Dr Chand Nagpaul said the plan "fails to protect those at highest risk of harm from Covid-19, and neglects some of the most vulnerable people in society".
"The decision to bring forward the removal of all protective measures while cases, deaths and the number of people seriously ill remain so high is premature," said Dr Nagpaul. "Living with Covid-19 must not mean ignoring the virus all together – which in many respects the government's plan in England seems to do."
The MS Society said that Mr Johnson's plan failed to provide a "credible explanation" of how more than 500,000 people with compromised immune systems can "live safely alongside the virus".
Monday's separate announcement of a further booster vaccination for the vulnerable will be "little comfort" to those who will be "forced back into isolation, with no support from the government whatsoever", the charity's head of policy Phillip Anderson said.
Challenged at the Downing Street press conference by a pregnant member of the public over how she could feel safe with contagious people permitted to leave isolation, Mr Johnson said only that people should "take care that they treat anyone who may be vulnerable in any way with the utmost consideration".
Labour leader Sir Keir Starmer said the government's approach was characterised by "chaos and disarray".
"This is a half-baked announcement from a government paralysed by chaos and incompetence," Sir Keir told MPs. "It is not a plan to live well with Covid."
Scottish National Party Westminster leader Ian Blackford accused Mr Johnson of rushing forward the plan to "appease" Tory backbenchers who have been threatening to submit letters of no confidence in his leadership.
"This statement is not about protecting the public, it's about the prime minister scrambling to save his own skin," said Mr Blackford.
The leader of the lockdown-sceptic Covid Recovery Group of Tory backbenchers, Mark Harper, made clear he regarded the rollback of restrictions and tests as a victory for their campaign.
Declaring that Mr Johnson's announcement amounted to an application to join the CRG, Mr Harper said: "He's very welcome indeed. I only wish it had been sooner."