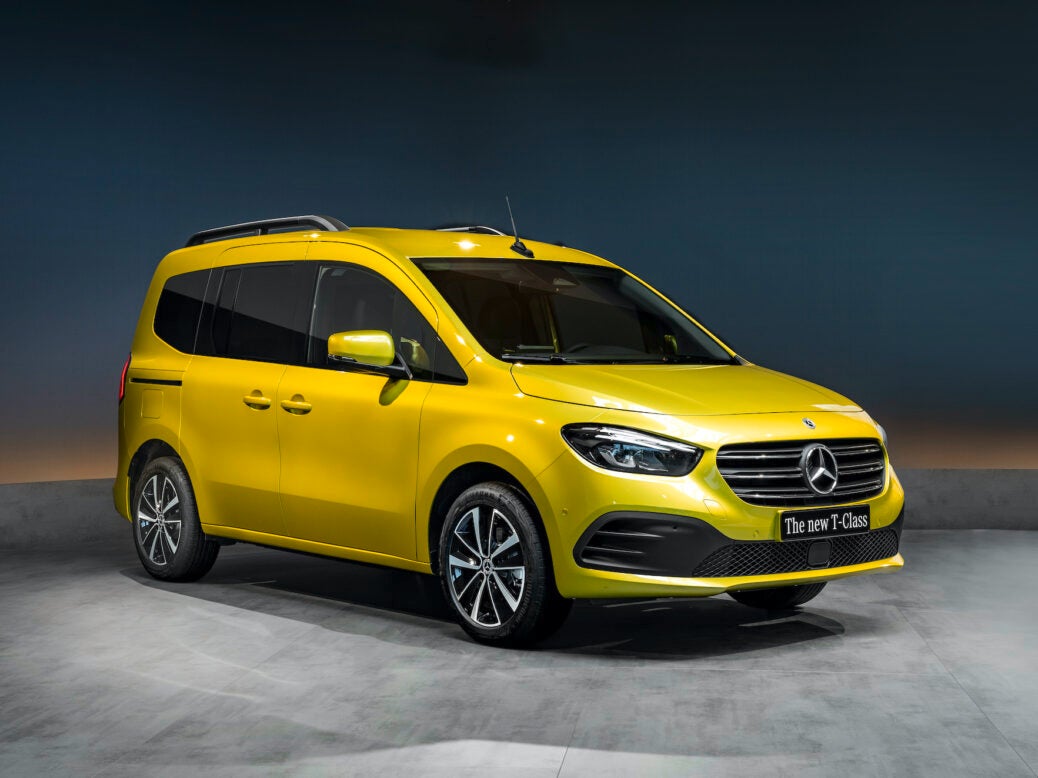 In markets other than the world's largest one, cars seem to be fading away in some respects as SUVs gain ever more popularity. But because Chinese buyers remain especially keen on four-door sedans, so Mercedes-Benz continues to invest in their development.
This report looks at what the German group has coming later in the 2020s, not only in terms of cars but MPVs/minivans/people movers too.
Cars
With so many models in its line-up, perhaps a late running facelift for the A-Class should not be a surprise. The W 177 series hatchback has been produced at Rastatt since April 2018 with a standard wheelbase sedan also made there. An extended wheelbase four-door car, meanwhile, is manufactured only in Beijing.
The fifth generation model set for launch in 2025 could be the first vehicle for MMA (Mercedes-Benz Modular Architecture). The then then Daimler – now Mercedes-Benz Group – made reference to this future platform for the first time at an October 2020 investors' presentation.
The W 247 series B-Class has been in production since November 2018 and is due a facelift during the second half of 2022. That should be the only major update with the replacement series scheduled for early 2026.
It's been a year since the introduction of the BR 206 (W 206) C-Class. That includes not only the sedan and estate but China's extended wheelbase L sedan.
Production started at the Bremen plant in March 2021 on the same line as the GLC, the GLC Coupé and EQC. Both (standard length) saloon and estate are 4,751 mm long and have a 2,865 mm wheelbase, while the L sedan is 4,882 mm.
The German plant is the lead one for the sedan and estate, with the L sourced exclusively from one of the Beijing Benz JV factories in the Chinese capital. Meanwhile, East London (South Africa) again makes this generation for multiple markets.
The first variants, each one a mild hybrid powered by a turbocharged four-cylinder engine, were as follows (nine-speed automatic gearbox is standard):
C 180, 1,496 cc, 125 kW (170 PS) plus 15 kW (20 PS) and 200 Nm Boost, combined torque of 250 Nm, ISG & 48 V electrics
C 200 & C 200 4MATIC, 1,496 cc, 150 kW (204 PS) plus 15 kW (20 PS) and 200 Nm Boost, combined torque of 300 Nm, ISG & 48 V electrics
C 300 & C 300 4MATIC, M 254 engine code, 1,999 cc, 190 kW (258 PS) plus 15 kW (20 PS) and 200 Nm Boost, combined torque of 400 Nm, ISG & 48 V electrics
C 220 d, OM 654 M engine code, 1,992 cc, 147 kW (200 PS) plus 15 kW (20 PS) and 200 Nm Boost, combined torque of 440 Nm, ISG & 48 V electrics
C 300 d, OM 654 M engine code, 1,992 cc, 195 kW (265 PS) plus 15 kW (20 PS) and 200 Nm Boost, combined torque of 550 Nm, ISG & 48 V electrics
Mercedes Benz USA imports only the C 300 and C 300 4MATIC. Also, there is no US build with this generation as the Vance/Tuscaloosa plant needs all the capacity it has to produce many in-demand SUVs.
See link to PLDB (bottom of this page) for further manufacturing details as well as notes on the C-Class' platform and other data.
May 2019 saw the launch of the existing CLA-Class, so a facelift should be coming in 2023 and a successor in mid-2026. The Shooting Brake is not expected to be replaced.
The CLE-Class is to be a new model which is intended to compete with the Audi A5 as well as two-door versions of the BMW 4 Series. There will be both coupe and cabriolet bodies.
These two cars will replace the former C-Class Coupe and C-Class Cabriolet and in time, the equivalents in the E-Class range. Sources have indicated that exports to the USA are not expected. See PLDB for more details.
The next E-Class is project BR 214 (W 214). There will again be standard and extended length sedans plus an estate but successors for the coupe and cabriolet are unlikely. This will probably also be the final E-Class to be powered by combustion engines. Production is due to commence during the first half of 2023.
Will the C 219 CLS-Class have a direct successor? Insiders suggest not, particularly as the standard wheelbase EQE is about the same size. The current sedan dates to early 2018 so it should be phased out during 2025.
MPVs/minivans
Replacements for the Citan and Citan Tourer small van/minivan model series would again be supplied by Renault, according to an August 2019 statement to the media. Mercedes-Benz Vans then announced that the passenger version would change names, becoming T-Class.
Revealed to the media only a few days ago, all versions of the T-Class have sliding side doors and are based on a shared Daimler-Renault-Nissan-Mitsubishi architecture. The standard wheelbase versions are 4,498 mm long and Mercedes-Benz says "a long-wheelbase variant with up to seven seats will follow".
It isn't clear why it will have taken so long for this vehicle to hit the market: the third generation Renault Kangoo with which it shares so much was announced in November 2020 ahead of its NH spring market launch.
In November 2020 Mercedes-Benz itself noted that the then next Citan, which is the van version of the T-Class, would be due for release in the second half of 2021. Sales would commence during the following months, the company stated in September 2021. Confusingly, there is also a passenger version of the Citan. This is called Citan Tourer.
The four launch versions will be as follows (deliveries commence in July):
T 160 – 1,461 cc, four cylinders, 75 kW & 200 Nm
T 180 – 1,461 cc, four cylinders, 96 kW & 240 Nm
T 160 d – 1,332 cc, four cylinders, 70 kW & 260 Nm
T 180 d – 1,332 cc, four cylinders, 85 kW & 270 Nm
The length of the expected life cycle as well as other details can be found in PLDB.
The next generation Sprinter range will include not only combustion engine van, ambulance and flatbed pick-up variants but eGrocery transporter, eSprinter and 'People Mover' derivatives too. These details were made official in March 2021, along with a statement that production would take place in three plants: North Charleston (South Carolina, USA) plus Düsseldorf and Ludwigsfelde (Germany). Each site would see around €50 million spent on upgrades ahead of build commencing in the second half of 2023.
Reports for many other manufacturers' future models are grouped in the OEM product strategy summaries section of Just Auto.
Future platform intelligence
More detail on past, current and forthcoming models can be found in PLDB, the future vehicles database which is part of Globals Data's Automotive Intelligence Center.
This is the first of four reports looking at the current and future models of Mercedes-Benz Group's passenger vehicle brands. Other features to follow later in May will focus on Mercedes SUVs, then Mercedes-AMG vehicles plus Mercedes-EQ EVs and Maybach.