Mercedes F1's DAS (Dual Axis-steering System) has proved to be quite the innovation in the sport. Despite the FIA having ruled it to be illegal from 2021 onwards, the Brackley-based outfit have continued to make the most of it this year.
If there were any doubts about the utility of the system, they were pretty much dispersed after the Eifel Grand Prix. The freezing temperatures witnessed at the Nurburgring made it really difficult for drivers to warm up their tires efficiently.
However, the cold track temperatures didn't bother the Silver Arrows, thanks to DAS. The best example of its usage was witnessed during the safety car restart.
Lewis Hamilton just zoomed off after the green flag was waved as Max Verstappen was left chasing shadows. Following the race, rivals Red Bull alluded to Mercedes' usage of the DAS being a major factor in their victory.
And that claim was seconded by the Brackley-based outfit themselves. On the latest episode of 'Race Debrief,' Mercedes' YouTube series following every race, the team's Motorsport Strategy Director, James Vowles said, "It's fair to say we used DAS more than ever this weekend.
"In free practice, on single lap work, in qualifying but also during the race. In terms of where we used it during the race was on the formation lap but also when we were behind the safety car.
"We had a number of laps circulating on tires that were just getting colder and colder. I think it is fair to say DAS was a contributing factor to why our restart was so good. It really came into its own this weekend."
ALSO READ- Horner Believes DAS Saved Lewis Hamilton and Mercedes from Tire Woes During the Eifel GP
Mercedes F1's 7th consecutive world title only a matter of time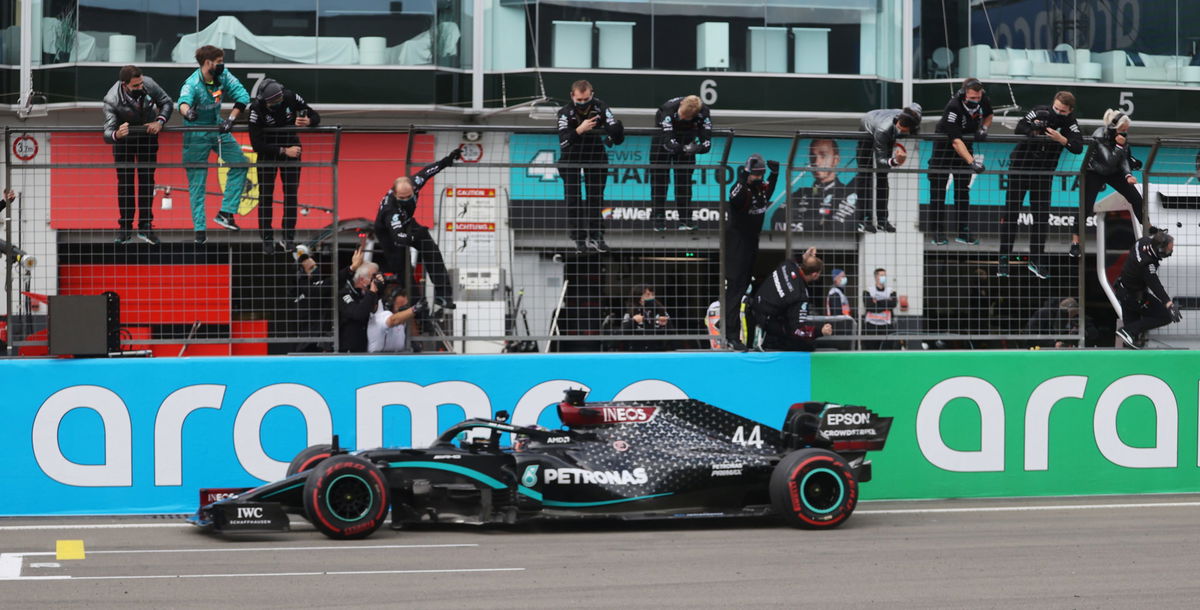 The Silver Arrows have opened up a near unassailable 180 point lead(!) on their closest rivals, Red Bull. Surely they have sealed yet another Constructors' Championship title.
Mathematically Red Bull still stand a chance; however, they would have to secure at least five 1-2 finishes starting from the next race in Portimao (25th October) and hope for both Mercedes cars to finish under the Top-10 on 5 occasions.
The chances of that happening are somewhere between nada and zilch. So, it's only a matter of time before the title is officially back at Brackley.