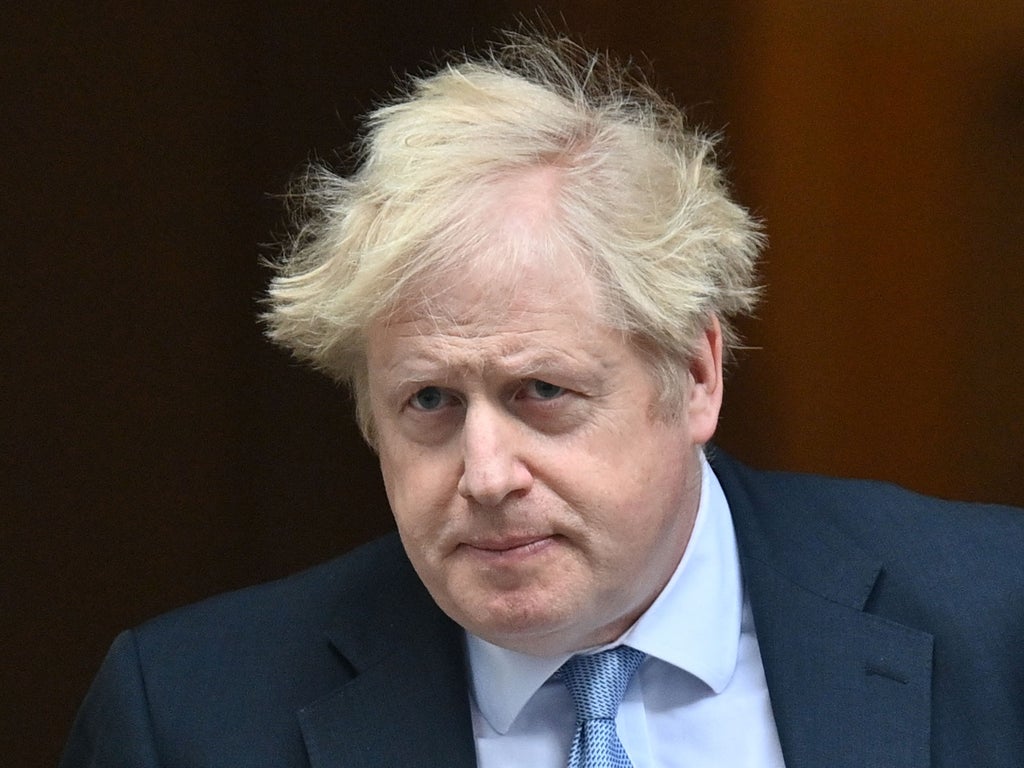 The police investigation into alleged lockdown-breaching parties at Downing Street could be extended to include a 13th event, after a picture emerged of Boris Johnson with an open bottle of bubbly, a colleague wearing tinsel and another in a Santa hat.
The photo – obtained by The Daily Mirror – is understood to show a virtual Christmas quiz staged in No 10 in December 2020, which had previously been ruled out of the Metropolitan Police inquiry because of a lack of evidence that rules had been broken.
But within hours of its publication, Scotland Yard said that its assessment was under review, raising the possibility that it will join the 12 Downing Street and Whitehall events currently being probed.
It then revealed that detectives will begin contacting more than 50 people "believed to have taken part in the events" within days, to "get their accounts".
"This document, which asks for an account and explanation of the recipient's participation in an event, has formal legal status and must be answered truthfully," the Met said.
The Met's first statement raises doubts over Mr Johnson's claim in the House of Commons that the picture had "already been submitted" to civil servant Sue Gray's inquiry into the Partygate scandal.
It will raise fears among the prime minister's supporters over the danger of a further "drip drip" of damaging evidence emerging as the Met investigation proceeds.
Mr Johnson's former top adviser Dominic Cummings suggested that further pictures exist of an alleged "Abba party" held in Mr Johnson's 11 Downing Street flat on the evening of his resignation in November 2020.


UK news in pictures
Show all 50
And he argued that even a clean bill of health for the PM from the Met inquiry will not be enough to win over voters who have seen photos of apparent revelry in No 10 while they were confined to their homes.
"There's waaaaay better pics than that floating around, incl(uding) in the flat," tweeted the former Vote Leave supremo.
"Doesn't matter if Cabinet Office stitch up Met like they did (the PM's ethics adviser Lord) Geidt, the pics will come out and the public will think 'Met lying', not 'Oh PM innocent after all'. Penny dropping with MPs…"
The new photograph shows the prime minister with three members of staff around a table with what appears to be an open bottle of champagne and crisps. One staff member has a garland of tinsel round his neck, while another is sporting a red and white Santa hat.
Downing Street previously said the quiz, held on 15 December 2020, took place virtually but with some members of staff taking part in the office.
It took place during a period when indoor social mixing was banned in London, which was under tier two Covid restrictions.
Official guidance also stated: "You must not have a work Christmas lunch or party, where that is a primarily social activity and is not otherwise permitted by the rules in your tier."
Education secretary Nadhim Zahawi previously suggested no rules were broken because "no alcohol" was consumed.
"He's on a virtual call, no alcohol, thanking his staff for 10 minutes before he goes back to work, is that really a terrible crime?" the minister asked in a TV interview last December.
And the prime minister himself said at the time: "I can tell you once again that I certainly broke no rules."
Confronted over the photo in the Commons on Wednesday, Mr Johnson was told it looked like "one of the Christmas parties" that he had denied took place – but insisted the claim was "completely in error".
The PM was urged to "refer the matter to the police", but replied: "That's precisely the point – it already has been submitted for investigation". And his press secretary later insisted that Ms Gray had been given access to "all evidence that she needed".
However just a few hours later, a spokesperson for the Metropolitan Police said: "The Met previously assessed this event and determined that on the basis of the evidence available at that time, it did not meet the threshold for criminal investigation. That assessment is now being reviewed."
The statement suggests that the picture was not included in the dossier of more than 300 photos and 500-plus pages of written evidence passed by Ms Gray to the police.
In her interim report, published last month, indicated that the Met had excluded Downing Street's festive quiz from its criminal investigation into 12 Downing Street and Whitehall events. but was looking at a Cabinet Office Christmas quiz held two days later.
Other gatherings under investigation including the prime minister's birthday celebration on 19 June 2020, a "bring your own booze" event in Downing Street's garden, an alleged Christmas party and several leaving dos for No 10 and Cabinet Office staff.
The Metropolitan Police will be writing to people suspected for breaching Covid restrictions in writing and asking whether they had a "reasonable excuse" in law for the gathering.
If they do not, it can issue fines of between £100 and £10,000, depending on the law that was in force at the time, and the size of the gathering and the person's role. Downing Street said on Wednesday that Mr Johnson had not yet been contacted.
Meanwhile, Mr Johnson pressed ahead with his shake-up of Downing Street, appointing a former private healthcare boss to be the first civil service head of the Office of the Prime Minister, which is being created in an effort to show restive backbenchers he has reasserted his grip on the centre of power.
Samantha Jones, who takes the title of permanent secretary and chief operating officer on an interim basis for six months, was chief executive of Operose Health before being appointed Mr Johnson's Expert Advisor on NHS Transformation and Social Care in 2021.
Operose is the UK arm of US health insurance giant Centene, which has sparked controversy by buying up GP services. Prior to that post, Ms Jones was a director at NHS England and chief executive of West Hertfordshire Hospitals NHS Trust and Epsom and St Helier NHS Trust.
Announcing her appointment, Mr Johnson said: "I promised to make changes to my senior team so that we can get on with better delivering for the British people.
"That is what we are now doing by bringing in the very best skills and management experience with a clear vision to unite and level up our country."
Earlier reports had suggested he favoured NHS vaccines boss Emily Lawson or Home Office permanent secretary Antonia Romeo for the role.