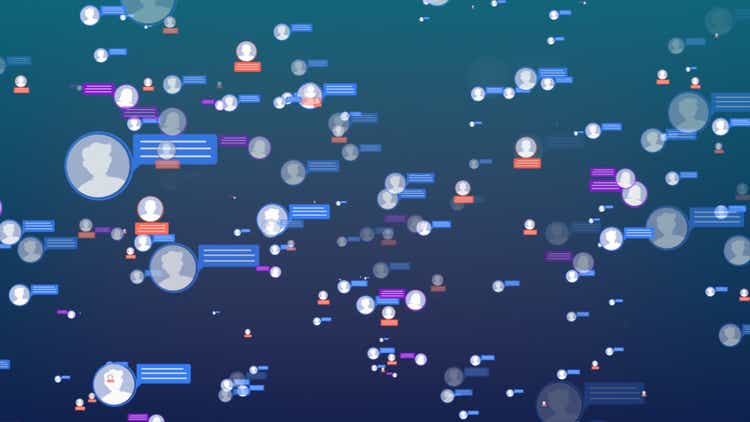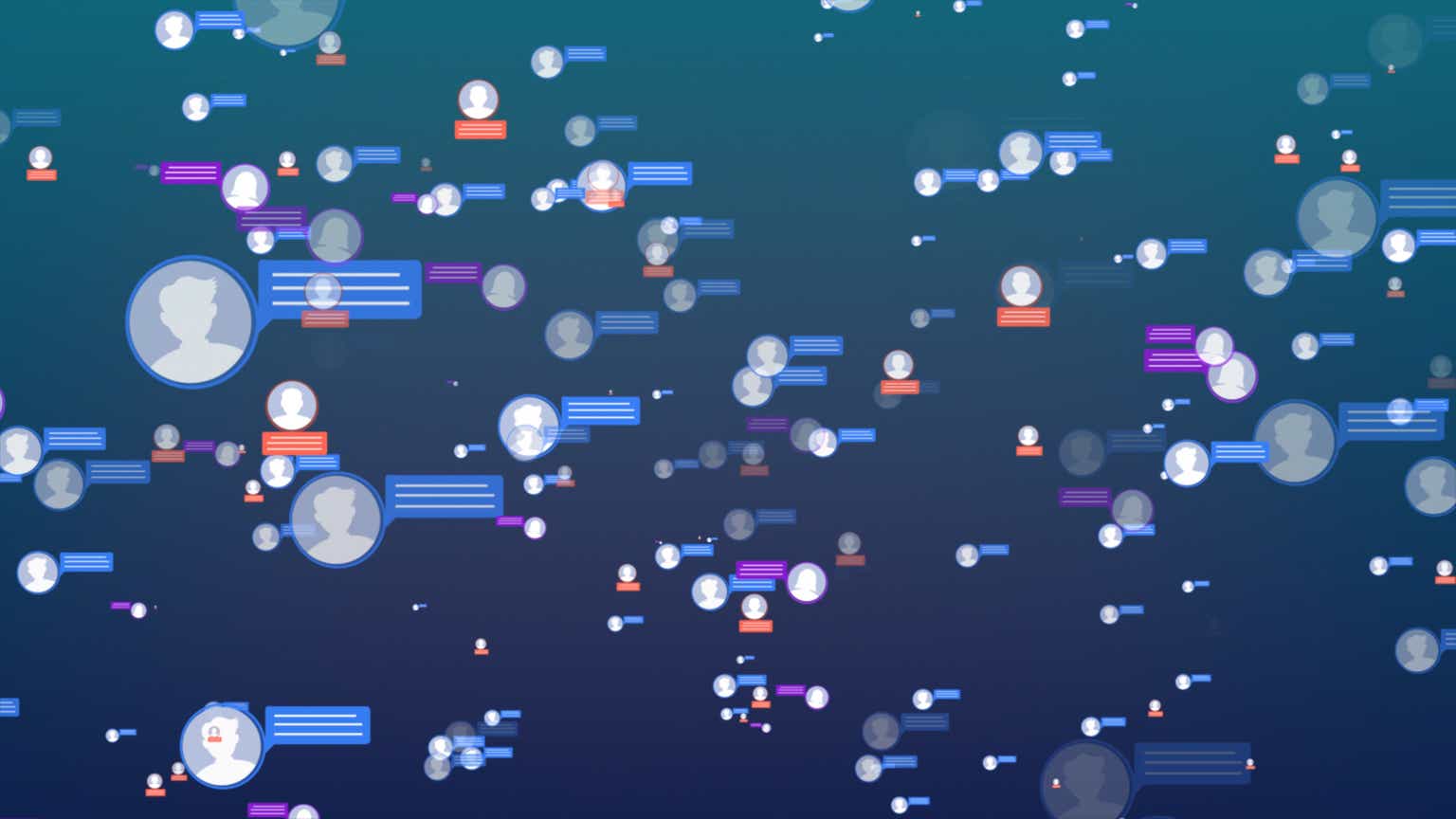 Investment Thesis
Meta Platforms, Inc. (NASDAQ:FB) develops technology products that enable people to connect through their electronic devices. The Family of Apps segment includes popular software Facebook, Instagram, Messenger, and WhatsApp. The Reality Labs segment includes virtual reality related products. Utilizing their immense popularity and humongous user base, Meta Platforms has been making a lot of cash. Recently, growth in the user base and revenue has slowed, and the market punished the stock. However, I believe this is an over-reaction by the market, and I believe Meta Platforms presents a great investment opportunity because:
Even with the recent slowdown, its revenue is still growing at an impressive rate, and I expect that to be the case for the foreseeable future.
Utilizing its dominance, Meta Platforms' profitability metrics are well above the sector median.
Reflecting the recent drop in stock price, Meta Platforms is undervalued at this point.
Strong Revenue Growth
Meta Platforms continues to achieve strong revenue growth. Advertising on the Family of Apps segment dominates, with almost all revenue coming from this segment. The segment saw 21-36% revenue growth over the past two years. This may be somewhat slower than historical revenue growth, which averaged 36% over the past 5 years. However, it is still in line with previous levels and indicates continued strong growth.

The Reality Labs division develops cutting-edge augmented and virtual reality products to help people feel more connected. These include products such as Meta Quest virtual reality content and Facebook Portal video calling. Reality Labs saw exceptionally strong revenue growth, although this segment continues to run a substantial loss from operations.
Importantly, revenue is growing across all geographic regions. Active users continue to increase, although the largest growth in active users comes from Asia Pacific and Rest of World. Overall, Family of Apps users increased by 8-9% YoY, while Facebook users increased by 4-5% YoY. The number of ads delivered has roughly scaled with increased usage (10% YoY increase), but the average price charged per ad increased substantially (24% YoY increase). Combining all of this, Facebook continues to grow ad revenue through a combination of user growth, an increase in ad load, and an increase in price per ad.

Meta is targeting several areas for growth. First, it is focused on monetizing Reels short-form video. There is a shift in customer engagement from Feed and Stories to video Reels. Currently, Reels shows fewer ads and monetizes at a lower rate, but management anticipates significant growth in advertising revenue in video in the future. A second strategy is to focus on e-commerce, using its well established experience in targeted advertising to form sales partnerships on its platforms. The third focus area is to improve business messaging, making it easier to bring customers and businesses together. These directives should enable it to capture additional revenue, even without strong growth in user base.
Impressive Profitability
Facebook's business model gives them high margins and remarkable profitability. Despite facing increased competition from other platforms, Facebook has managed to maintain its high margins. On an annual basis, operating margin improved from 38% to 40% YoY from 2020 to 2021. Profitability has increased YoY from 36% in 2020 to 43% in 2021. These numbers are in line with historical averages, and well above the sector median.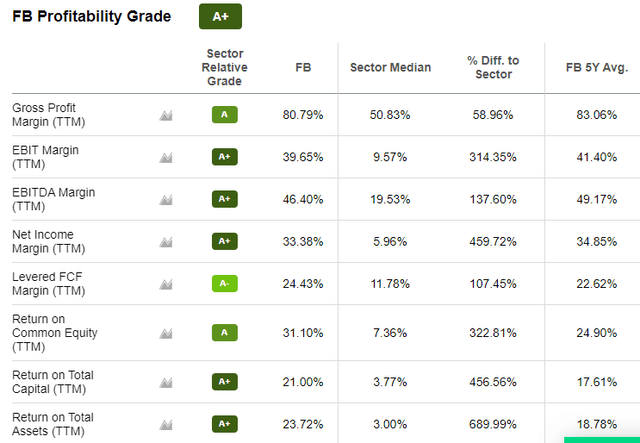 Even though Facebook's dominance is weakening, and its economic moat is narrower than before, it is still the number 1 social media platform around. Its current user number stands at 2.9 billion (2.7 are active users), which is an unreal number, given the entire world population is 7.9 billion. Social media is one industry where the network effect is the most important factor in maintaining a competitive edge, and Meta Platforms' subsidiaries (Facebook, WhatsApp, Facebook Messenger, and Instagram) occupy 4 out of the top 5 spots for social media platforms by active users. This kind of dominance won't disappear anytime soon, and I expect Facebook to maintain its high profitability into the foreseeable future.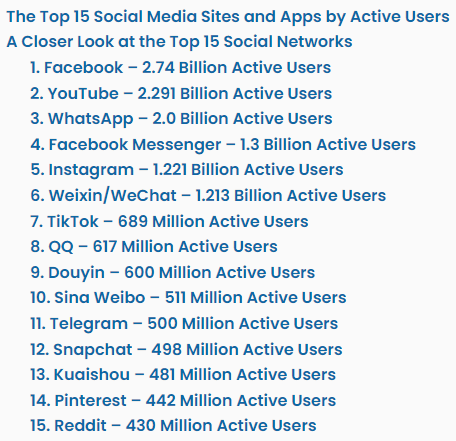 Attractive Current Valuation
The stock is now trading at its lowest P/E in recent memory. A volatile market and disappointing growth outlook caused the stock to plummet following the Q4 2021 earnings release in January. While slower growth is certainly likely going forward, the current valuation of 17x P/E seems low given forward growth estimates along the lines of 13% for EPS and 16% for EBITDA.
I believe the market is overly focused on slowing growth, and discounting the extraordinary profitability and scale that Facebook currently enjoys. Given the dominance of Facebook and other Meta Platforms subsidiaries in the social media space, I expect their profitability and cash generating ability to remain strong for the foreseeable future, and the market soon will realize this mispricing of Meta Platforms.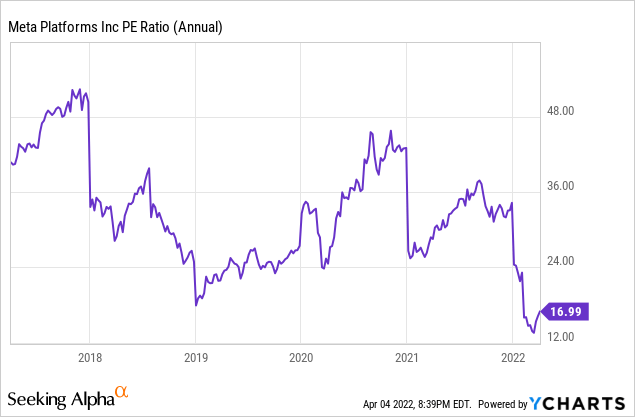 Intrinsic Value Estimation
I used a DCF model to estimate the intrinsic value. For the estimation, I utilized EBITDA ($54.720 B) as a cash flow proxy and current WACC of 9.0% as the discount rate. For the base case, I assumed EBITDA growth of 15% for the next 5 years and zero growth afterwards (zero terminal growth). For the bullish and very bullish case, I assumed EBITDA growth of 17% and 19%, respectively, for the next 5 years and zero growth afterwards.
The estimation revealed that the current stock price represents 10-20% upside. Given its dominance and still impressive revenue growth, I expect Meta Platforms to achieve this upside in the long run.
| | | |
| --- | --- | --- |
| | Price Target | Upside |
| Base Case | $257.71 | 10% |
| Bullish Case | $276.81 | 18% |
| Very Bullish Case | $297.16 | 27% |
The assumptions and data used for the price target estimation are summarized below:
WACC: 9.0%
EBITDA Growth Rate: 15% (Base Case), 17% (Bullish Case), 19% (Very Bullish Case)
Current EBITDA: $54.720 B
Current Stock Price: $233.89 (04/04/2022)
Tax rate: 21%
Risks
Facebook is experiencing some headwinds from Apple iOS changes last year. The changes caused the accuracy of ad targeting to decrease and made it more difficult to measure outcomes. These have put some pressure of the margins while Facebook works to implement changes. Management expects to be able to address these challenges over time, but anticipates that the headwinds will have an impact throughout 2022.
Of course, competition in the social network space is strong. YouTube (GOOG) (GOOGL) and TikTok are gaining ground on Facebook. Much of Meta Platforms' stronger growth comes from the Asia Pacific and Rest of the World regions, where Meta Platforms must compete with Chinese platforms like WeChat and Sina Weibo. Facebook's existing platforms are already relatively saturated with ad load. As new user growth slows, the cost of advertisements will increase. This may cause advertisers to shift to lower cost alternatives. Facebook is working on its newer features (namely Reels, e-commerce, and business messaging), as a way to grow revenue even as user base peaks. Still, it will face competition in these areas as well, and success is certainly not guaranteed.
The Federal Reserve announced the interest rate hike schedule (9 times total within next two years) and, combining the rate hikes with labor shortage and supply chain issues, some experts are expecting an economic slowdown later this year. Reflecting this negative sentiment toward the economy and equity market, the yield curve has been flattening for a couple of months, and some part is even inverted.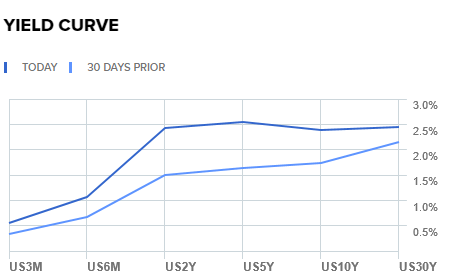 Given that unemployment rates have returned to their pre-pandemic level (3.5-3.6% range), and the economy is adding a lot of jobs (431K in March 2022), I don't expect a prolonged recession or market crash. However, investors should monitor the macroeconomic indicators to gauge the economic health going forward.
Conclusion
Facebook has been the face of the technology sector for over a decade now. It had meteoric revenue growth in the past, utilizing its humongous user base and popularity. Recently, it has shown some signs of revenue growth slowing down, along with a peaking user base. However, it is still the dominant number 1 social media platform with superb profitability. I expect Meta Platforms to sustain its leadership position into the foreseeable future. A dragging technology sector and equities market may certainly challenge Meta's stock price in the near term, but it is highly profitable and free cash flow continues to grow. Overall, I see 10-20% upside in the long run.