4 min read
Michael Gove has confirmed he met with large venue operators in Israel last week as the government pivots the focus of its Covid certification focus plans away from hospitality.
The cabinet secretary visited the country alongside England's deputy chief medical officer Jonathan Van-Tam to learn more about the Israeli "green pass" smartphone app, which is used by citizens to prove they are not infected with Covid-19 to gain entry venues such as gyms, hotels, restaurants and cinemas.
"As well as meeting with the Health Minister and the senior officials responsible for the design and development of the Green Pass, I held discussions with a range of venue operators, including stadium, nightclub and concert organisers, to understand more about the experience of businesses in operating this system," Gove said in a written Ministerial statement on Thursday.
The focus of his visit further supports suggestions that the government is shifting the focus of a potential Covid certification system away from hospitality venues and towards larger events.
It comes after reports that Boris Johnson has shelved plans to require proof of vaccination or a negative Covid test in restaurants and bars, despite telling MPs last month that the idea "should not be totally alien to us".
According to the Mail, he has instructed officials to focus on developing the system to facilitate international travel this summer, as well as the reopening of sectors like theatres, sports venues and nightclubs.
More progress has been made on the introduction of vaccine passports for international travel, with the transport secretary Grant Shapps confirming on Wednesday that a feature would be included in the existing NHS app to allow people to travel abroad this summer.
But, domestically, the idea remains controversial, with the government facing significant backlash from hospitality groups, civil liberties charities, and some of Johnson's own MPs.
Several legal experts and disability advocates told PoliticsHome this week that they feared the introduction of Covid passports into smaller venues such as pubs could "reinforce structural discrimination" faced by disabled people.
Earlier this month, over 70 cross-party MPs and peers signed a joint statement claiming they would oppose the introduction of domestic vaccine passports, branding them "divisive and discriminatory".
Gove's trip to Israel comes as the government prepares to report the findings of its review into the use of vaccine passports, with a final decision expected before the final stage of lockdown lifting in June.
"The Government recognises the significant public and parliamentary interest in the question of COVID-status certification. That is why the Government is conducting an extensive review seeking a wide range of input and insight," he said in a statement.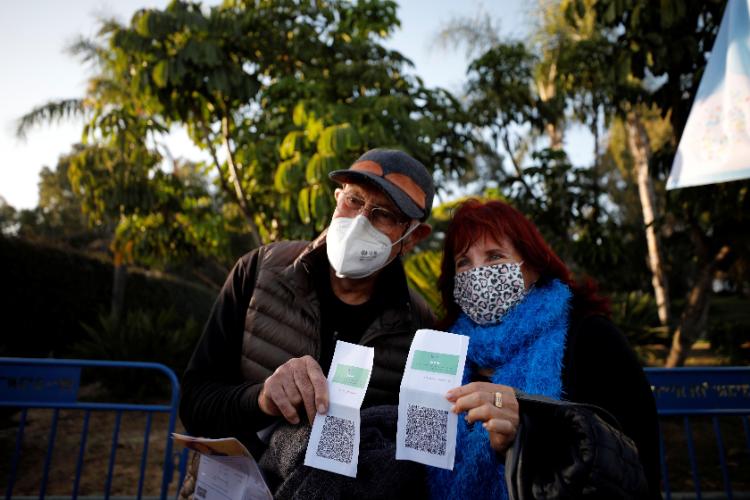 "The review has conducted in-depth discussions with clinical, ethical, equalities and privacy specialists, faith and disability groups, businesses and business representative organisations."
He also revealed that a public call for evidence into the issue, opened between 15 and 29 March, received over 52,450 responses and "represented a wide range of viewpoints in both support and in opposition of certification".
Trials of Covid-status certificates at large events are already ongoing, having been launched as part of the government's Events Research Programme.
Outdoor cinemas, nightclubs and the FA cup-semi final are among pilot events hosting large audiences as the government explores how to safely bring large crowds back this summer.
Writing in the Sunday Telegraph in April, Gove said he supported using a smartphone app to help bring people back to venues and events such as these, as he lauded Israel's success on the matter.
"If Israel can accelerate its citizens' returns to nightclubs, football stadia and theatres with these certificates, might we? The Israeli approach involves a smartphone app and the NHS app could serve a similar purpose here," he wrote.
"But we must not exclude those who do not have a smartphone, so we're exploring paper-based complements to the app. Privacy and data security must be watertight."