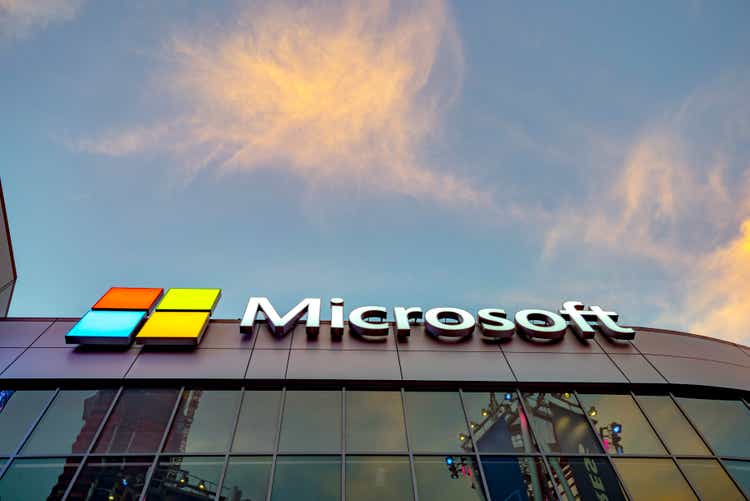 Investment Thesis
Microsoft Corporation (NASDAQ:MSFT) helped the Ukraine government in detecting a Russian-linked "wiper malware" aimed at the country's ministries and financial institutions. The cyberattack was implemented concurrently with the rolling of Russian tanks into Ukraine soil on 23 February 2022. On top of the previous cyberattack targeting Ukraine's power grid in 2015, it is evident that governments and tech companies worldwide are facing a new type of warfare on a regular basis. The importance of cybersecurity was further emphasized by Alphabet's (GOOG) (GOOGL) recent acquisition of Mandiant (MNDT), a cybersecurity company that will be incorporated into the company's cloud service once completed.
Given how the data center market is expected to grow to $519B by 2025 at a CAGR of 21%, we expect more companies to realize the importance of cybersecurity, as more companies use cloud computing services moving forward.
Heightened Focus On MSFT's Cyber Security Capability
Ransomware criminal groups based in Russia have been responsible for a series of devastating cyberattacks that inflicted severe damage to multiple critical installations in the US. According to cybersecurity firm SonicWall, Ryuk, Eastern European cybercriminals linked to the Russian government, accounted for over 30% of 203M cyberattacks faced by the US in 2020. Since 2015, the government has trained many utility companies to deal with potential cyberattacks on the grid. These were prompted by the discovery of malware planted by Russian-linked cybercriminals in many US water treatment facilities and electrical grid companies. As a result, there were many concerns that it may eventually lead to a successful attack similar to the one experienced in Ukraine in 2015. At that time, the power was out for up to six hours in multiple regions of the country, while also creating critical operational issues for more than two months post-attack.
The cyberattacks escalated in 2021, when many hospitals in Las Vegas, New York, and Oregon were targeted, causing delays to critical surgeries and medical care, while also costing hospitals millions of dollars in damages. In addition, JBS USA Holdings Inc, a meat processor company responsible for one-fifth of the country's meat supply, also experienced server access disruptions prompting plant closure in June 2021, which were only resolved when the cybercriminals received $11M in ransom. Furthermore, Colonial Pipeline, a gasoline pipeline operator along the East Coast, had to shut down its pipeline when cybercriminals infected its business networks with malware. At that time, the event caused a fuel crisis for many transport fuel companies, airlines, and gas operators. It cost Colonial Pipeline nearly $5M to recover its system and restart the pipeline.
The importance of cybersecurity was further highlighted recently, when MSFT's Threat Intelligence Center detected "a never-before-seen piece of wiper malware" aimed at Ukraine's ministries and financial institutions. It coincidentally happened on 23 February 2022, when Russia attacked Ukraine. Given that the malware may potentially cripple Ukraine's and the neighboring nations' cyber defense and operating networks, MSFT actively oversaw the international coordination and security operation among the Ukrainian government, the North Atlantic Treaty Organization, and the European Union.
In recent weeks, Meta (FB), Twitter (TWTR), and YouTube also disclosed additional cyberattack activities aimed at spreading disinformation to the mass public. As a result, it made sense why Alphabet recently acquired Mandiant on 7 March 2022, a cybersecurity company. Based on the announcement, MNDT is expected to be assimilated into GOOG's cloud unit, providing additional threat intelligence to protect the integrity of cloud services from cyberattacks. It is evident from historical events and the acquisition that governments and tech companies worldwide are facing a new type of warfare on a regular basis. As a result, we expect MSFT to further invest in cyberdefense in order to stay competitive and secure moving forward. Analyst Dan Ives from Wedbush Securities said:
In a massive growth backdrop for cyber security and further tailwinds seen during this Ukraine invasion from Russia bad actors/nation state attacks, we believe today's deal is the tip of the iceberg to a massive phase of consolidation potentially ahead for the cloud space. In a nutshell this deal was a shot across the bow from Google to Microsoft and Amazon with this flagship cyber security acquisition of Mandiant. ( Seeking Alpha )
YTD, MSFT calls countries such as the US, Ukraine, Georgia, Lebanon, Australia, Poland, and a few others as their government clients. Given how these countries utilize a mix of products offered by MSFT, including Azure and security intelligence, we expect the company to continue delivering its "comprehensive Zero Trust architecture" that will protect its users, devices, applications, and data across its platforms. In order to achieve its goal, MSFT will integrate security into every product offered by the company while also delivering advanced security cross-cloud/platforms. These include more than 50 different categories across security, identity, and privacy, through over 24T daily threat indications received by the company.
MSFT has also been calling for a Digital Geneva Convention, which will help to address a growing threat of cyberattacks affecting individuals, businesses, and governments worldwide. Assuming a future implementation, the convention may hold countries accountable for global cybercriminal activities while also protecting innocent citizens and critical infrastructures moving forward. Nonetheless, a less defined mode of cyberattack and a lack of internationally accepted countermeasures and retaliation limits global cybersecurity implementation moving forward.
Back to MSFT, as a result of its comprehensive offerings, over 1B unique users have a Microsoft Account that allows them to securely access its services. Furthermore, the company reported over 715K customers who are using their advanced security solutions, representing an increase of 75% YoY. MSFT's multiple workload solutions also helped consumers to save up to 60% in operational costs compared to multi-vendor providers.
These solutions have helped increase MSFT's security business revenue to $15B over the past 12 months, representing YoY growth of nearly 45%. Given that global cybersecurity spending is expected to grow from $1T in 2021 to $1.75T by 2025 at a CAGR of 15%, we expect MSFT's security segment to be a significant revenue driver moving forward, as more digitized companies use cloud computing solutions.
MSFT Continues Its Stellar Performance, Especially In Intelligent Cloud Segment
MSFT Revenue, Net Income, and Gross Margin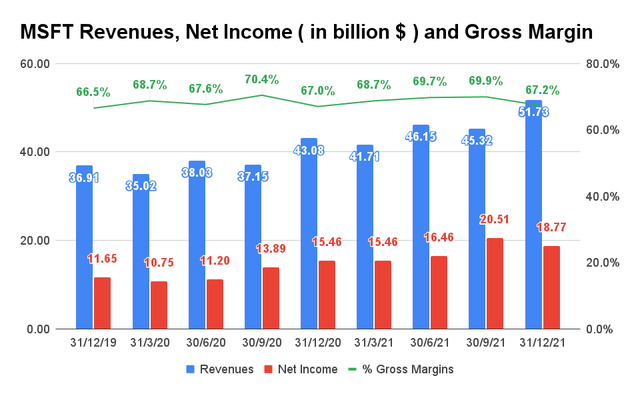 Over the past five years, MSFT has grown its revenues at a CAGR of 15.21%. For FY2021 alone, the company reported record-breaking revenues at $168.08B, representing impressive increases of 17.5% YoY. MSFT has also been gradually improving its gross margins from 65.9% in FY2019 to 68.9% in FY2021, with excellent operating margins of 41.6% in FY2021. In addition, MSFT reported revenues of $51.73B with a net income of $18.77B in FQ2'22, representing excellent YoY increases of 20% and 21.4%, respectively.
For FQ3'22, MSFT guided revenues in between $48.5B and $49.3B, with a slight improvement in operating margins. It will represent a YoY growth of 18.19%.
MSFT Revenue By Segment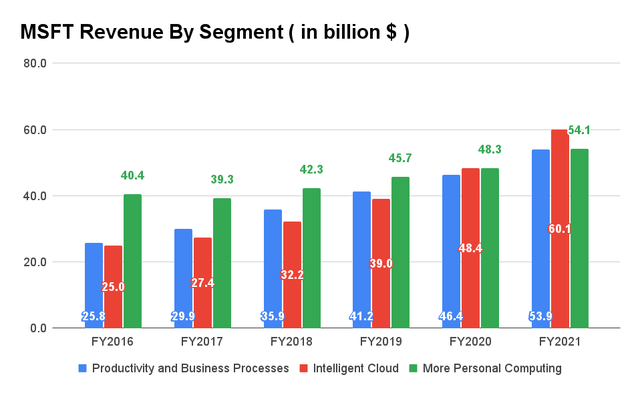 Since FY2016, MSFT reported impressive growth in revenue, particularly in its Intelligent Cloud segment at a CAGR of 19.18%, compared to the Productivity and Business Processes aided by Office 365 and More Personal Computing segments aided by Windows, at a CAGR of 15.88% and 6.01%, respectively. In addition, the company reported revenues of $18.3B for the Intelligent Cloud segment in FQ2'22 with an increase of 8% QoQ and 25.5% YoY, accounting for the majority of its total revenue at 35.4%. MSFT's Azure revenue also rose 46% YoY, contributing to the growth in the overall Intelligent Cloud segment. The growth is partly attributed to Azure's growing adoption by CVS Health (CVS), Johnson & Johnson Medical Devices (JNJ), Kyndryl (KD), and Wells Fargo (WFC) in FQ2'22.
More businesses may also adopt Azure's cloud computing tools to manage and deploy their applications anywhere as more companies are digitalized due to the prevalent remote work post-COVID-19 pandemic. MSFT is also extending its infrastructure to the edge of the 5G network, offering new businesses to deliver ultra-low-latency services closer to their consumers. In addition, with more usage of both retail and corporate metaverse technology, we expect more to adopt cloud computing services.
On the gaming segment, MSFT recently acquired Activision Blizzard, which will boost the content library of its gaming portfolio to include those in the Metaverse, such as Call of Duty, World of Warcraft, and Starcraft. In a more corporate setting, MSFT will also provide immersive Mesh meeting experiences through AR/VR devices from H1'22 onwards, given Mesh's "mixed-reality collaboration software, where people are represented as 3D avatars." Finally, for a manufacturing example, AT&T shared its experience in working with Microsoft Azure in its March 2022 Investor Day:
We're deploying private 5G in the factory coupled with edge compute powered by Microsoft Azure. This will enable Ford to better transform their manufacturing processes with capabilities such as machine vision to enable real-time quality checks during manufacturing through low latency communications, acoustic detection to capture in real time the sound of a seatbelt click to inform that the seatbelt is working properly, over-the-air firmware updates to the F-150 lightning as it's moving across the factory floor. (Seeking Alpha)
Given that the data center market (cloud services and digitization) is expected to grow from $230B in 2021 to $519B by 2025, at an impressive CAGR of 21%, we expect MSFT to report robust demand and revenues from its Cloud segment, as a significant revenue driver moving forward. In addition, it will prove MSFT as one of the leading cloud providers with multiple segment offerings, which has built over 50 new data centers annually.
So, Is MSFT Stock A BuySell, or Hold?
MSFT Projected Revenue and Net Income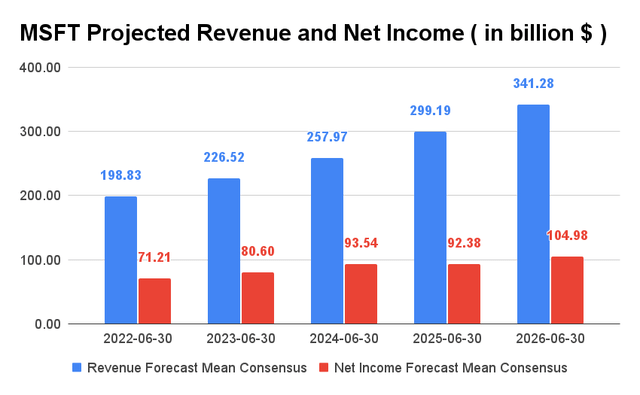 MSFT is expected to report excellent revenue growth at a CAGR of 15.22% over the next five years. In addition, consensus estimates that the company will report revenues of $198.83B for FY2022, representing impressive YoY growth of 18.2%. We also expect its net income margin to improve moving forward, from 31.2% in FY2019 to potentially 35.8% in FY2022.
MSFT is currently trading at an EV/NTM Revenue of 10.39x, higher than its 3Y mean of 9.33x. Despite its slight overvaluation, MSFT stock is still rated as attractive now, due to its enormous generation of free cash flow/ net income and integral relevance in the cloud computing and cybersecurity market. In line with the recent market correction surrounding tech stocks, the company is also trading at $300.43 (as of 18 March 2022 ), at a decent 12% discount from December 2021.
Therefore, we rate MSFT stock as a Buy.