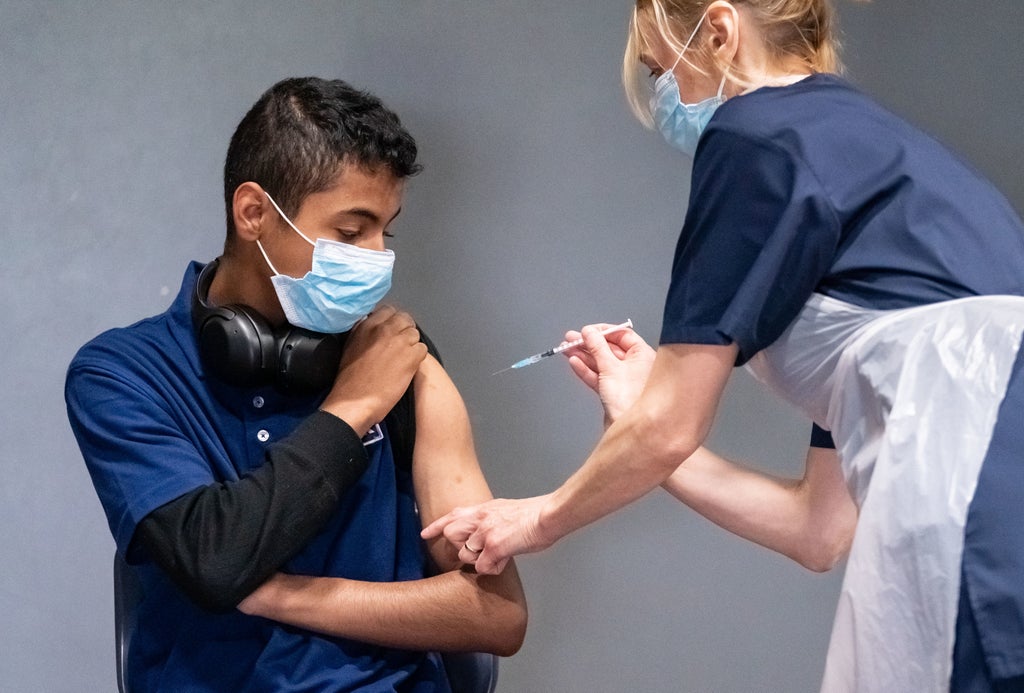 Ministers are expected to approve only a limited extension of vaccination to younger teenagers, on scientific advice that jabs should go only to the medically vulnerable or those approaching their 18th birthdays.
The Joint Committee on Vaccination and Immunisation (JCVI) is expected to hand over its recommendations on the vaccination of over-12s to ministers on Monday.
The MHRA medical safety watchdog gave the green light for teenage jabs on 4 June, and Boris Johnson is coming under mounting pressure to offer them protection as the Delta variant tears through younger age groups.
But the JCVI is expected to recommend limiting jabs to those who are deemed vulnerable to Covid-19, or who live with adults who are immuno-suppressed or otherwise at severe risk from the disease, as well as to 17-year-olds who are within three months of their 18th birthday.
And cabinet minister Robert Jenrick gave the stamp of approval to this approach, saying that it seemed "sensible" and that the government will make its decision "very soon".
Eminent virologists told The Independent that there was no compelling safety or ethical reason to withhold jabs from over-12s and called on Boris Johnson to move swiftly to vaccinating all teenagers.
The former director of immunisation at the health department, David Salisbury, said vaccination of children was desirable not only to protect their health, but to reduce the risk that they will spread Covid to parents and grandparents.
"If young people are indeed contributing to transmission, then they do have a responsibility both to their own health and to the health of other people," said Prof Salisbury.
"Subject to assurance about the vaccine safety – which is the role of the regulator – I think they should be included in the vaccine programme."


UK news in pictures
Show all 50
Leeds University associate virology professor Stephen Griffin said it was "crazy and unfair" to simply "allow this virus to pass through the younger population" on the basis that they are less vulnerable to serious illness and death from the initial infection than older age groups.
And epidemiologist Neil Ferguson told BBC One's Andrew Marr Show: "In the absence of vaccinating teenagers, it's inevitable that we are going to have – and we are already seeing – very high numbers of cases in teenagers.
"We won't be able to reach herd immunity without significant immunity among people under 18."
A report by the Tony Blair Institute recommended inoculation of 12- to 18-year-olds with the Pfizer vaccine as part of a plan to enable the UK to live with Covid-19 for years to come.
Millions of over-12s have been inoculated in countries including the US without significant ill-effects, though the US Centres for Disease Control and Prevention has identified around 300 cases of heart inflammation in teenagers after the Pfizer or Moderna vaccines.
Mr Jenrick told Sky News's Trevor Phillips on Sunday: "We will be looking carefully at [the JCVI's] advice … on whether or not we should open up the vaccine programme in the first instance to most children who are just short of their 18th birthday, to those children who have particular vulnerabilities and those children who are in households where there are people who are particularly vulnerable.
"That seems like a sensible way for us to proceed. But ministers will need to make that decision when they're armed with the final advice from the JCVI, our expert advisers, and I expect that we will be receiving that advice very soon."
Labour's shadow health secretary Jonathan Ashworth urged the JCVI and ministers to "carefully consider" whether it was really necessary to hold back from vaccinating teenage children.
"I'm not against vaccinating children," he told Phillips. "I think it needs to be looked at by the JCVI. Other countries are doing it. I don't understand why we're not proposing it.
"In the end, these are always clinical decisions, but if the JCVI are going to propose tomorrow that we are not going to vaccinate children, I hope they can fully explain their thinking and why they have taken a different decision to the United States."