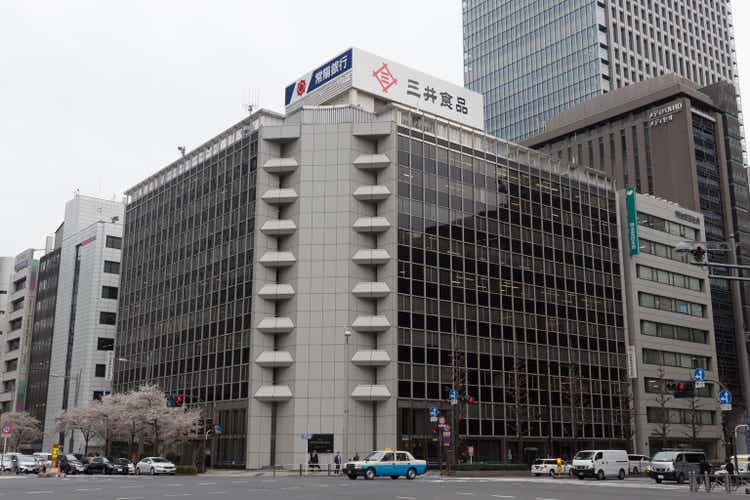 Commodity Price Strength Improves Outlook
In my last article on Mitsui & Co. (OTCPK:MITSY) (OTCPK:MITSF), I was concerned that the pullbacks in commodity prices, especially iron ore and coal, would be a headwind for the company. Since then, these commodities, as well as crude oil, have rallied. As a result, Mitsui again increased their forecast for FY 2022 profit with the release of third quarter results. (The fiscal year ends March 31.) The company now expects to earn ¥840 billion this fiscal year, up from the prior forecast of ¥720 billion. This time the increases were across the board in all business segments. Mitsui also raised its year-end dividend forecast for a second time in a row to ¥60/share, resulting in a full year payout of ¥105. This represents impressive dividend growth of 23.5% over FY 2021 and a yield of 3.65%.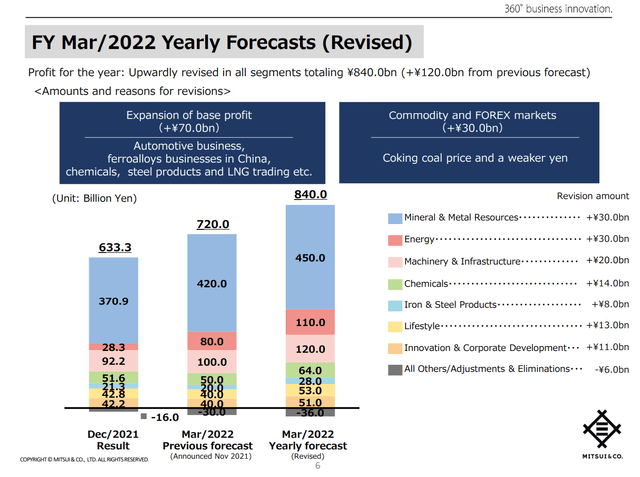 Like all the Japanese trading companies, the stock has been trending upward since the 1H earnings release in November as the market priced in the improving commodity environment. Mitsui shares are now trading around their all-time high level they hit in August when 1Q results were released and iron ore prices were peaking.

Despite this run-up, the increase in profit forecast means that the stock is trading at a P/E of 5.5, cheaper than it was in November at the time of my last article and second cheapest of the five trading companies. The P/B ratio has edged up to 0.93 as book equity increased slightly less than the share price. Mitsui is right in the middle of the five trading companies based on P/B, return on equity, and debt/equity ratio, so it's not surprising the stock performance has been right in the middle as well.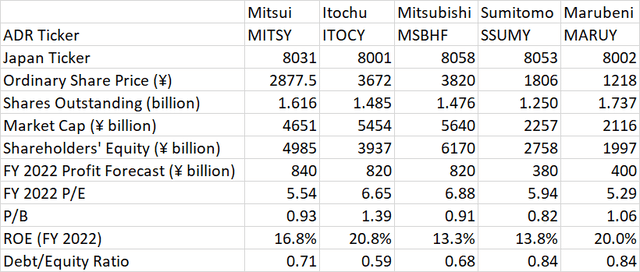 For commodity-based companies, P/E ratios can be misleading if prices are at the top of the cycle. Looking at the 2022 valuations of more pure-play iron and steel companies, we see valuations are even lower. For example, Vale (VALE) has a P/E of 5.5, ArcelorMittal (MT) is at 3.9 and Cleveland-Cliffs (CLF) is only 3.2. Mitsui is diversified with other commodities as well as non-commodity businesses, so I believe it deserves to trade at a higher multiple than Vale. Nevertheless, it is worth looking at the outlook for iron ore and other commodities to estimate the impact on Mitsui's future earnings.
Little To No Earnings Decline For FY 2023
Iron ore averaged $157/ton over the first three quarters of Fiscal 2022 according to the sensitivity chart in Mitsui's earnings slides. When I last wrote about the company in November, ore prices had plummeted to the $80-$90 range, and it was uncertain how much they would recover. At that time, worries abounded that China was reducing steel production for power conservation and to curb real estate speculation. Since then, China's economy slowed too much and the PBOC cut rates as a stimulus measure. Iron Ore prices have been on an uptrend since then and are now in the $140s.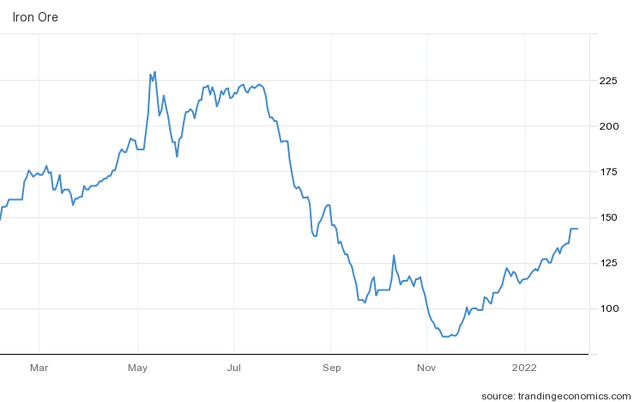 If the short-term trend continues through the end of March, iron ore should average around $148/ton for Fiscal 2022, about $8 better than I thought last quarter. For Fiscal 2023, the forecast is a tug of war between this increased demand and expectations of increased supply. At the start of January, analysts were generally bearish, forecasting prices between $90 and $120 for calendar 2022. The futures curve from CME Group (CME) suggests a more gradual decline, with an average price of $138 over the next 12 months.
The $8 improvement in iron ore prices for FY 2022 translates to about a ¥17 billion improvement in the Mineral & Metal Resources segment forecast. For FY 2023, the $10 decline suggested by the CME futures would impact Mineral & Metal Resources by about ¥22 billion – down from this year but still a strong result compared with history.
Coking coal is another important commodity for Mitsui, and prices have been on a tear lately. Prices for the first 9 months of Fiscal 2022 averaged $231/ton. Since the start of this quarter, prices have increased from $350 to around $410. Based on this increase, the full year FY 2022 average should increase by about $37/ton to $268. From Mitsui's sensitivity chart, this is worth about ¥14 billion. Combined with the iron ore price increase, that covers all of the ¥30 billion increase in the Mineral & Metal Resources FY 2022 profit forecast.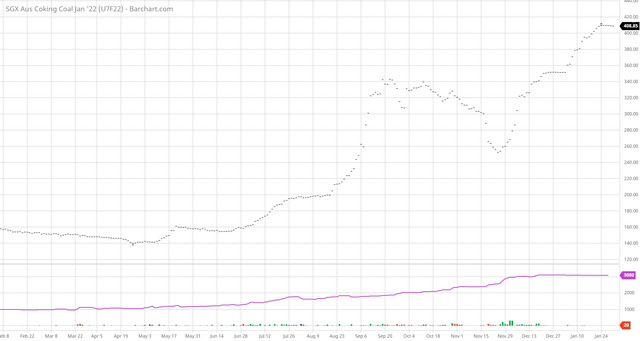 For FY 2023, analysts seem more bullish about coal than they do about iron ore. Even if prices come back to the $325 level, that would be a $57/ton improvement over FY 2022 averages. Based on Mitsui's sensitivities, that would add ¥23 billion to the Mineral & Metal Resources profit forecast.
Combining the iron ore and coking coal effects, the Mineral & Metal Resources segment's FY 2023 profit would be close to what it was in a very strong FY 2022.
I won't go into as much detail for the Energy segment, but I will note the strong increase in oil prices since the start of calendar 2022. Mitsui has their average oil price assumption for this fiscal year at $68/bbl. For FY 2023, the futures curve suggests an average price around $83/bbl, which would improve the Energy segment profit by ¥37.5 billion. This could be conservative, as Goldman Sachs (GS) has indicated the potential for $100 oil this year.
In the non-commodity businesses, Machinery looks promising for FY 2023 given Mitsui's stakes in Penske Automotive Group (PAG) and Penske Transportation Solutions. The auto business was hampered by supply chain issues in the second half of calendar 2021 but Penske continues to deliver record performance and strong growth thanks to its used car and commercial truck dealerships. As the manufacturing shortages ease this year, Penske's new car dealerships should add to the growth. Mitsui's Lifestyle segment is also well-positioned. Its IHH Healthcare business will benefit as declining pandemic impacts increase demand for other valuable health care services. The food businesses within Lifestyle are also benefitting from price increases and higher food service demand.
Conclusion
Based on the current outlook for commodity prices and good performance in the non-commodity business, Mitsui should not see much decline in earnings for FY 2023, if any. This is a change from the outlook I had in November. The Mineral & Metal Resources segment could see a small headwind from excess iron ore supply, but Chinese demand destruction could be over. Coking coal prices look stronger. Energy has clear upside with oil very likely to top the FY 2022 average of $68/bbl. The Machinery and Lifestyle segments look to have continued strength as well.
With these conditions, the 5.5 P/E that normally suggests negative earnings growth seems too pessimistic. The 23.5% year-on-year dividend hike to ¥105/share is a demonstration of confidence from management that the current profit levels are sustainable. The 3.65% yield is far better than what is available from most bonds, with the added benefit of likely capital gains rather than losses if inflation persists.