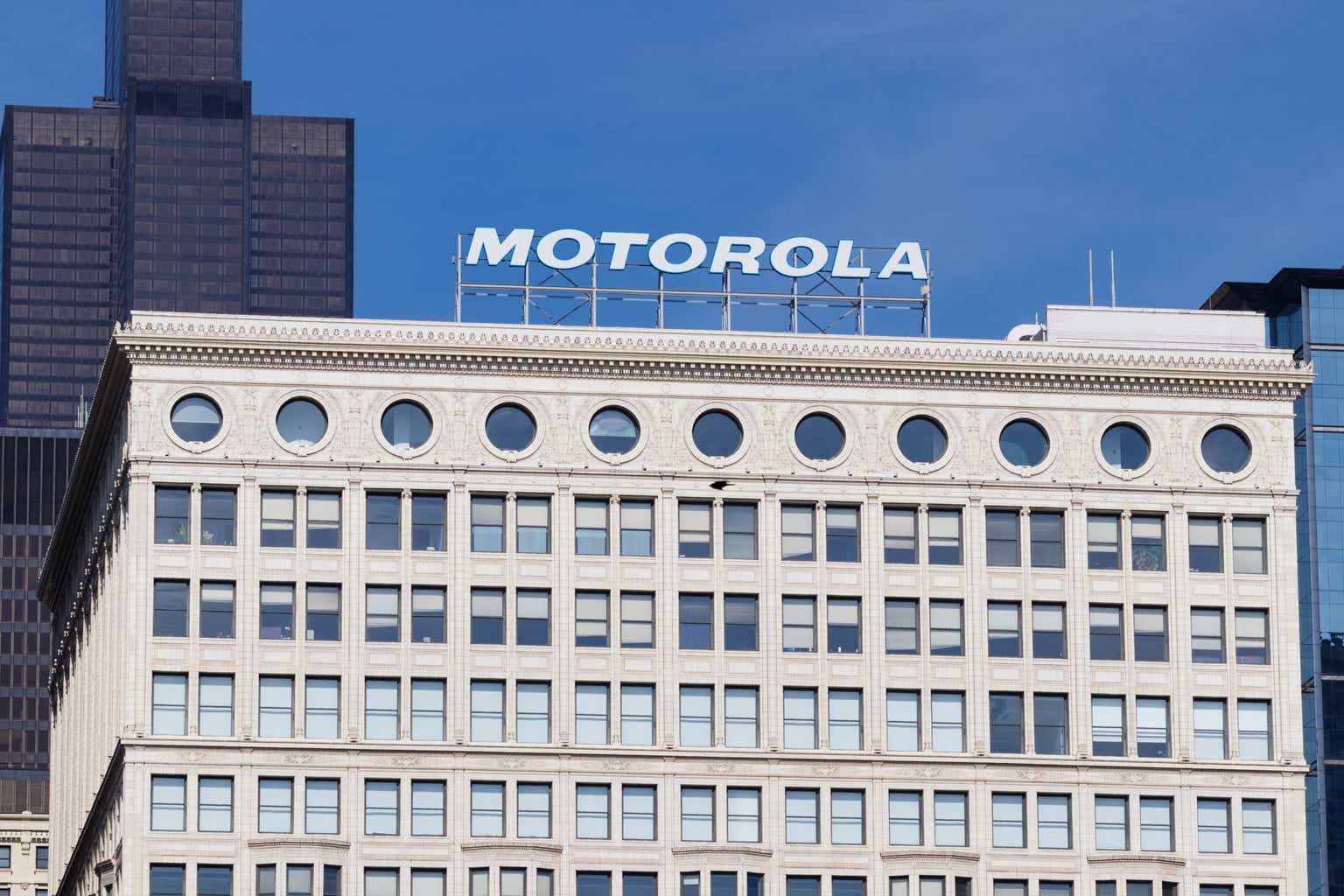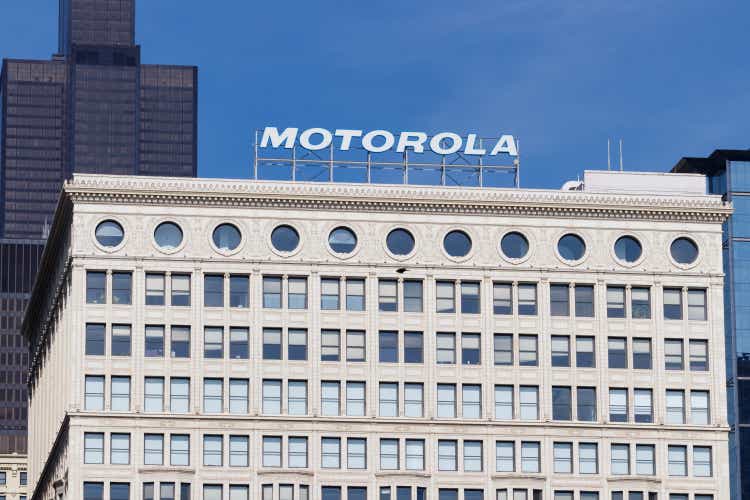 Motorola Solutions, Inc. (NYSE:MSI) is a global leader when it comes to mission-critical public communications and enterprise-level security systems. The company also makes wireless networks, command & control systems, analytic solutions, and data capture devices and is the largest supplier of land mobile radios ("LMR") in the United States. Since MSI became an independent company after spinning-off its semiconductor segment, the company has added to its already robust technology and patent portfolio by using its significant free-cash-flow generation to acquire companies that have complementary technology. That growth strategy continued this month with two new and significant acquisitions that should enable MSI to keep rewarding shareholders with strong dividend growth going forward.
Investment Thesis
Motorola Solutions has a legacy and thriving businesses with many state, local, and global government agencies. Many of these businesses depend on MSI proprietary wireless networks that would require large switching costs for the customer to migrate to a competitor's solution (that is, they are relatively "locked-in" to MSI's solutions). These businesses generate strong free cash flow and have enabled the company to leverage that cash by using M&A to bolster its growth opportunities and also to reward its investors with strong dividend growth.
Earlier this month, Motorola continued its M&A strategy with announcements of two new acquisitions: TETRA Ireland Communications, and Ava Security Limited.
TETRA Ireland is the provider of that country's National Digital Radio service – a service that is based on MSI's latest TETRA digital radio technology for use by first responders in national security & enforcement agencies, health & emergency services, state utilities, and volunteer organizations across Ireland.
More interesting to me is the Ava Security acquisition. Ava is a U.K.-based company and a global leader in scalable, secure, and flexible delivery of cloud-native video security and analytic solutions at the enterprise level. This acquisition enhances and solidifies MSI's presence in the fast-growing enterprise-level video security market for governments and commercial customers. Motorola's existing and global presence in these markets will enable it to leverage Ava's technology (which includes self-learning algorithms), presence in the EU, and growth potential in a way that Ava could never have achieved on an independent basis.
Earnings
MSI's Q4 and FY2021 EPS report was released on February 9th and it was generally quite bullish. Highlights include:
Revenue of $8.2 billion was up 10% YOY.
EPS of $7.17 was up a whopping 32% YOY.
Q4 free-cash-flow was $635 million (27.6% of quarterly revenue).
The year-end backlog was a record $13.6 billion, up $2.2 billion from the prior year.
PSI segment backlog was up 28% ($886 million) driven by record LMR orders.
Continuing on with the Ava acquisition theme mentioned earlier, note that MSI's video security & access control sales were up 32% in FY21 (21% on an organic basis). This is obviously a space where MSI is enjoying excellent success. That is why the Ava acquisition has so much potential under the MSI umbrella as opposed to going it alone on an independent basis.
Shareholder Returns
For the year, MSI generated $1.6 billion in free cash flow. That equates to $9.22/share based on the 173.6 million shares outstanding at year-end.
During the year, MSI used that FCF to repurchase $528 million shares at an average price of $208.41 (the stock closed Tuesday at $239.31), paid $482 million in dividends, and used $457 million for acquisitions. The vast majority of M&A was for video security, access control, and command center software.
The quarterly dividend was increased by 11%.
Valuation
Since the beginning of the year, MSI's stock price is down ~10% from its recent high.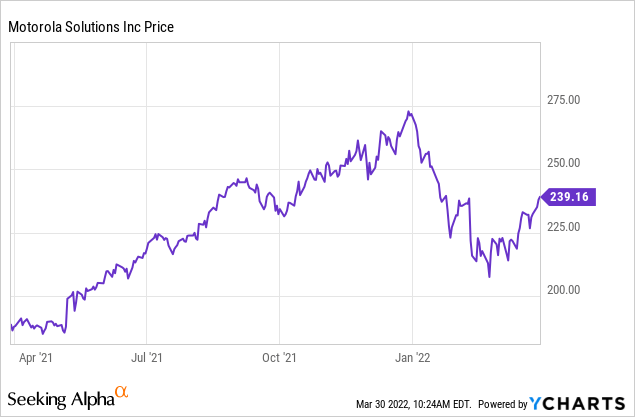 The company trades with a forward P/E=24.1x and the $3.16 annual dividend equates to a 1.3% yield.
MSI guided for FY22 revenue growth of "approximately 7%" and non-GAPP earnings of $9.80 to $9.95 per share. The midpoint of that guidance, $9.875/share, compares to FY21's non-GAAP earnings of $9.15/share, or up 7.3%. As a result, I rate the stock a HOLD given its current valuation level – mostly because the expected earnings growth rate represents a deceleration as compared to FY21 and the stock appears to be fairly valued here.
On a longer-term basis, I remain bullish on the company and investors should consider putting MSI on their watch list in hopes of taking advantage of market volatility to pick up shares at a lower price. I'd be a buyer if the stock retraces to its recent low – in the neighborhood of ~$210.
Risks
All the standard risks apply here: ongoing and negative impacts on supply chains and factory shut-downs due to the global pandemic, a rising interest rate environment that could negatively affect global economic growth, and a very high level of geopolitical uncertainty given Putin's invasion of Ukraine and the resulting sanctions placed on Russia by the U.S. and its democratic allies. In addition, MSI relies on government spending and any big decrease in government spending could reduce the company's outlook. On the other hand, increases in military-related spending on secure communications could be an upside catalyst for MSI.
Summary & Conclusions
Motorola continued to deliver strong FCF generation in FY21: $1.6 billion or $9.22/share. That obviously bodes well for shareholders considering the annual dividend is only $3.16/share. That being the case, MSI continued to reward shareholders with strong dividend growth (the quarterly dividend was raised by 11%). That said, and like many US corporations, the significant amount the company is allocating on share buybacks, $528 million in FY21, was significantly more than the $482 million it paid out on dividends directly to shareholders and is not appreciably reducing the overall share count. I would like to see MSI's management pivot and emphasize the dividend over the share buybacks, to something more on the order of 60/40 in favor of dividends. That said, an 11% increase in the quarterly dividend is not bad and if the company continues growing its annual FCF generation as it has in the past, investors in MSI should be well-rewarded over the long term.
I'll end with a 5-year chart of MSI's stock price.