4 min read
Anger is mounting in Parliament over Conservative MP Geoffrey Cox's second job which saw him undertake lucrative legal work in the Caribbean during lockdown, but his local association have thrown their full support behind him.
The former Attorney General's legal job in the British Virgin Islands took place earlier this year and since then he has registered earning £400,000 a year job for a major law firm, appearing to often work close to full time hours on the contract. He also used the House of Commons proxy voting system to vote during his time on the sunny holiday island and renowned tax haven.
Downing Street said today that an MP's primary commitment should be to serving their constituents, and several Tories are understood to be uneasy about reports of MPs earning large salaries outside of their elected roles, for which they are paid £81,932.
This morning Deputy Prime Minister Dominic Raab was reluctant to condemn Cox, arguing that it was a matter for constituents to pass judgement on their MP's commitments and vote accordingly.
In what appears to be an emerging divide between Cox's parliamentary and constituency Conservative colleagues, several members of Torridge and West Devon Conservative Association who PoliticsHome spoke to today gave Cox their full backing.
Many in the organisation do not believe Cox having a second job has taken his focus away from the patch, or that there is a problem with the hours he is spending on this external legal work.
"All we have to say is we fully support him," Debbie Flint, deputy chairman of Cox's local association said.
Councillor Chris Edmunds said he "absolutely" still gave Cox his backing.
Councillor Peter Crozier, an association member who also sits on West Devon Borough Council, said most MPs were not expected to be in their constituencies all week anyway.
"[Cox] does outside work as a lawyer and he's entitled to that," Crozier added.
Cllr Richard Boughton, a Torridge District Councillor and member of Torridge and West Devon Conservatives, said he was "fine with it really" and while he hadn't been aware specifically of the British Virgin Islands, he was aware Cox had other commitments.
"To be honest I haven't had contact with him since before Covid, because there hasn't been the opportunity to," Boughton added. "But when I have done I've never really had a problem with him at all."
In Westminster, however, the mood around Cox today was less forgiving.
One Conservative MP from the 2019 intake believed that if a colleague is doing the job of an MP correctly, their diary would be full with engagements in the constituency and Parliament, leaving little room for extra employment.
"I'm pretty dubious about any outside work to be honest," they said. "I think if you do the job right as a backbench MP you should be very busy."
A senior Conservative MP was not opposed to second jobs, but felt the extent of work undertaken by Cox made it difficult to have a "sensible debate" on the topic.
"For most MPs [extra work] takes place in their own time and doesn't impact on the work they do in parliament and their constituency," they said.
Labour is calling on the Prime Minister to launch an investigation into Cox's external work, which is reported as totalling as much as £900,000 in the past year alone.
Party chair Anneliese Dodds demanded that Cox provides more information to the Prime Minister on how he was appointed to the British Virgin Islands job and the dates of meetings.
The job he carried out in April this year was to represent the government of the British Virgin Islands in an inquiry into the governance of the islands  and allegations of unaudited spending, launched by the Foreign Office.
"Without answers to those questions it appears that your former Attorney General is profiting from advising an administration accused of corruption and tax avoidance," Dodds said.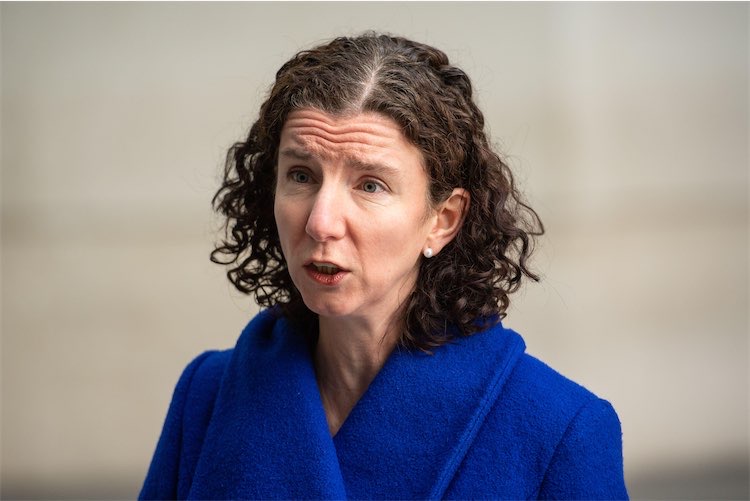 Civil servants seemed similarly dismayed over the way Cox's outside employment reflected on government as a whole.
"The civil service is supposed to be impartial but it just gets harder and harder to keep your heart in it," a senior Whitehall insider told PoliticsHome.
"If colleagues or I took even a minimally paid second role, our integrity would be questioned and position likely terminated.
"We don't have the luxury of only being held to account once the PM calls an election – it is one rule for them, another for everyone else."
Lib Dems representing Cox's constitueincy also condemned his additional work. "The people of Torridge and West Devon voted for a full-time MP, not a part time one," Steve Middleton, Chair of Torridge and West Devon Lib Dems, said.
"We expect him to be in Parliament speaking up for us on issues like the housing crisis, the threats to our rivers and coastline from sewage, representing the interests of farmers and consumers on trade deals, and listening to the concerns of constituents in this low-wage area.
But a veteran Tory MP disagreed, and said tight rules on second jobs would be counter-intuitive in attracting people to the role.
According to the BBC, Cox is understood to be abroad at the moment.
PoliticsHome Newsletters
PoliticsHome provides the most comprehensive coverage of UK politics anywhere on the web, offering high quality original reporting and analysis: Subscribe