May 27, 2022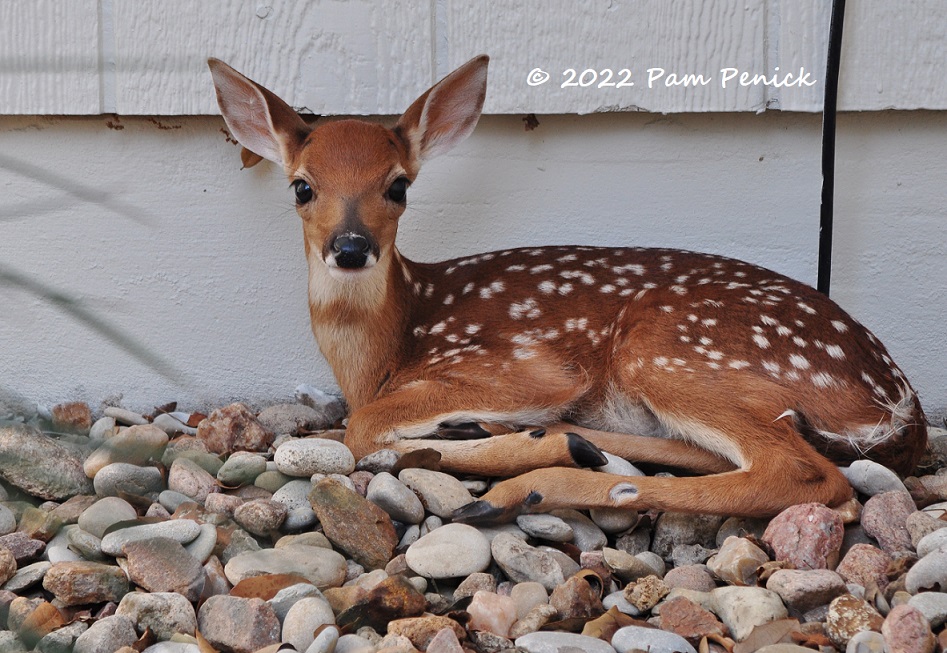 Suddenly they're everywhere. The deer? No, they're always here, passing through my garden and neighbors' yards at dusk, at night, in early morning. But starting in mid-May, the does give birth. They stash their tiny fawns in a hiding place — under a bush, behind a potted plant, in a clump of feathergrass — while they go off to graze for hours.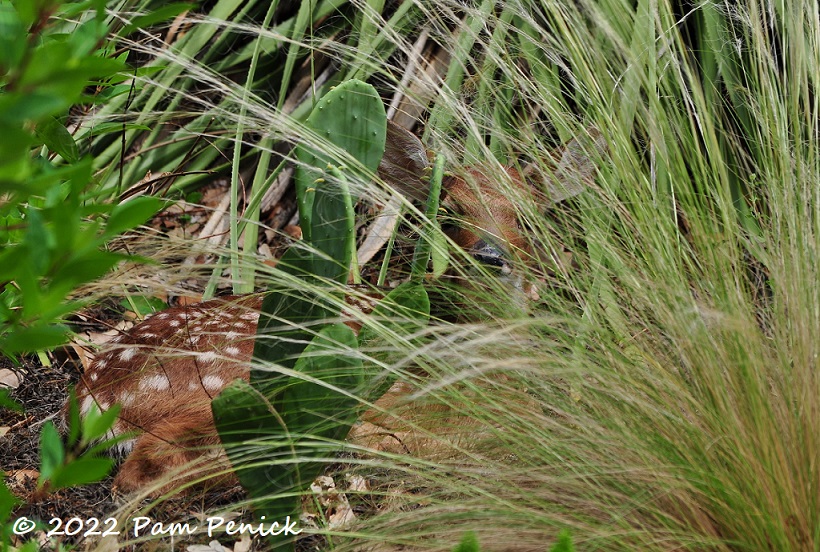 Not much larger than a King Charles spaniel, the newborn to week-old fawns know to lay low and stay absolutely still when you walk by. Their brown coats with white spots camouflage them remarkably well.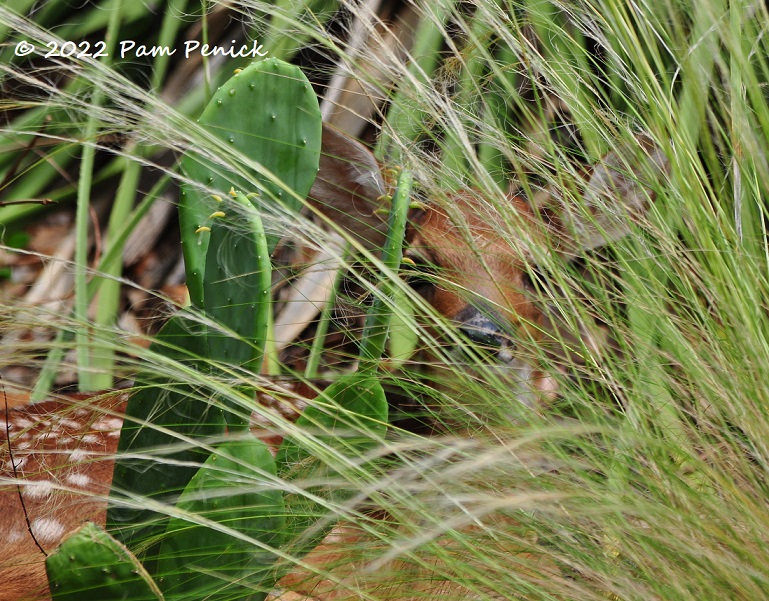 You don't see them at first. But they see you. When you linger too close, leaning down to pull a weed or standing at the mailbox or opening your car door, they suddenly decide the danger is too close and flush from their hiding place — right under your feet maybe — with a wild, scurrying clatter. You freeze, your heart in your mouth or simply bemused — huh, I didn't know it was there — and watch as it runs off to settle somewhere new. Mama always manages to find it later.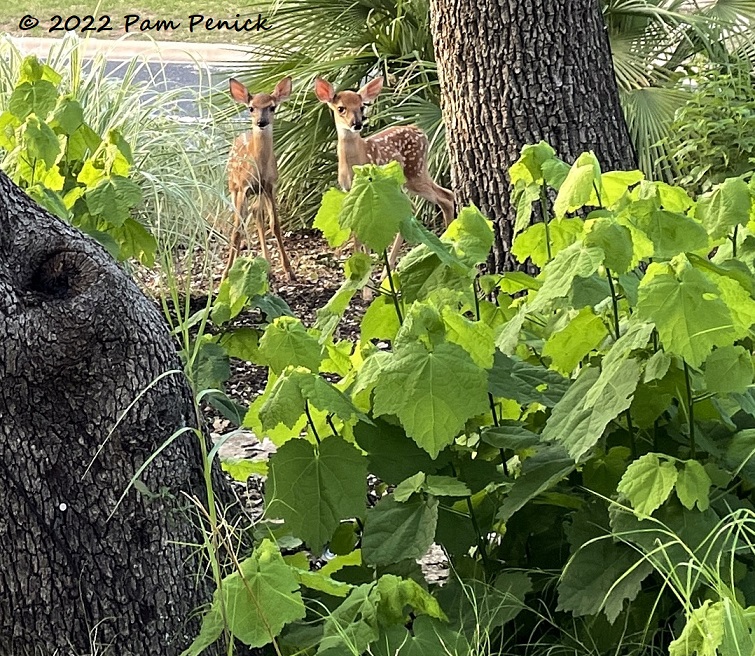 Three fawns are regulars in my garden right now. This pair of twins was tucked into the feathergrass along the driveway, and at dusk I spotted them again in the island bed…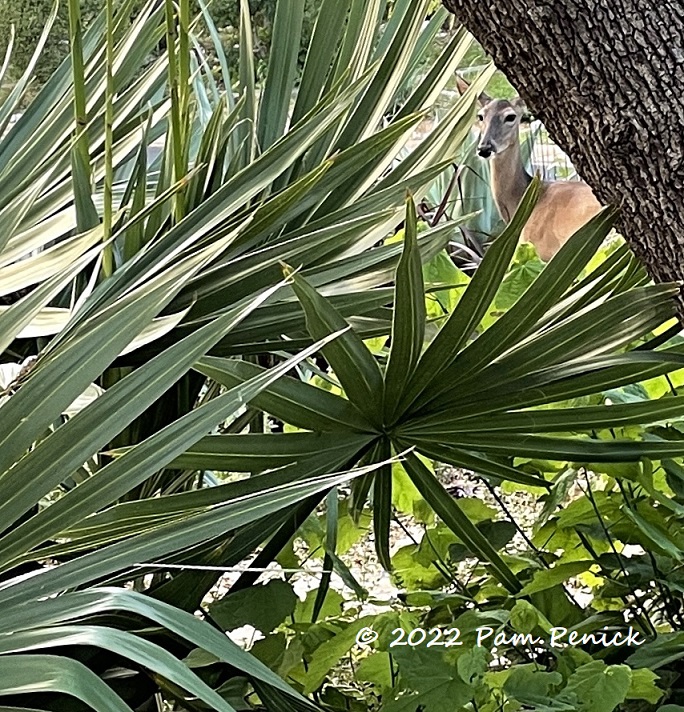 …with mama standing watch.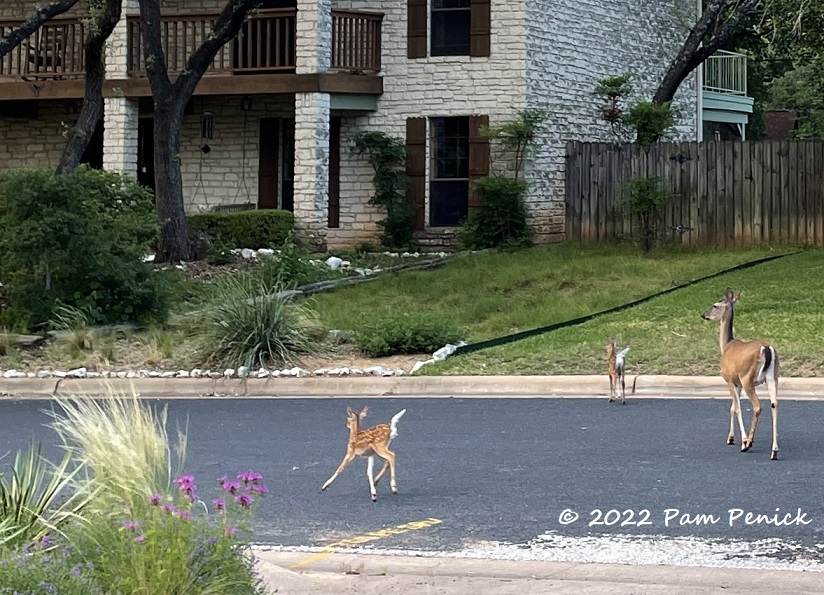 As neighbors approached on a dog walk, the doe and her fawns hustled across the street, keeping a wary eye on us.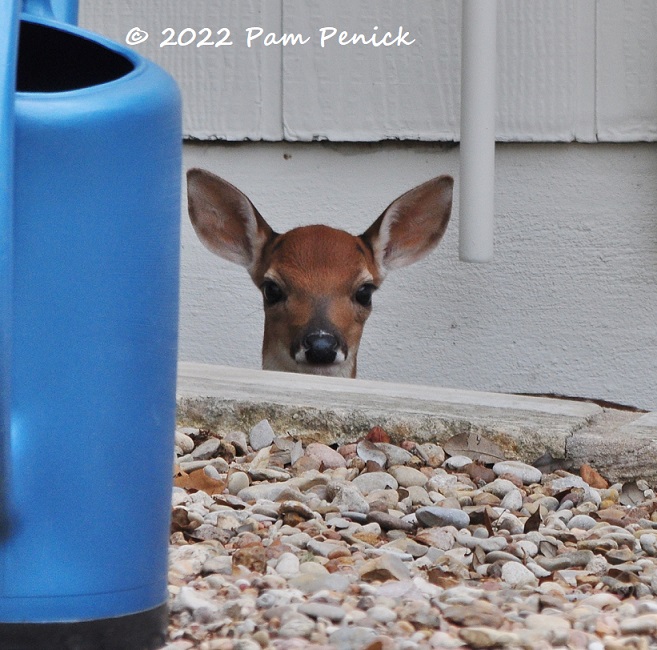 That same day we'd spotted another fawn tucked in the drainage well in our front courtyard.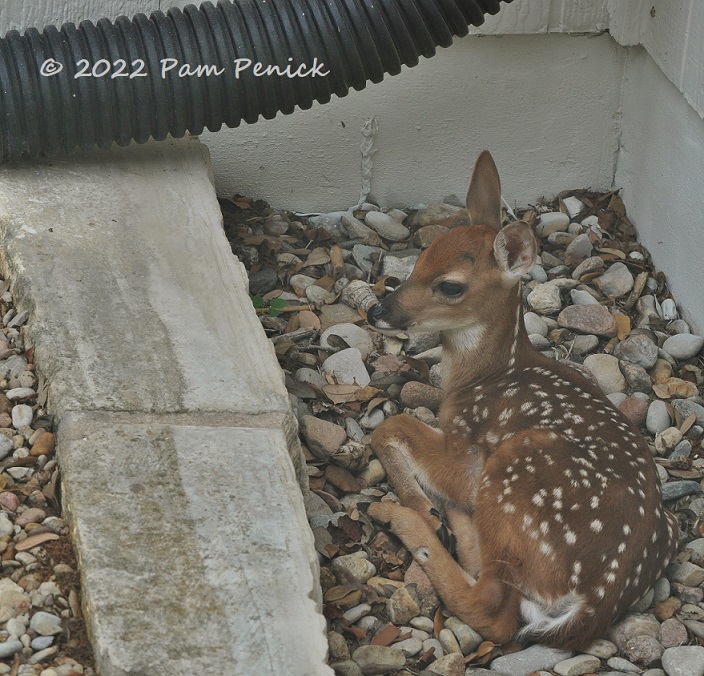 David saw her first from the bathroom window. This was a good observation spot, as she didn't notice us watching through the glass above her head.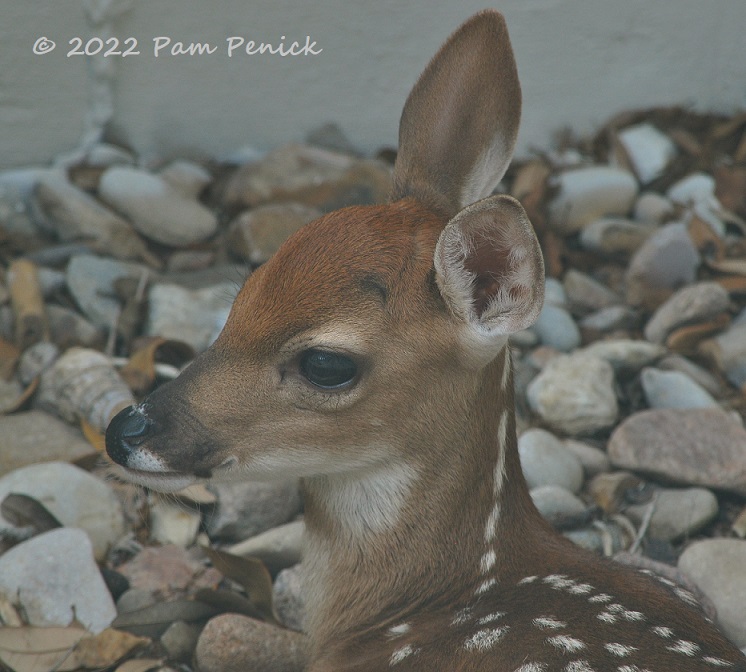 I got some zoomed-in photos from the window.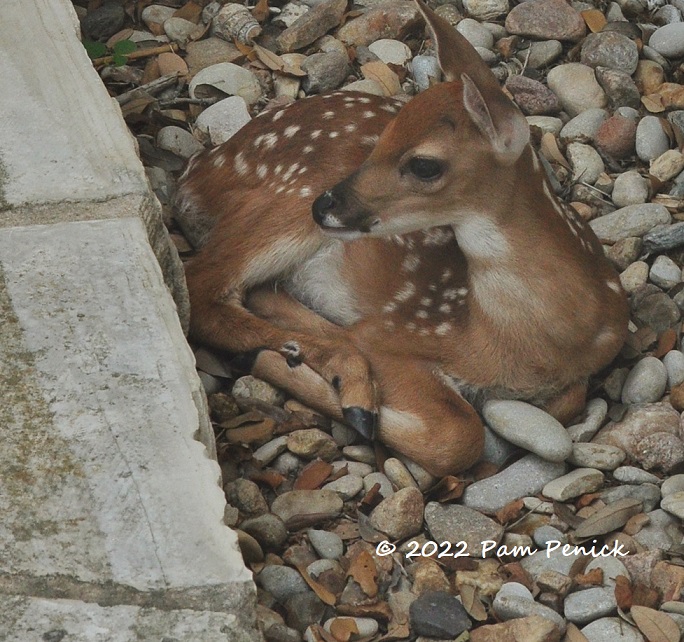 She lay there all day, and temps were pleasant, so I didn't worry about her getting too hot on the rocks.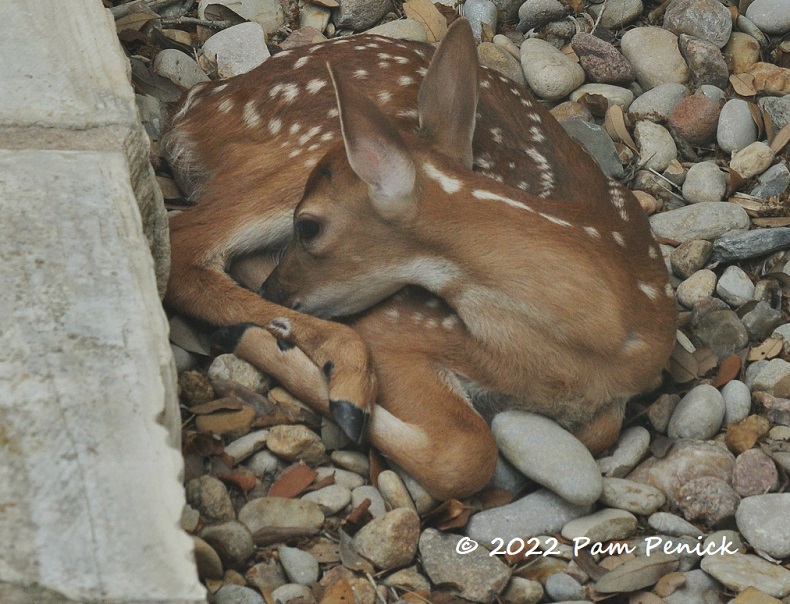 When mama didn't come for her by dusk, I started to worry. But after dinner I looked out the window, and she was gone. That evening it stormed with high winds and thundering rain. Around midnight I took the dog out front for one last bathroom break, and we accidentally flushed the frantic fawn from the same hiding spot. I was dismayed to realize she'd been in the drainage well throughout the storm and pounding rain. Why hadn't her mother come for her? With a clatter of tiny hooves across the driveway, she bolted into the dark.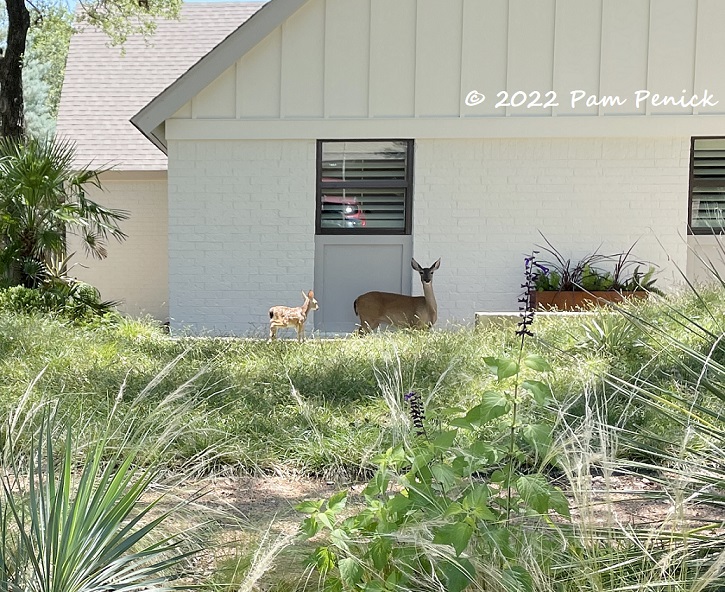 Yesterday I was relieved to see her with mama again. At least I think it's her. I want to believe it's her. When I walked out of the house to my car, I surprised them both during a midday siesta next to the corten planter in front of the house. The skittish baby leapt up into the sedge lawn, prepared to flee. But mama just stood up and waited, and baby calmed down and waited too. I took this picture as I was driving off. A moment later, baby was nursing and they were settling in again.
I welcome your comments. Please scroll to the end of this post to leave one. If you're reading in an email, click here to visit Digging and find the comment box at the end of each post. And hey, did someone forward this email to you, and you want to subscribe? Click here to get Digging delivered directly to your inbox!
__________________________
Digging Deeper
Love ponds? Attend the ZENsational Austin Pond & Garden Tour on June 4-5, organized by the Austin Pond Society. Northside ponds are on tour June 4th; Southside and Bastrop ponds on June 5th. One ticket gets you into both days. Tickets are $20 until June 3rd at 10 pm or $25 if purchased on either day of the tour, at any pond location (online payments only; no cash transactions).
Join the mailing list for Garden Spark! Hungry to learn about garden design from the experts? I'm hosting a series of talks by inspiring designers, landscape architects, and authors a few times a year in Austin. These are limited-attendance events that sell out quickly, so join the Garden Spark email list to be notified in advance. Simply click this link and ask to be added. The 6th season kicks off in fall 2022.
All material © 2022 by Pam Penick for Digging. Unauthorized reproduction prohibited.