April 12, 2021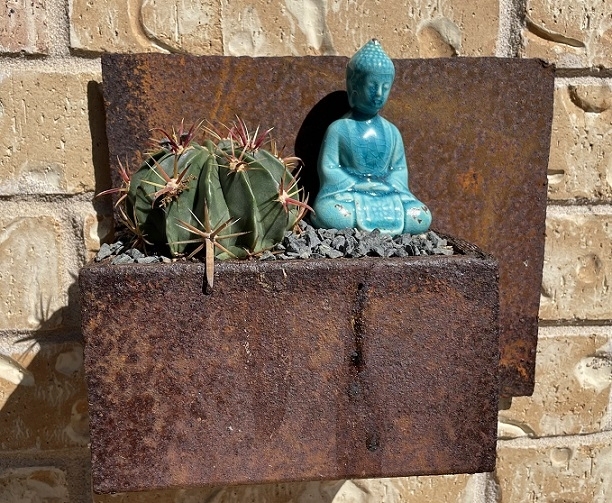 It's been two months since the Big Freeze of mid-February, and my garden, which thankfully has many thrivers, is still revealing struggling survivors and dead-as-doornails. During those two months, temperatures have ranged from a low of 5 F to an unseasonable high of 92 F a few days ago — an 87-degree temperature swing. Poor plants! But some have really proven their mettle.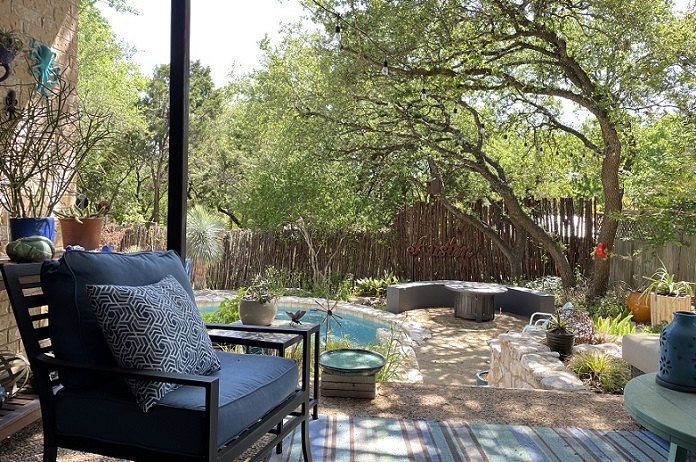 Still, I'm surprised it takes so long for some plants to show what they thought of that Arctic visit. I mean, I know what I thought of it. Then again, they spent that week outdoors. They've been stunned! Much too depends on microclimates: whether the snow was deep enough to insulate, whether succulents had super-sharp drainage to help them survive a week of snow and ice, whether they got covered by frost cloth or a sheet, whether trees overhead or a sunny wall gave them a little extra shelter, etc.
Also, the freeze occurred in mid-February, when our gardens in Central Texas are waking up for spring, so plants weren't dormant but actively growing and even budding. All of which is to say that this was a highly unusual event, and even longtime gardeners don't necessarily know how certain species will respond, much less individual plants in varying conditions.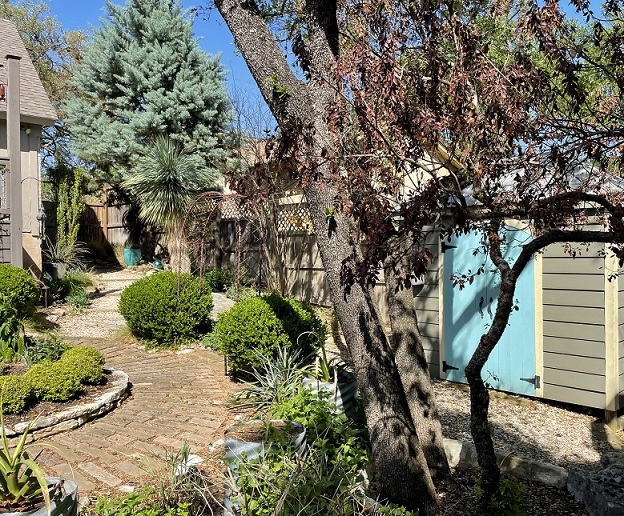 As I began cleaning up all the brown, I turned for advice to horticulturists at local nurseries and public gardens and other Texas plant experts, which mainly boiled down to "WAIT." Toward the end of March, some experts began calling it, like author Neil Sperry, who advised that if a plant (mainly shrubs, I think) wasn't showing signs of life by then, it was time to replace it if you hoped to get a replacement before nurseries ran out of stock. Some readers still held out hope when I shared that advice, and they were proved right when some of my plants started showing signs of life after that point. But whether those plants will recover enough to become attractive visible shrubs/ornamental trees again in a year's time is really the question Sperry was speaking to. He recognized that the average homeowner isn't willing to wait a few years while their foundation shrubs regrow from the roots. Die-hard gardeners or those on a budget might be. As for myself, I've replaced certain plants I don't want to be without, am waiting on others, and have rethought sections of my garden since Mother Nature gave me an opportunity to remove a few plants I'd been ambivalent about.
If you live in Texas and grow some of the same plants I do, you might like to compare notes. If you live elsewhere and know my garden through this blog, perhaps you're curious for an update. So let's document it all for science! In a series of posts this week, I'm sharing my post-freeze notes on each plant on my plant list (which can always be found under Get Growing in the menu). Plants that were stunted, maimed, or killed by the freeze are in bold, for easier searching. Asterisks indicate plants native to Texas.
But first, in the interest of keeping it real, especially for new gardeners, these photos taken yesterday represent two months of almost nonstop cleanup. Spring is always a busy time, when I cut back perennials and grasses, prune and shape shrubs and small trees, rake up live oak leaves, and add a few plants. But with all the foliage killed back by the freeze, the cleanup workload has been tripled. So yes, there's a lot of greenery in the pictures, and that's partly because I cut and removed a LOT of brown foliage and have replanted about 60% of the pots left outside during the freeze. People don't always talk about maintenance, but gardens don't magically neaten themselves up. Alas.
Happily, this is a beautiful time of year for gardening, and it's healthy, earth-connecting work. Even if you're sobbing as you pull out once-beloved, brown plants.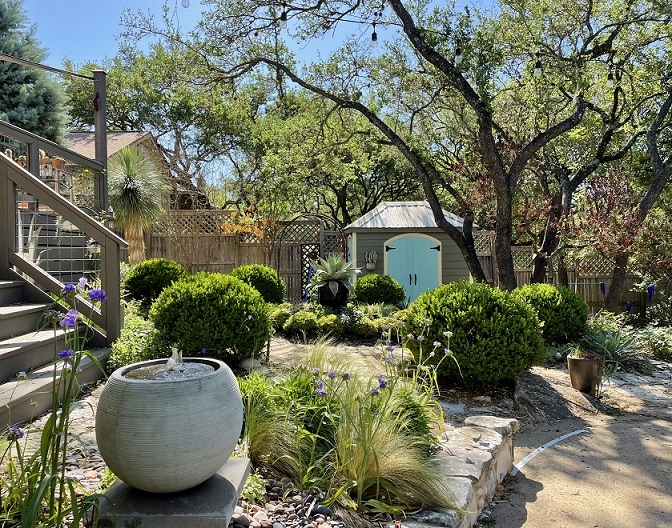 Let's start with the trees.
Trees
Acer palmatum – Japanese maple : In perfect health! No discernable damage or delay in leafing out. Neighbors have been commenting on how pretty it looks.
Bauhinia lunarioides – Anacacho orchid tree*: It defoliated but releafed about a month later without any loss of branches.
Cercis canadensis var. mexicana – Mexican redbud*: A little slow to leaf out but seems normal now.
Cercis canadensis var. texensis – Texas redbud*: Bloomed and leafed out normally.
Cercis canadensis var. texensis 'Traveller' – Weeping redbud*: Bloomed and leafed out normally.
Cupressus arizonica var. glabra 'Blue Ice' – Arizona cypress: Was heavily weighed down by ice and snow, but did not suffer any broken branches. Looks healthy and normal.
Diospyros texana – Texas persimmon*: Lost its leaves early (it normally drops leaves in mid-March, like a live oak) but soon releafed and looks healthy.
Ilex decidua – Possumhaw holly*: Leafed out normally and looks healthy.
Ilex vomitoria 'Pride of Houston' – Yaupon holly*: What freeze?
Ilex vomitoria 'Will Fleming' – Yaupon holly 'Will Fleming'*: Totally unfazed.
Lagerstroemia sp. – Crepe myrtle: Very slow to releaf, and I worried I would lose it. But it put out new leaves about a week ago, although one section of its crown is a little thin.
Leucaena retusa – Goldenball leadtree*: Leafed out normally and seems healthy.
Prunus mexicana – Mexican plum*: Bloomed soon after the freeze, then leafed out normally and looks healthy.
Punica granatum 'Wonderful' – Pomegranate: Killed to the ground. None of the branches or trunks on this 15-year-old tree have releafed. But new growth is slowly coming up from the roots. Probably the trunks should be pruned to the ground, but I haven't done that yet.
Quercus fusiformis – Escarpment live oak*: The leaves on every live oak turned brown immediately after the freeze and soon dropped. After a couple of weeks they releafed again. Live oaks normally drop their leaves and quickly releaf around mid-March, so this was an early drop and a slow releaf. Pollen production seems low this year, not that I'm complaining, but the number of caterpillars, which dangle and drop from the trees on strands of silk, has been epic.
Rhus virens – Evergreen sumac*: The leaves turned brown and did not drop. I thought it might be dead, but this week a few sprigs of green appeared along the trunks and at the base of the tree. The main canopy may be lost though. I'm still watching this one and not pruning back.
Sophora affinis – Eve's necklace*: Leafed out normally and is blooming.
Sophora secundiflora – Texas mountain laurel*: One tree got smashed by falling live oak limbs but stayed green. The other, bigger tree wilted and then the evergreen leaves turned brown, and about 2/3 of them dropped. After a couple of weeks, it began to releaf, but only on the branches that dropped their leaves. The branches still hanging onto brown leaves appear to be dead. No blooms this year of course.
Up next are Shrubs, Sub-Shrubs, & Woody Perennials.
I welcome your comments; please scroll to the end of this post to leave one. If you're reading this in a subscription email, click here to visit Digging and find the comment box at the end of each post.
_______________________
Digging Deeper: News and Upcoming Events
Join the mailing list for Garden Spark! Hungry to learn about garden design from the experts? I'm hosting a series of talks by inspiring garden designers, landscape architects, and authors a few times a year in Austin. (While in-person talks are currently on hiatus due to the pandemic, I plan to resume again as soon as possible.) Talks are limited-attendance events that sell out quickly, so join the Garden Spark email list to be notified in advance. Simply click this link and ask to be added.
All material © 2021 by Pam Penick for Digging. Unauthorized reproduction prohibited.