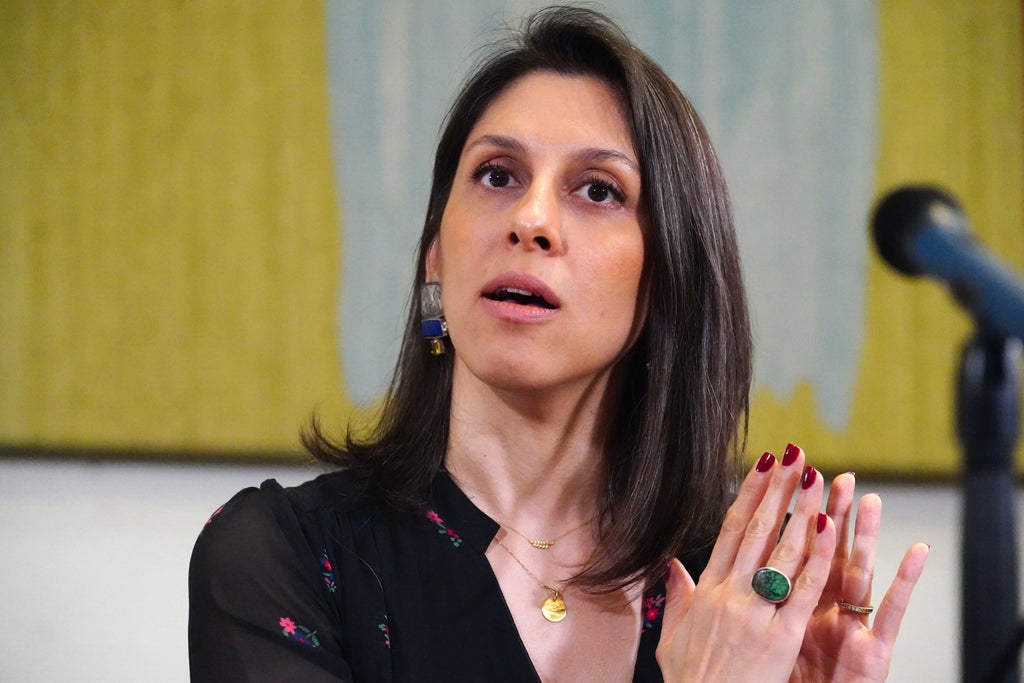 The UK government took too long to bring Nazanin Zaghari-Ratcliffe back from prison in Iran, a former foreign secretary has said.
Jeremy Hunt said the British-Iranian dual national did not owe him or the four other foreign secretaries who had presided over her case "a debt of gratitude".
It comes after she criticised the speed at which the UK acted to bring her home and said it should have happened "six years ago".
Ms Zaghari-Ratcliffe was finally returned to the UK after the government finally agreed to settle a £393.8 million debt to Iran relating to a decades-old arms deal not honoured by the British government.
"Those criticising Nazanin have got it so wrong. She doesn't owe us gratitude: we owe her an explanation," Mr Hunt said in a statement issued on Tuesday morning.
"She's absolutely right that it took too long to bring her home. I tried my best – as did other foreign secretaries – but if trying our best took six years then we must be honest and say the problem should have been solved earlier."
Mr Hunt suggested that "ministerial turnover may have been a factor" in the effectiveness of the UK's operation, and accepted that "so might initial reluctance to pay the debt".
The ex foreign secretary said people in government were "worried it would look like a ransom" to repay what was owed, and said there were also "undoubtedly … complications over how to pay a country that is sanctioned".
The ex-foreign secretary, who held the office from July 2018 to July 2019, said there should be an independent investigation into the reasons for the delay and that he would be "glad to assist" it.
Mr Hunt said that "open scrutiny as to whether we could do things better is what happens in democratic, open societies" and contrasted it with "places like Iran and Russia". "It is why, ultimately, we are wiser and stronger," he said.
At her first press conference since returning home on Monday Ms Zaghari-Ratcliffe she said she did "not really agree" that she should be thanking the foreign secretary Liz Truss for her return.
"I have seen five foreign secretary changes over the course of six years. That is unprecedented given the politics of the UK," she told the assembled media.
"But I was told, many many times, 'We're going to get you home.' That never happened. So there was a time when I felt like, do you know what, I'm not even going to trust you because I've been told so many times that I'm going to be taken home. But that never happened!
"I mean, how many foreign secretaries does it take for someone to come home? Five? It should have been one of them eventually. So now here we are. What's happened now should have happened six years ago."


World news in pictures
Show all 50
Tulip Siddiq, Ms Zaghari-Ratcliffe's MP, who has long campaigned for her release, said there were questions about "why the debt wasn't paid for so long, which we know was key to releasing Nazanin".
The Labour MP said she had written to the chair of the Commons Foreign Affairs Select Committee to ask for a review of what had taken so long.
She also raised a 2013 incident in which three Iranian officials visiting to negotiate the repayment of the debt in question, which takes back to the 1970s were detained by UK authorities in an immigration detention centre on arrival at Heathrow and then sent back to Iran.
The debt in question dates back to 1971, when the UK agreed to sell Iran 1,500 Chieftain tanks, took payment, but then declined to deliver some of the arms after the Iranian revolution in 1979.
Ms Zaghari-Ratcliffe would not be drawn on claims that mistakes by Boris Johnson personally had contributed to her detention – but her mild criticism of the government was enough to provoke a furious response from some social media users, who suggested she should be grateful.