Memphis Grizzlies select TyTy Washington Jr at No 29
As a straight-up point guard, Kentucky's Washington probably the best in the draft. In the days when teams were more locked into looking at specific positional needs, he might have gone higher. The Grizzlies got a steal.
The Memphis Grizzlies are on the clock now, assuming that they don't make yet another trade. Just two picks left in the first round.
Golden State Warriors select Patrick Baldwin Jr at No 28
The Warriors go with Wisconsin's Patrick Baldwin Jr, whose stock dropped a bit over his college career but it's hard to think of a better landing spot for a potential project.
The Golden State Warriors are on the clock. Good luck at trying to figure out what their needs could possibly be, it feels like they are pretty complete already.
Miami Heat select Nikola Jovic (JOVIC) at No 27
The Miami Heat take forever to make their selection. It doesn't even leak, as far as this writer can tell. It's very inconsiderate of them.
Oh coolness, they take Serbian forward Nikola Jovic, who again is NOT that other guy with the similar name.
I guess the Knicks have traded for cap space this draft night and that's it? Thankfully they have such a great track record in free agency.
The Dallas Mavericks select Wendell Moore Jr. at No 26
What can we say? NBA teams love Duke products. The Mavericks pick the fourth Blue Devil of the draft with forward Wendell Moore Jr.
Now on the clock? The Dallas Mavericks. Kentucky's TyTy Washington Jr. is still on the board and might be worth taking despite one's internal needs.
We'll see.
San Antonio Spurs select Blake Wesley at No 25
The Spurs take Notre Dame shooting guard Blake Wesley at number 25. The Celtics fan in me makes a point to remember that name and selfishly root against him.
The San Antonio Spurs are up next with the draft pick they received from the Boston Celtics in the Derrick White trade. The Celtics would do it all over again if they could, one thinks.
Milwaukee Bucks select MarJon Beauchamp at No 24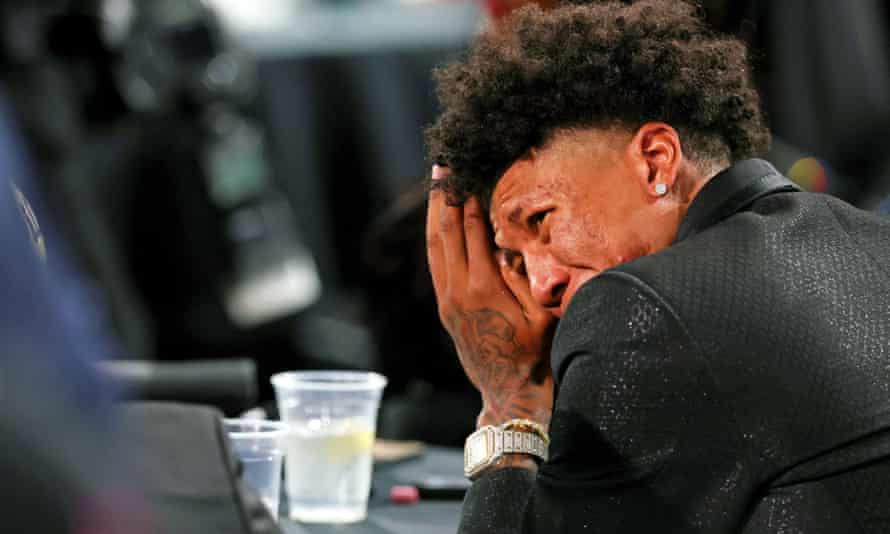 The Bucks select forward MarJon Beauchamp who was playing for the G League Ignite after exhausting multiple options to break into the NBA. A wonderful story, the G League Ignite is really changing the basketball landscape.
Philadelphia 76ers select David Roddy at No 23 (for the Memphis Grizzlies)
Colorado State guard David Roddy is heading to Memphis via Philadelphia. So much for there not being a lot of trades this evening.
Philadelphia 76ers have now traded the number 23 pick to the Memphis Grizzlies for De'Anthony Melton.
Memphis Grizzlies select Walker Kessler at No 22 (for the Minnesota Timberwolves)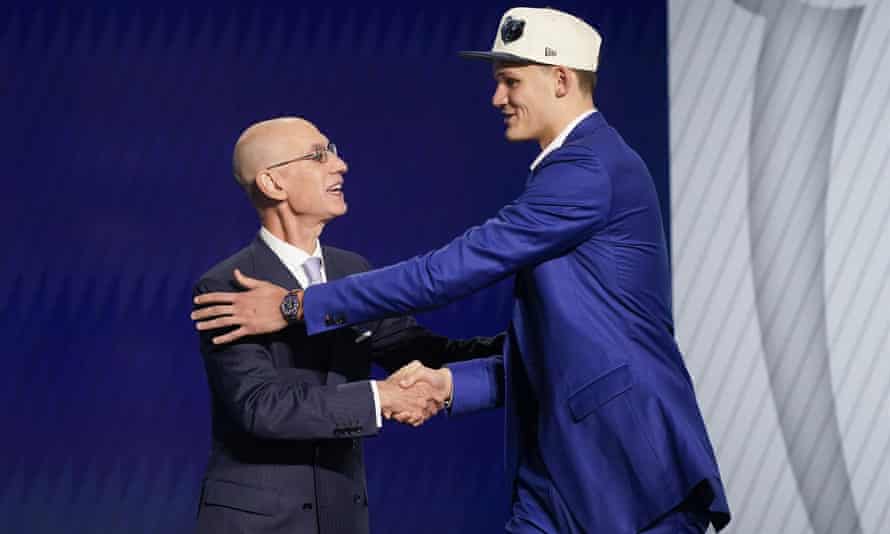 With the pick that is going to Minnesota, Memphis goes with 7-foot-1 Auburn center Walker Kessler, who averages over six blocks per game.
Denver Nuggets select Christian Braun at No 21
The Nuggets go with the far less funny option of picking Kansas guard Christian Braun, who is constantly called "solid" here, which is sort of damning with faint praise.
The Denver Nuggets are on the clock and the funniest thing that they could do would be to draft Nikola Jovic to go with Nikola Jokic.
San Antonio Spurs select Malaki Branham at No 20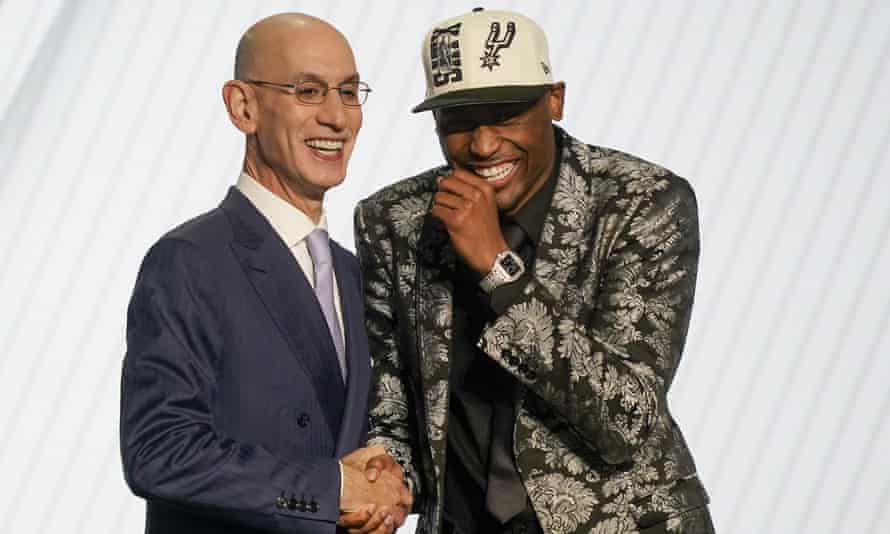 The Spurs, as is their habit, make the wise decision here at number 20. A fantastic three-pointer out of THE Ohio State University (as we are legally obligated to call it), Branham shot 41.6% last season. That's worth a look at this point in the draft, even if a team might have to hide him on the defensive end of the ball.
San Antonio Spurs are on the clock, with a pick they got from the Toronto Raptors.
Minnesota Timberwolves select Jake LaRavia at No 19 (for the Memphis Grizzlies)
The Grizzlies go with Wake Forest forward Jake LaRavia with the 19th pick and he's… not even on the mock draft I had prepared. Welp.
Minnesota Timberwolves trade the No 18 pick to the Memphis Grizzlies
Never mind, whoever the 18th pick is will be going to Memphis.
The Minnesota Timberwolves are picking next. I'm guessing Malaki Branham finally gets his name called here.
The Chicago Bulls select Dalen Terry at No 18
The Bulls go with Dalen Terry, forward out of Arizona with the 18th selection. The experts describe him as a "glue guy," which means "the stats aren't impressive, but teammates love him."
Chicago Bulls, with their own pick, are up next.
Houston Rockets select Tari Eason at No 17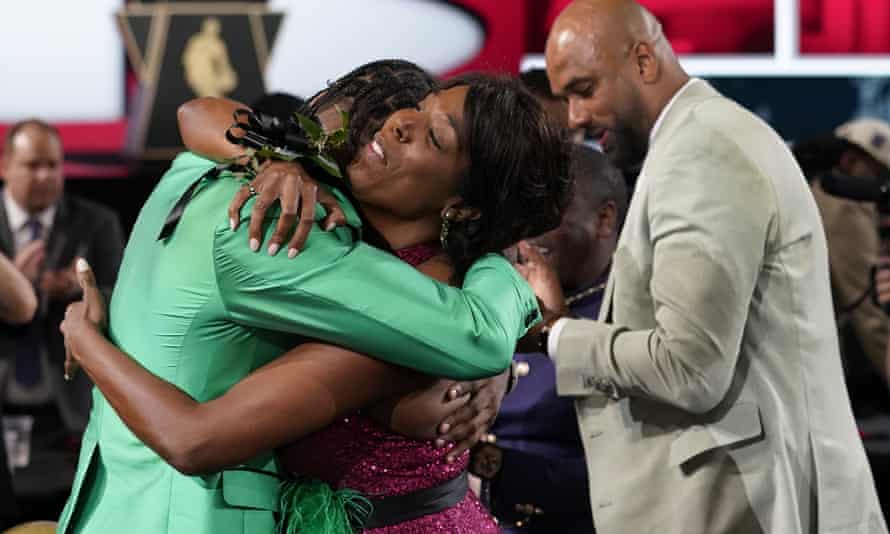 And with the 17th pick, the Houston Rockets cash in one of the picks they got in the James Harden dump on LSU forward Tari Eason. My favorite name so far. He was first-team All-SEC and Sixth Man of the Year in his conference.
The Houston Rockets are on the clock with a pick they got from the Brooklyn Nets. Oh no, I think that's a James Harden-related pick. Some buyer's remorse must be going on at Barclays.
The Atlanta Hawks select AJ Griffin at No 16
Another player from this year's Blue Devils team: AJ Griffin is a fantastic scorer, and natural three-point shooter, whose talent in that department should translate well in the big leagues. The main issue with Griffin is that he has already battled through a knee injury so he has some health issues.
Okay I guess I understand Charlotte's deal a little bit more here. Apparently the Knicks are also involved with the Pistons deal?
Charlotte Hornets select Mark Williams with the No 15 pick
Even as a seven-footer, Williams never got all the attention he probably deserved at Duke, as fellow big man Banchero received most of the headlines, Williams still averaged 11.2 points and 7.4 rebounds in his sophomore season. Over at the Ringer, Kevin O'Connor made a case for him being the kind of old-school center that any team could use.
The Hornets are now back on the clock with their selection they received from the Pelicans, I guess this explains their "immediately flip" decision. They made the pick for the Pistons and now they're going to select the player they have actually targeted.
Unless that pick, was Agbaji, in that case they outthought themselves.
Cleveland Cavaliers select Ochai Agbaji at No 14
Cleveland Cavaliers go with Kansas guard Ochai Agbaji, who was voted the Most Outstanding Player after Kansas defeated UNC in this year's NCAA men's championship game. To his discredit, that was his senior year and it's likely that he's one of those players that might get a recency bias boost from his recent tournament run. Of course, that doesn't necessarily mean that playing one's best on the biggest possible stage isn't a bad skill to have.
And that will take us out of the lottery portion of the evening.
Charlotte Hornets trade Jalen Duran to the Pistons?
So apparently, the Hornets have already traded Duran to the Pistons. At least that's what Woj is saying, we'll update once that's finalized. Cleveland Cavaliers are now on the clock.
The Charlotte Hornets select Jalen Duren at No 13
Memphis's Duren is the third-best center in this year's draft, after Holmgren and Banchero. There's plenty of value there, even if he doesn't have the upside of either. Duren's shot-blocking skills could play in the league now and he hasn't even turned 19 yet. This is the exact right spot for him to go, both in terms of ranking and team.
Thunder have basically already won this draft, it feels like. Or butchered it badly, if the worst-case scenario with Holmgren happens. There's not an in-between here, which are my favorite kind of draft-days.
Charlotte Hornets are up next!
Oklahoma City Thunder selects Jalen Williams with the No 12 pick
We told you that they had a lot of picks in this draft, enough to trade up with the Knicks. They select Santa Clara shooting guard Jalen Williams who is the first player I do not have a prewritten spiel about. At least I made it through the top ten.
Sounds like the Knicks are definitely in rebuild mode and the Thunder organization is not.
New York Knicks trade Dieng to the Oklahoma City Thunder for multiple picks
Okay that was fast. Well I guess he won't worry about all the booing New York fans. Great get for OKC.
New York Knicks select Ousmane Dieng at No 11
A mixed reaction as the Knicks select forward Ousman Dieng from the New Zealand Breakers with the eleventh pick. The mostly highly regarded foreign player in the draft. He has a lot of useful made-for-the-NBA skills, but unfortunately, he's lacking on the most fundamental one of them all: consistent scoring. He only shot 35.6 percent from the field over in the NBL.
New York Knicks time! As always, the tradition is for the New York fans who have scored seats for the NBA draft to boo their selection. Let's see how this goes.
Washington Wizards select Johnny Davis at No 10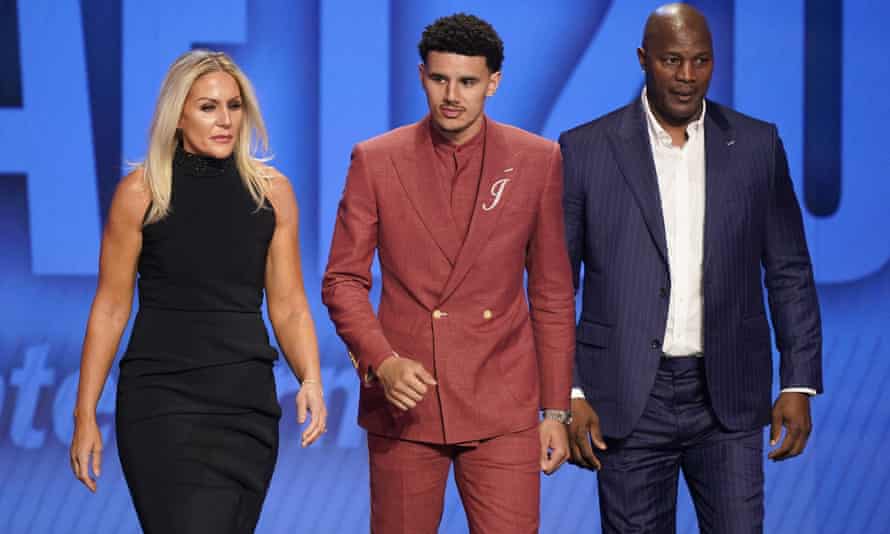 Washington Wizards choose Wisconsin guard Johnny Davis. Davis averaged nearly 20 points per game with Wisconsin but there's some concerns that his body type won't translate in the NBA. Might be a perfect energy-of-the-bench guy for a team, which maybe isn't a great ceiling? Like him for Washington, however.
Big news for both Australia and Canada in this draft:
No trades yet. Interesting. Assuming that trend holds, the Washington Wizards choose next.
San Antonio Spurs select Jeremy Sochan at No 9
The San Antonio Spurs select Baylor forward Jeremy Sochran. Sochan's had an interesting career, helping Poland qualify for EuroBasket before playing for Baylor. Playing starters minutes in a bench role, he averaged 9.2 points and 6.4 rebounds and earning him Big 12 Sixth Man of the Year honors. He's a defense-first player whose main weakness might just be in long distance shooting.
From the AAP on Dyson Daniels:
With his playmaking and defensive skills, the 19-year-old guard from Bendigo stormed into NBA calculations during his lone season with G-League development team Ignite after graduating from Canberra's NBA Academy.
Daniels gained traction with analysts after impressing in the draft combine and during workouts with seven different franchises.
"There are so many roles I can play in a team," Daniels said. "My best NBA-ready skill is my defence and being able to step on the floor and guard the best player, use my size, my lateral quickness to be able to cause trouble for players.
"I can definitely step on the floor and impact straight away. Whatever a team needs – whether it be a point guard or a backup, playing off the ball – I feel like there is no real weakness where you can say 'put him here and he won't be as good'."
Daniels' father, Ricky, is American and moved to Australia to pursue a basketball career with the Bendigo Braves after playing for NC State in college.
New Orleans Pelicans pick Dyson Daniels at No 8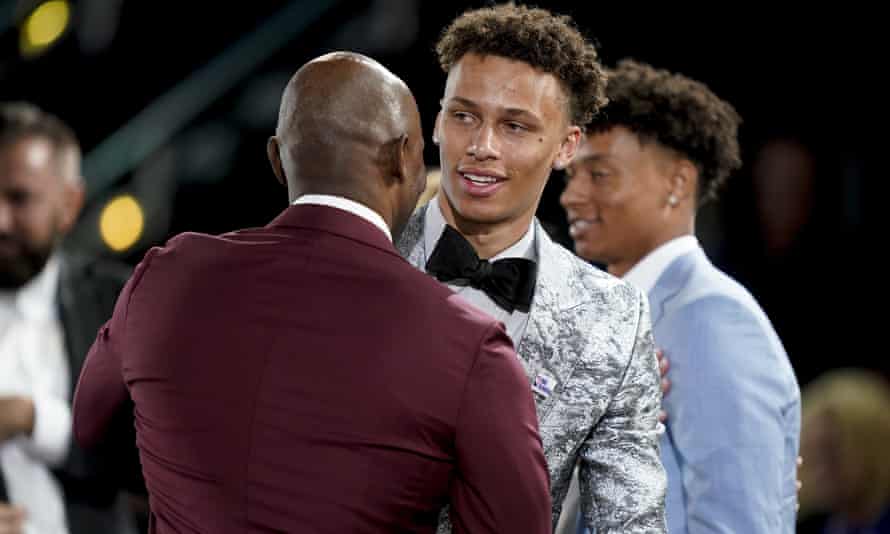 The Pelicans select Dyson Daniels! The G League Ignite was put together to provide a home for highly talented young players who wanted to skip the exploitative college basketball route. Australia's Dyson Daniels is this year's big hope, a skilled passer and ballhandler who may need to work on developing a reliable three-point shot and working on improving that 73.3 free-throw percentage. Still, he's only just now turned 19 and has earned raved reviews for his basketball decision-making skills.
"That's the Australian way," Daniels has said.
Next up is the New Orleans Pelicans, who have a pick from the Los Angeles Lakers.