When James was first accused of rape, Tom stood by him and sent him a note saying "nil carborundum illegitimi" – a faux-Latin phrase usually translated to 'Don't let the bastards grind you down.' When the political water became too hot and Tom faced a backbench rebellion, he planned to dissociate himself from his old school friend until James blackmailed him with the Alec Fisher story. That was what Sophie eventually leaked to the press, promising to "implode her majesty's government." James was last seen being driven away in a police car while Tom was escorted out of 10 Downing Street. Previous to that, it looked as though James and Tom would prosper. He'd been given a new parliamentary role (somewhat ironically to do with drugs, considering his blackmail material against the PM) and his rape trial scandal was eclipsed by a carefully managed leak regarding a member of the opposition using male sex workers, all managed by spin doctor Chris Clark (Joshua McGuire).
Is The Libertines a Real Oxford University Dining Club?
No, but it appears to be inspired by the infamous Bullingdon Club, which the current British prime minister Boris Johnson, former prime minister David Cameron and former chancellor of the exchequer George Osborne, were members during their time at Oxford University. The Bullingdon Club was renowned for drunken vandalism and obscenely wasteful spending as seen in Anatomy of a Scandal's flashbacks when Tom and James' friends chant "Order the Bolly then pour it away". The club also kept to an "omertà" code of silence, as heard chanted several times during the Libertines scenes, and a club photograph including Johnson, Cameron and Osborne was published in national newspapers when Cameron became prime minster, much like the one of James and Tom's dining club found by little Emily (Amelie Bea-Smith).
Where Have You Seen Sienna Miller, Rupert Friend and the Cast Before?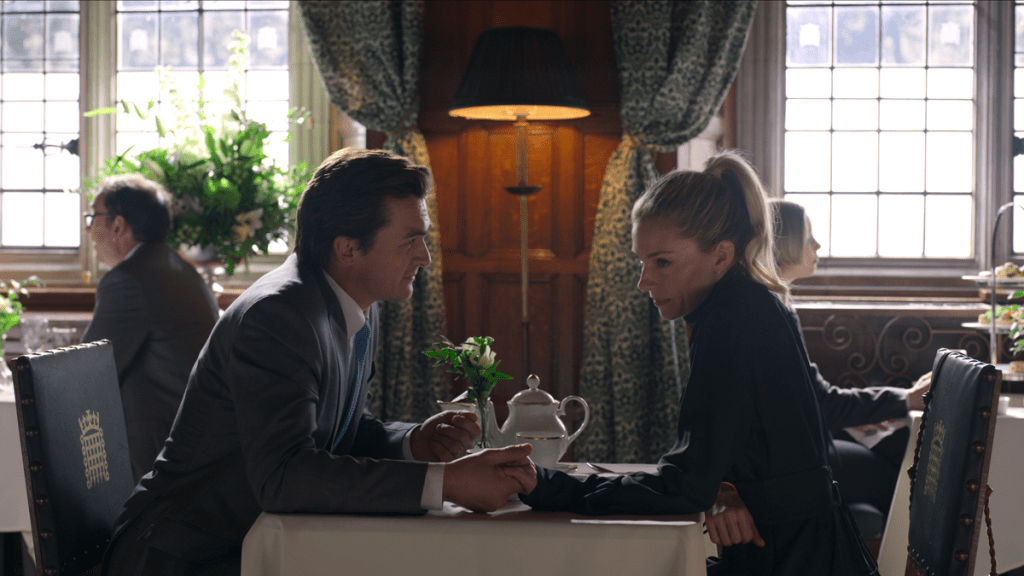 Michelle Dockery, who plays Kate, is best known for playing Lady Mary in Downton Abbeyafter an early role as Susan in Sky's The Hogfather that led to several screen and stage parts including Red Riding, The Hollow Crown, Godless and Good Behaviour.
Sienna Miller, who plays Sophie, came to fame playing Edie Sedgwick in 2006 film Factory Girlfollowed by a string of feature films and theatre roles including American Sniper, High-Rise and Cat on a Hot Tin Roof.
Rupert Friend, who plays James, is best recognised for playing Peter Quinn in Showtime thriller Homelandfollowing on from a series of film and stage roles from the 2005 Pride and Prejudice to The Boy in the Striped Pyjamas, Hitman: Agent 47 and The Death of Stalin. He'll soon appear in Disney+ series Obi-Wan Kenobi.
Naomi Scott, who plays Olivia, is best known for the role of Jasmine in the Disney live-action remake of Aladdin and Elena in the 2019 Charlie's Angels remake alongside Kristen Stewart. Liz White, who plays Ali, is a familiar face from Life on Mars, Teachers, Call the Midwife, Ackley Bridge and Unforgotten. Joshua McGuire, who plays spin doctor Chris Clark, is best recognised for playing Angus in Lovesick after roles in The Hour and Love, Nina, and is currently in Cheaters opposite Susan Wokoma. Amelie Bea-Smith, who plays Emily Whitehouse appeared in Mike Flanagan Netflix horror The Haunting of Bly Manor.