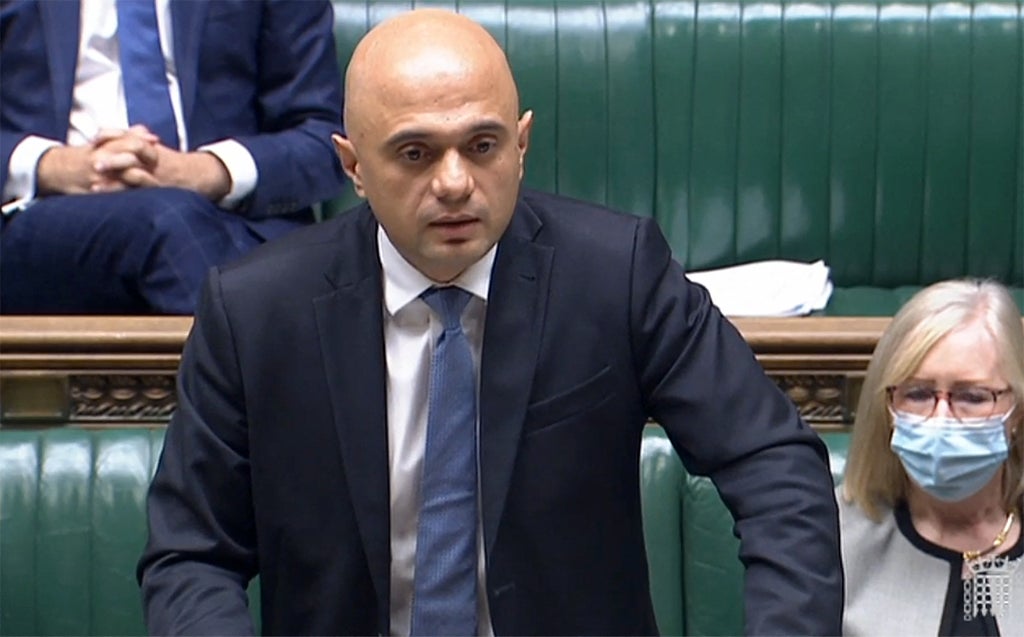 The new Covid-19 variant detected in southern Africa may be more transmissible than the Delta strain and vaccines "may be less effective against it", health secretary Sajid Javid has said.
In a statement to the House of Commons, Mr Javid said that the emergence of the Nu variant was of "huge international concern".
It is "highly likely" that the strain has spread outside the African countries were it is believed to have developed, but no cases have yet been detected in the UK, the health secretary told MPs.
Mr Javid told MPs that the new variant – known as B1.1.529 – was first detected in Hong Kong in a case of someone travelling from South Africa.
"The UK was the first country to identify the potential threat of this new variant and to alert international partners," he said.
"Further cases have been identified in South Africa and in Botswana, and it is highly likely that it is now spread to other countries."
And he said: "We are concerned that this new variant may pose substantial risk to public health.
"The variant has an unusually large number of mutations. Yesterday, the UK Health Security Agency classified B1.1.529, as a new variant under investigation and the Variant Technical Group has designated it as a variant under investigation with very high priority.
"It's the only variant with this designation, making it higher priority than Beta.
"It shares many of the features of Alpha, Beta and Delta variants.
"Early indications show this variant may be more transmissible than the Delta variant, and current vaccines may be less effective against it."
Mr Javid said that the "exponential" growth of the variant in South Africa was worrying, because the country's population was thought to have significant natural immunity – thought to be due to previous infection with other strains.
England has put five African countries – South Africa, Botswana, Eswatini, Namibia and Zimbabwe – onto its travel Red List from noon on Friday, meaning that entry is restricted to UK and Irish nationals who go into hotel quarantine.
Anyone who has arrived from the countries in the last 10 days should immediately take PCR tests to check for infection, and should not wait to be contacted by NHS Test and Trace to do so, said Mr Javid.
"I wish to stress that we're working quickly and we're working with a high degree of uncertainty," said the health secretary.
"We are continuing to make assessments, including about those countries with strong travel links to South Africa. And we are working with our international partners, including South Africa and the European Union, to ensure an aligned response.
"But this variant is a reminder for all of us that this pandemic is far from over.
"We must continue to act with caution and do all we can to keep this virus at bay, including – once you're eligible – by getting your booster shot.
"We've already given over 16 million booster shots.
"The booster jab was already important before we knew about this variant, but now it could not be more important.
"So please, if you're eligible, get your booster shot. Do not delay."
Mr Javid told MPs: "We've made great progress against this virus, progress that we are determined to hold onto. This government will continue to do whatever is necessary to keep us safe. And we've all got our part to play."
Downing Street later said there was nothing in current data on coronavirus to suggest that England should move to Plan B restrictions, including mandatory face-masks, vaccine passes for crowded areas and guidance to work from home.
A No 10 spokesperson declined to comment on whether the decision on booster jabs for under-40s should be brought forward in the light of the threat from the new variant.
The decision was one for the independent Joint Committee on Vaccination and Immunisation who "will always prioritise patient safety when analysing and looking at these areas".
Asked whether a new vaccine might be needed to deal with the Nu variant, the spokesperson said that there was "a high degree of uncertainty" and work needed to be done internationally to assess the issue.