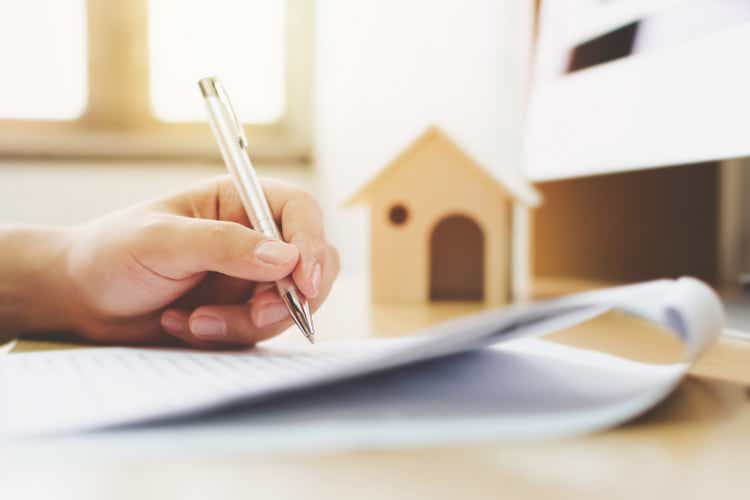 New Residential Investment Corp. (NRZ) continues to outperform for investors. The mortgage real estate investment trust delivered stellar financial results for the fourth quarter of 2021, with core earnings exceeding dividend payments by a wide margin. Because of its high dividend coverage, the mortgage REIT may decide to increase its dividend in 2022. Even though the stock deserves to trade at a premium, it can still be purchased for less than its book value.
Strong Earnings Report
New Residential released a strong earnings report for the most recent quarter. The mortgage REIT earned $191.9 million in quarterly core earnings, or $0.40 per share. In the fourth quarter, New Residential again outperformed its $0.25 per share dividend. The mortgage REIT increased its dividend three times in 2020 and once in 2021, in $0.05 per share increments each time.
The dividend pay-out ratio for 4Q-21 was 62.5%, and the dividend pay-out ratio for the full year 2021 was 60.8%, which is a lower pay-out ratio than many of the highest quality net-lease REITs offer investors. The low pay-out ratio suggests that the mortgage REIT may increase its payout again this year.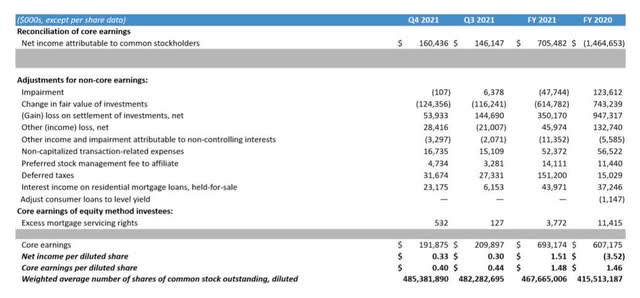 Recent acquisitions of Genesis Capital, a commercial lender, and Caliber Home Loans, a mortgage lender, indicate core earnings growth in 2022. The acquisitions complement New Residential's core business of investing in mortgage assets and help the company strengthen its market position as one of the leading non-bank mortgage originators and servicers in the United States. The addition of new originator platforms allows the mortgage REIT to expand its presence in a trillion-dollar origination market: home loans.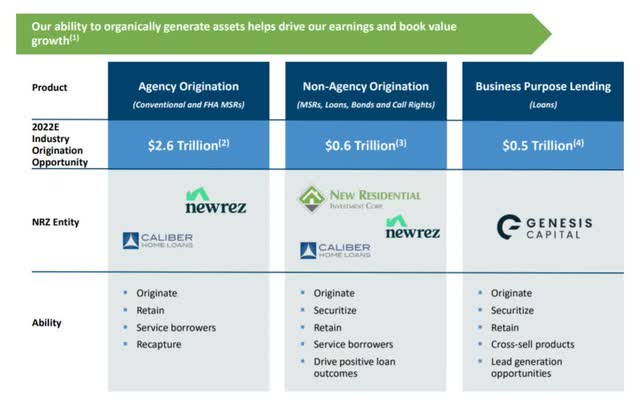 Increasingly Diversified Investment Portfolio
New Residential had $39.7 billion in assets and $6.6 billion in equity at the end of the last quarter. Mortgage origination and servicing, mortgage servicing rights, residential mortgage securities (agency and non-agency), and single-family residential loans and properties are among the investment strategies used by the mortgage REIT. Residential mortgage loans had a value of $11.3 billion on New Residential's 4Q-21 balance sheet, making them the company's largest investment allocation. Residential mortgage loans are followed by $9.4 billion in real estate assets and other securities and $6.9 billion in mortgage servicing rights.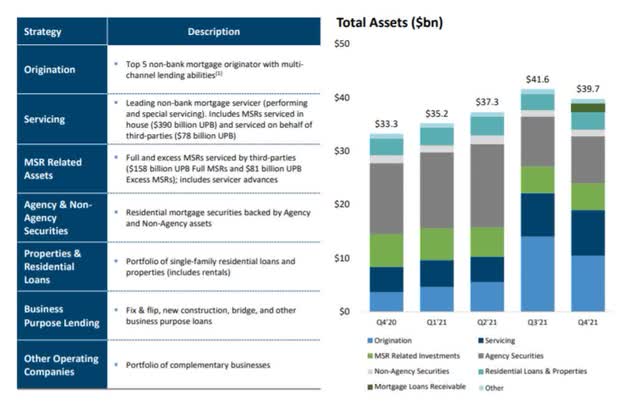 Book Value Has Been Growing, With One Exception
The book value of New Residential plummeted during the pandemic, but the mortgage REIT's book value is now increasing. New Residential increased its book value by 0.8% QoQ to $11.44 per share in the fourth quarter. The stock of New Residential can be purchased in the market for $10.96, representing a 4% discount to book value.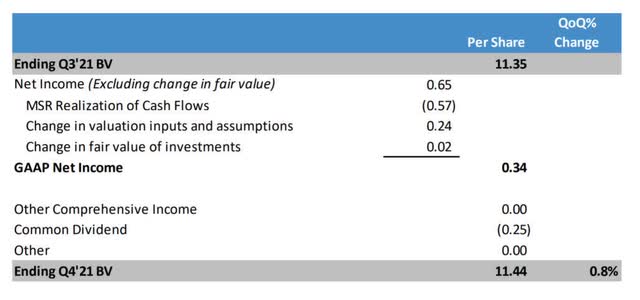 I believe New Residential's stock should trade at a premium to book value because it is one of the higher quality mortgage REITs in the sector with enviable dividend coverage. The company's stock rose 7.45% following its earnings report yesterday, but it still trades at a discount. Because New Residential continues to deliver strong core earnings that far outweigh the dividend payment, I believe the stock could trade at 1.2x book value, implying a 25% upside in the stock.
With the exception of 2020, a difficult year not only for mortgage REITs, New Residential has produced consistent book value growth. Mortgage asset values plummeted in 1Q'21 as a result of the Covid-19 pandemic, and New Residential liquidated a large portion of its portfolio to de-leverage the balance sheet and improve liquidity. Recent increases in book value growth have been driven primarily by a recovery in market values for mortgage assets during and after the pandemic, as well as New Residential's broader diversification in terms of investment assets held on its balance sheet.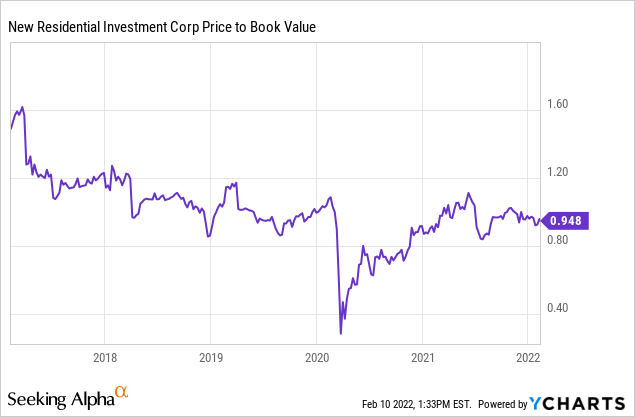 8.32% Yield
An 8.32% yield is too good to pass up, especially since New Residential outperforms its dividend by a wide margin. Because the payout ratio is close to 60%, New Residential could surprise shareholders with another $0.05 per share dividend increase in 2022. The mortgage REIT isn't known for paying out a lot of special dividends, but a $0.05 per share increase is certainly doable.
My Conclusion
New Residential is the stock to buy if you want an exceptionally well-run mortgage real estate investment trust with a well-covered dividend and a stock that still trades below book value. The company recently announced strong financial results and should continue to perform well in the near future. Recent acquisitions supplement the mortgage REIT's core business and point to future core earnings growth. Based on dividend coverage, New Residential may raise its dividend in 2022. Given the consistency and quality of its results, NRZ deserves to be sold at a premium to book value.