The hotly-awaited professional boxing debut of Nikita Tszyu has been moved for a second time in 24 hours in a dramatic late twist, with his first bout to now take place in Brisbane's Nissan Arena on Thursday night.
The 24-year-old's debut was originally scheduled for the Brisbane Convention and Exhibition Centre on Wednesday night, but due to the venue being flooded amid the wild weather that hit Queensland, the fight was postponed by 24 hours as organisers scrambled for a new solution.
Promoters No Limit then announced the new venue would be the Fortitude Valley Music Hall – only to be forced into a second swap on Tuesday morning.
But the venue has now been settled, with the younger brother of Aussie boxing star Tim all set to square off against Aaron Stahl (2-0-1) on Thursday night.
Watch No Limit on Fox Boxing: Nikita Tszyu v Aaron Stahl Live on Kayo Thurs 3rd Mar from 6PM. New to Kayo? Try 14-days free now >
Tszyu: 'I'll fight whoever, whenever' | 01:36
Tszyu conceded there's plenty of pressure on him to follow in the footsteps of his father and older brother – but said he's ready to embrace that weight when he begins in professional boxing journey.
"There's always a bit of pressure when it comes to this stuff. There's a big shadow for me to break out of. But that kind of pressure, I live for it. It keeps me focused, it keeps me sharp, it keeps my mind clear."
He was ecstatic at headlining such a strong card, saying: "It's fantastic. The undercard – every single fight's basically a main event. I'm honoured to be able to share the stage with these people."
And while he's confident of victory on debut, he said: "you'll just have to wait and see" just what he can do on Thursday night.
MORE COVERAGE
'Angry and embarrassed': Twist as investigation launched into controversial boxing fight
'Live your life with risk': Why Tszyu is prepared for ultimate gamble as huge US debut looms
Incredible photo shows boxing champion suiting up to defend Ukraine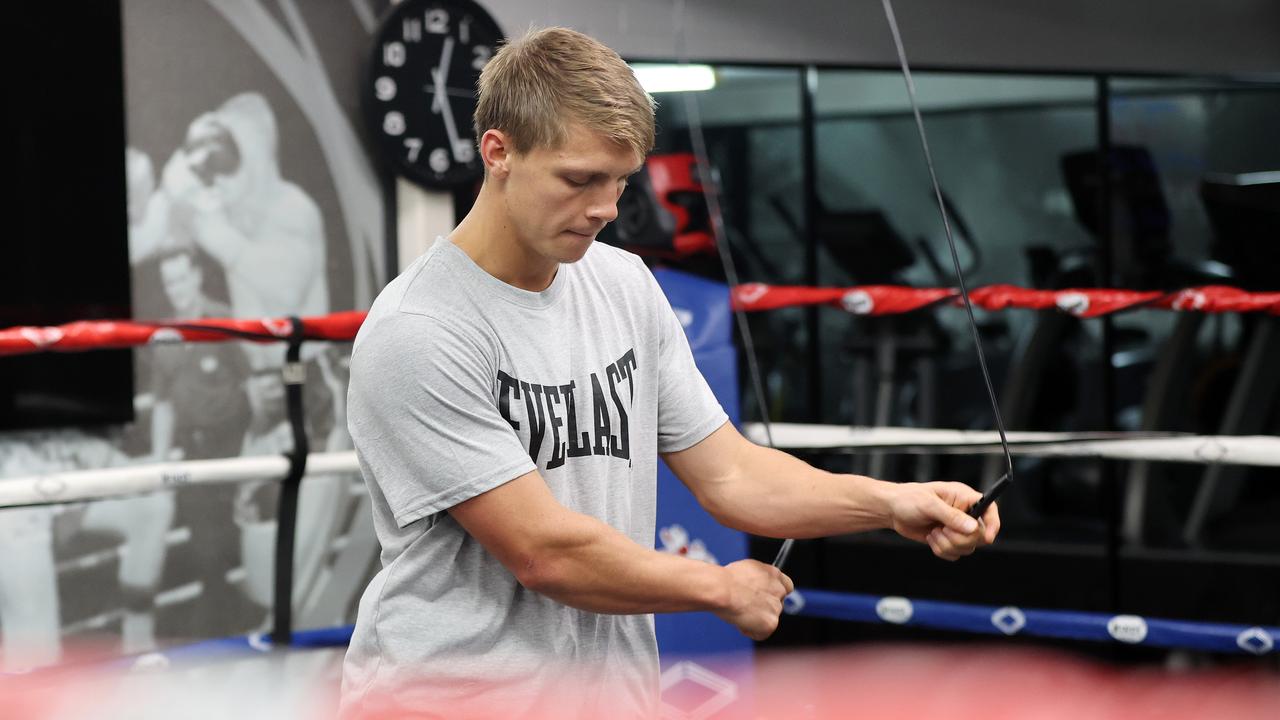 His rival Stahl was embracing the underdog status: "I'm from Townsville, coming down as an underdog … Definitely not a lot of pressure on me. All the cameras are on him which is kind of good."
He said he could spoil the Tszyu party due to his greater experience: "I've got the experience under my belt. I've had three pro fights, I've done the six rounds. I'm feeling strong and confident."
Nikita's manager Glen Jennings, who also previously managed both Kostya and Tim Tszyu: "It's just so exciting. It's also a privilege. It was 30 years ago just a few weekends ago Kostya made his pro debut here in Australia, and here we are sitting with his youngest boy Nikita.
"It's a bit of history here and everyone should embrace that. It's very fortunate for the Australian boxing community to have that luxury three times over – to watch the Tszyu family perform.
"For those generations that didn't see Kostya and are now watching Tim, enjoy this next process because this young man is gonna go all the way!"
"Don't blink. Nikita is a very dynamic young fella," Jennings added. "His training has been superb, we've been here in camp up here for four weeks … It's very very exciting, I can't say that enough."
Watch No Limit on Fox Boxing: Nikita Tszyu v Aaron Stahl Live on Kayo Thurs 3rd Mar from 6PM. New to Kayo? Try 14-days free now >
No Limit's George Rose said the promoters were determined to not cancel the event despite mother nature's best efforts. He added of Nissan Arena: "There's been many boxing events held there previously and it's a great venue. There's not a bad seat in the house so it's going to be a fantastic No Limit boxing event."
Nikita is coming off a six-year spell out of the ring so he could focus on his studies in architecture after beginning a promising amateur career.
However, not even the weight his surname carries is shackling him ahead of his pro debut.
If anything, he's relishes it.
"That kind of pressure sharpens me," Nikita Tszyu said.
"The times I've started to get a little too cocky and confident, I started to lose myself.
"So the pressure of constantly being in the spotlight, it will sharpen me.
"I had to go back to basics, but in doing that I've gotten to sharpen my tools much better and have more in-depth perspective on how I want to fight.
"I expected the hard work rate, but it's a shock to the body having to do it day in, day out."
ROBBED! Catterall loses split decision | 01:23
UNDERDOG DUO TRADE BARBS
Popular WBC Australian super lightweight titleholder Stevie Spark – who last year lost to Tim Tszyu as a late-notice replacement – is in action against cocky Victorian kickboxer River Daz.
And there was no love lost between the two in Tuesday's official press conference, when Daz – also a talented Muay Thai fighter – said Spark was lucky that: 'I don't get to wrap my shin around his throat'.
Daz declared: "I'm looking to put a really good show on. I'm still undefeated, I'm going to stay that way."
"Well, I can beat anybody… I don't know if he can hit me. I think he's very fortunate that I don't get to wrap my shin around his throat or elbow him."
Spark quickly hit back: "That's alright mate, I'm going to wrap my fist around your face. You'll be going out on your back."
And as his opponent smiled and chuckled, Spark continued: "Stop being cocky in front of the cameras. Say your word and be done."
Spark subsequently said of his opponent River Daz: "He's just not on my level," adding: "I can't wait to get in there, I've got itchy knuckles."
STACKED CARD FIRED UP
Also featuring on the card is an IBO super welterweight title eliminator fight between Aussie star Wade Ryan (20-9) and Irish two-time world title contender Dennis Hogan (29-4-1).
Hogan: "This is it. I've gone all in on this. I've just trained so hard … this has been my best camp since Jaime Munguía (world title fight).
"I've got a bone to pick with the boxing world after winning the world title and not getting in (in a controversial majority decision defeat to Munguia in 2019) … I'm going to do whatever it takes to win (a belt). I'm like a man possessed to do that."
While he said he was a fan of Ryan outside the ring, he said things would be different on Thursday night: "He's a likeable bloke but this is different, this is war."
Ryan himself promised the fight "will be a cracker."
Meanwhile, Liam Wilson faces WBO's sixth-ranked Joe Noynay in an exciting rematch of last year's battle, won by Filipino Noynay.