Key events: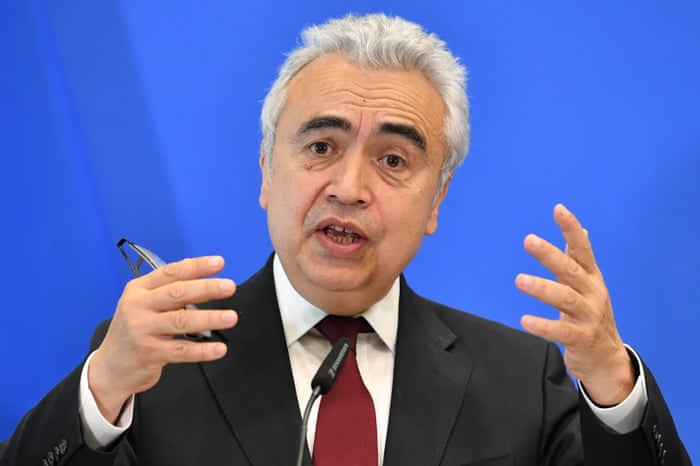 The IEA's executive director warns that European leaders fail to implement those five actions, "Europe will be in an extremely vulnerable position and could well face much more drastic cuts and curtailments later on."
European governments also need to prepare the people of Europe for what may be coming.

Public awareness campaigns in the context of an energy crisis have been successful previously in reducing short-term energy demand by several percent. Every action counts.

Simple steps such as turning down the heating by a couple of degrees in Europe can save the same amount of natural gas that is supplied over the winter by the Nord Stream pipeline.
IEA boss Fatih Birol set out five "concrete actions" that European leaders need to take to prepare for the energy crisis this winter:
1. Introduce auction platforms to incentivise EU industrial gas users to reduce demand. It sounds like the model would allow wholesale users to forgo a portion of their contracted energy supply, in exchange for compensated from the highest bidder. Apparently similar models have already been developed in Germany and proposed in the Netherlands.

2. Minimise gas use in the power sector by temporarily increasing coal and oil-fired generation and accelerating deployment of low-carbon sources, including nuclear power where it is politically acceptable and technically feasible, the IEA said.

3. Enhance coordination among gas and electricity operators across Europe. The IEA said this can help reduce the impact of lower gas use on power systems. It should include strict cooperation on the operation of thermal power plants at national and European levels.

4. Bring down household electricity demand by setting cooling standards and controls, which seems to be referring to air conditioner use (and might be a big ask during the current heatwave.) The IEA said government and public buildings should take the lead on this to set an example while campaigns should encourage behavioural changes among consumers.

5. Harmonise emergency planning across the EU at the national and European level. "To get through the current crisis, the EU needs unified action," the IEA said.
IEA warns Europe must slash gas consumption immediately
European leaders are being urged to urgently slash gas consumption ahead of winter in order to make up for cuts to Russian energy supplies.
The International Energy Agency's executive director Fatih Birol said in a report on Monday that the gas crisis had put Europe in a precarious position:
The situation is especially perilous in Europe, which is at the epicentre of the energy market turmoil. I'm particularly concerned about the months ahead.
Birol said he had seem some progress, particularly in terms of Europe's attempts to diversify gas supplies, but warned that not enough had been done to curb demand. he said the next few months would be "critical."
It comes amid uncertainty over whether Russia will resume as flows through Nord Stream, the biggest single gas pipeline between Russia and Europe, after maintenance of the pipeline is completed later this week.
If Russian gas supplies are cut off completely, the EU would need to have filled its gas storage facilities to above 90% by 1 October to get through the winter. Birol said that is still possible, but Europe needs to "act now to make every remaining day count."
Unsurprisingly, Goldman Sachs also slashed banker pay "significantly" amid its relatively weaker showing in the second quarter.
According to its Q2 earnings presentation: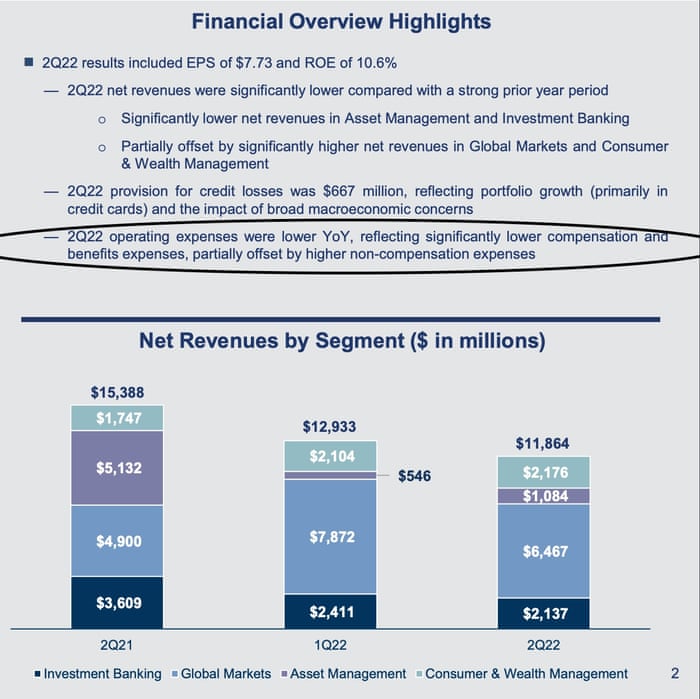 Goldman Sachs Q2 profit tumbles 47% as dealmaking slumps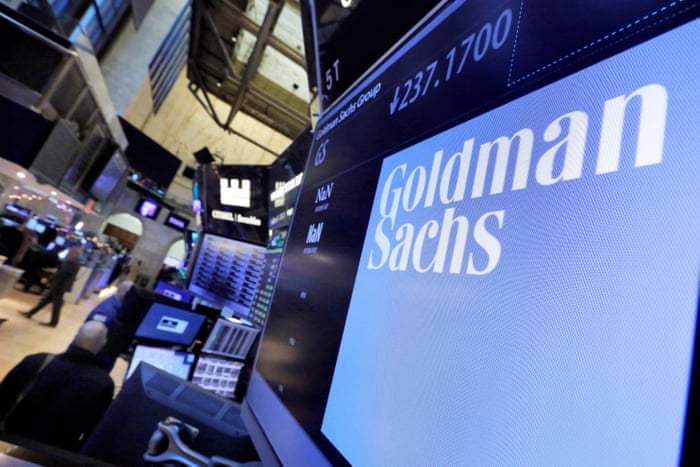 Goldman Sachs said its second quarter profit fell to $2.9bn in the second quarter, down from $5.4bn a year earlier, as its investment bank suffered a drop in demand for its underwriting and dealmaking services.
Companies have cooled on deals in recent months as they wait for market jitters, linked to the ripple effects of Russia's invasion of Ukraine, to subside.
The US bank's financial results were also hit by the $667m it put aside for a potential jump in bad debts in the second quarter, reflecting weaker economic conditions that could put a strain on borrowers' finances.
That compared to a net release of $92m a year earlier, when most lenders were responding to relief over loosening Covid restrictions in major western economies.
Chairman and CEO David Solomon tried to stay upbeat, telling investors on Monday:
We delivered solid results in the second quarter as clients turned to us for our expertise and execution in these challenging markets.

Despite increased volatility and uncertainty, I remain confident in our ability to navigate the environment, dynamically manage our resources and drive long-term, accretive returns for shareholders.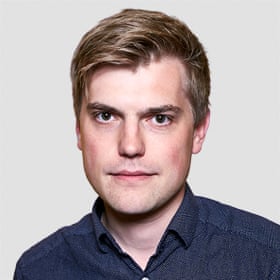 Jim Waterson
Kremlin-backed rolling news channel RT breached British broadcasting rules on 29 separate occasions in the four days after Russia invaded Ukraine, according to a ruling by media regulator Ofcom.
The "serious and repeated" breaches of the UK's rules on due impartiality are enough to warrant a sanction – but RT has already had its licence to broadcast in the UK revoked on separate grounds.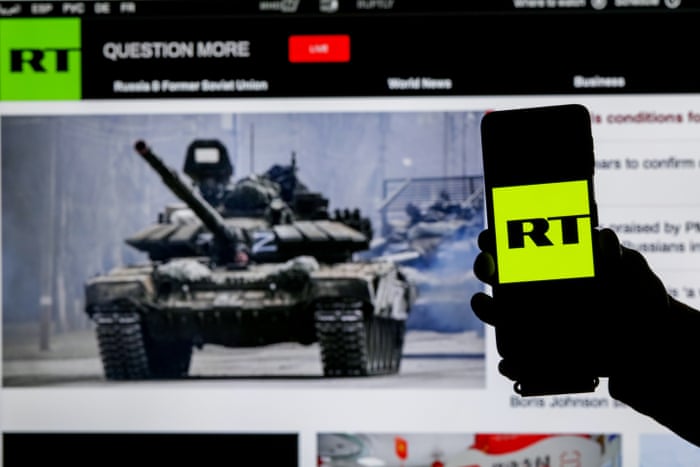 RT, formerly known as Russia Today, vanished from European television screens in March after the businesses that provided technical services to the channel were hit by EU sanctions. Ofcom then later revoked its licence to broadcast in the UK after concluding it was ultimately controlled by the Russia state – and not operated at arms length.
The UK's due impartiality rules do not require equal airtime to opposing views and do allow broadcasting some leeway for politically-biased broadcasting. However, when dealing with matters such as armed conflict, Ofcom requires broadcasters to take additional steps to preserve due impartiality by including and giving due weight to a wide range of significant views.
RT attempted to fight the punishment by saying it made a "sincere desire and effort" to maintain due impartiality in its coverage of the conflict and staff in the RT newsroom were "constantly reminded of the necessity to pay special attention to maintaining" due impartiality.
However, Ofcom concluded it failed to represent an "appropriately wide range of significant viewpoints" when explaining the war in Ukraine to viewers.
The full Ofcom report can be found here.
Boris Johnson speaks at Farnborough Air Show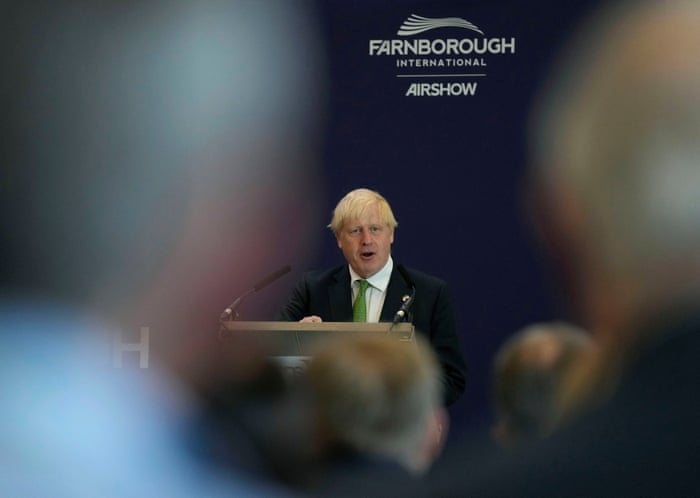 In one of his last public appearances as prime minister, Boris Johnson has arrived at the Farnborough Air Show, one of the largest trade events for the aerospace and defence industries that is expected to attract more than 80,000 visitors from 96 countries this year.
Johnson used a speech this morning to address the transition of leadership that is expected to take place in September after the parliament's summer recess.
The outgoing PM punctuated that speech with a number of industry puns.
No word yet on how it went over, though he has been criticised for prioritising the show over Cobra meetings that are being held in response to extreme temperatures hitting England today.
Johnson said:
I want you to know that after three happy years in the cockpit, and after performing some pretty difficult if not astonishing feats, getting Brexit done, restoring this country's ability to make its own laws in Parliament.

I am now going to hand over the controls seamlessly to someone else.

I don't know who, but whoever it is, I can tell you this, I can reassure you of this, that the great Rolls-Royce twin engines of this Conservative Government will roar on.

Fantastic public services. A dynamic free market economy. Each boosting the other and developing, what's the word I want, millions of tons of trust.

And there could be no better example of that relationship and that symbiosis between government and the private sector, than the aviation industry.
Grant Thornton has been fined £1.3m for "serious" failures in two audits of Sports Direct accounts.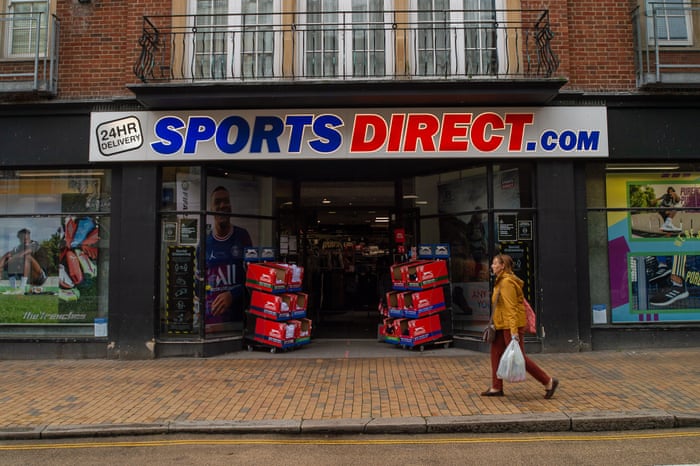 The fine applied by the accounting watchdog, the Financial Reporting Council (FRC), relates to two audits in 2016 and 2018.
The fines for 2016 related to Grant Thornton's failure to assess whether Sports Direct effectively disclose a related party transaction linked to a delivery company used by the retailer.
Meanwhile, the firm's audit of Sports Direct's 2018 accounts did not properly assess statements about its website sales, and the provisions put aside for inventory.
However, the FRC said none of the failures resulted in the financial statements being materially misstated. "The respondents' breaches were limited to discrete areas of each audit," the release explained.
Jamie Symington, Deputy Executive Counsel to the FRC, said:
The audit failings in this case were serious and relate to fundamental auditing standards.

It is particularly important that auditors follow up with due rigour where they have identified potential related party transactions as a significant audit risk.

Auditors must adopt a mindset of professional scepticism, and exercise good judgment based on sufficient and properly documented evidence.

The package of financial and non-financial sanctions imposed by the FRC on the auditors in this case will help to drive improvements at the firm and the wider industry.
BoE's Saunders: expect further hikes to UK interest rates
In his final speech as a member of the Bank of England's rate-setting monetary policy committee, Michael Saunders has warned of further interest rate hikes as the central bank tries to combat surging inflation which has blown past its 2% target and hit 9.1% in May.
Saunders said that he had hoped rate rises would take place sooner rather than later, as indicated by his recent votes at the MPC, which voted by a majority to increase its key base rate by 0.25 percentage points to 1.25% in June in response to living costs rising at the fastest annual rate for four decades.
Saunders said he expects further rate rises in the months ahead, and that it was neither "unplausible or unikely" that interest rates could reach 2% over the next year. He added:
Economic growth has slowed. But, with excess demand and low potential growth, some further monetary tightening remains likely in coming months in my view, to ensure that inflation returns to the 2% target on a sustained basis.

It is especially important at present to lean against risks that recent trends in inflation expectations, underlying pay growth and firms' pricing strategies become more firmly embedded
The weaker US dollar is also pushing up oil prices this morning.
The dollar was trading lower against a basket of international currencies, after rising inflation in New Zealand pushed the island nation's and Australian dollar higher on Monday morning.
A fall in the American currency tends to support oil prices, since it makes dollar-denominated commodities like oil more affordable for holders of other currencies.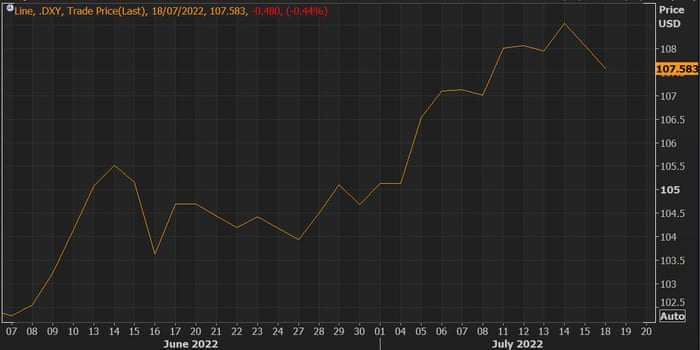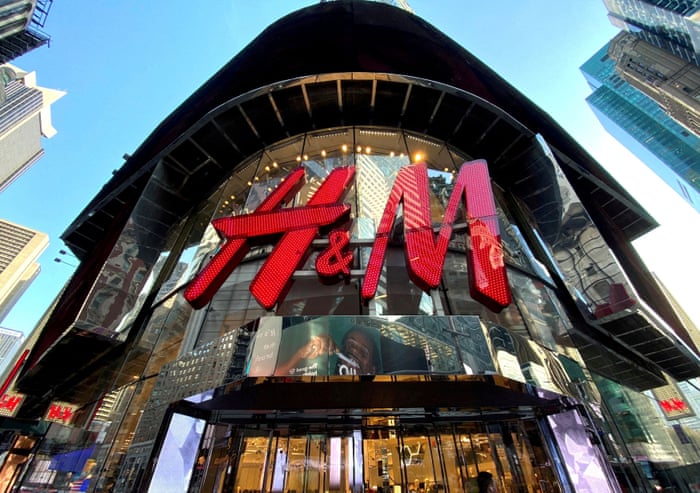 More than four months after H&M paused sales in Russia, the retailer has committed to winding down its operations in the country where it has sold clothes and accessories since 2009.
The retailer said it will temporarily re-open stores for a limited period to sell off its remaining inventory, and that the entire winding down process would cost around 2 billion Swedish crowns (£160m). The costs will be recorded in its third quarter results.
H&M Group CEO Helena Helmersson said in a statement:
After careful consideration, we see it as impossible given the current situation to continue our business in Russia.

We are deeply saddened about the impact this will have on our colleagues and very grateful for all their hard work and dedication.

Furthermore, we wish to thank our customers for their support throughout the years.
We're expecting further travel chaos and some services to be impacted by surging temperatures today. Follow our dedicated UK heatwave live blog today for the latest:

Mark Sweney
GSK's consumer spin-off Haleon, home to brands from Sensodyne toothpaste to Panadol painkillers, has begun trading on the London Stock Exchange in the biggest European listing in a decade.
Haleon shares started trading on Monday morning at 330p, with a market value of about £31bn.
The demerger marks GSK's biggest corporate restructure in two decades and will allow the pharmaceutical firm, which failed to develop its own Covid-19 vaccination during the pandemic, to focus on infectious diseases and vaccines.
Haleon's flotation is a litmus test to gauge the financial strength of the City of London and the appetite for new listings, with the company poised to join GSK on the FTSE 100 index of blue-chip shares.
The last stock market listing on a similar scale was the mining and commodity company Glencore, which debuted at a £38bn market value in 2011. It is a boost to the UK stock market at a time when the Cambridge chip designer Arm, owned by Japan's Softbank, is expected to opt for New York for its return to public markets, although it may seek a secondary listing in London after lobbying from the UK government.
Read more here.
While Brent crude prices are climbing this morning, it's worth remembering that prices are still at a lower range compared to the near $130 per barrel highs they hit in March.
Concerns over weak economic growth and weakening demand have sent oil prices back sharply in recent weeks.
In fact, they've been hovering at their lowest levels since the invasion of Ukraine in February, and actually finished lower for the fifth week in succession last week: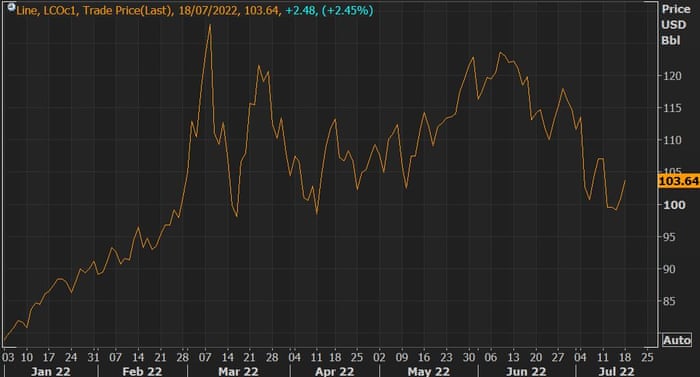 Deliveroo shares plunge 5% after slashing revenue forecasts
Food delivery platform Deliveroo has blamed the UK's faltering economic prospects for hitting its own revenue forecasts.
The group downgraded its full-year revenue growth expectations to between 4-12%, a significant drop from previous forecasts of 15-25%, due to a "more cautious economic outlook".
It came after second quarter revenue growth slid to 2% from 12% in the first quarter, which the company said reflected "the impact of increased consumer headwinds."
Consumers have been pulling back on discretionary spending, including take-out orders, as they try to make up for the cost of living crisis which has taken a bite out of household finances.

Deliveroo said it was prepared to tighten its belt:
Management is confident in the company's ability to adapt financially to a rapidly changing macroeconomic environment, through gross margin improvements, more efficient marketing expenditure and tight cost control.
The news sent shares tumbling 5% at the open, though they seem to have stabilised after the initial drop to trade nearly 15% lower at around 84p per share.
Major European stock markets climbed at the open:
FTSE 100 opened 0.66% higher
France's CAC 40 rose 0.58%
Germany's DAX opened 0.5% higher
Spain's IBEX climbed 0.76%
Introduction: Oil prices climb after Biden fails to secure output hike
Good morning, and welcome to our rolling coverage of business, the world economy and the financial markets.
Brent crude prices have pushed past $100 per barrel this morning, rising more than 2.6% to $103.88, as traders digested the lack of progress in securing output hike pledges from Saudi Arabia over the weekend.
US president Joe Biden's trip to the Middle East sparked renewed concern about global oil supplies, which momentarily retreated last week as fears grew over a looming global recession that could reduce demand.
It was comments from Saudi Arabia's foreign minister, Prince Faisal bin Farhan Al Saud, which dashed hopes over an agreement. He said that a US-Arab summit on Saturday did not discuss oil and that the oil cartel group of exporting countries known as OPEC+ would continue to assess market conditions.
It will continue to pile pressure on households, who have been hammered by rising living costs including energy prices.
Naeem Aslam, chief market analyst at Avatrade said:
Traders got one clear message from Biden's recent visit to Saudi Arabia, during which President Biden spoke to a number of Arab leaders.

The message is that it is OPEC+ that makes the oil supply decision, and the cartel isn't remotely interested in what Biden is trying to achieve. OPEC+ will continue to control oil supply, and one country alone cannot determine the oil supply—at least that is the message that traders have taken from Biden's visit to Saudi Arabia.

Brent oil prices crossed above the $100 price mark earlier today, and if the price continues to trade above this price mark, then it is highly likely that the path of the least resistance will be skewed to the upside.
Otherwise, we'll be keeping an eye on comments from Bank of England officials and bank earnings out of the US.
The agenda
10am BST: Bank of England MPC member Michael Saunders speaks at the Resolution Foundation
12:30pm BST: Goldman Sachs, Bank of America report Q2 earnings