These Rice Fritters, aka Sweet Calas, are a southern fried doughnut famous in New Orleans. Crispy on the outside, soft and tender on the inside, coated with powdered sugar!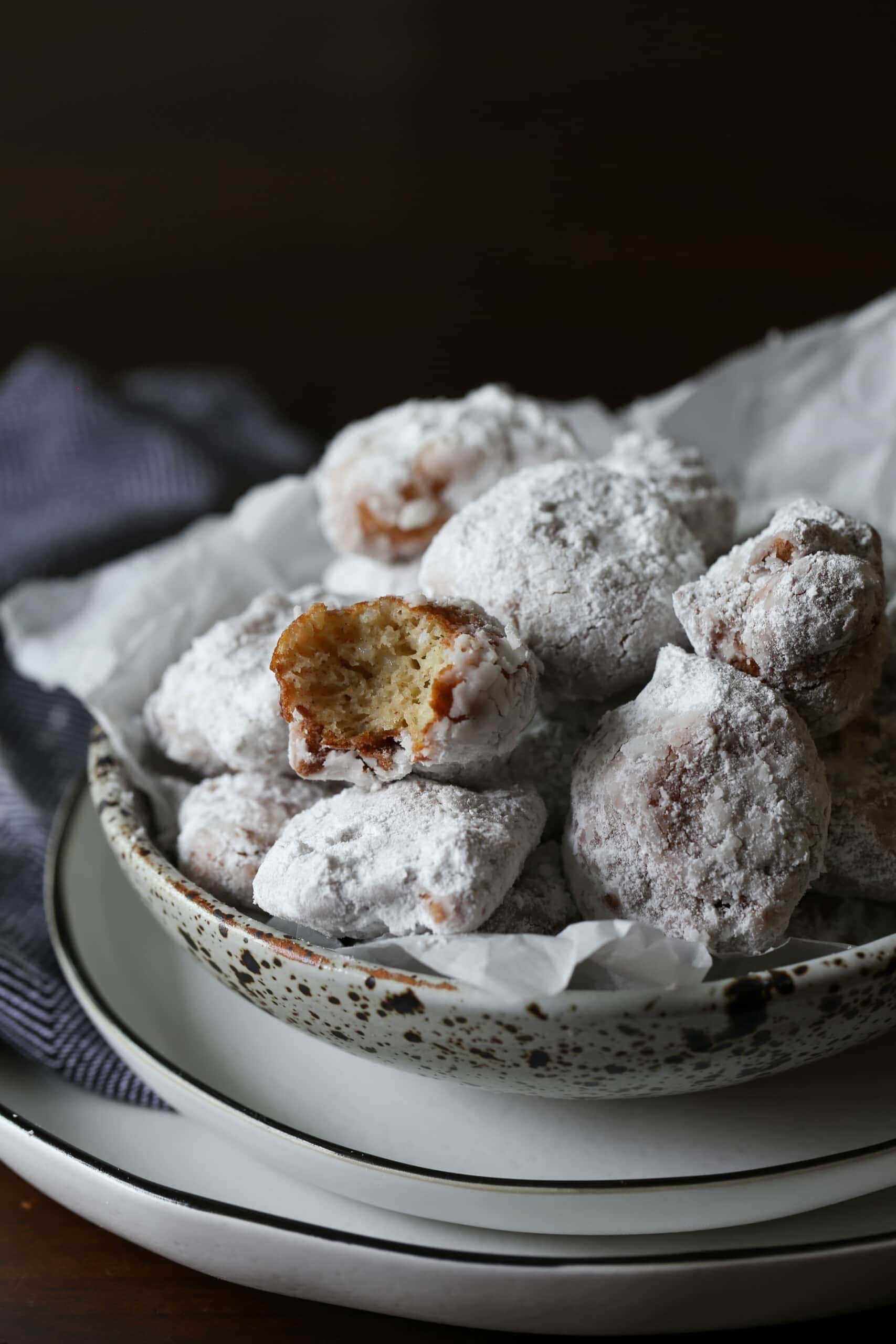 This recipe was developed in partnership with my friends at Imperial Sugar. CLICK HERE FOR THE FULL RECIPE.
Sweet Rice Fritters Are A Classic Creole Recipe
Rice Fritters are a classic southern recipe. The sweet yeast batter is mixed with mashed rice to create a tender fritter-style doughnut that is fried until golden and coated with powdered sugar. Calas used to be a popular street food in New Orleans, much like Zeppole or beignets. 
Sweet Calas – What To Expect:
These little rice fritters are crispy on the outside and soft and tender on the inside. The yeast dough is flavorful and airy, while the mashed rice adds texture. 
Grab a napkin because you're sure to get powdered sugar all over your shirt!
The subtle cinnamon flavor in the batter really makes these little doughnuts unique! You could even add small diced apples into the batter to create a rice apple fritter!
Make ahead! Start the batter the night before, and in the morning it will be ready to fry for a special breakfast!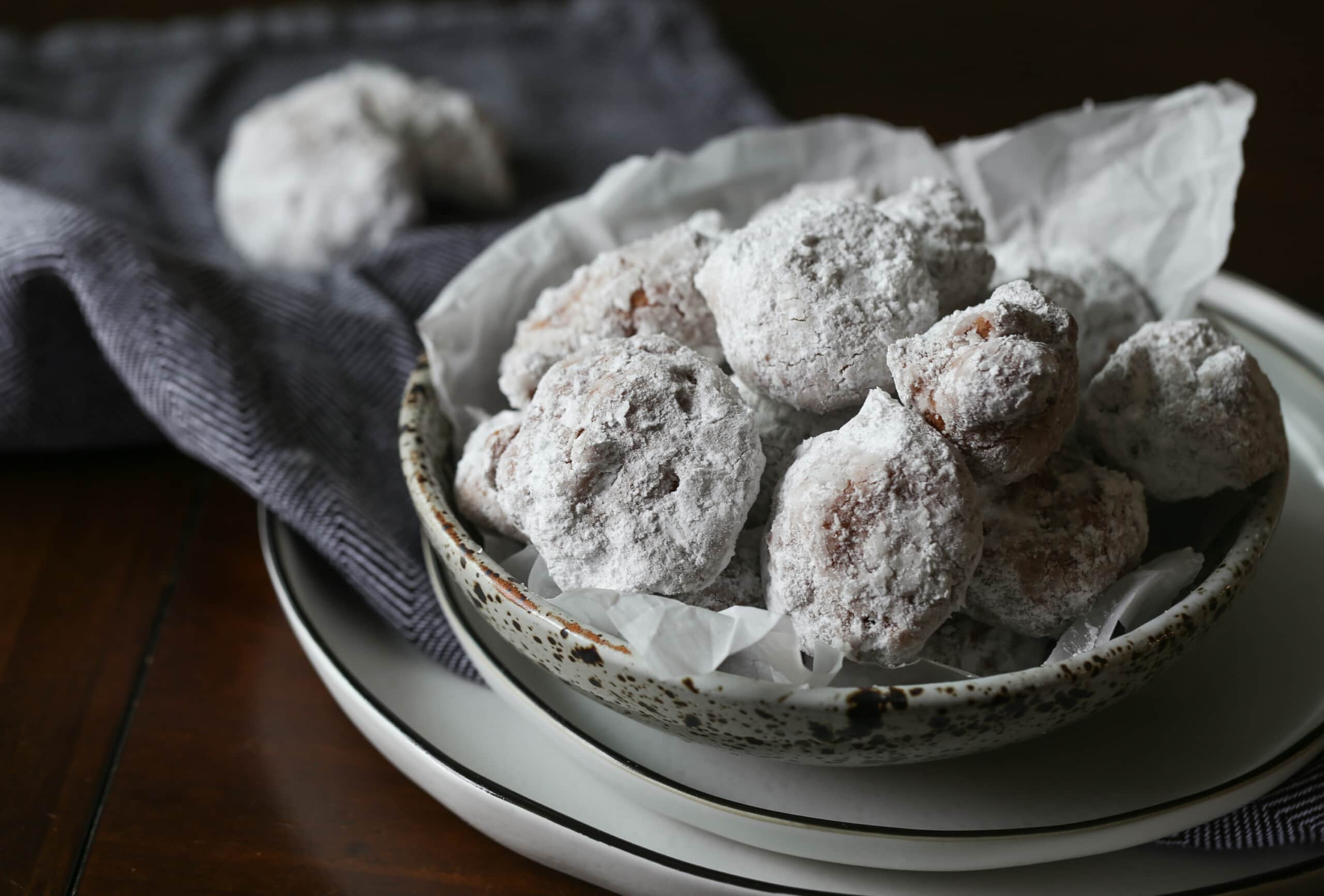 Ingredients:
For the full list of ingredients with measurements CLICK HERE
Cooked rice. You will want to use soft rice, and mash it up well! If using leftover rice, reheat it with a bit of water to steam it. You don't want the rice to have any "bite"
Active Dry Yeast. You can also use Rapid Yeast as well!
Warm water 
Large eggs
Granulated sugar
Kosher salt
Ground cinnamon
All purpose flour
Vegetable oil for frying
Powdered sugar for coating
How To Make Rice Fritters (Step by Step):
Place the mashed rice into a medium bowl and set aside. Do your best to mash the rice as best you can. The rice adds texture, but you don't want whole grains of rice in the fritter. 
2. Sprinkle yeast into warm water and allow it to dissolve, until foamy, 10 – 15 minutes.
3. Pour the yeast mixture into the mashed rice and stir to combine. Cover the bowl with plastic wrap and place in the refrigerator for 8 hours or overnight.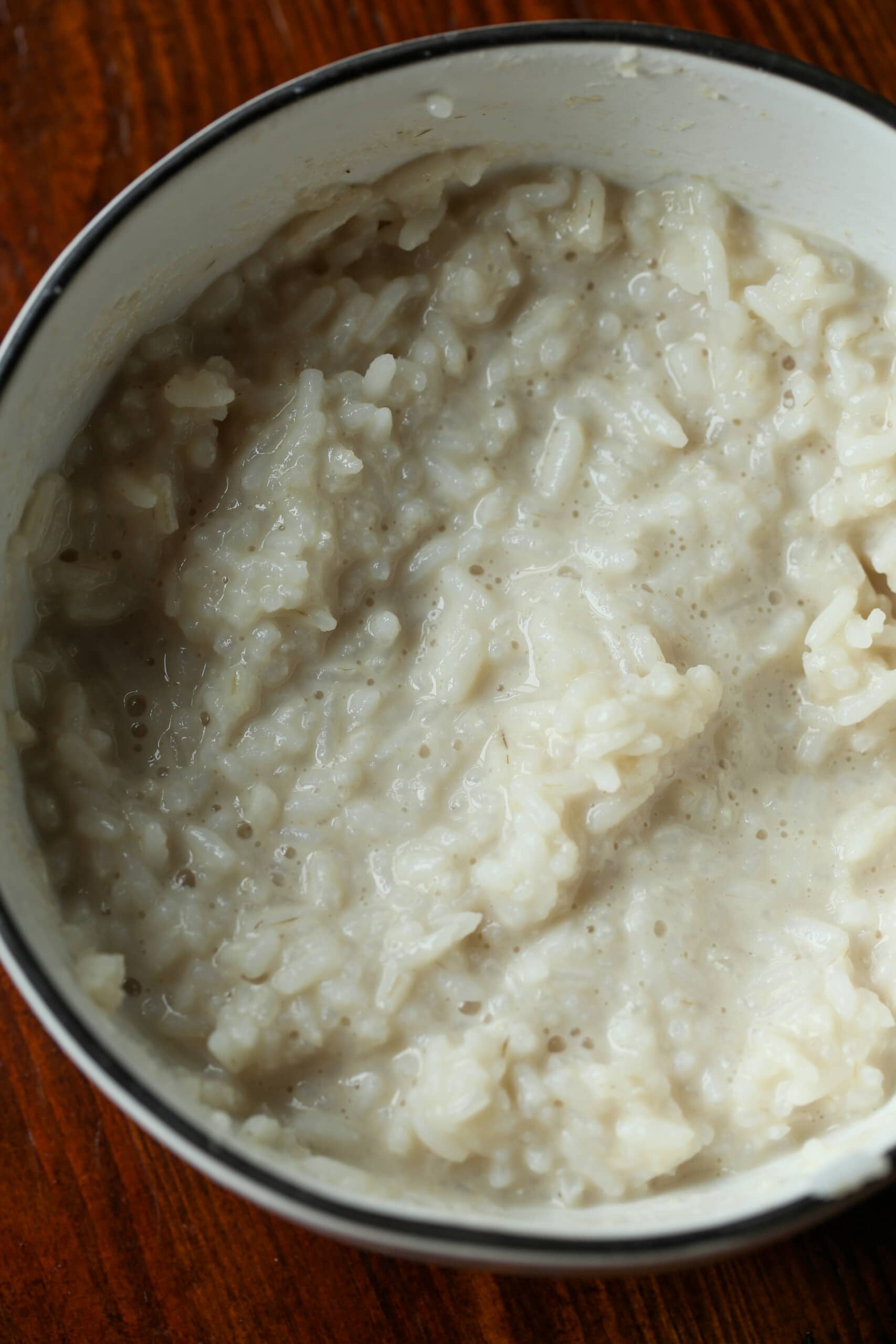 4. Remove the rice mixture from the refrigerator and add in the whisked eggs, sugar, salt, and cinnamon. Stir to combine. Add in the flour and stir until evenly incorporated. 
5. Cover the bowl with a towel and place in a warm, draft-free place for 1 hour, until the mixture is bubbly and slightly airy. It will increase in size slightly. This isn't a typical yeast dough. It will be thinner and more "batter-like". 
6. Heat oil in a medium Dutch oven, or electric fryer until it reaches 365°F. Drop the fritter batter by the heaping tablespoon into the oil and fry until golden brown, turning once, to brown evenly. Remove the fritters from the oil with a slotted spoon and transfer to a paper towel lined plate or baking sheet to absorb excess oil. Work in batches of 4 – 5 fritters at a time.
7. Place the powdered sugar in a large zip-top or brown paper bag. Add in half the fritter and shake to coat. Repeat with the remaining fritters.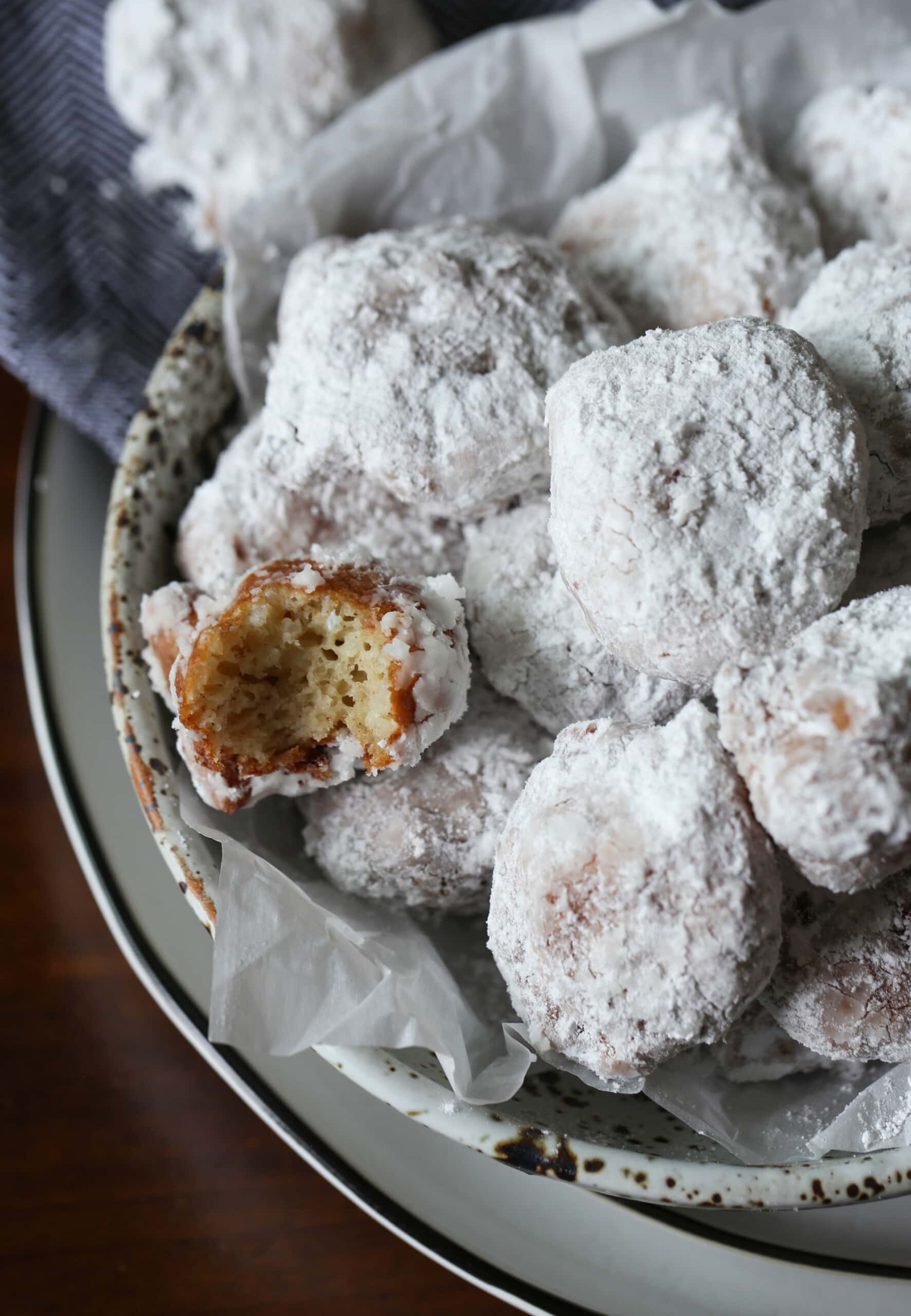 Tips:
I own a small electric fryer, which is what I used for this. It's a recent purchase that I decided upon after years of HATING the way frying foods made my house smell! It is an inexpensive item that I use on the rare occasions I deep fry anything, and actually plug it in in my garage or out back. It's an easy little appliance to store (I bought a small 1.1 Liter fryer) and having the ability to fry things outdoors keeps that stale fried smell out of my house! I wish I had purchased this years ago!
If you don't have an electric fryer, use a Dutch Oven or a heavy bottomed pan.
Using a small scoop (1.5 tablespoon) makes portioning out the batter MUCH easier! Here's the one I use.
The batter expands a bit while frying, so work in batches! 
Serve these warm or at room temperature. They are best served the same day they are made.
How To Store:
Like I mentioned above, I don't recommend storing these for any length of time. Like any doughnut, they are best if served the day they are made…and if they're warm, even better!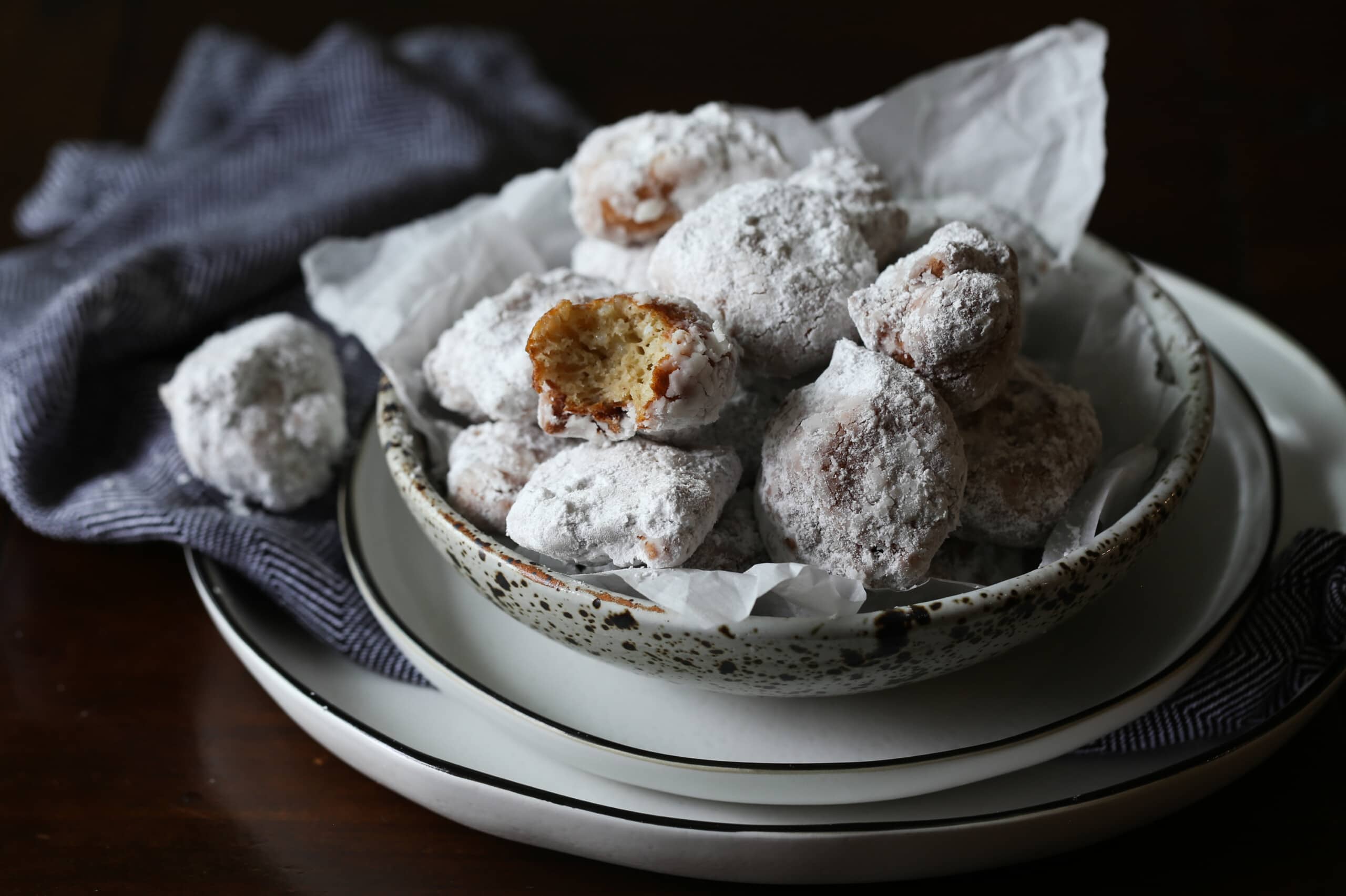 For the FULL RECIPE hop over to Imperial Sugar and print it out!