4 min read
Exclusive: Industry bosses have warned that hotels and restaurants are struggling to get hold of catering supplies, with one-in-five orders reportedly failing to turn up.
Ian Wright, chief executive of the Food and Drink Federation, said that the hospitality sector is undergoing huge strain comes as the government is locked in talks today with energy industry figures over spiraling fuel bills, which in turn has led to shortages of CO2 used food manufacturing.
"20% of orders hospitality businesses are making at the moment are not being fulfilled – they don't show up, they're not arriving," Wright told PoliticsHome.
"If that were true in supermarkets there'd be a national outcry because one in five aisles in supermarkets would be empty. Because this happens behind the menu, it goes unnoticed."
Data compiled by UK Hospitality has shown food orders not arriving for cafes, restaurants, hotels and catering businesses, meaning they will have to adapt going into Autumn.
The organisation found that 94% of hospitality businesses are currently experiencing supply difficulties, with two thirds having to reduce their product lines. Another two-thirds have had deliveries delayed, while 56% are being hit with significant price hikes.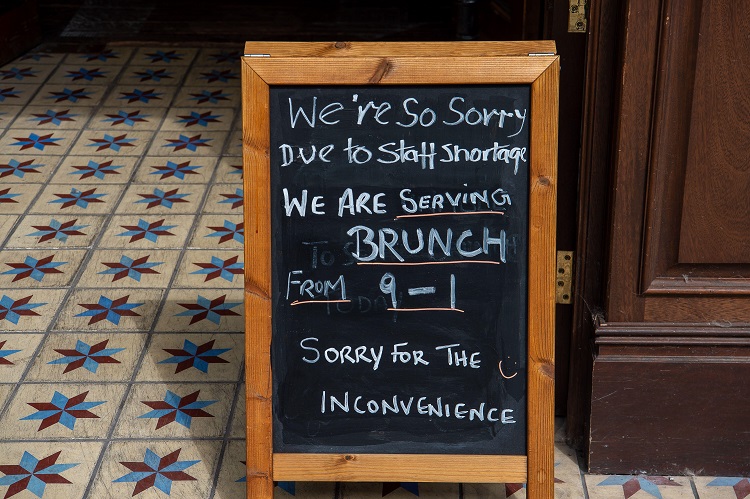 Scaled down menus, scrapping lunchtime sittings in restaurants, and hotel restaurants only opening to guests are some of the ways the hospitality industry is coping with the disruption to their regular catering orders, Wright said.
"Hospitality businesses find ways round it," he continued.
"Menus are restricted or shorter. In many English resorts this summer hotels have only served food to residential guests.
"There are many ways you can accommodate a shortage, serve fewer people over a shorter period of time but this all impacts on income.
"Some of this is due to manufacturing industry not having produce the product because of labour shortages, and in some cases it's a result of not getting the product delivered because of driver shortages."
While the government has sought to reassure that the country is categorically not going to run out of food, Wright suggested the choice of product, and range of prices shoppers have had in both food and retail for the last four decades could disappear.
He has also recently warned that the UK risks seeing the end of "just in time" delivery in the food sector unless something is done about labour shortages.
It is unclear whether the labour shortage affecting hospitality is solely down to EU workers leaving the country because of Brexit, because there's a lack of clear data. Other factors could be that 500,000 people have become economically inactive since the lockdown, and that thousands of HGV drivers may have moved into online retail deliveries.
Another factor contributing to the shortage, according to Wright, is that EU university students were also more likely to take on part-time work than other students coming from abroad.
He described the labour shortage as "structural", and believed it could therefore take some time to put right.
"These are long term trends. We think one in eight workers in the food supply chain from farm to fork aren't there, that's 500,000 people," he added.
"Some parts of the country have full employment so people aren't there to take the jobs. You aren't going to find these people in short order.
"It would be serious at any time but when so many businesses are trying to recover [from the pandemic], it's really bad. We're not going about business as usual."
A spokesperson for the Department for Enrionment, Food and Rural Affairs said: "The UK has a highly resilient food supply chain – which has coped well in responding to unprecedented challenges.
"This year we expanded the Seasonal Workers Pilot to 30,000 visas for workers to come to the UK for up to six months.
"We have introduced a package of measures to help tackle the HGV driver shortage that will streamline the process for securing a licence and we continue to work with industry to understand labour demands and supply issues."
PoliticsHome Newsletters
PoliticsHome provides the most comprehensive coverage of UK politics anywhere on the web, offering high quality original reporting and analysis: Subscribe