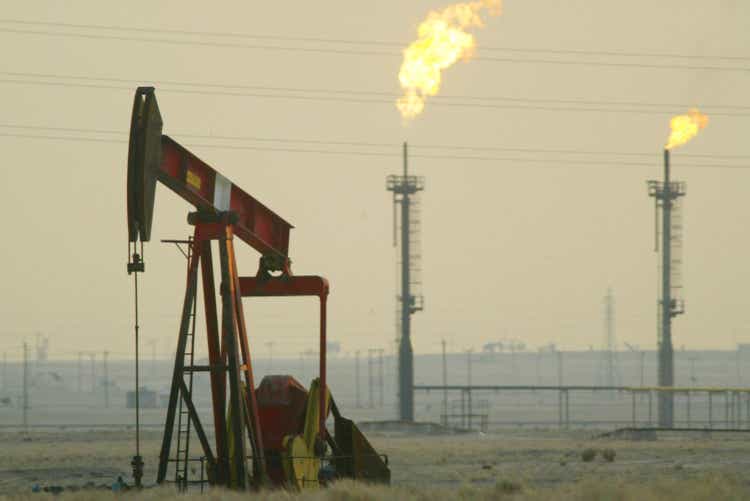 The OPEC Monthly Oil Market Report (MOMR) for March 2022 was published this week. The last month reported in each of the charts that follow is February 2022 and output reported for OPEC nations is crude oil output in thousands of barrels per day (kb/d). In most of the charts that follow the blue line is monthly output and the red line is the centered 12-month average (CTMA) output.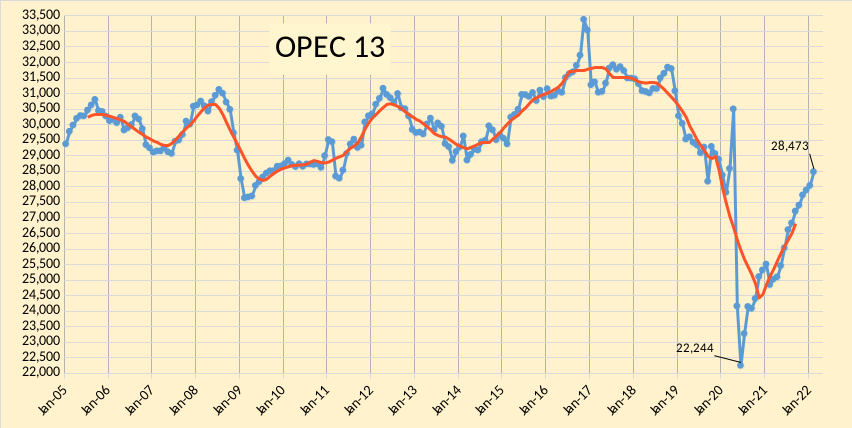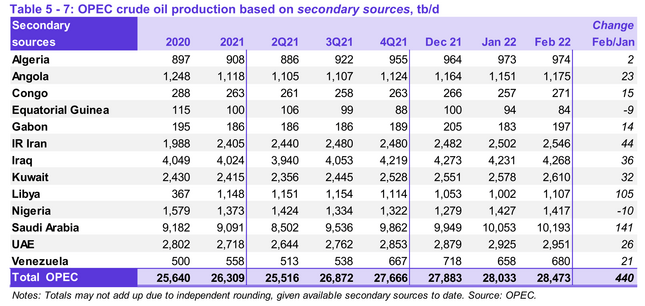 OPEC output increased by 440 kb/d according to secondary sources in February. January 2022 output was revised higher by 52 kb/d from what was reported last month, and December 2021 output was revised lower by 35 kb/d compared to the February 2022 MOMR. Most of the increase in OPEC output was from Saudi Arabia (141 kb/d) followed by Libya (105 kb/d), Iran (44 kb/d), Iraq (36 kb/d), and Kuwait (32 kb/d). Six OPEC members saw increases of less than 27 kb/d (total of 101 kb/d for that group of 6 nations). Only two OPEC nations had lower output in February with a total decrease of 19 kb/d.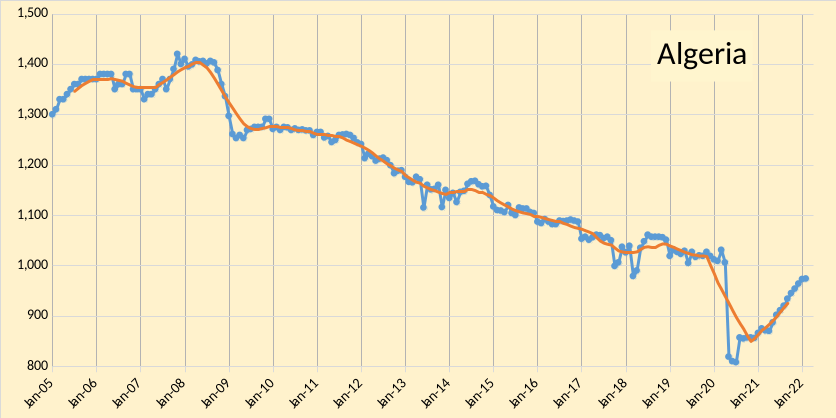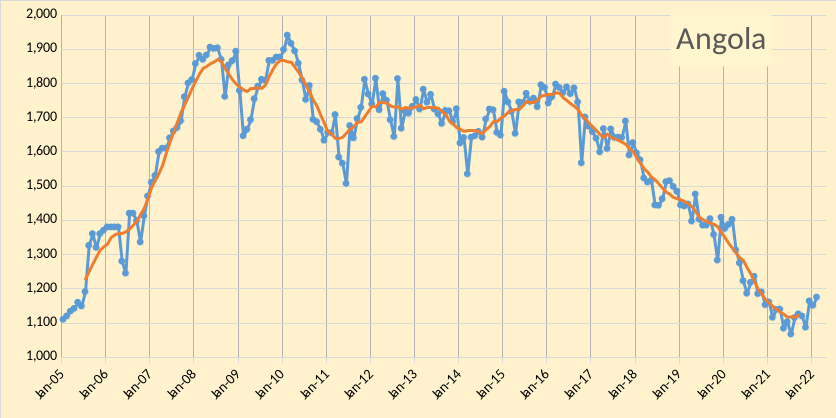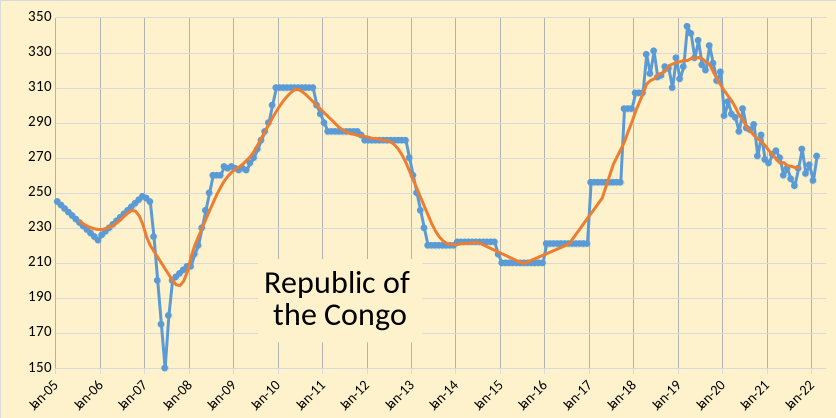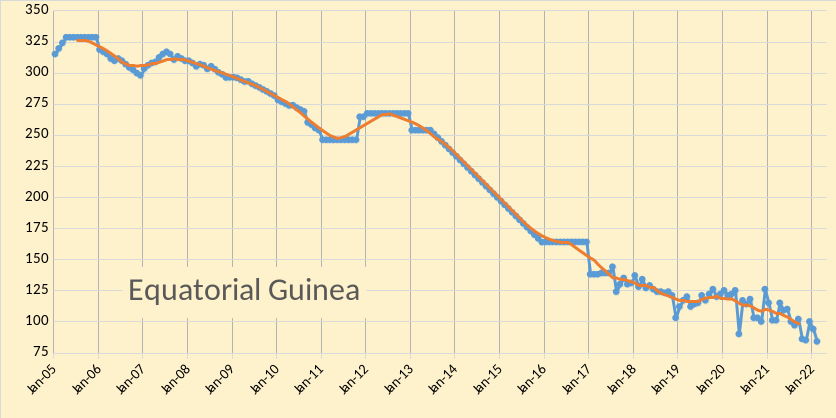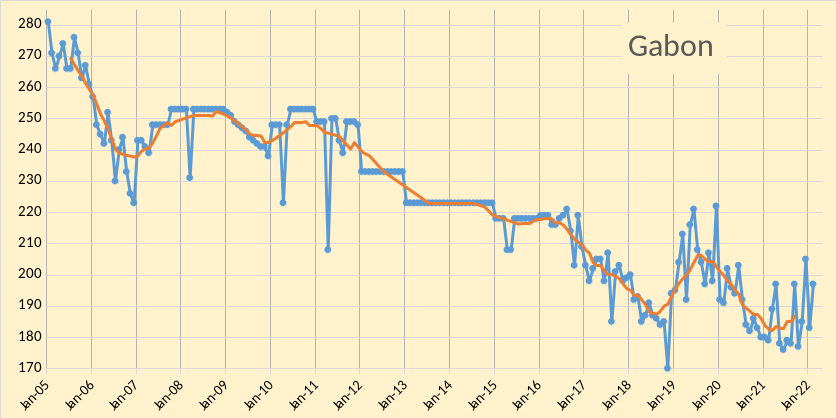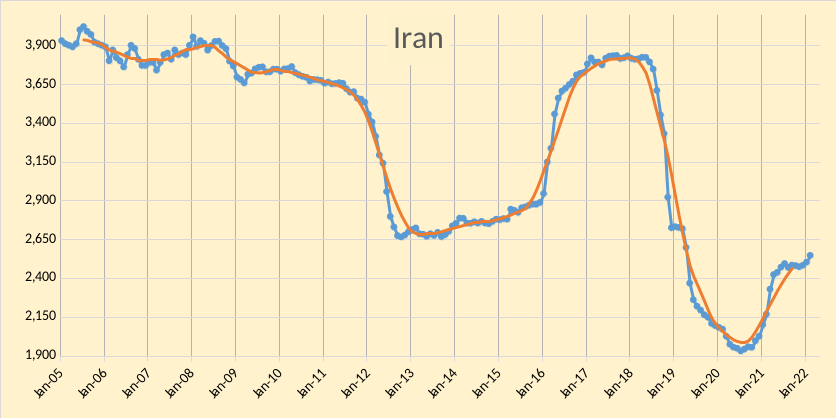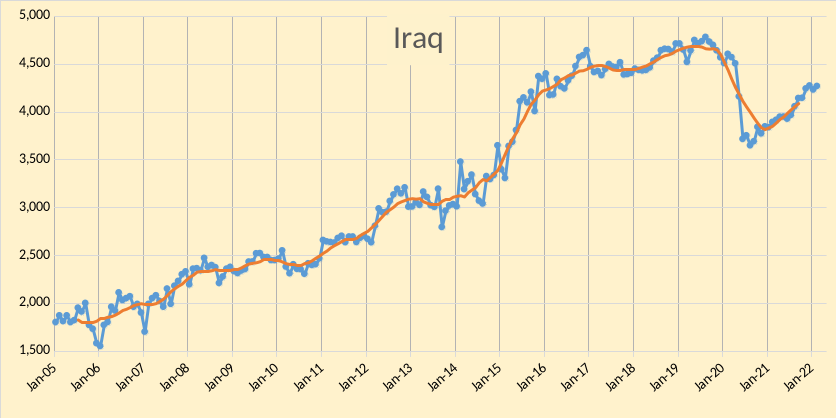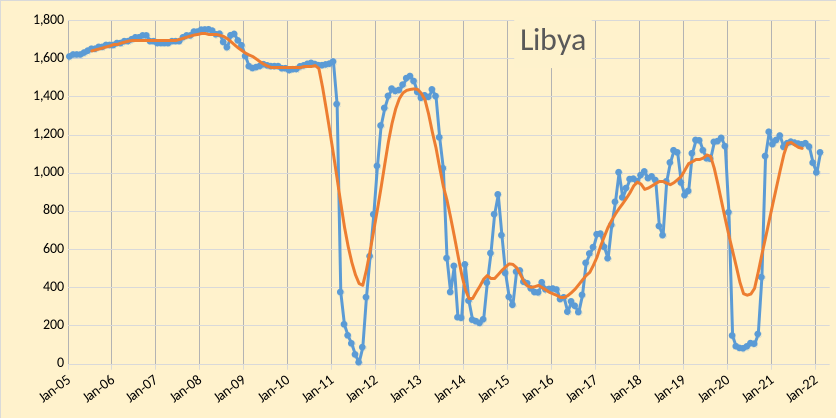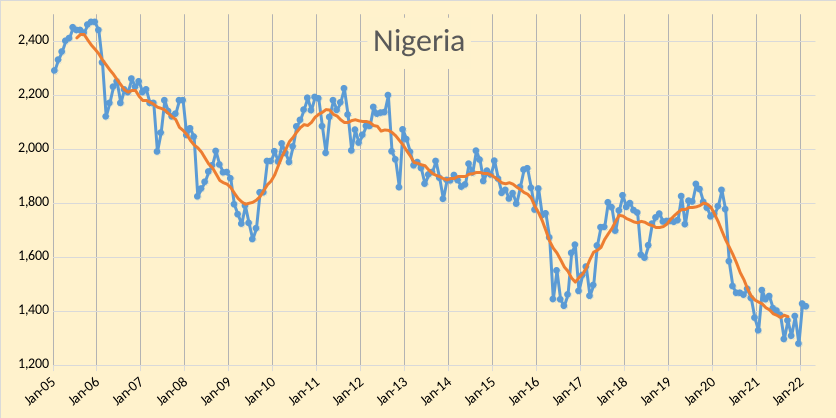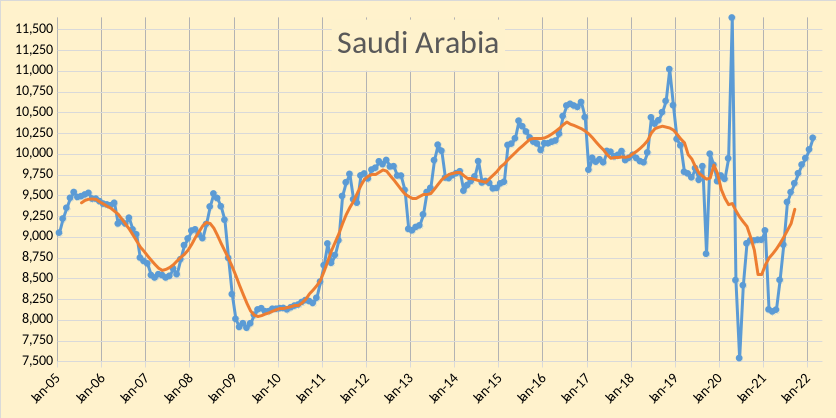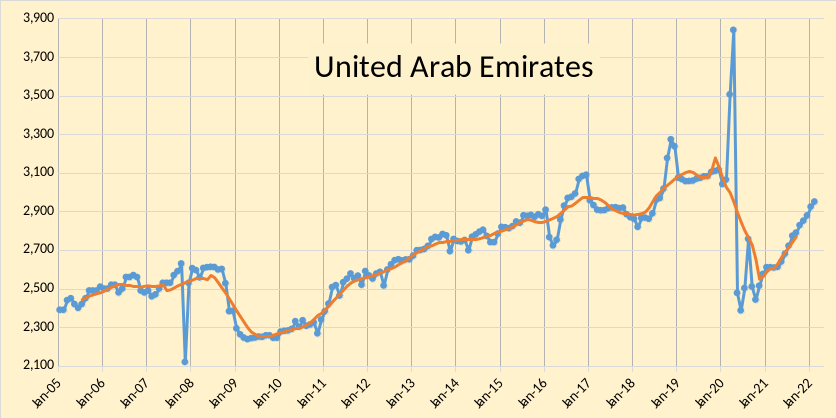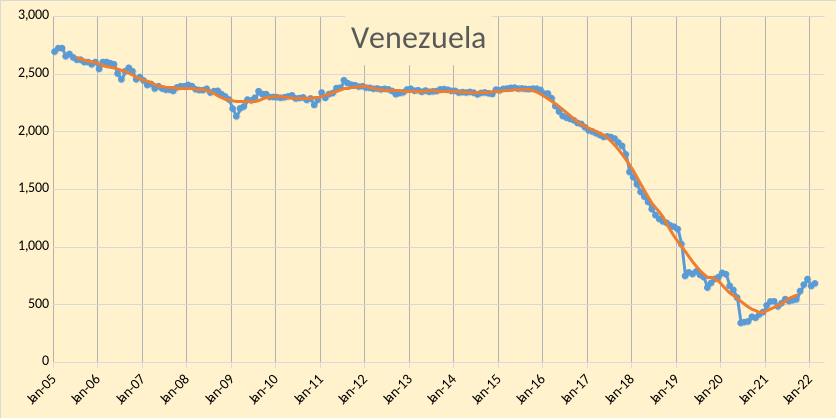 In the chart below OPEC 13 crude and Russian C+C are shown, I expect that OPEC 13 crude plus Russian C + C will likely top out at about 40500 kb/d, if sanctions are not removed from Iran and Venezuela, potential future increase for OPEC 13 and Russia is about 1000 kb/d without Iranian sanctions relief. If Russia falters due to ongoing sanctions and cannot increase output from the February 2022 level, potential OPEC capacity is reduced to about 700 kb/d.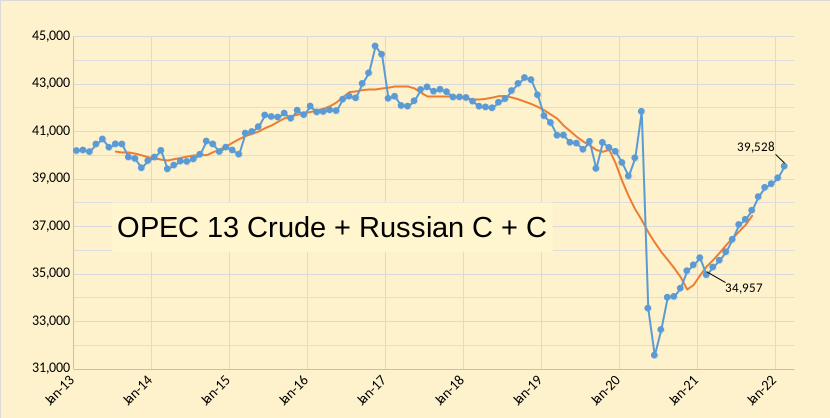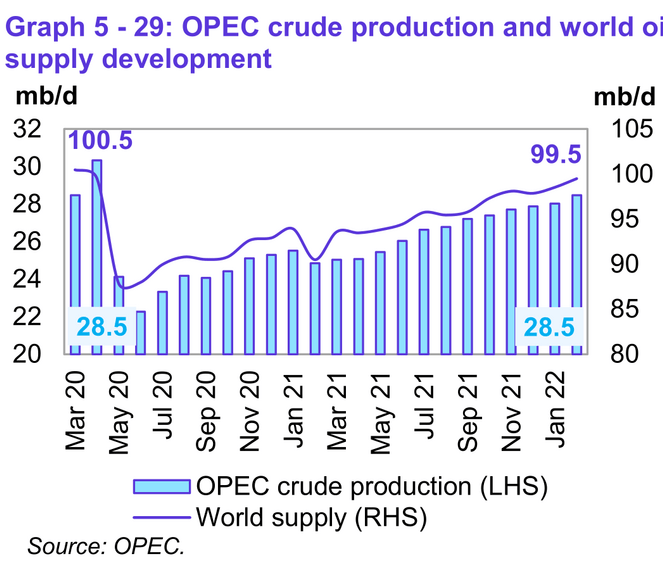 World liquids output was about 1000 kb/d below the March 2020 level in February 2022.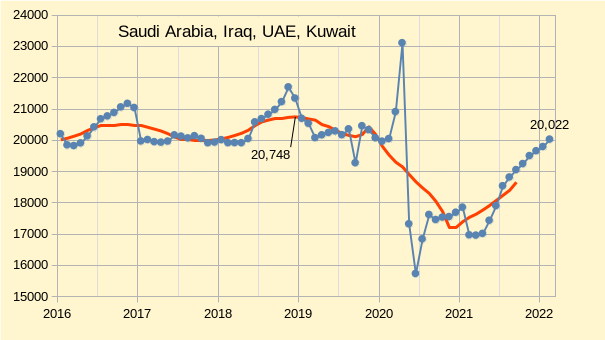 In figures 5, 6, and 7, we can see a potential future problem for oil supply if the OPEC estimates for World demand and non-OPEC output are correct. All OPEC spare capacity is essentially in the 4 nations shown in Figure 7 above, with the difference between the recent 12-month average peak and February 2022 output being only 726 kb/d. If we add this to February 2022 OPEC 13 output, we get potential OPEC output of only 29199 kb/d, where we assume no further decline in other OPEC output (not likely based on recent history). We can see in figure 6 that the call on OPEC in the third and fourth quarters of 2022 will exceed the capacity of OPEC and note that the call on OPEC is likely to be higher than in figure 6 due to lower output from Russia than OPEC has forecast (in the range of 300 to 500 kb/d less than OPEC currently expects). It is doubtful that Venezuela will be able to boost output significantly and there is strong Republican opposition to rejoining the JCPOA suggesting that a deal with Iran may not be possible (at minimum it will make negotiations difficult). My expectation is that oil prices will remain in the $100 to $150/b range, likely well into 2024, due to the turmoil caused by the Russian invasion of Ukraine. It is possible that a severe recession might keep oil demand and oil prices in check, the outlook is highly uncertain.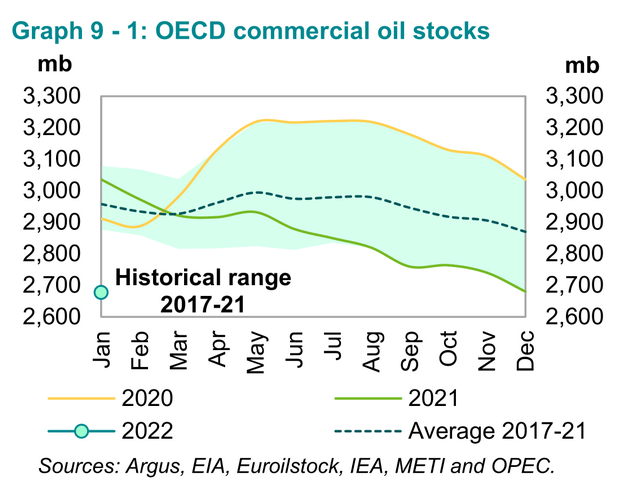 OECD commercial stocks are well below the 5-year average as seen in figure 8 above, this also suggests higher oil prices in the future.
There are a number of worst-case scenarios by Rystad and Barclays suggesting oil prices might rise as high as $200/bo, if oil stops flowing from Russia to Europe due to the current Russian aggression in Ukraine as in this piece from March 8.
Note that many analysts seem to believe the spare capacity numbers reflected in the chart below from the EIA STEO.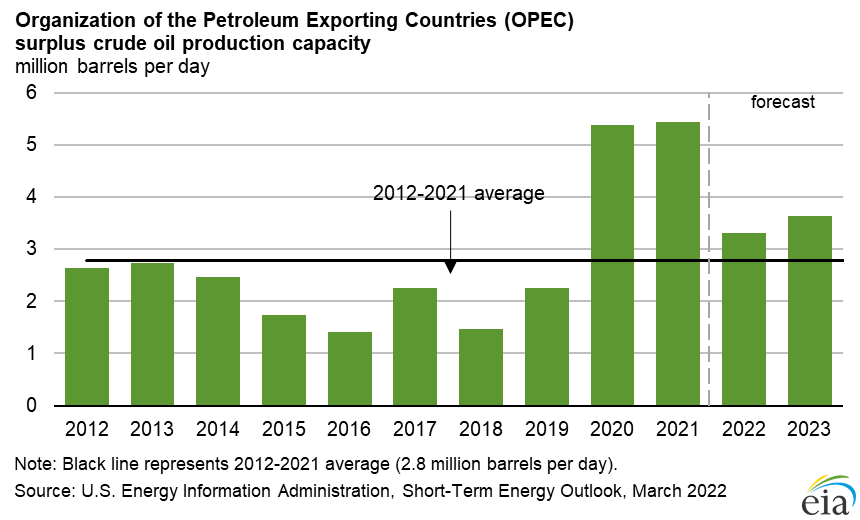 The actual OPEC surplus production capacity without any removal of sanctions on Iran are likely to be about 25% or less of the 2022 level estimated by the EIA (730 kb/d in reality vs 3200 kb/d as in the chart above). I imagine if mainstream analysts realized this, their oil price predictions might be even higher.
Original Post
Editor's Note: The summary bullets for this article were chosen by Seeking Alpha editors.