Paul Gallen has beaten Darcy Lussick by third-round stoppage after a brief but frenetic contest in Sydney.
Key points:
Paul Gallen said people should stop "bagging" NRL players for fighting if they are not going to support other boxers
Harry Garside won his professional debut with a controversial first-round stoppage
Jeff Fenech called one referee "disgusting" during a controversial night of boxing
Fighting over just three, two-minute rounds, Lussick gave Gallen some problems early in the contest on Wednesday, driving Gallen back with a flurry of punches against the ropes.
Although some of that success came after Lussick held Gallen behind the head, an illegal move not picked up by the referee.
However, despite those transgressions going unpunished, the former Manly and Parramatta prop exhausted himself with his efforts before being knocked to the ground by Gallen late in the second.
Lussick somehow picked himself up off his stool to start the third round, but the stoppage was inevitable as Gallen moved to a 12-1-1 professional record.
After the fight, Gallen called out those who suggested shows such as these were bad for boxing, using yesterday's card at the same venue as an example of people not coming out to watch conventional shows.
"I watched last night when a former world champion [Andrew Moloney] fought in front of deadset 100 people," he said.
"It really frustrates me."
Harry Garside wins pro debut after controversial early stoppage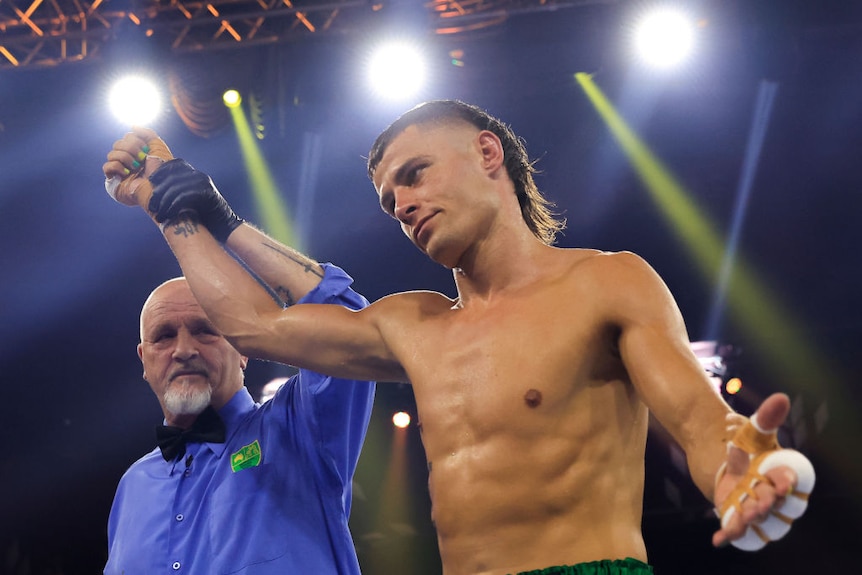 Olympic bronze medallist Harry Garside won a disappointing professional debut against Sachin Mudaliar after a controversial first-round stoppage that looked very premature.
Referee Kevin Hogan stepped in after just 2 minutes, 8 seconds after Fijian fighter Mudaliar was pinned on the ropes by a flurry of punches from Garside, much to the surprise of both fighters.
There was nothing coming back from Mudaliar but neither was he being visibly hurt by Garside — who was hampered by an injured left hand — and even fought back with a fine right to the head just before the referee waved it off.
It was just one of several questionable decisions on a night that had a number of farcical moments, despite some impressive early contests.
Aside from three terrifically competitive women's fights to open the contest, and Goodman's sixth-round stoppage win over Filipino fighter Richie Mepranum to claim the WBO Oriental title, it was a very mixed bag.
Jeff Fenech called the referee in the contest between young NRL prospects Taylan May and Freddy Lussick "disgusting" as Lussick copped 89 blows to the head over the course of a four-round contest.
"The ref's lost all control," Fenech said.
"They don't need to go through that. We talk about looking after people.
"That's crap. Crap by his corner. Crap by the referee."
Gallen, who won a $20,000 bonus for the knockout of the night from promoter George Rose, donated some of the cash to young professionals Goodman and Garside, the latter of whom donated his share to charity.
Look back on how all the action unfolded, including the undercard, in our blog.
Live updates
Audience comment by Gordon Lees
Rubbish. I hope no one paid $50+ on main event for this. Australian boxing is in real trouble outside of George Kombosos and Tim Tszyu.
Audience comment by BluemanTokyo
Great call again, Simon. Thoroughly enjoyable, and I think no one would argue if you added circus ringmaster to your resume after tonight.
Paul Gallen and Sonny Bill Williams offered $4million each to fight
Paul Gallen has just told Main Event that he and Sonny Bill Williams have been offered $4 million each.
"We were offered $4million dollars each to fight twice next year. That's unheard of money," he says.
He added that he would be retiring next year.
He doubles up on his claim that people don't want to pay to watch boxers, but will watch him.
"I watched last night when a former world champion fought in front of dead set 100 people," he says.

"Where's all these people who want to bag me for boxing, watching the Moloney boys?

"It really frustrates me."
He says that he does not know how much Garside or Goodman are being paid, so says he can help them out with some extra cash from his bonus.
Garside came up during the interview and said his share is going to charity.
Paul Gallen: 'Where's all these boxing people supporting boxers?'
He ends by calling out people for criticising the footballers.
"A lot of people here copped a lot of flack because they're footy players.

"Well there were boxers here last night, but there were 300 people here.

"Where's all these boxing people supporting boxers?"
It's not a bad point. Like this or loathe it, would Sam Goodman or Harry Garside get a stadium full to a contest they were headlining? Sadly, as Andrew Moloney found out last night in this same venue, probably not.
(Yesterday's card was really good by the way, if you can go back and watch it, you should.)
He then invites Sam Goodman and Harry Garside to share in his $20k bonus for the knockout of the night.
Paul Gallen: He was always going to make it tough
Paul Gallen is speaking.
"He's a big boy, he was always going to make it difficult," he says.

"He was too strong to push off me.

"I wasn't concerned, all due respect."
He says there is one fight that everyone wants to see, but he does not commit to anything more.
Audience comment by BluemanTokyo
There are a whole bunch of boxing legends in the HOF asking why their legacy is being tarnished by these ridiculous fights. Happy for them to continue, but can we call them something else…fauxing maybe?
Audience comment by Geoff
A main event of 3 x 2 minute rounds. This whole night is a farce.
Audience comment by Gordon
Three rounds. What's the point?
Key Event
Paul Gallen vs Darcy Lussick, Round 3
Final round. Lussick will come out for it.
He comes forward and tries to swing, but Gallen lands with a body shot, and a head shot, and another body!
Gallen lands another body shot!
IT'S OVER! GALLEN WINS BY THIRD ROUND STOPPAGE!
It was only a matter of time.
Paul Gallen vs Darcy Lussick, Round 2
Gallen forward.
Lussick holds on to Gallen's head. The refereeing is woeful so far.
He's now warning Lussick.
Gallen lands with a big shot, but now Gallen is back against the ropes!
Lussick is landing with some wild shots! Rights and lefts as he punches himself out! Lussick leans on Gallen, sucking in the big ones!
They belatedly are told to break.
Gallen with a massive body shot! They hold on again.
ANOTHER MASSIVE BODY SHOT!
LUSSICK GOES DOWN!
He takes the count.
A wild shot from Lussick and he throws himself off his feet!
Lussick will not last another minute. Wow, he punched himself out so badly.
The doctor is looking at him very closely… Will he get hurt if he goes out again?
Paul Gallen vs Darcy Lussick, Round 1
We've not had a proper knockout yet tonight.
Gallen comes to centre ring and throws a couple of jabs up at Lussick.
The tie up.
Lussick tries to keep at range, sticking the hand out and then landing on Gallen.
Gallen comes forward and is picked off on the in and it working on the way in.
Gallen has to tie up! Good shots from Lussick.
We know Gallen has a ridiculous jaw, but he's having to wear a couple here.
Gallen comes in on the inside and lands a good shot to the body.
A couple of right hands land from Lussick! He is holding the back of the head though – the referee needs to stop that. Lussick got away with at few there. Terrible stuff from the referee.
That's the bell.
I think Lussick won that round…
After the Garside result it looks like the refereeing is matching the fight quality All dubious

-Madan
You are not wrong.
Some of the refereeing has been very poor tonight.
Paul Gallen vs Darcy Lussick
It's time for the main event.
Three, two-minute rounds of heavyweight action… so yeah, who knows what to really expect from this.
The 193cm Darcy Lussick, formerly of Manly-Warringah and Parramatta, weighed in at 110.06kg for this contest.
Paul Gallen, much shorter but with far more decent boxing experience with an 11-1-1 record, his only defeat coming against Justis Huni plus a draw with Barry Hall, Gallen came in at just over 100kg.
Here's the tale of the tape.
Audience comment by Gordon
I remember Darcy sacrificing a Grand Final ring after beating the hell out of Melbourne in 2011. He is an unsung Sea Eagles hero. Let's go Darcy!!
Audience comment by Natty
Hi Simon 🙂 I'm not on Gallen's side…very not…
Garside had a hand injury
Harry Garside is speaking.
"One of my hands was screwed. I damaged it second-last spar," he says.
Uh oh… that's the left hand that he needed surgery on after the Olympics… That's a concern going forward.
"I did it one handed, I did it one handed for you guys," he says.

"I'm just trying to use that right hand."
On the stoppage.
"He was still fine, but he needed to throw some shots," he says.
Look it was a poor stoppage, a really poor stoppage, but that's not Garside's fault.