Paul Gallen showed Justis Huni how to sell a fight.
Then in Sydney, on Wednesday night, Huni showed him how to fight.
The 22-year-old Australian heavyweight champion (5-0) was at another level in his happy place and eventually found a finish in the 10th round against the too-tough-for-his-own-good Gallen (11-1-1), who suffered his first career defeat.
Watch Boxing Live & On-Demand on Kayo. Selected international fights, classic bouts and more. New to Kayo? Try 14-Days Free Now >
Gal goes full rugby league on Justis! | 00:27
READ MORE
'TOO BRAVE FOR HIS OWN GOOD': Gal urged to take $1.5m pay day and quit
'DISGUSTING': Pre-fight move backfires as boxing's nastiest feud brutally settled
GAL CAN'T SAY HE WASN'T WARNED— and he just got the beating 'he deserved'
Gallen suggested that his pressure and pace would be enough to stifle his towering opponent. Just like it was against Mark Hunt and Lucas Browne.
Turns out, Huni, who will head to Tokyo next month in hopes of winning Olympic gold, is quite a bit better than Hunt or Browne, or anyone else Gallen has ever faced.
Gallen promised he would charge forward at every opportunity. Fill the lulls in every round. Tire out his giant rival. It all sounded good in theory. In the end, he never really came close to doing any of it.
Huni punished the body for nearly 30 minutes, before going upstairs to find a finish that looked there for the taking at times.
Gal reveals brutal injury suffered | 00:58
After the fight Gallen revealed the extent of the damage.
"He knocked me down fair and square … I think he broke my rib in the second round," Gallen said.
It ultimately proved too much for Gallen in the 10th as he grabbed desperately at Huni's legs in a tackle he would have been proud of during his league days.
When both fighters returned to their feet, Huni put Gallen away. A left hand dropped the 39-year-old, whose legs finally gave up on him.
Immensely brave throughout, Gallen got back up and wanted to continue, but referee John Cauchi was having none of it, waving off the contest.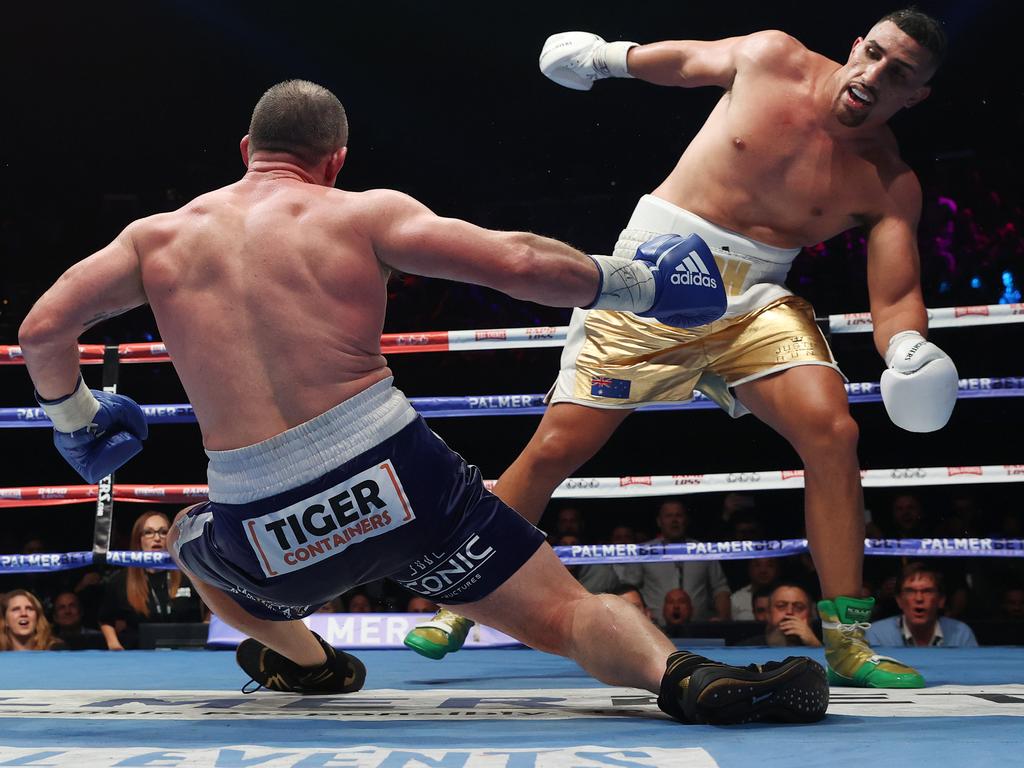 "I really wanted to win that tonight," Gallen said. "By about the sixth or seventh round, I knew I wasn't going to win it, so I just wanted to finish it. While he knocked me down fair and square, I thought the referee stopped it early."
Unlike their pre-fight press conferences, it was clear that Huni had an answer for every Gallen question in the ring. This was his "territory", and he looked comfortable.
It was a snapping jab, ripping body shot, short left hook, right uppercut, or just a quick Huni dance out of trouble that kept Gallen at bay throughout.
When Gallen did get in close, Huni never looked particularly fussed.
Still, the Cronulla Sharks legend never went away.
"One of the toughest, gutsiest efforts I've ever seen by any fighter," former Australian boxer Barry Michael said of Gallen on the Main Event coverage.
"Justis Huni is extremely talented … but Paul Gallen went beyond the call of duty, he did a great job. He doesn't have to prove anything."
It was the sort of beating Huni's promoter Dean Lonergan had promised: It wouldn't be one punch. More death by a thousand cuts. Gallen's toughness played its part. Huni's lack of top-tier knockout power also a reason why the fight lasted as long as it did.
"Big shoutout to Gal. He's an awesome competitor. Very strong," Huni said post-fight. "He's definitely built different."
War of words finishes in round 2 TKO | 01:44
Despite the gulf in class, Gallen, who can trigger a rematch clause when Huni returns from Tokyo, couldn't help but leave the door open to a sequel.
"I'm not against it," Gallen said of doing it all again. "I think I had a really good preparation leading into the Mark Hunt and Lucas Browne [fights]. This was a short one.
"I was really, really fit; as fit as I've ever been going into this fight. But trying to get sparring to prepare for guys like that, it's pretty hard.
"That was a good challenge … that's where I want to be as an athlete; pushing myself as far as I can against the champion.
"I did that tonight, and we'll weigh it up in the future what's going to happen."
With the punishment over, Gallen felt comfortable giving Huni one, final lesson.
"You're a terrifc fighter, but you've got start selling fights," he said.
"If you're going to make some cash and make a living out of this, you've got to start selling fights.
"I'm happy to teach you any time you want to learn.
"Maybe after the next fight, though."
Hardman devastates in title thriller! | 02:17
FULL CARD
Justis Huni def. Paul Gallen — via 10th round TKO — Australian Heavyweight Title
Issac Hardman def. Emmanuel Carlos — via 4th round TKO — IBF Australasian Middleweight Title, WBO Oriental Middleweight Title, Australian Middleweight Title
Andrei Mikhailovich def. Alex Hanan — via 2nd round TKO — middleweight
Sam Goodman def. Nort Beauchamp — via 6th round TKO — vacant Australian National Federation Australasian Featherweight Title
Jason Whateley def. Victor Oganov — via 4th round TKO — cruiserweight